A Twist On Dumplings At East Wind Snack Shop
If you are looking for a fresh take on dumplings and quick Asian food, East Wind Snack Shop is a great place to start. The shop opened in February in the space at 471 16th Street, just off Prospect Park West, and since its opening has been getting a lot of press, including a write-up in the New York Times.
And for good reason. Owned by Albert Kang, Suzhu Mei, and chef Chris Cheung, the shop packs a lot into each dish. Everything is cooked to order, so it's not as quick as many dumpling shops, but the food is piping hot and fresh, and Albert is happy to keep you company while you wait.
"We don't take ourselves seriously," Albert explains. "The only thing we take seriously is the food."
The location is small but welcoming, and the three partners work hard to make every customer feel at home.
One of the highlights of their compact menu is the Sweet Chili Ribs, which is the most expensive item at $12. But the ribs are worth the price. The pork falls off the bone and the sweet chili marinade adds just the right amount of kick. A side of pickles helps balance out the dish.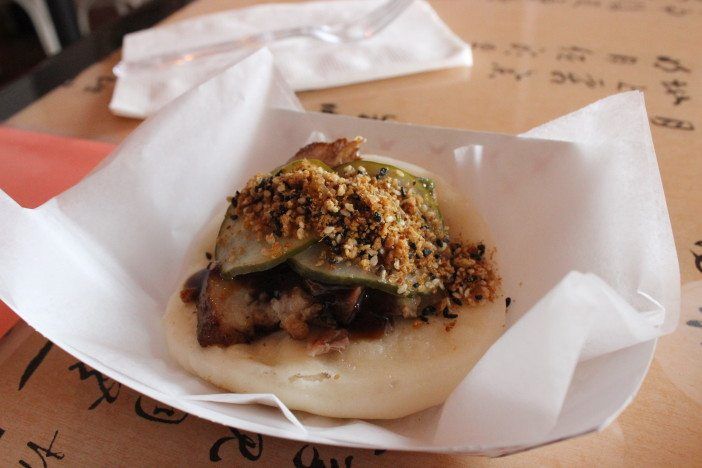 If you are just looking for a snack, the Pork Belly Gwaco Bao ($3.50) is the way to go. The bao is made fresh in-house and the pork belly will melt in your mouth. It's just right, both in size and price, for an afternoon pick-me-up.
One of their more interesting concoctions is the Dry Aged Beef Potstickers ($7), which you aren't going to find many other places because Chinese cooking does not typically call for aged meat. The beef, which is aged for 28 days, gives the potstickers a kick of flavor that makes them hard to resist.
And they have plenty of great treats for the vegetarians out there. Their spring rolls ($4) are entirely vegetarian, one of their main dishes is called Happy Buddha Vegetables ($8), featuring a variety of Chinese vegetables with just a bit of fermented tofu for flavor, and on Tuesdays they offer Shanghai Roasted Vegetable Soup Dumplings.
To wash it all down you can grab one of their bubble teas or — if you are feeling a little bit more adventurous — try their housemade Honey Lemon Sour Plum Drink ($3), a Malaysian specialty that must sit overnight to let the sour plum infuse and is supposed to help balance the body. And for dessert, grab some Hong Kong Hot Cakes ($4) to go.