A Taste Of Sheepshead Bay A Huge Success, If We Do Say So Ourselves
If you missed A Taste of Sheepshead Bay on Thursday night, you missed history being made.
Whereas, Brooklyn is most justifiably lauded for the rich array of culinary splendor that awaits residents and visitors alike, and everyone, from the comfort food seeker to the most finicky foodie is bound to encounter everything that will wow his or her palate, it is most fitting that we recognize those wonderful purveyors of decadent delectables, whose excellent taste and hard work help create the unique and fanciful flavor for which Brooklyn is widely known; and
Whereas, all of Brooklyn joins the owners, staff and supporters of twenty one of the best restaurants in Sheepshead Bay as Sheepshead Bites – Sheepshead Bay's only independent news blog and winner of the L Magazine 2010 best local blogger distinction for Brooklyn and Manhattan – presents "A Taste of Sheepshead Bay," an evening of eclectic food sampling and sumptuous entertainment, pronouncing Sheepshead Bay as Brooklyn's premier culinary destination once again
So begins the proclamation issued by Brooklyn Borough President Marty Markowitz as he declared,
Now, therefore, I Marty Markowitz, President of the Borough of Brooklyn, do hereby proclaim, Thursday, October 27, 2011, 1st Annual Sheepshead Bites, A Taste of Sheepshead Bay Celebration Day in Brooklyn, USA.
Approximately 350 people attended the first Taste of Sheepshead Bay. They braved the elements to feast on the best that Sheepshead Bay had to offer as we celebrated the best damn neighborhood in Brooklyn.
Sheepshead Bites was bold enough to throw down the gauntlet, once again proclaiming Sheepshead Bay as New York City's premier culinary destination. (Sorry Marty, we're not just Brooklyn's best food nabe, we're New York City's!) The restaurants took our challenge and ran with it. From heroes to lamb, from duck to to clams, from Kobe beef  to handmade chocolates, from cheesecake to homemade wine; literally from soup to nuts, it was all there. Twenty-one local restaurants and food purveyors laid it all out on the line, or, in this case, the buffet table, for your enjoyment. We asked for one dish from each restaurant, but most upped the game significantly and provided more, much much more. We don't have an exact count, but there were close to 100 different dishes for everyone to sample. Every restaurant was on its game that night.
We hope all of you tried dishes and cuisines you have never experienced before. We hope that you found a few new restaurants to try out. Has Sheepshead Bay ever witnessed such an overwhelming amount of beautifully prepared, diverse, some may say eclectic, but tasty food?
The restaurants and food purveyors were stationed along the perimeter walls of the main ballroom of the Baron de Kalb. Each table was overflowing with dishes, some of which were created especially for the event. For over three hours we feasted and binged as each dish tantalized our taste buds. We were soothed by sweet music provided by Modesto.  Listening to the din of the crowd, enjoying the scents and tastes of the foods and hearing the clinking of the dishes, you could imagine the bustling of the once great Lundy's in its heyday.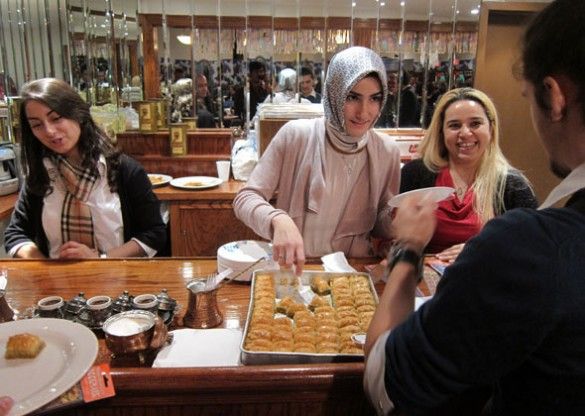 More than a celebration of food, A Taste of Sheepshead Bay was a celebration of the neighborhood, of our neighborhood. We celebrated the past glories of the bay all the while looking to its future and keeping an eye on the present. For a few hours, we were all neighbors united by our love of food and our love of Sheepshead Bay. We watched and listened as long time bay stalwarts talked with some of the "new blood" and found common ground. Out of that common ground we can all begin to unite for the improvement of the bay. It doesn't matter if your family has been here for generations or you've just moved in last week, this is our home.
It seems others picked up on our intentions. Over at Serious Eats' Cheap Eats blog, James Boo writes:
Unlike other media-sponsored tastings, this was for locals and by locals. The scene, refreshingly un-scene, was more convivial than other events I've attended – but the entire affair was no less professional as a result … What struck me most about the event was how earnestly it attempted to connect different members of the community.
Meanwhile, Brooklyn Exposed discovered what we already knew:
The setting was beautiful and the food – both selection and taste – was unbelievable.  Sheepshead Bay proves to be a hidden gem on the fine foods map of Brooklyn.
We made history on Thursday. Sheepshead Bay took back its crown as the premier dining destination of New York City. The restaurants and food purveyors of the bay showed their support of the neighborhood. We're confident that the you, the readers of Sheepshead Bites, will support them in return with your patronage. Shop local, build local.
Our thanks to everyone who came out and supported the event, including Borough President Marty Markowitz, Councilman Lew Fidler, Councilman Michael Nelson, and representatives of Assemblyman Steven Cymbrowitz, who each honored Sheepshead Bites and the community of Sheepshead Bay with citations and proclamations.
Our thanks to Il Fornetto Italian restaurant for joining us as our co-sponsor for the evening. Our thanks to all of the restaurants and food purveyors who made this such a glorious night. Thank you to Anthony's Place, Arbuz, Bassett Caterers, Chicken Masters, Chop Stix, Coney Island Taste Peruvian Restaurant, Jimmy's Famous Heros, JoMart Chocolates, Kawaii, The KBCC Culinary Arts Program, Liman, Maria's Restaurant Italiano, Masal Cafe, Nargis Cafe, New Cats Cafe, Randazzo's Clam Bar, Tete-a-Tete Cafe, Top Brgr, The Turkish Cultural Center and Wheeler's Restaurant.
Our thanks to Klear View Appliances, T-Mobile of 1507 Sheepshead Bay Road and On Stage at Kingsborough for their support by supplying the door prizes for the event. Our thanks to the Knights of Baron de Kalb for hosting us. Our thanks to Print Only With Us for their services in printing our fliers, posters and restaurant guide. Our thanks to Pinto Novelties for some of the supplies. They're all local businesses that work hard to support our community.
Our thanks to all the food critics and media representatives who attended. The secret's out now; Sheepshead Bay's food scene is world class. Who knew? We did, now you do too. Spread the word.
Finally, our thanks to all of you who joined us at A Taste of Sheepshead Bay. We hope it surpassed your expectations. It certainly surpassed ours. Shall we do it again?