A Swinging Good Time: Made In New York Jazz Cafe & Bar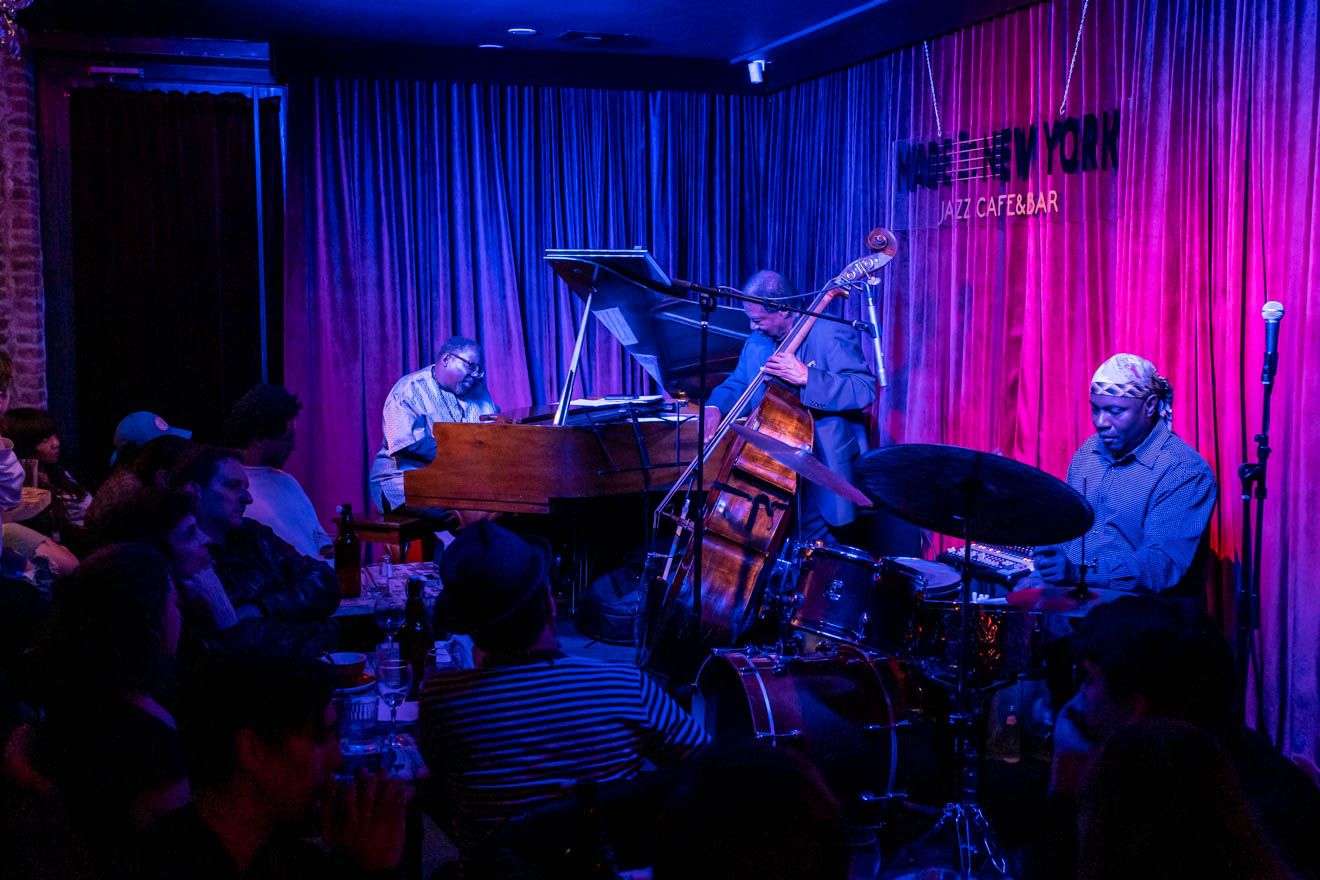 PARK SLOPE – A new Park Slope jazz venue officially celebrated its grand opening over the weekend with a trio of jazz greats.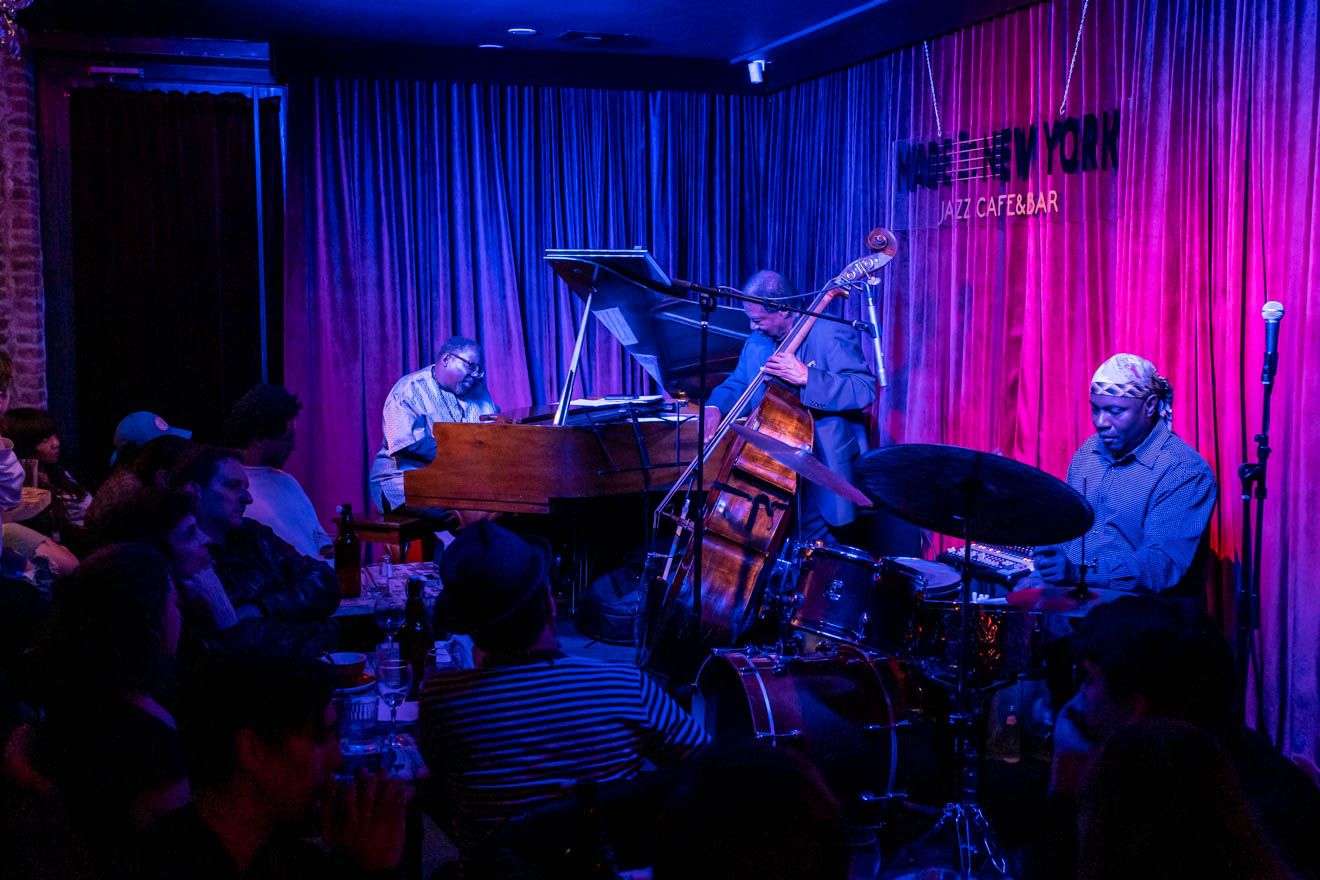 Pianist Cyrus Chestnut, bassist Buster Williams, and drummer Lenny White played two sets Friday night and another two on Saturday to enthusiastic crowds at Made in New York Jazz Cafe & Bar at 155 5th Avenue. The music venue opened at the end of September in the former Nargis Bar & Grill space.
Fans of Nargis need not despair—the restaurant's owner and head chef, Boris Bangiyevat, has partnered with Michael Brovkine in the venture and created a new menu for Made in New York featuring an array of tapas, burgers, pastas, salads, and specialty cocktails. Made in New York features fifty seats in the dining room where performances are staged, and an additional 20 seats in the adjacent bar area.
Established to bring back high quality jazz performances to Brooklyn—"where the genre once flourished," according to a release—Made in New York Jazz will host two ticketed shows daily, from Wednesday to Sunday. Sets will be scheduled at 7pm and 9pm with ticket prices typically $20 or below.
Brovkine founded the online Made in New York jazz competition in 2013. "We started with the online competition which became pretty popular [with] 60 countries participating," he explained to Bklyner Friday evening. The competition is "international, without any borders," he continued, noting that there are no age nor style restrictions, welcoming a wide variety of talent.
"Then we started the international jazz gala in TriBeca. The next one is May 16," Brovkine added. The jazz gala was launched in 2014 because "the competition was so big…we need[ed] a venue," he said. The gala was a way to bring the young competition winners together to perform with renowned jazz legends. In June 2020, Made in New York Jazz will celebrate the fifth anniversary of its satellite jazz festival in Montenegro.
Working with so many artists, both up-and-coming and established, Made in New York decided to open a brick-and-mortar venue to showcase the musicians. "We have booked a lot of artists until the end of December already," Brovkine notes. Check jazzcafe.nyc for the schedule.
Born in Siberia, Russia, Brovkine grew up playing classical piano. His mother is a pianist and his father is a conductor. "I heard some sounds of Oscar Peterson and I said, 'I don't want to do classical anymore,'" he recalled of his introduction to jazz. Brovkine moved to New York about 20 years ago, living in Midwood for more than 10 years before relocating to Staten Island seven years ago with his family.
"My favorite club, and I think the only solid jazz club…was Pumpkins," he said of the "real jazz club" once located in Flatbush. After the club shuttered, jazz lovers had to go to Manhattan for shows, according to Brovkine. "We said, 'What if we tried to bring it back to Brooklyn?'" he recalled, noting that "a lot of great musicians are from Park Slope," including one of his favorite groups, Snarky Puppy.
Brovkine partnered with fellow music lover Bangiyevat, whom he has known for more than ten years, and transformed the former Nargis space. "We built the stage. We worked a lot on acoustics, a lot on sound proofing," Brovkine said. The team had to redo the soundproofing three times in order to perfect it, pushing the original August opening date back to September. The lush, tranquil garden in back will reopen for customers next spring.
Made in New York has been attracting large crowds since opening its doors, mainly locals but some tourists as well, Brovkine noted. The intimate venue brings audiences up close to the performers, with some tables just inches away from the stage. The sound is crisp and well-balanced. This past weekend's shows were packed with diverse audiences of all ages enjoying the incomparable sounds of three world-class musicians.
Made in New York's menu includes a Wagyu beef burger topped with cured pastrami, mushrooms duxelles, and smoked gouda. Brovkine also recommends the salads (Caesar, beet, or avocado) and the chicken sandwich topped with red cabbage Asian slaw and paired with fries drizzled in Sriracha aioli. The crispy, mildly spicy chicken was nicely complemented by the slightly sweet slaw. Brovkine rightly said, "Forget about them," when jokingly comparing the sandwich to Chik-fil-A's.
The full bar offers six beers on tap, more than 25 wines by the bottle and 11 by the glass, as well as infused apple and horseradish vodkas. The horseradish is a must-try for anyone who appreciates the spice. The bar also serves specialty cocktails including the Montenegroni (bitter Montenegro, sweet vermouth, gin, and Angostura bitters), "a tribute to our partners in Montenegro," Brovkine noted.
Made in New York Jazz Cafe & Bar opened for brunch on Saturdays and Sundays (11am-4pm) last week. The brunch menu includes Eggs Benedict and Florentine, Shakshuka Eggs, potato or zucchini pancakes, and more, as well as a bottomless brunch option ($21 per person).
With great music, good food, attentive service, and an inviting atmosphere, Made in New York is a welcome addition to Park Slope.
Made in New York Jazz Cafe and Bar
155 5th Avenue (between St. Johns & Lincoln Place), Park Slope