A Perfect Day For The Spray Showers At The Newly Opened Ennis Playground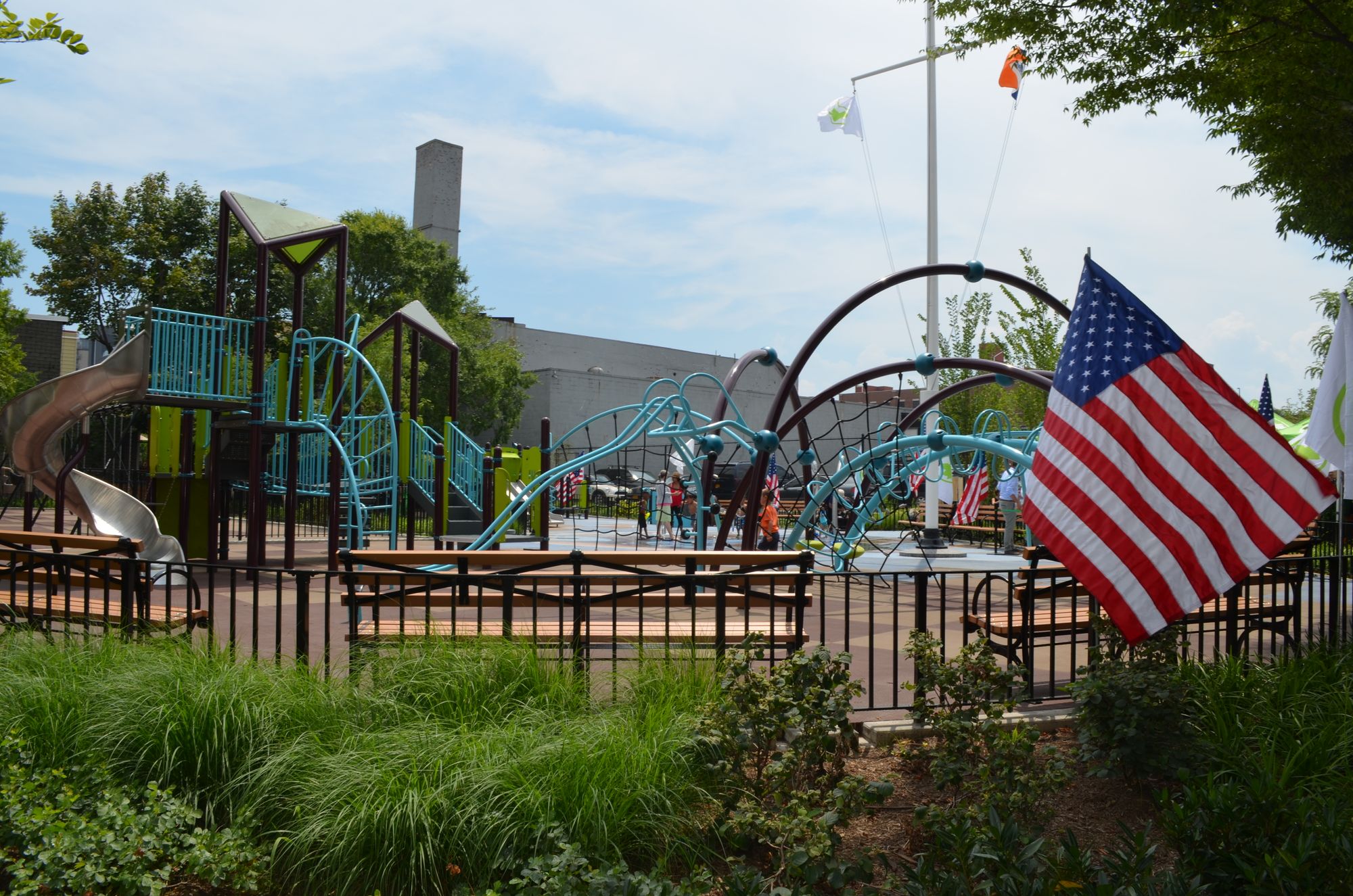 GOWANUS – NYC Parks Commissioner Mitchell Silver, NYC Parks Brooklyn Borough Commissioner Marty Maher, and City Council Member Brad Lander cut the ribbon on the newly revamped Ennis Playground on Wednesday.
The much-needed renovation to the public playground, located on 11th Street between 2nd and 3rd Avenues, was a long process. After receiving funding from Lander's Participatory Budget Ballot in 2014 and following a community-led redesign process from 2016 to 2017, construction for the updated playground kicked off in August 2018.
With additional funding provided by Brooklyn Borough President Eric Adams and Mayor Bill de Blasio, the park's $2.9 million renovation includes new play equipment, a spray shower, a multi-purpose synthetic turf field, a basketball court, new seating areas, and new plantings to soften the park's perimeter.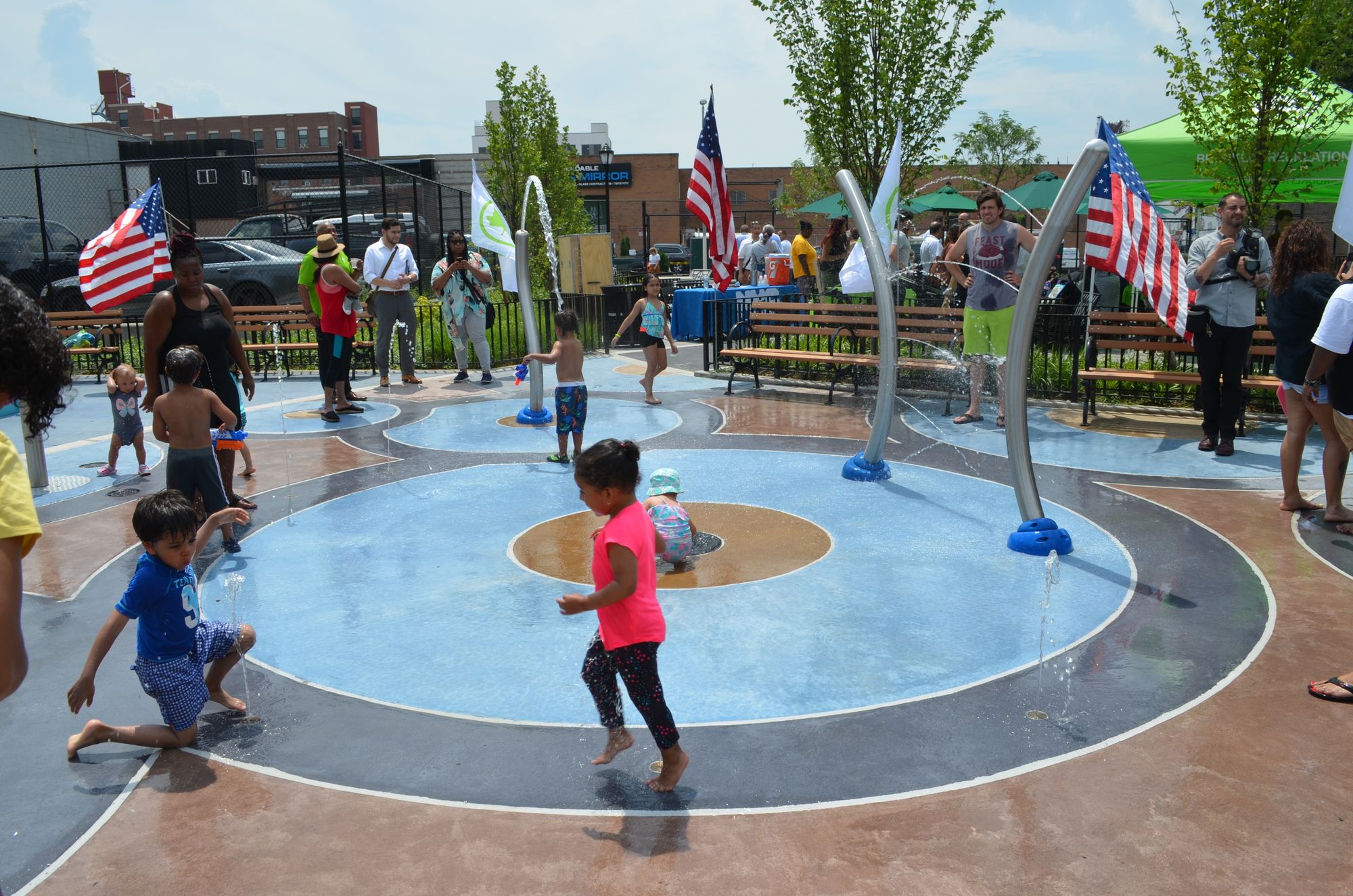 "This is a special occasion as we cut a ribbon on a park that reflects the desires of the community it serves," said Silver at the start of Wednesday's ceremony. "Now after extensive input from people of all ages, we are thrilled to present with you the playground of your dreams."
"I think it's important here also to tell the story of community engagement and collaboration that helped us get here because there really were some challenges and tensions in figuring out how to make this happen right," Lander said. "This, on the one hand, was a much beloved old playground because people needed it and cared about it for years, but it's in a real mixed use area. We've got manufacturers around, we've got the sanitation garage right here, we have residential homes right on the other side, and getting that balance right, you know, can be a challenge."
Ennis Playground sits in the middle of a street lined with small houses and industrial businesses, including a NYC Department of Sanitation garage immediately adjacent to the west.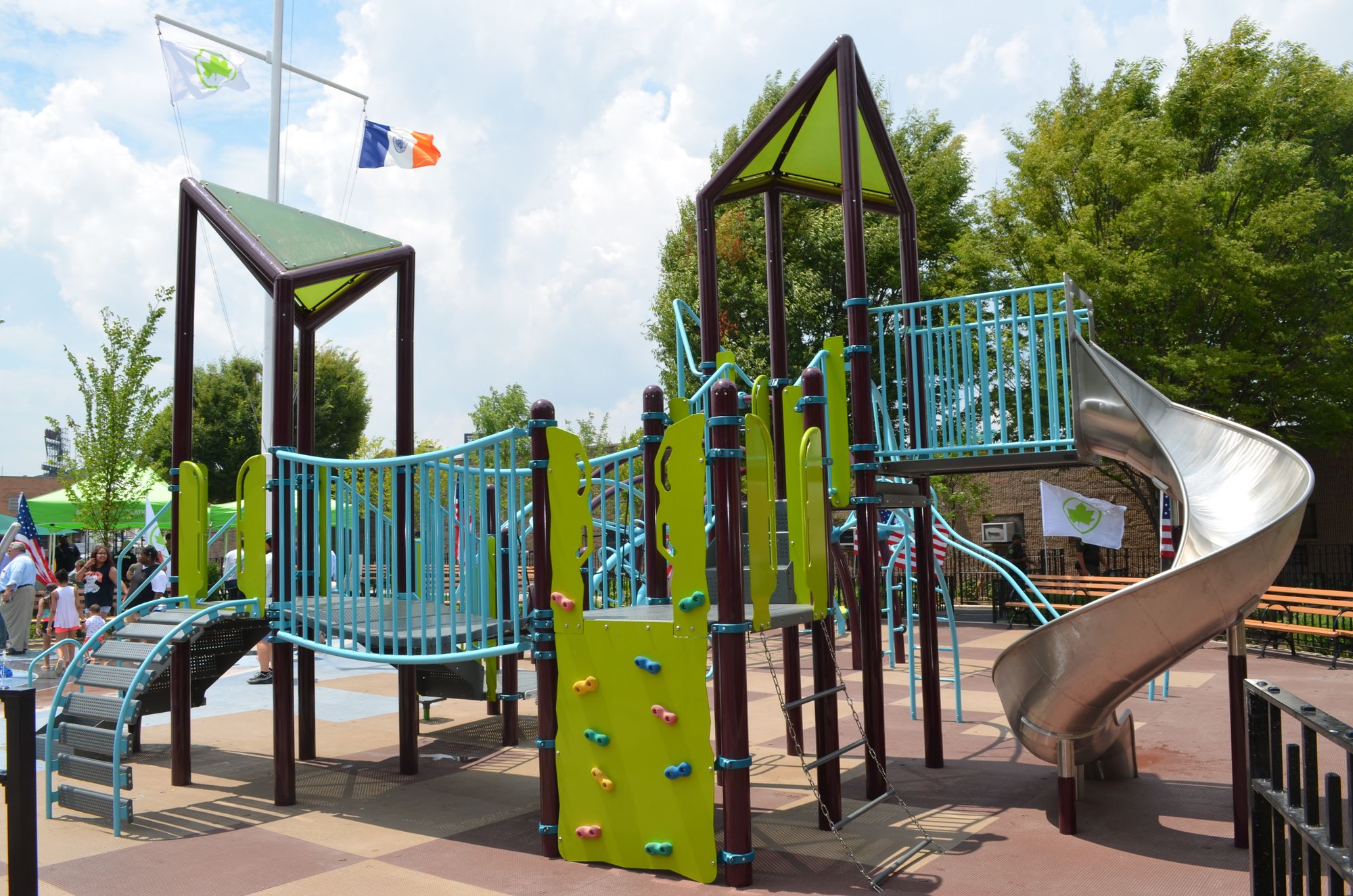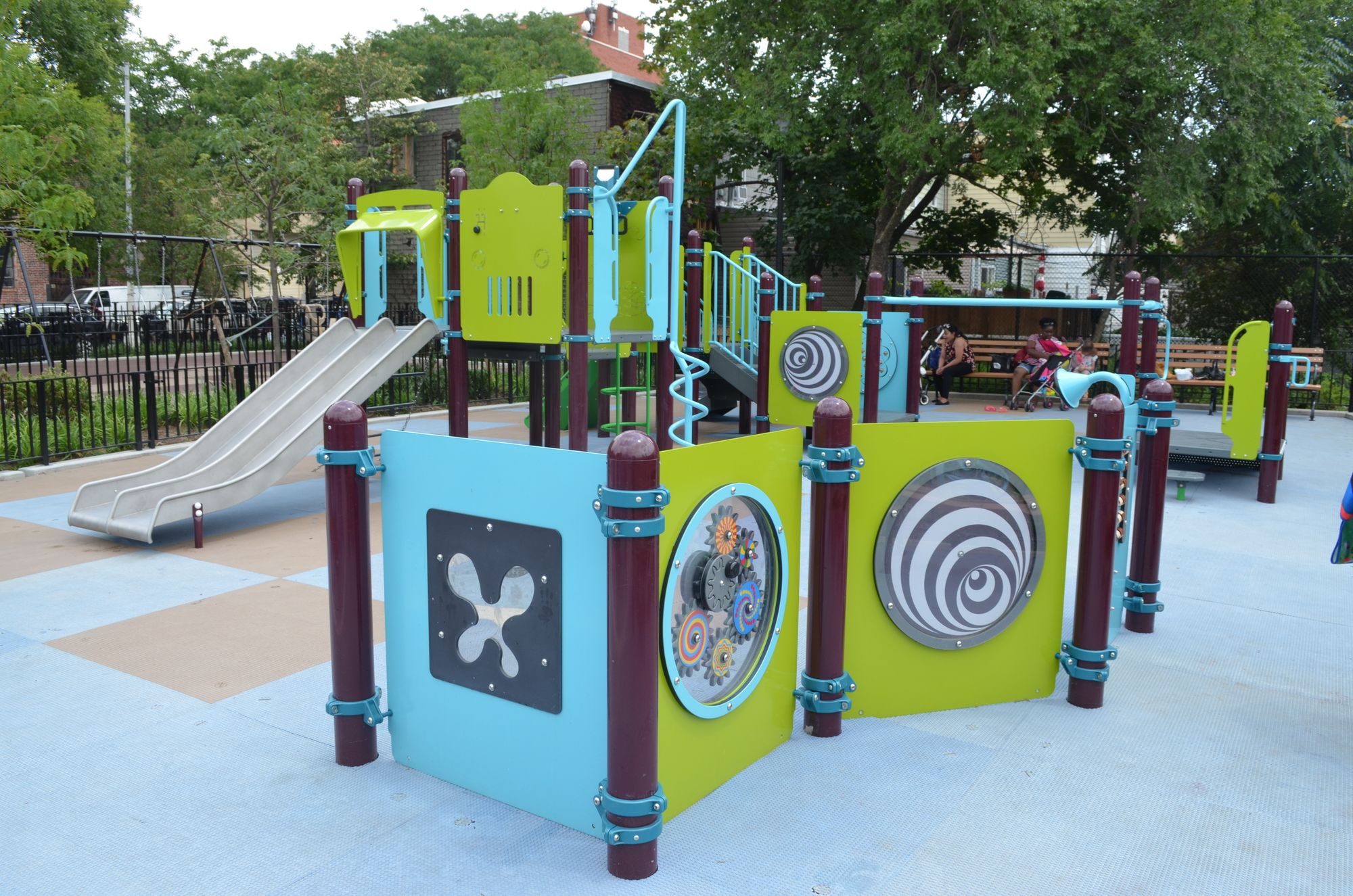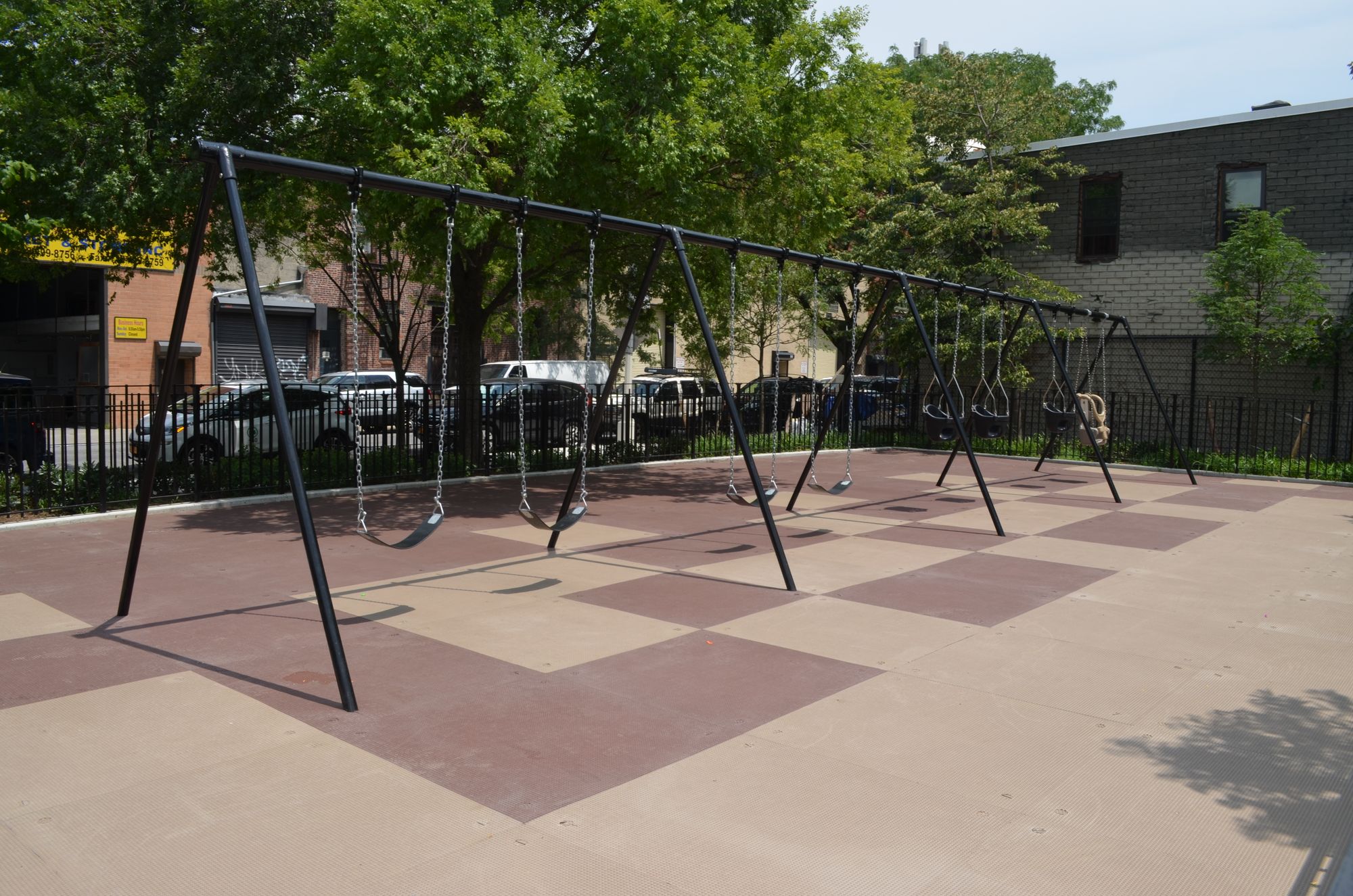 "Even in the years when the old playground was starting to see wear and tear…a set of people really stepped up," Lander continued, acknowledging the Gowanus Alliance and the Gowanus Canal Conservancy in working with locals in maintaining the park over the years and collaborating with them in finding a redesign for the green space that would benefit everyone in the community.
Lander noted that after the initial plan for the playground's redesign was presented, many felt it failed to respect the park's immediate residential neighbors. That's when, according to the Council Member, Brooklyn Borough Commissioner Marty Maher suggested engaging the locals and starting a community dialogue.
"As a result of that conversation, as a result of Marty and the design teams coming, a new design came out that really made everyone 100% happy, and you don't get that often, so I really want to say 'thank you' again to Marty and to the designers who were able to build from people's feedback something that everybody liked better," Lander said.
"Huge thanks are owed to Commissioners Maher and Silver of the Parks Department, Councilman Lander, and Borough President Adams," said CB6 District Manager, Michael Racioppo, after the ribbon-cutting. "What made this special was that the final result was the realization of a vision that Parks did in collaboration with the community at large, including our board, businesses and neighbors. Our very own Paul Basile, who along with the Gowanus Alliance was instrumental in moving this forward when they started planting trees there eight years ago. Along with Paul it was great to have Joanna Smith present to represent our Parks Committee."
"What I think this shows in a small but lovely way is when you've…got good partners on the public side, when people come out in good faith, when you've got great non-profits and civic organizations and businesses and residents, and you take the time to plan, you really can get it right," Lander continued. "And then at the end, you get something as beautiful as this that is instantly loved, and that really is just a treasure in the neighborhood."
"Magical things are going to happen here for years and decades and generations to come," Lander said.