A Peek Inside Atlantic Terminal's Target Remodel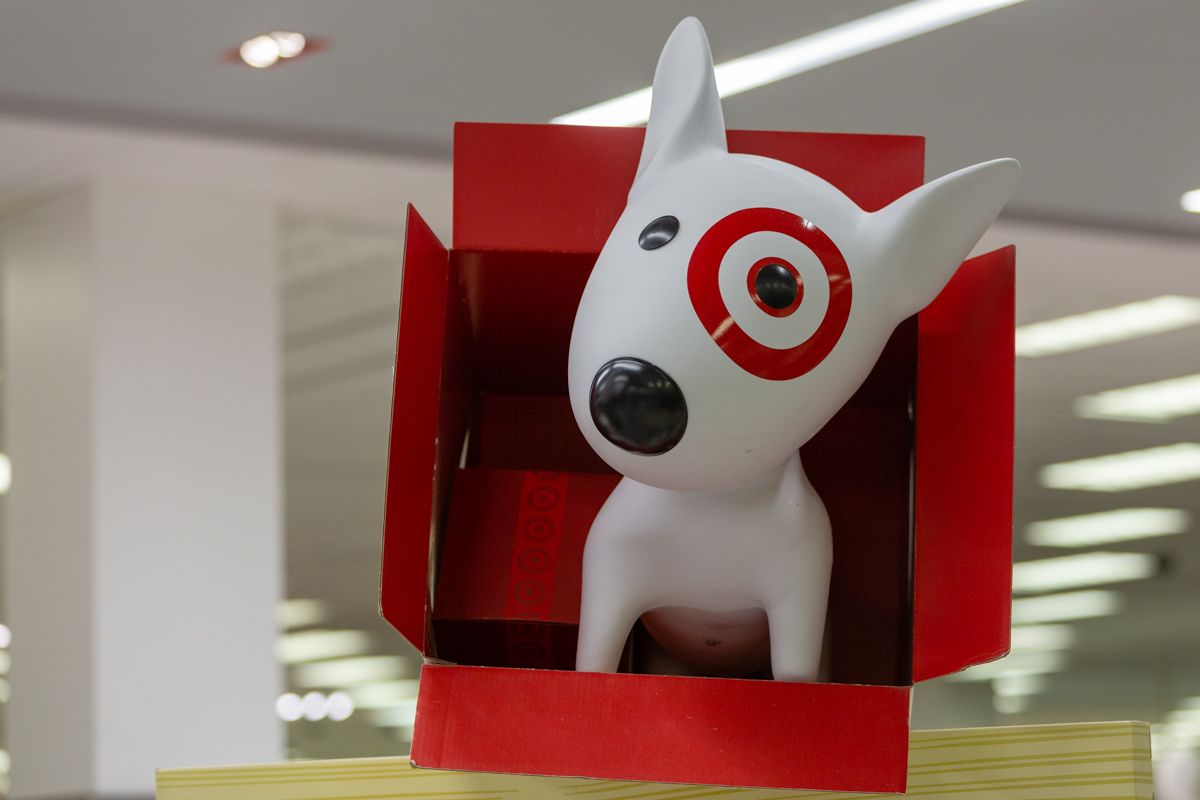 FORT GREENE – Target shoppers will be happy to hear the construction that's been happening at the Atlantic Terminal location will soon be completed, leaving an updated store that's easier to shop.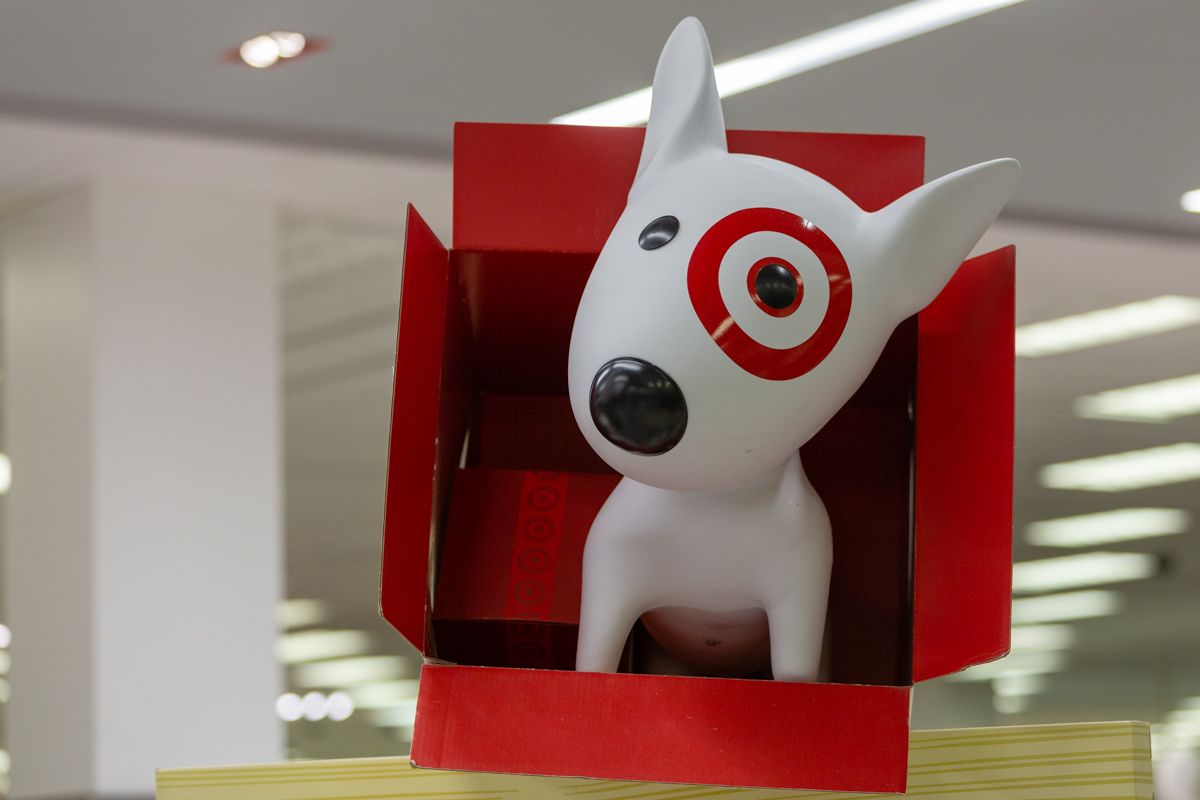 The national chain plans to renovate 1,000 of its stores by the end of 2020, with 15 New York area stores receiving an update this year.
Much of the improvements made at the Brooklyn location were to "enhance the experience that we provide our guests based on their shopping trends," said Alex Torres, Store Team Leader of Target's Atlantic Terminal location. "You'll see some unique stuff here that you won't see in other stores because we tailored our design to our guests that shop at our location."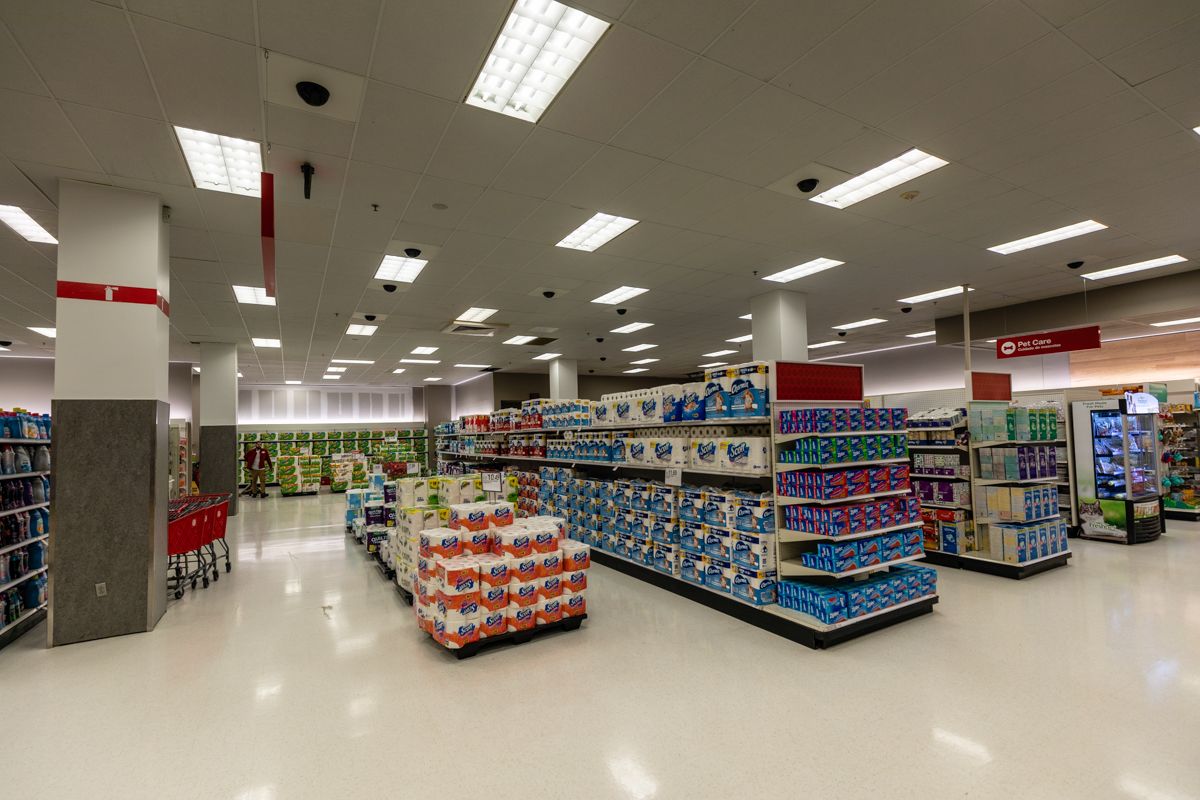 Construction began at the shop in January, and while it was not completely finished when BKLYNER took a tour of the store on Wednesday, Torres promised that all updates will be done by the first week of August.
Despite still being a work-in-progress, Torres says initial feedback from shoppers has been "positive," adding that many customers have commented, "It's so much easier to shop."
Some of the changes at Target stores across the country will include enhanced visual merchandising presentations with updated decor, fixtures and lighting; updated beauty departments; and more mannequins to provide shoppers with styling ideas.
At the Brooklyn store, shoppers will notice aesthetic updates including wooden design accents, softer lighting, and a change in the color scheme. Gone are the Target red walls, replaced with a neutral tone to put the focus on the merchandise and allow the signage to stand out more.
One of the first enhancements visitors will see is the new and improved check-out queue "tailored specifically for this store" according to Torres. Now located to the right as you enter the store from the mall entrance, the 18 staffed registers and 17 self check-out registers are more streamlined and compact—designed to prevent longs lines from snaking into the Women's Department as they did in the past.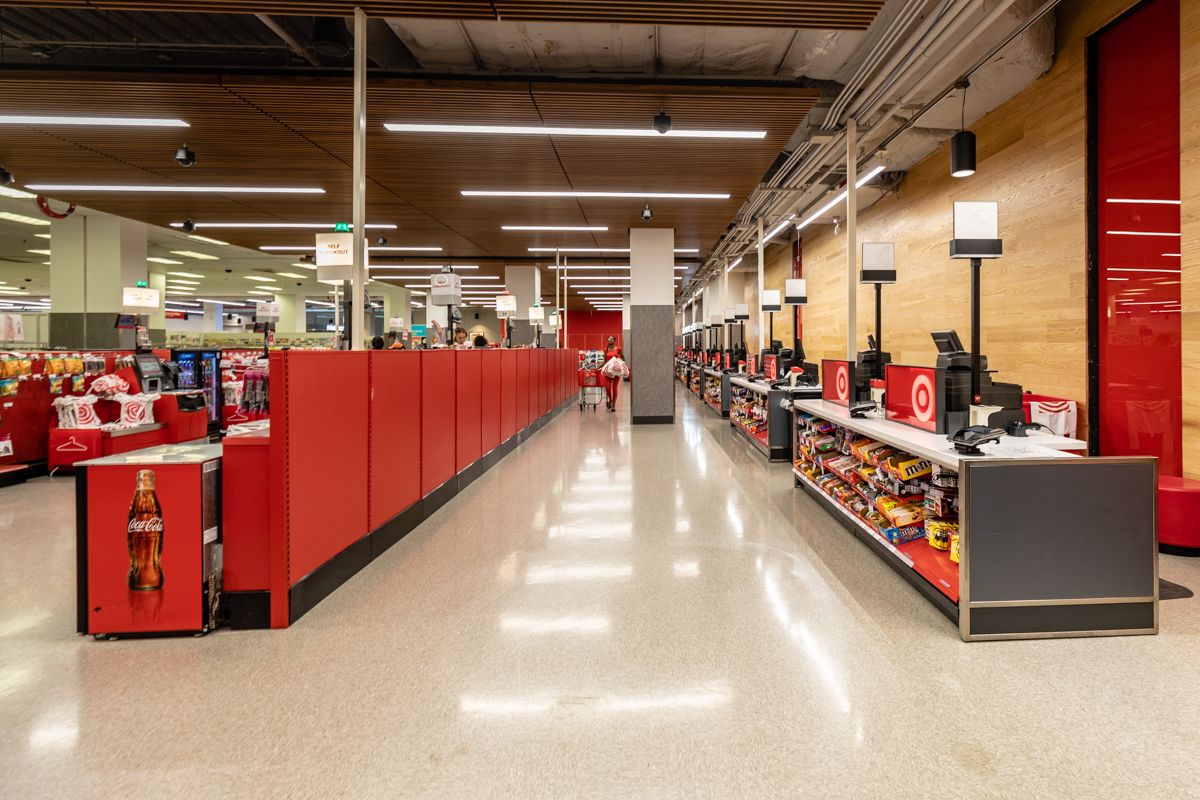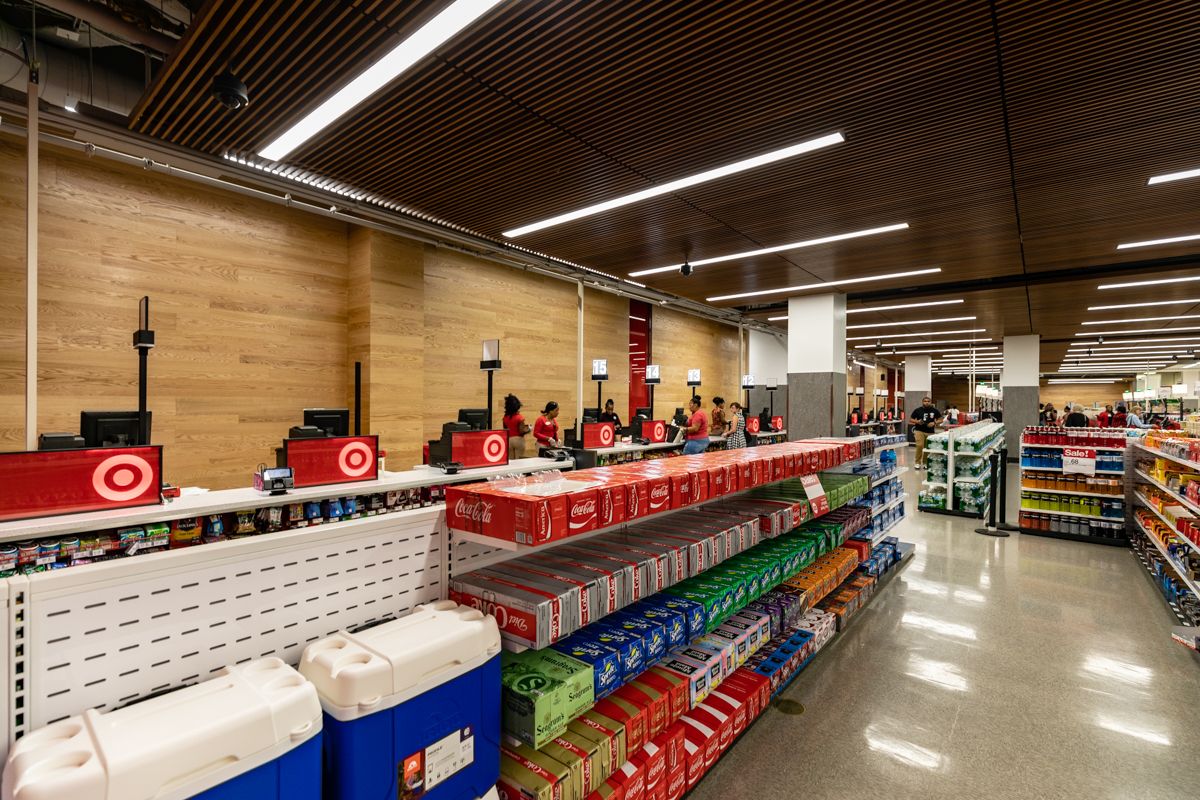 Six additional self-check-out registers are located by the sky-bridge that leads to the Atlantic Center Mall. These will be open during busy, peak periods.
The in-store Starbucks and restrooms have moved over to the space overlooking Atlantic Avenue where the cafeteria-style seating area used to be. The updated Starbucks offers a lounge area with tables, chairs, couches, and outlets to charge phones and gadgets.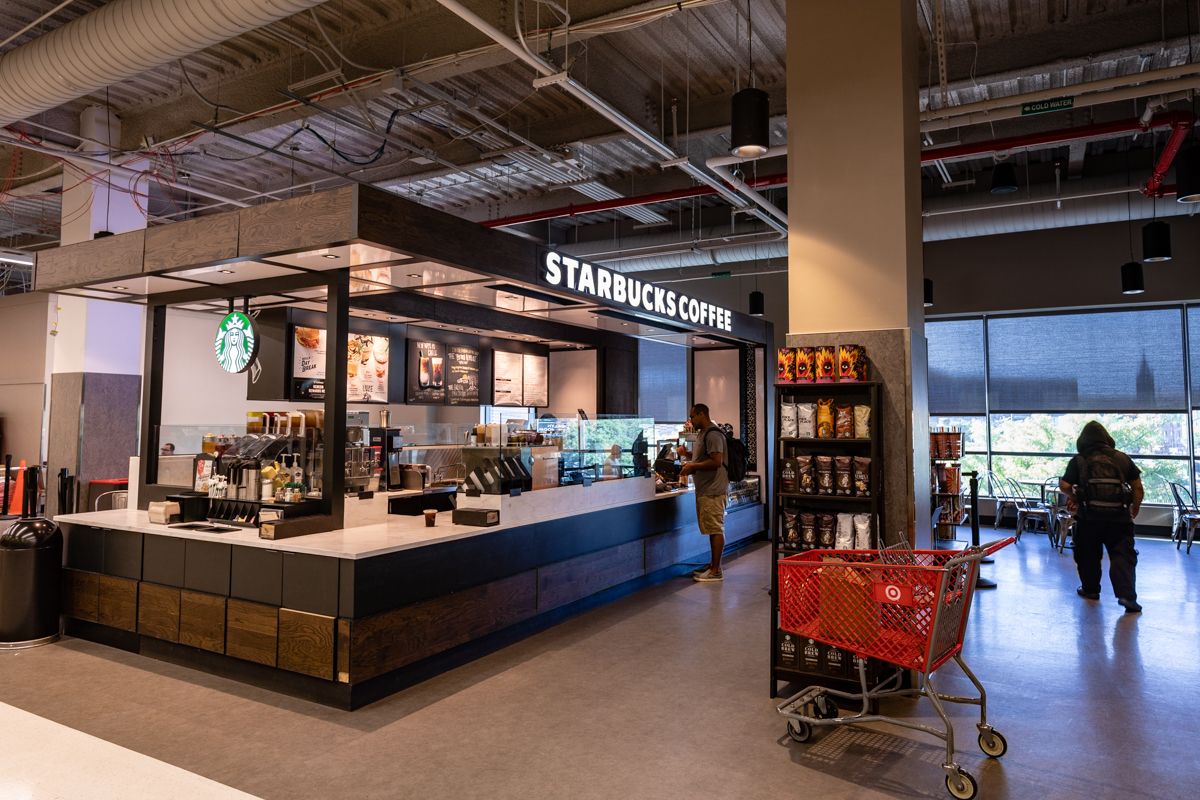 The Women's Apparel section, as well as the Men's and Children's section up on the second level, all offer more mannequins showcased in special lighting, new fixtures, and a more contemporary look. The mannequins will model Target's many private brands—the company announced last year that it will introduce more than a dozen of its own new brands over 18 months—including Goodfellow & Co. for men, A New Day and Universal Thread for women, as well as some new home and food & beverage brands.
The store's grocery section expanded to offer more of its own brands including Simply Balanced and Market Pantry, and the large frozen foods section received a facelift with new signage, wood paneling accenting the walls, and a new grey exterior for the freezer units.
The Beauty department has been moved to where the stationery and household cleaning products used to be, transformed with a sleek, boutique feel and staffed with a specially trained team. "We want beauty experts. We want you to have the confidence when you shop here that we know what we are talking about," Torres explained.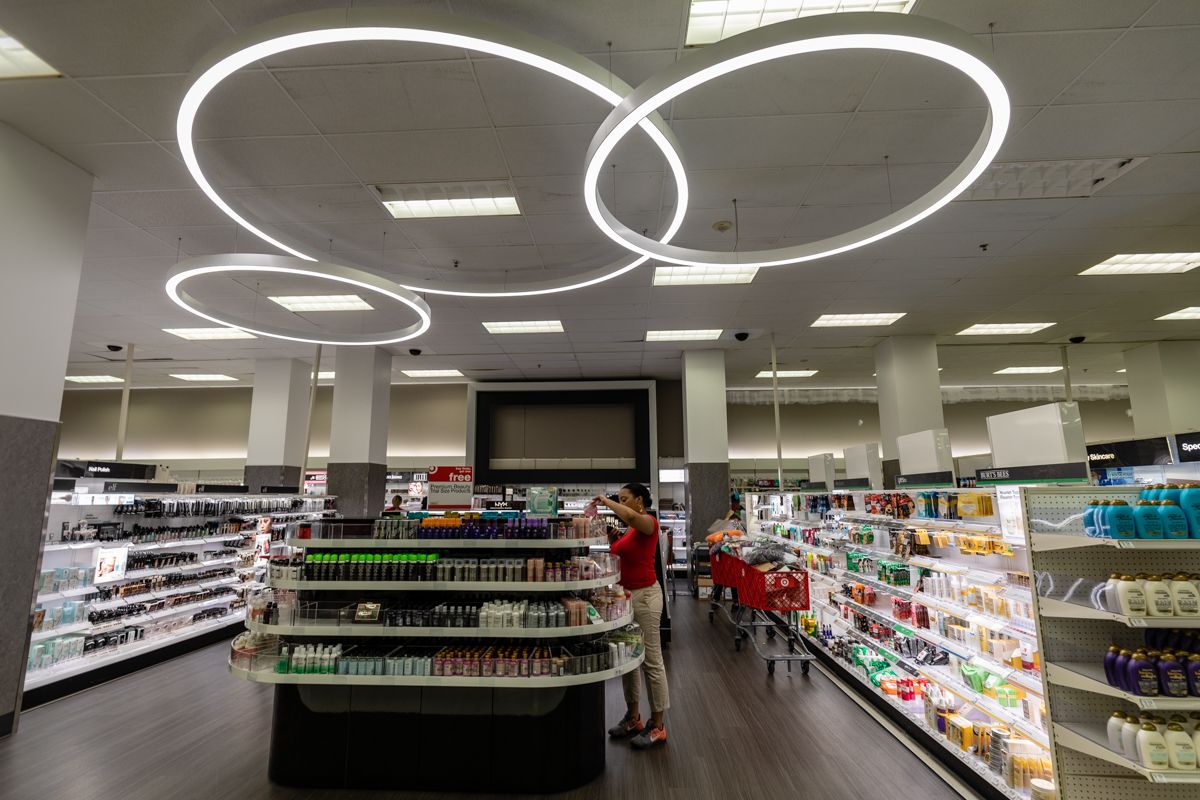 Rather than have employees float from one department to another, all Target stores recently began staffing their specialty departments (Beauty, Electronics, Food & Beverage, Jewelry & Accessories) with permanent team members specifically trained for their sections, so they can truly learn about their product as well as their customers.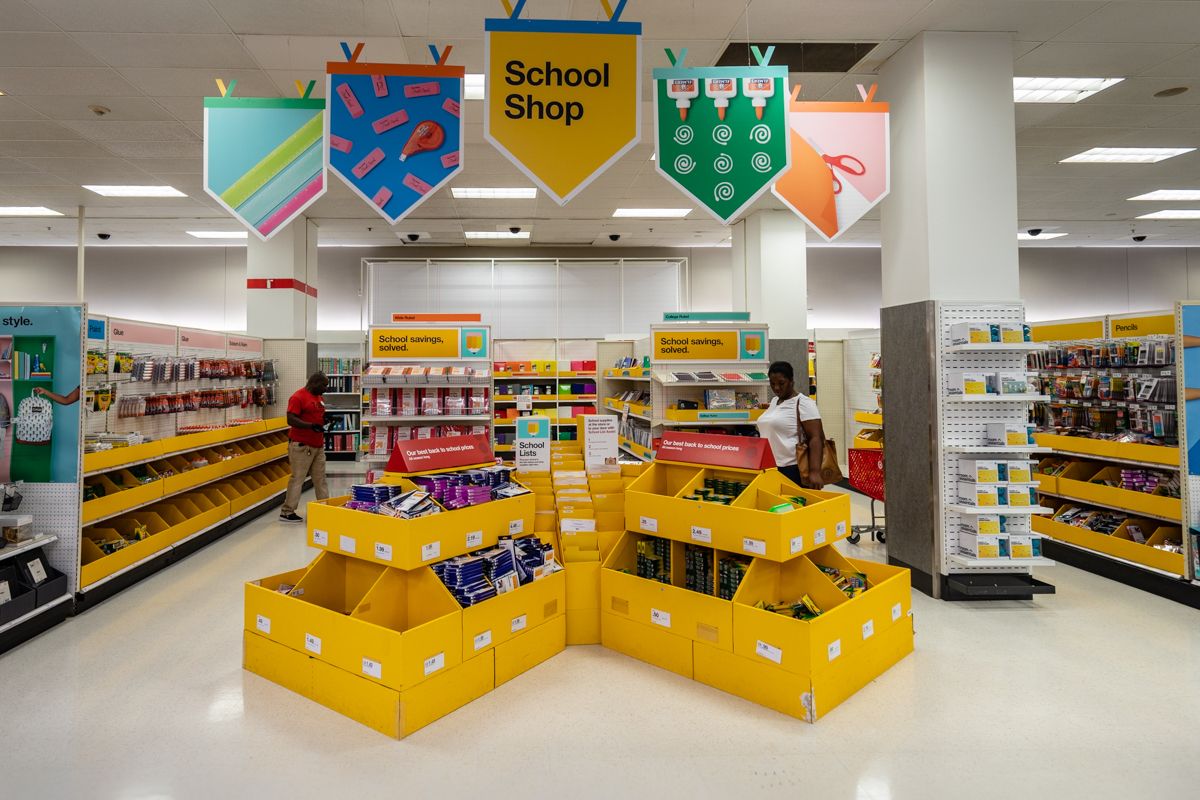 Heading upstairs, the Seasonal section is prominently situated at the top of the escalator instead of in a corner where it was previously located. To the left is the updated Home section featuring several "moments," or displays highlighting select items while telling a story. Torres notes that all Home items have been "combined" into one area to make it easier to shop.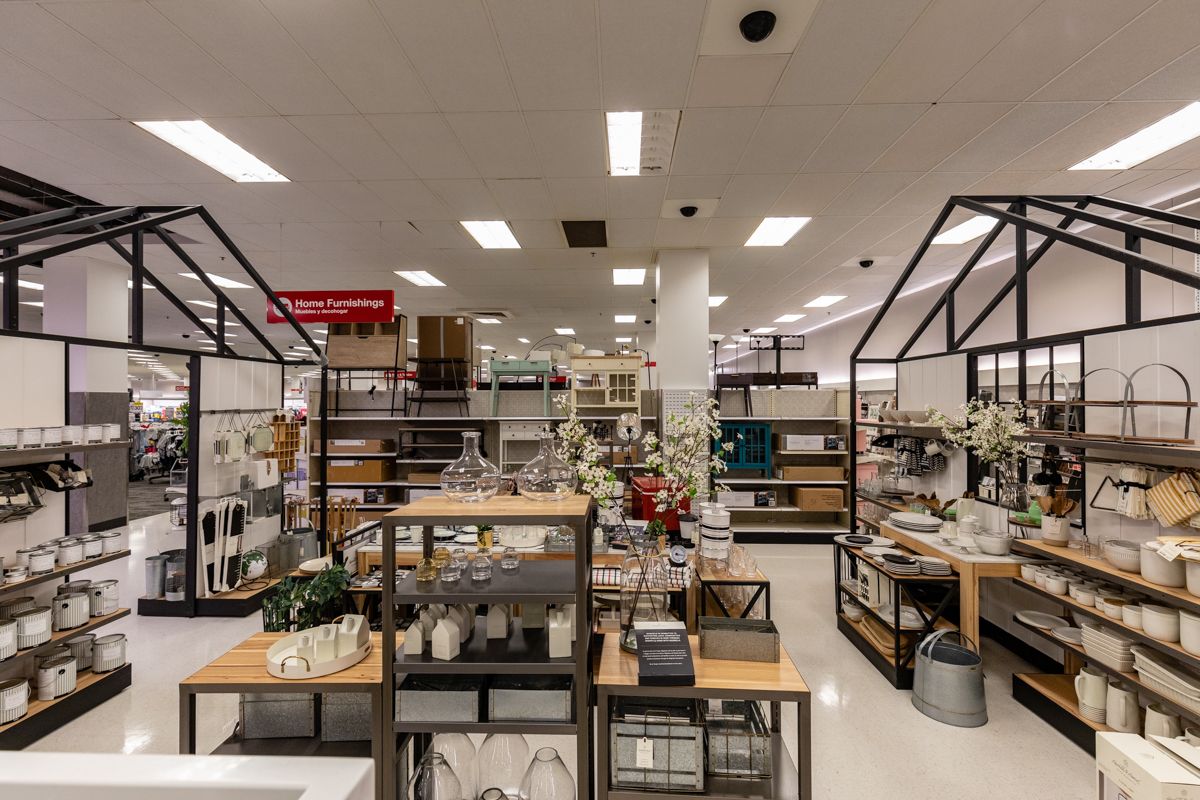 Across from Home, the Baby section now features wider aisles, making it more accessible for stroller-pushing parents to navigate and browse. The Toys department has been cleverly relocated across from the Children's clothing department.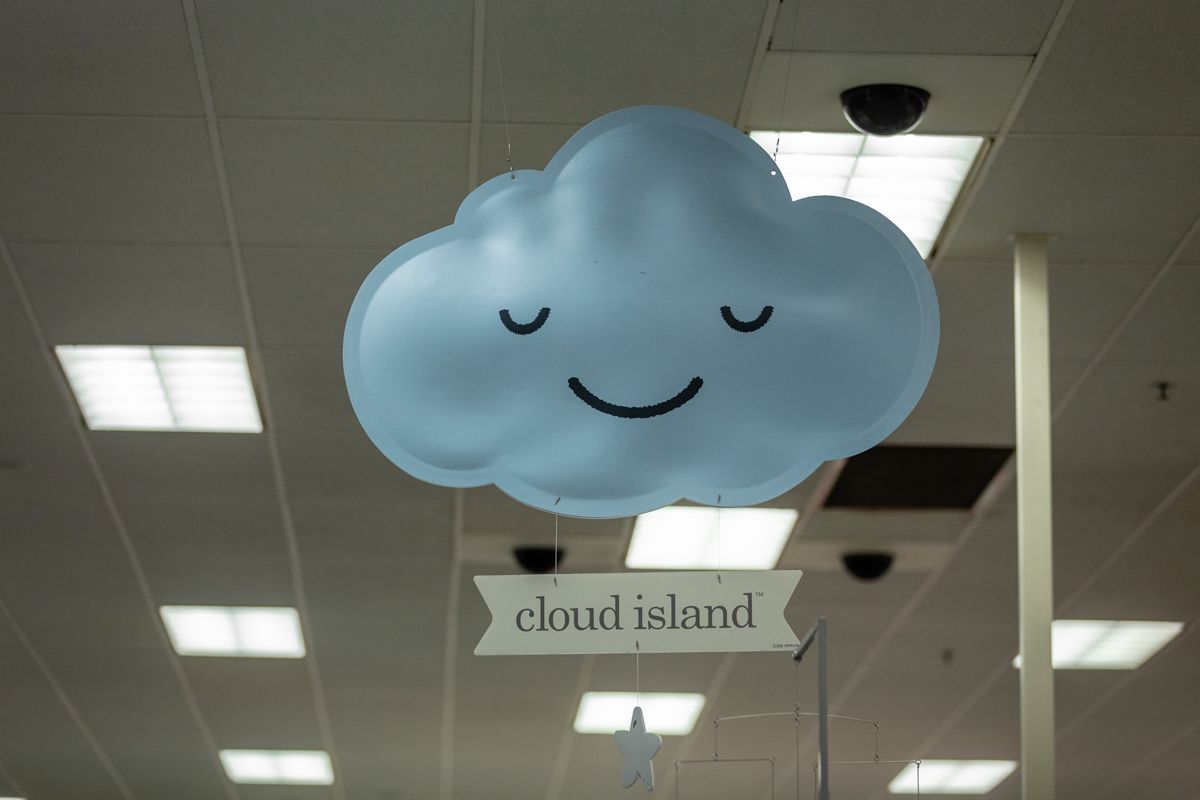 The Entertainment department features new DVD releases prominently displayed in an illuminated fixture while a cozy carpeted book section invites shoppers to sit down and read.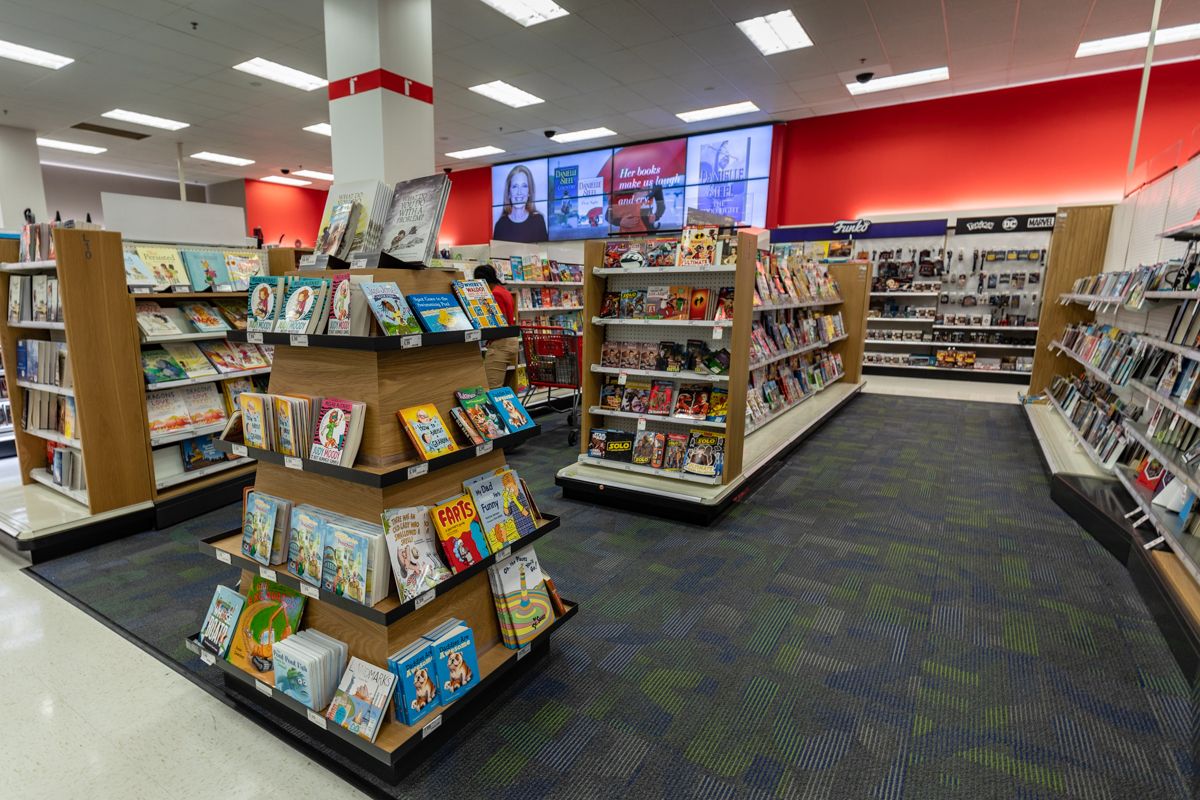 In place of the former Toys section is the much-improved Electronics department which, like the Beauty department, now features lower gondolas (shelving) for improved sight-lines, a wall of televisions on display, and discovery tables where shoppers can touch and test out gadgets before buying.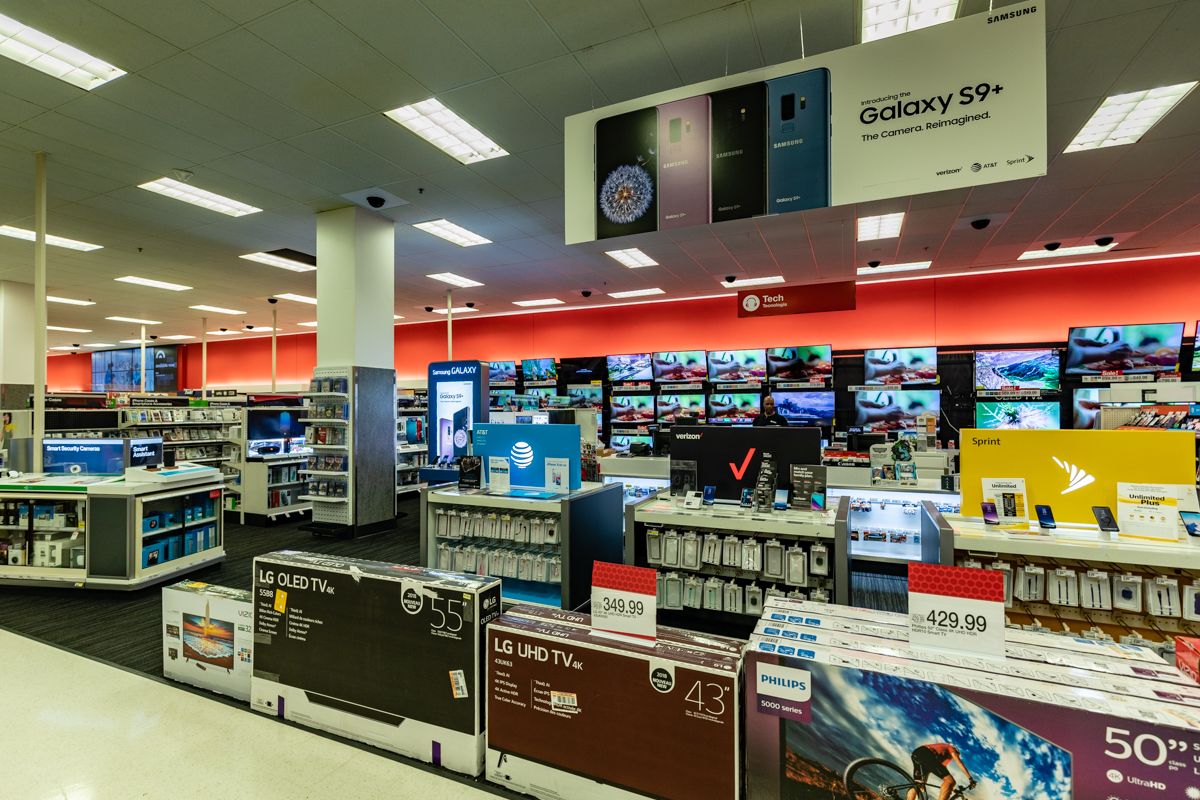 Along with remodeling 1,000 stores by 2020, Target is opening small-format stores in cities as well as "dense suburban neighborhoods and near college campuses" across the country. The company will open three New York-area stores this year, with an East Village location (500 East 14th Street) slated to debut on Sunday, July 22. A Lower East Side store will launch in August and a Selden, New York (Long Island) store will open in the Fall.
For Brooklyn, Midwood will get a new store at Kings Highway and 14th Street in 2019 while Central Brooklyn (East Flatbush) will see a Target open at Kings Highway and Foster Avenue in 2020, according to a representative for the chain.
While the remodel of the Atlantic Terminal store has been a long process, Torres says shoppers will be happy with the results. "With any remodel it's been a little challenging, but I think the outcome has paid off," he said. "I think the guests that shop here are enjoying the new building, they're loving the new layout, so it makes it all worth it."
Target
Atlantic Terminal Mall, 139 Flatbush Avenue
Remodel expected to be complete by the first week of August.