A Musical Peace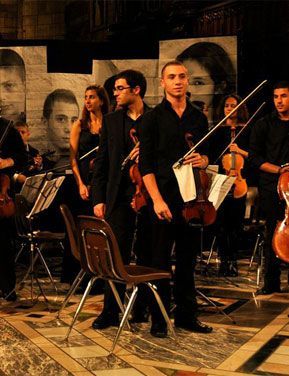 The Polyphony Youth Orchestra is working to bring peace to the Middle East through music, and tonight, they'll be doing their boundary-transcending thing from the stage at Beth Elohim. Featuring some of the best young musicians from Israel and Palestine playing together in concert, the orchestra wants to show Park Slope more than just their much-lauded musical chops — they're also here to "share…their vision for a just and equal future in their home country."
The orchestra is just one prong of the Polyphony Foundation's mission to build peace through music. A transatlantic collaboration between New York financier Craig Cogut, his wife, Deborah Cogut, and Nazareth-based concert violinist Nabeel Abboud-Ashkar, the program has reached more than 2,000 Arab and Jewish kids in the year since its 2011 launch. A fraction of those 2,000 are performing tonight. Others are participating in programs in Nazareth schools, rehearsing with Polyphony's wind ensembles, and studying at Polyphony's conservatories in Nazareth and Jaffa. Some will go onto become world-class professional musicians. But the hope is that all of them will go onto create a better (and more melodic) world.
"We have Arab children and Jewish children living in Nazareth, in Rahat, who think they are part of two different worlds," explains Abboun-Ashkar. "Polypohony brings them together to create a new place…they work together, they play together, and they create an environment that is literally defined by harmony. It's a space not a territory. It's a space they can carry with them forever."
The Polyphony Youth Orchestra performs tonight at 7pm at Congregation Beth Elohim as part of their summer US tour. The concert is free and open to the public, with a reception to follow.