A Look At The Past Life Of The Avenue H Station House

If you've ever used the subway at Avenue H, chances are you've noticed how wonderfully unique it is compared to our other local stops–or really, stops all across New York City. Forgotten New York took a closer look this week at what makes the station so special. Do you know what it used to be before the turnstiles were in place?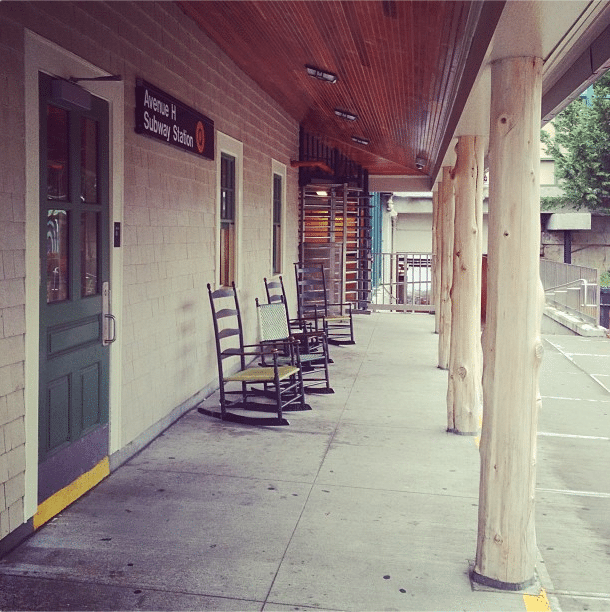 Photo by phillipromano
The building, now protected by the Landmarks Preservation Commission, once served as a real estate office for area developer T.B. Ackerson.
"The draftsperson, with the initials R.H.B.," reads the LPC's designation report of the building, "specified peeled-log posts, rough log slices as siding, a fieldstone chimney with a pair of ceramic flues, and 6/1 sash. Inside were to be three offices and a reception room, the latter warmed by a brick fireplace with a stone mantel trimmed in colored-tile insets and stone corbels. Well-crafted rusticity was clearly the desired impression. Doors were to have 'Barn door hinges & hardware,' the designer wrote, and the walls should be finished in 'Rough cast plaster.'"
Adds Forgotten NY:
The present B/Q line tracks between Prospect Park and Brighton Beach were originally a part of theBrooklyn, Flatbush, and Coney Island Railroad, which ran between Prospect Park and the Brighton Beach Hotel beginning in 1878. It became a part of the Brooklyn Rapid Transit Company (BRT) by 1900… The Avenue H station opened in 1907 after increasing population in the area necessitated a new station; it is the only such station remaining from the time when steam trains plying the Brighton Line ran at grade. Brooklyn Rapid Transit built the open cut, which runs between about Avenue H and Prospect Park, between 1905 and 1908, and streets were cut through in the subsequent decade.
Just over 100 years after its transformation into a subway station, as you may know (and perhaps wish you could forget, if that's your regular stop), the Avenue H building was restored to structurally sound condition while preserving and honoring its original architectural significance. The process took about two years, and the results are everything neighbors might wish renovations at Cortelyou, Beverley, and Parkside would be.
Check out the full post here, and if you don't normally make use of the Avenue H station, be sure to wander down one of these days (preferably a Monday or Tuesday if you're planning to catch a ride, since that's when the subway there is most consistent) and take a look–the lovely wood ceiling, log columns outside, handmade rocking chairs, and other features of the station restoration make for a rare throwback of a treat in modern day NYC.