A Look At The Brooklyn Tattoo & Body Piercing Scene At The End Is Near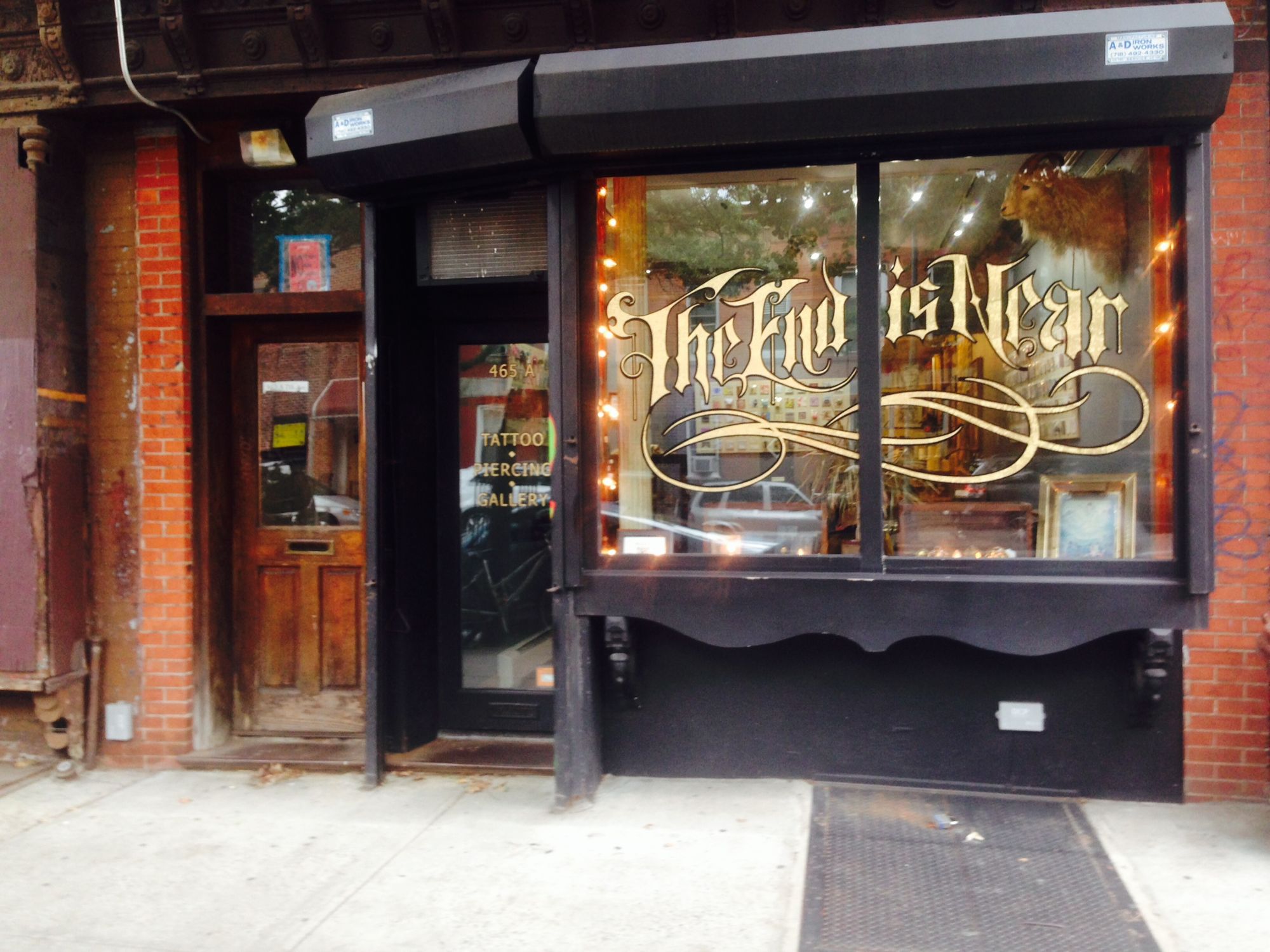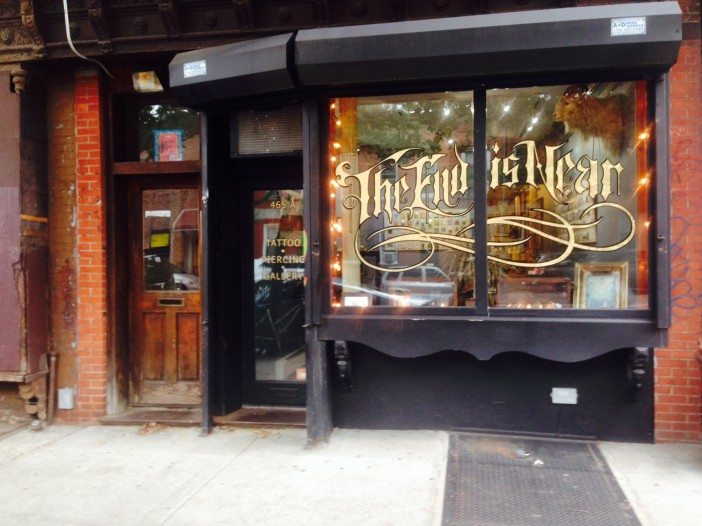 Tattoo artist and Brooklyn local Craig Rodriguez opened The End Is Near in 2010, after having already opened Hand of Glory in 2001, which is located only steps away from other space. The two are giving South Slopers and Brooklynites alike access to the some of the best body jewelry and tattooers the borough has to offer. And after four years, business is thriving.
The End Is Near is not your typical tattoo shop. This is apparent when you enter the spacious, sunlit space on 7th Avenue and are greeted by an impressive rotation of contemporary art on their walls, and in the eclectic and well crafted jewelry selection. Regional manager and senior piercer Adam P. Block, who has been professionally piercing since 1990, has helped to elevate the kinds of jewelry people get, and also the craft of piercing itself.

Block has hand selected fine jewelry made by companies such as Maya Jewelry and NeoMetal, among others. His jewelry selection provides customers pieces that are not only unique, but are excellently crafted.
"We work very hard here to give each patron that comes through our door the best service we can, from tattoos to piercings," Block said. This kind of attention to detail and catering to each client's needs is apparent from the level of precision and work both spaces are putting out.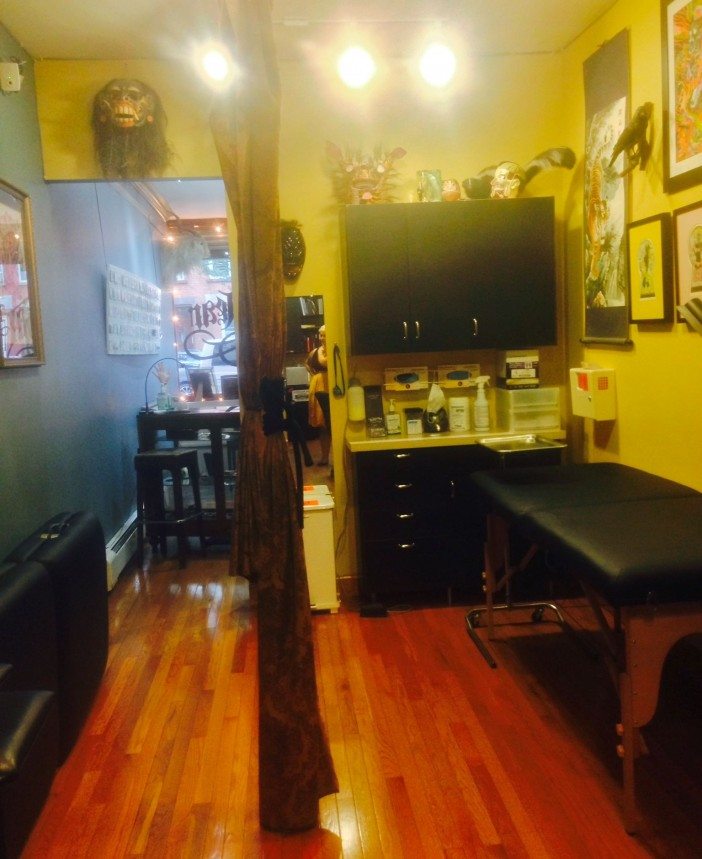 Another element that adds to the shop's eclectic charm is its name.
"The shop name originated from where the block ended, and isn't a reference to some kind of apocalyptic ending," he said. When the shop first opened it was one of the few business in that location, but in the last few years that has started to change, with vacant storefronts finding new life.
The development of 7th Avenue has been very positive for both of Rodriguez's tattoo shops overall. It has resulted in "more foot traffic, people window shopping, and has also brought a lot of commuters and young families who have moved into the neighborhood," Block said.

Those new neighbors should note that the shop also doubles as an art gallery, with exhibitions that rotate every few months. The current show, entitled "Dimebag 4," features over 250 artists and is on display through early October. With several shows a year, the gallery allows for emerging and established artists to be shown side by side, and there are opening receptions where people are encouraged to come and view the art and see the shop. In a way, the gallery is helping to challenge the notion of what a tattoo shop is.
"People have this idea that a tattoo shop is seedy place filled with certain kind of person, and that is simply not the case," Block said. Just walking into the The End Is Near, though, you'll a creative and professional atmosphere that is fostered by Block and the tattoo artists who work there.

Looking through the various tattooers' books at the shop reveals the many talented artists that are on at staff, and also gives you a sense of their unique styles. Artists such as Brian Faulk, Ron Mor, Craig Rodriguez, Angus Hendry, Sergio Luis Mesa, and Mike Suarez make up their staff of seven tattooers, and national and international artists frequently make guest appearances.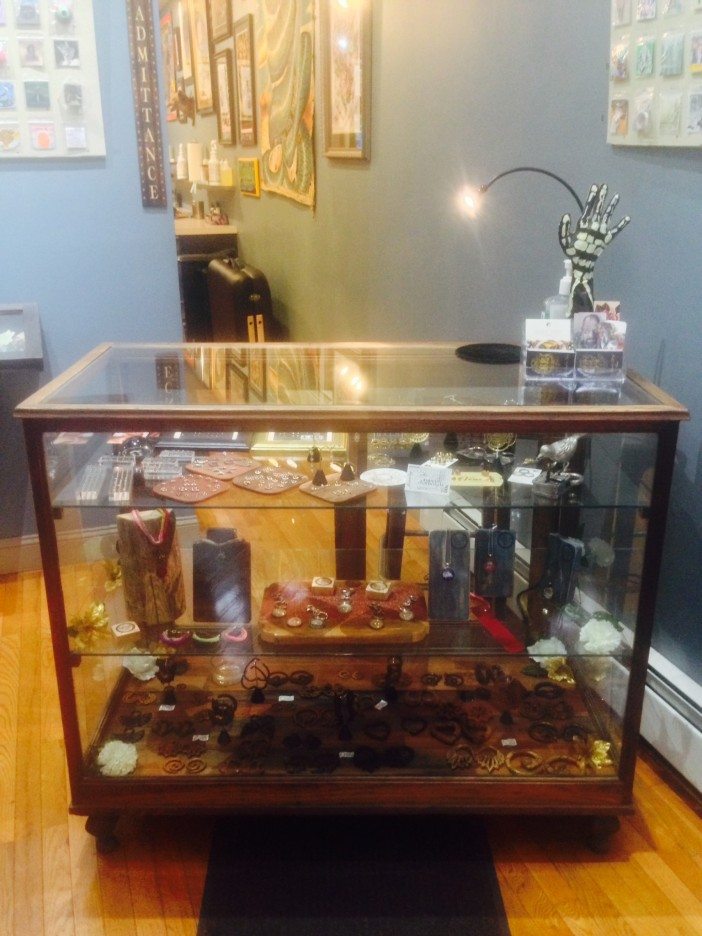 Recently, Block says there's been an increase of new interest around body modification culture.
"In the past few years, I have really seen a shift in the people getting tattoos and piercings," he said. "It's no longer just something you do when you're young, and that is reflected in the clientele we see here and in the industry in general."
Although the popularity of tattooing and body modification culture seems to be on the rise, The End is Near is helping to stay ahead of this curve. It is their emphasis on local clientele, excellent customer service, and giving their patrons access to the best tattooers and jewelry options around, which is helping to keep them a cut above the rest.
The End Is Near is located at 465A 7th Avenue, and you can also find them on Facebook, Twitter, and Instagram.