A Knuffle Bunny Tour Through South Slope
Even as an adult, there is nothing quite like the magic of watching the characters in your favorite stories come to life. My son is a HUGE fan of the Mo Willems classic, Knuffle Bunny: A Cautionary Tale, and it just so happens that our neighborhood is the epicenter of Knuffle Bunny's world.
In honor of Children's Book Week, a national literacy initiative celebrated since 1919, we thought it would be fun to trace the pint-sized heroine's footsteps, and quickly discovered that with a keen eye and a little bit of footwork, you can easily spot the landmarks passed by Trixie, her daddy and her little green bunny as they made their way to the Laundromat.
1. Prospect Park
Head up 11th Street to Prospect Park, and take an immediate right onto the first curvy path you come to.  Gleefully run along the path like Trixie did (this act is made all the better if you have your favorite stuffed animal in tow). The path ends at 15th Street. At the corner, cross Prospect Park West (in front of the Pavilion Theatre) and turn left down 14th Street.
2. PS 107, 1301 8th Avenue, between 13th and 14th
Walk one block to 8th Avenue, turn right, and you'll find PS 107, the very school that Trixie, her daddy and Knuffle Bunny walk past on the last leg of their trip to the Laundromat. The curved wrought iron gates in front of the school's entrance are easily recognized by the Knuffle Bunny faithful.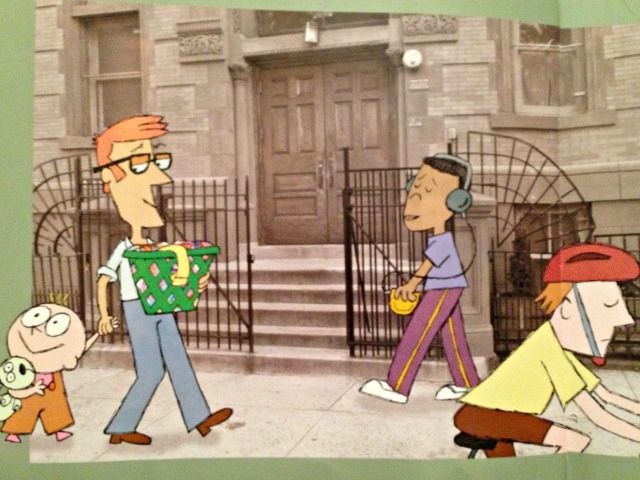 3. 6th Avenue Laundromat – 358 6th Avenue, Corner of 5th Street
After you pass PS 107, turn left down 13th Street, walk two blocks to 6th Avenue and turn right. Walk down 6th Avenue to 5th Street and you will find yourself standing in front of the Laundromat where poor Knuffle Bunny was accidentally left behind. The Laundromat's sign was changed a couple of years ago, but if you go inside, you can take your picture beside washing machine M…the very machine that Knuffle Bunny was washed in!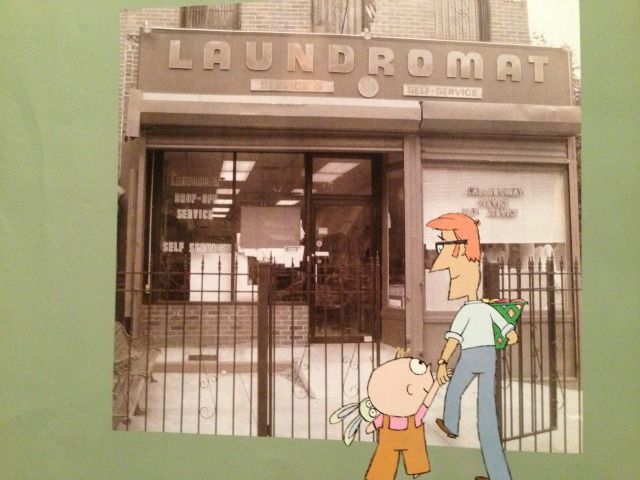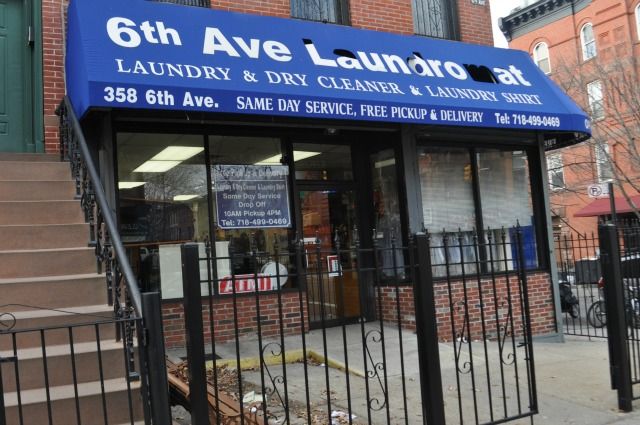 Trixie and her daddy obviously took the roundabout way of getting to the Laundromat that fateful day, but if you have some free time on a sunny afternoon, bring your Knuffle Bunny enthusiast for a walk around South Slope. The excitement on their faces as they reenact Trixie's journey will be priceless.
Images from Knuffle Bunny: A Cautionary Tale by Mo Willems