A Hodgepodge Of Transit Events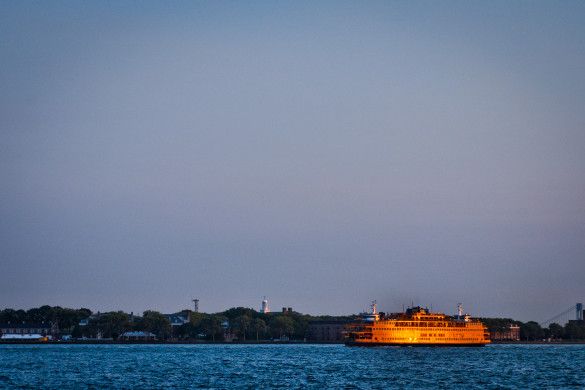 THE COMMUTE: This past week, transit news focused on what seemed like a series of unrelated events — most notably the resumption of Rockaway "A" Train service.
"A" Train Service Returns
"A" train service, between Howard Beach and the Rockaways, which was suspended seven months ago due to Superstorm Sandy, finally resumed on May 30. Due to the destruction of the trestle near Broad Channel, the suspension forced residents to resort to unreliable and overcrowded bus service. Months ago, a fleet of R-32 cars were trucked to Rockaway to at least provide subway shuttle service within Rockaway but it was in no way adequate to meet residents' needs. If you think transit service is poor in Sheepshead Bay, you should be aware of the two-hour plus commutes and hour waits for buses, which Rockaway residents were forced to endure, with the trestle out of service.
Extension Of Rockaway Temporary Ferry Service
A new subsidized weekday ferry service to Wall Street provided a quick 30-minute commute to Wall Street from Beach 108th Street and Beach Channel Drive at a reasonable $2 fare two weeks after subway service was suspended. Because of the efforts of local elected officials, the city agreed to extend service for another six weeks as well as add weekend service throughout the summer beginning July 4th. The future of this service remains uncertain and it is doubtful it will become permanent. Meanwhile, efforts to restore Rockaway service via the abandoned Rockaway line via a rail or subway line are continuing.
Transportation — Not A Priority For Our Next Mayor
At a debate held last Thursday at the Manhattan Beach Jewish Center among the seven democratic hopefuls, sponsored by the Jewish Press, only two candidates — Sal Albanese and Bill de Blasio — mentioned the need for improved mass transit. Admittedly, the next mayor will have little say in transit policy and there was no transit question posed to the candidates. Several months ago, the candidates faced off in a debate of transit issues.
However, it was encouraging that — unlike Mayor Bloomberg who, in the last mayoral election, made a pie in the sky proposal, which he would have no control over — no candidate this year so far has taken a similar tack.
If you remember, four years ago, the current mayor promised that, if elected, he would have the MTA institute free crosstown Manhattan bus service. His rationale was that since most people using those buses already pay a subway fare, revenue loss would be minimal and bus speeds would increase. That part was fine. The problem came one day after winning the election, when a reporter asked him when the free fares were expected to take effect. The mayor's response was that it was only a suggestion, not a proposal, and he would leave the final decision up to the experts at the MTA. They, of course, nixed the proposal without even analyzing how much revenue would be lost or if the savings in bus travel time would make the proposal worthwhile to even pay for itself.
Albanese promised that, if elected, he would form a coalition with mayors of other cities to fight for increased federal funds for mass transit as well as for more funding to repair New York City's aging transportation infrastructure. Bill de Blasio echoed those sentiments.
Bike Share Kicks Off To A Bumpy Start
New York's much-delayed bike share program, sponsored by Citibank, kicked off last week with numerous problems all over the city. One would think that, with all the delays, the kinks would have been ironed out, but this was not the case. The locations of the bicycles as well as problems picking up and returning the bikes were criticized. It is interesting to note that the resumption of "A" train service to the Rockaways went off on schedule without a hitch, and was even kicked off with the first trip made by the nostalgia train, while the bike share program encountered numerous widespread problems.
I support the concept of bike share but I admit that I have not been interested enough to read about how the program actually works, or should work. My biggest fear is that serious bicycle injuries and deaths will skyrocket as a result of bike share program and, indeed, the first accident has already been reported. While I wholeheartedly support recreational biking, I seriously wonder how feasible it is to safely ride a bike in Midtown, even with bike lanes. Supporters quickly point to places such as Amsterdam where bike riding is part of the culture. However, New York City shares few similarities with Amsterdam, which may be more like Greenwich Village or Park Slope, but certainly is not at all like Midtown Manhattan.
Nevertheless, it will be interesting to see if the program will catch on. Bicycle accidents are for me intensely personal. My sister's death was as a result from a bike accident while riding along a protected, off-road bicycle path with no other vehicles involved. Most bike riders do not realize how dangerous riding a bike can be. An activity I once enjoyed, I never rode a bike again after my sister's accident, after I realized how easily it could have been me who could have had been in that accident and left in a coma for seven years. The point is not that it is dangerous to ride a bike, but that extreme caution needs to be taken. One should never ride without a helmet or without bright or reflective clothing, and one must pay close attention to roadway conditions at all times. All it takes is one careless error.
What Does This All Mean?
These seemingly unrelated stories are actually related. When we think of transportation or commuting, the first thing that comes to mind are riding trains and buses or driving by car. Other modes such as bicycling and ferries are often afterthoughts. Some of the mayoral candidates, especially Christine Quinn, would like to change that by making ferries more of a dominant mode and would probably be the candidate most in favor of increasing our bike lane network.
I am not going to get into the bicycle debate right now, but do believe that offering ferries, especially from places like the Rockaways where they have a huge time savings over conventional modes, do show potential. The problem, of course, is being able to finance them and keep them operating for longer than a two-year demonstration period. In order for them to succeed, they need to be part of a coordinated transportation policy, which includes adequate publicity, providing bus routes to access them, and having adequate parking available near ferry docks in the outer boroughs.
In addition to commuter ferries, we also should be investigating resuming summer recreational ferries as a means to boost the economy. Anyone remember the ferries that used to leave the foot of Ocean Avenue in Sheepshead Bay for Breezy Point? How convenient it was as compared to the current four-bus double-fare trip presently required. I think there also was a ferry to Rockaway Park. How I wanted to ride those as a kid, but my father thought that, at quarter each way, they were much too expensive (That would have been a $2 expenditure — plus the $2.40 double subway and bus fare for a family of four, or a total of $4.40). So, we had to resort to a subway and the Staten Island Ferry, which cost only $1.40, to breathe sea air and enjoy ocean breezes.
How nice it would be to have that ferry back.
The Commute is a weekly feature highlighting news and information about the city's mass transit system and transportation infrastructure. It is written by Allan Rosen, a Manhattan Beach resident and former Director of MTA / NYC Transit Bus Planning (1981).
Disclaimer: The above is an opinion column and may not represent the thoughts or position of Sheepshead Bites. Based upon their expertise in their respective fields, our columnists are responsible for fact-checking their own work, and their submissions are edited only for length, grammar and clarity. If you would like to submit an opinion piece or become a regularly featured contributor, please e-mail nberke [at] sheepsheadbites [dot] com.