A Diner A Day: 7 Of Our Favorite Neighborhood Spots
A diner can be a different thing to different people. It can be a place for pancakes and coffee in the morning. It can be the last stop after a night out for a cup of coffee. Diners are an institution and they are as individual as they are unique.
The menus hardly vary between establishments, but that's ok. Diners are about variety, not specialization. Each has some version of the Classic Standard two eggs with bacon, toast and potatoes and the ubiquitous Gyro Sandwich Platter.
And of course, you can always find a piece of pie and cup of coffee.
Almost as important as the food is a diner's ambiance. A diner's atmosphere changes during the day as if it were a living, breathing being.
In the morning, diners can be quiet, sleepy places, in the afternoon busy and efficient. Starting around 3:00pm, they take on the glow of the afternoon until night takes over, creating a different kind of quiet. They can be a safe harbor after a long night in the bars or the perfect place for a roll and coffee to kick start your morning.
Whatever your thoughts on diners, there is no denying that South Slope has some of the best Brooklyn has to offer.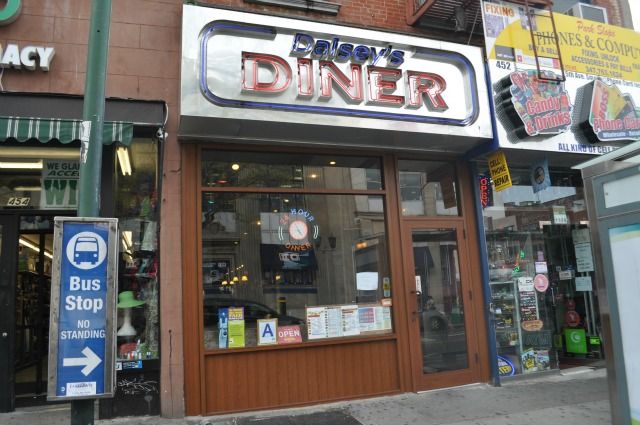 Daisy's Diner
452 5th Ave, between 9th and 10th
Hours: 24/7
One of the most popular among South Slopers, Daisy's encompasses everything that diner should be. They are open 24/7 offering the typical diner menu with a killer selection of pies for that middle of the night craving. The standout here is the New York Reuben platter. The atmosphere is an odd mixture of kitsch and classical diner with a long very inviting lunch counter. Throw in a colorful staff and you have a diner that has not only good food but also good fun.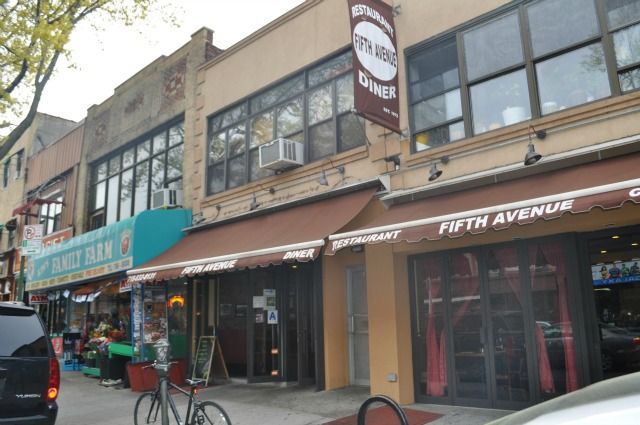 5th Avenue Diner
432 5th Ave, between 8th and 9th
Hours: 24/7
You can find just about any kind of diner dish you're looking here and all offerings are well prepared.  Standouts include giant fluffy pancakes and great hamburger platters. They also offer a full bar with a daily happy hour-not something you find in your run-of-the-mill diner.
On the negative side, their $20 credit card minimum is a bit of a bummer. Their prices are very, very reasonable and you have to order a lot of food to reach that amount. Oh, and a heads-up for those with young ones: they are very kid friendly but their booths are not. No matter how hard we try, the booster seats just don't seem stable.
The atmosphere is not as warm as some diners with an emphasis on clean rather than cozy. However, the walls are adorned with old pictures of 5th Ave and 9th St. from days gone by to enjoy as you dine.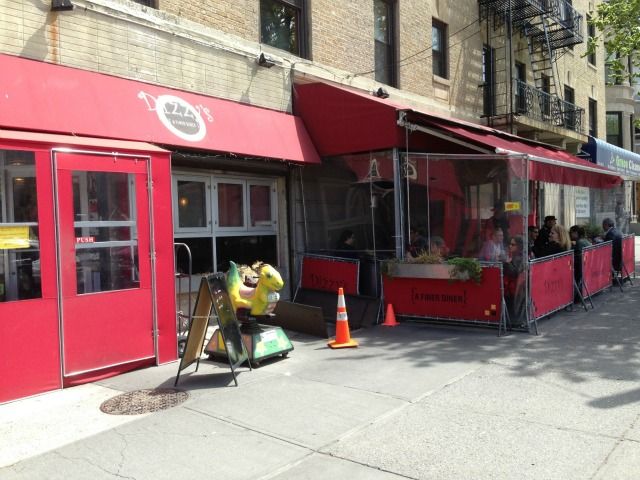 Dizzy's Diner
511 9th St and 8th Avenue
Monday -Friday: 7am – 10pm
Weekends: 9am-4pm, 6-10pm
Dizzy's is a unique diner with its California beachfront feel and outdoors seating. The crowds to get in on weekends speak to its popularity among brunch seeking South Slope epicures. Their hours are limited compared to most diners, as is their menu selection. But what items they do have on their menu they seem to do well. Extremely child friendly, they have adopted the practice of so many other restaurants of offering crayons for the kiddies to occupy themselves during the wait for the food.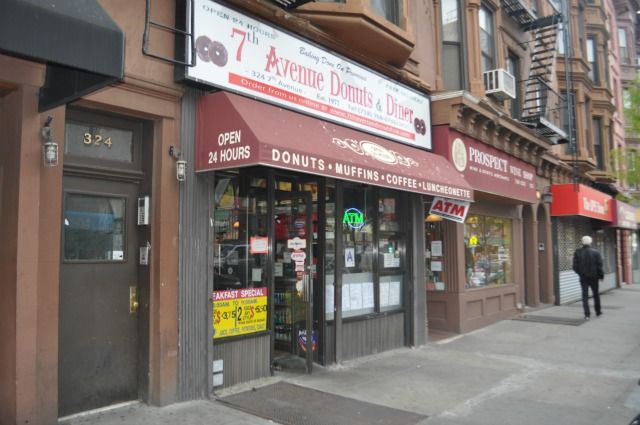 7th Avenue Diner and Doughnuts
324 7th Av, between 8th and 9th
Hours: 24/7
In the words of one patron overheard on our visit, 'this place is like a neon magnet, it just draws you in.' 7th Ave Diner and Doughnuts is a classic diner in every sense of the word. The long Formica lunch counter dominates one half of the establishment with classic round swivel stools.  The other half consists of cozy, private booths. Better than average diner fare and as for their name-sake doughnuts, they are all made in-house and are delicious. No other diner in the Slope offers this simple delicacy. If you are looking for a true diner experience, 7th Ave Diner and Doughnuts is your best bet.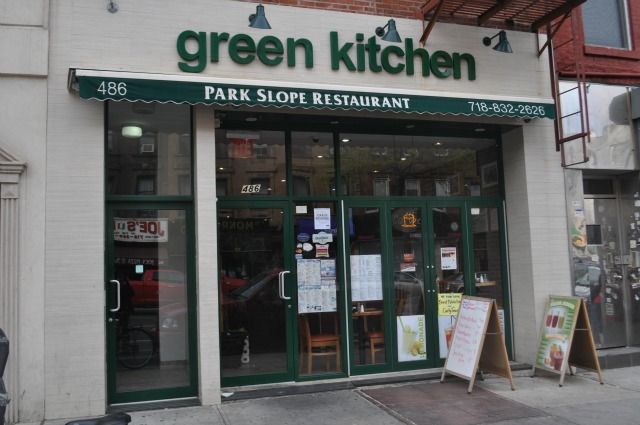 Park Slope Restaurant
486 5th Ave, between 11th and 12th
Monday -Saturday: 6am-10pm
Sunday: 6am-8pm
Holidays: 6am-5pm
Sharing a spot with Green Kitchen (where you'll find a fresh juice bar at the ready), Park Slope Restaurant is somewhat lacking in space, but that doesn't really matter, because where this place shines is in their lightning fast delivery. We've ordered your classic sandwiches, burgers, and even breakfast from Park Slope Restaurant more times than we could count, and have always received piping hot food in under 30 minutes.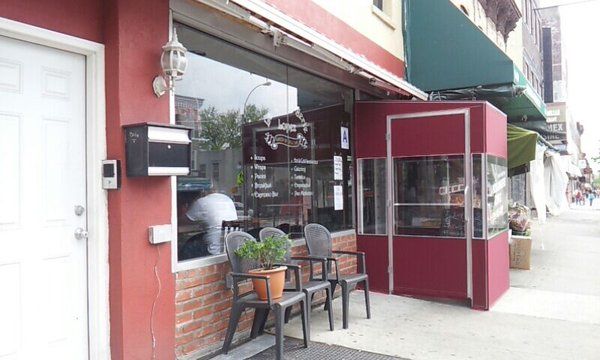 Photo by May M.
La Boulangerie Lopez
647 5th Ave, between 18th and 19th
Hours: Monday – Saturday: 6am-9pm
Sunday: 6am-6pm
Although we were not impressed with the huevos a la Mexicana at La Boulangerie Lopez back in March, we've since discovered where this mom and pop restaurant knocks it out of the park: their baked goods. Everything is made fresh daily, and we officially have our favorite neighborhood spot for 7 grain bread.
Oh, and the cherry turnovers are some of the best we've ever tasted.
Little Purity
390 7th Ave, between 11th and 12th
Hours: 6:30am – 11:00pm daily
Little Purity is a small, classy diner with a Spanish food flair. In addition to the full range of typical diner options, they offer a Cuban and Pulled-Pork sandwiches.  Other Spanish options are Chorizo Breakfast Burritos and Huevos Rancheros. The real appeal here, however, is the atmosphere. The small, cozy dining room has only six booths and a few tables and a small counter and it has the feel of a small town diner