A box of rocks or smart-boards for preschoolers? The City builds a pre-school in Bay Ridge.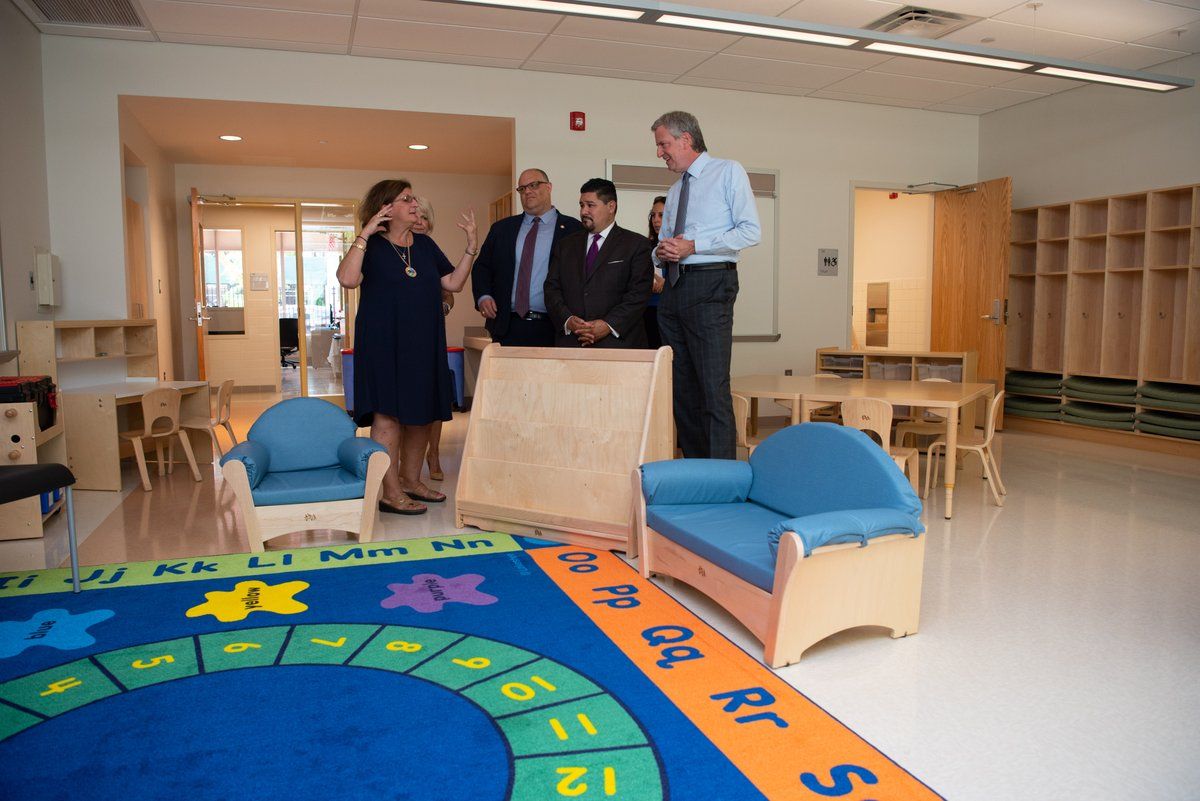 BAY RIDGE – Mayor Bill de Blasio, Schools Chancellor Richard A. Carranza, and Council Member Justin Brannan toured a brand-new pre-K center in Bay Ridge yesterday. The new three-story building will offer seats to more than 250 pre-K students starting this September.
Located at 369 93rd Street, the new early childhood center was built by the School Construction Authority and is fully ADA-accessible. It is home to 14 classrooms with interactive whiteboards, an outdoor playground, an indoor rec room and a community meeting room. We are still waiting to hear how much it cost and how many other centers like this are in the works, or what was the design thinking behind them.
"It's long been known, I remember very vividly when we started Pre-K, one of the places that needed it the most is right here. I remember looking at the maps with the folks who were originally planning it and they said that District 20, there is just overwhelming need and we got to figure out a way to answer that need, we don't have enough space, we've got to do something different, and the solution was to create an early childhood center," the Mayor said in his remarks.
"I want to remind you, centers like this that are being built around the City can handle both Pre-K and 3-K, so there are going to be part of the development of our whole vision for early childhood education," de Blasio continued. "And it's an exciting vision, because the day is coming not long from now in New York City where every child will be guaranteed a seat in 3-K and Pre-K. Two full years of guaranteed, high quality, free early childhood education. And for a lot of families that was impossibility not long ago. And it's so important because it is the time we can do the most good for our children."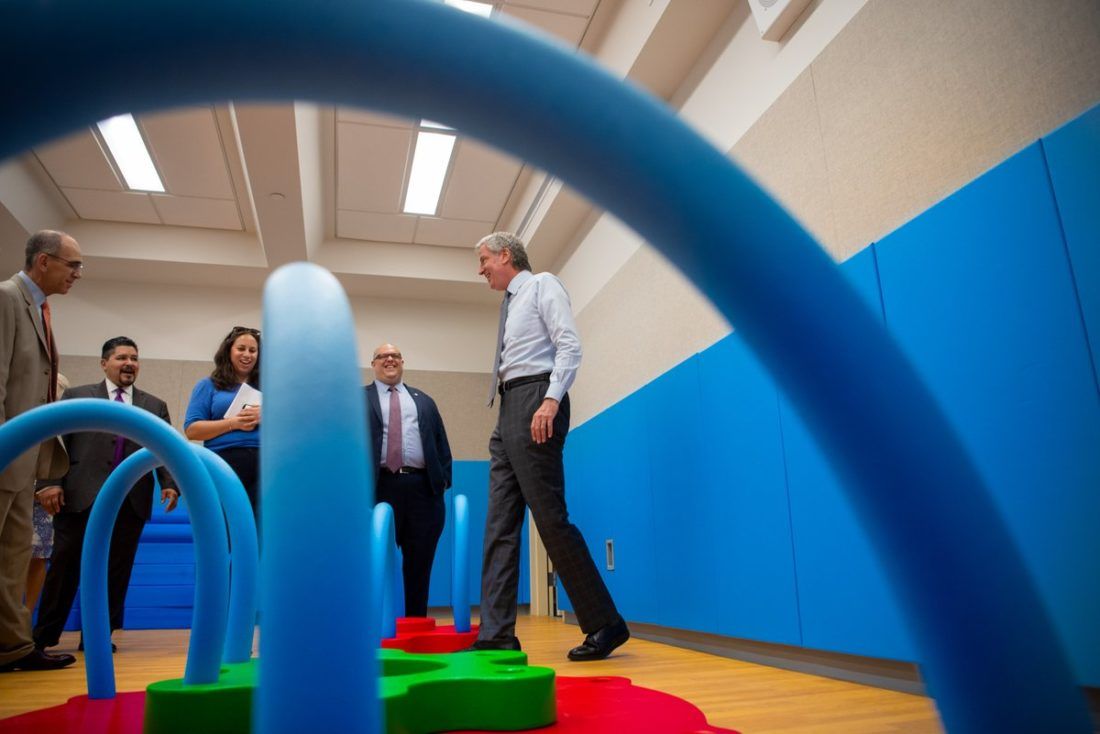 "And I got to tell you, as we build out this vision, and it's going to take a lot of work because the plan is that every single district, 32 districts in this city, that every single one will have 3-K by September 2021. Three years from now. This vision is necessary for the future of our city but it takes audacity to achieve it and this is what gives me hope, when I see what can be done, and by the way, state of the art, for all of you who were on the tour, I mean this is as good as it gets. These classrooms have everything and they're beautiful, and they're inviting, and they're energetic, this is exactly what we need to give our kids – the very, very best."
Councilmember Justin Brennan spoke briefly, remarking how back when he was in preschool they "gave us a box of rocks and said, 'see you at 3 o'clock.'"
However, it seems, rocks are no longer welcome in the school.
Schools Chancellor Richard Carranza: No more rocks!
Mayor: He has decreed!
Carranza: "We're so proud here in District 20 that we have a state of the art facility that our youngest learners will be able to come and explore and make meaning of the world, and play with purpose, but also learn to read and also learn how to interact with each other so that when they matriculate into kindergarten they are coming with a full head of steam and pushing the envelope.
"So with this, I can hardly wait to have young souls running around and learning – not throwing rocks – but hopefully playing in the interactive equipment that we have for play and for all of us in this neighborhood, enjoy this. This is your learning center where we get to impact our youngest learners. Congratulations!"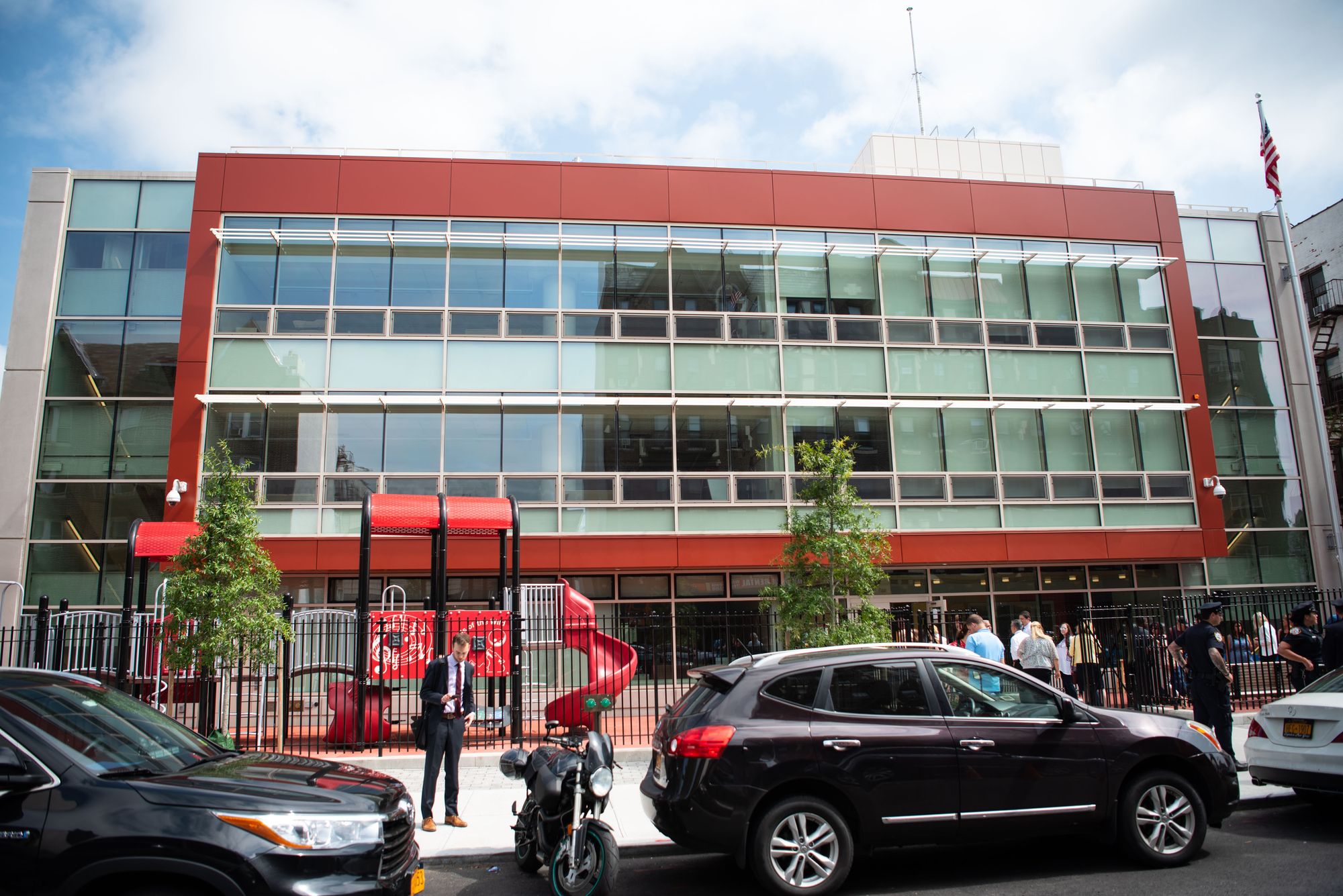 While most definitely needed, and judging from the photos – the interiors look nice, is what the city is building world class?  Early childhood centers, more commonly known as kindergartens around the world, offer some magical spaces for kids to explore through play and grow. This kindergarten in Japan is touted as possibly the world's best kindergarten, and is quite different – with a lot more emphasis on giving kids as much freedom to run and explore as possible: