9/11 Remembrances In Brooklyn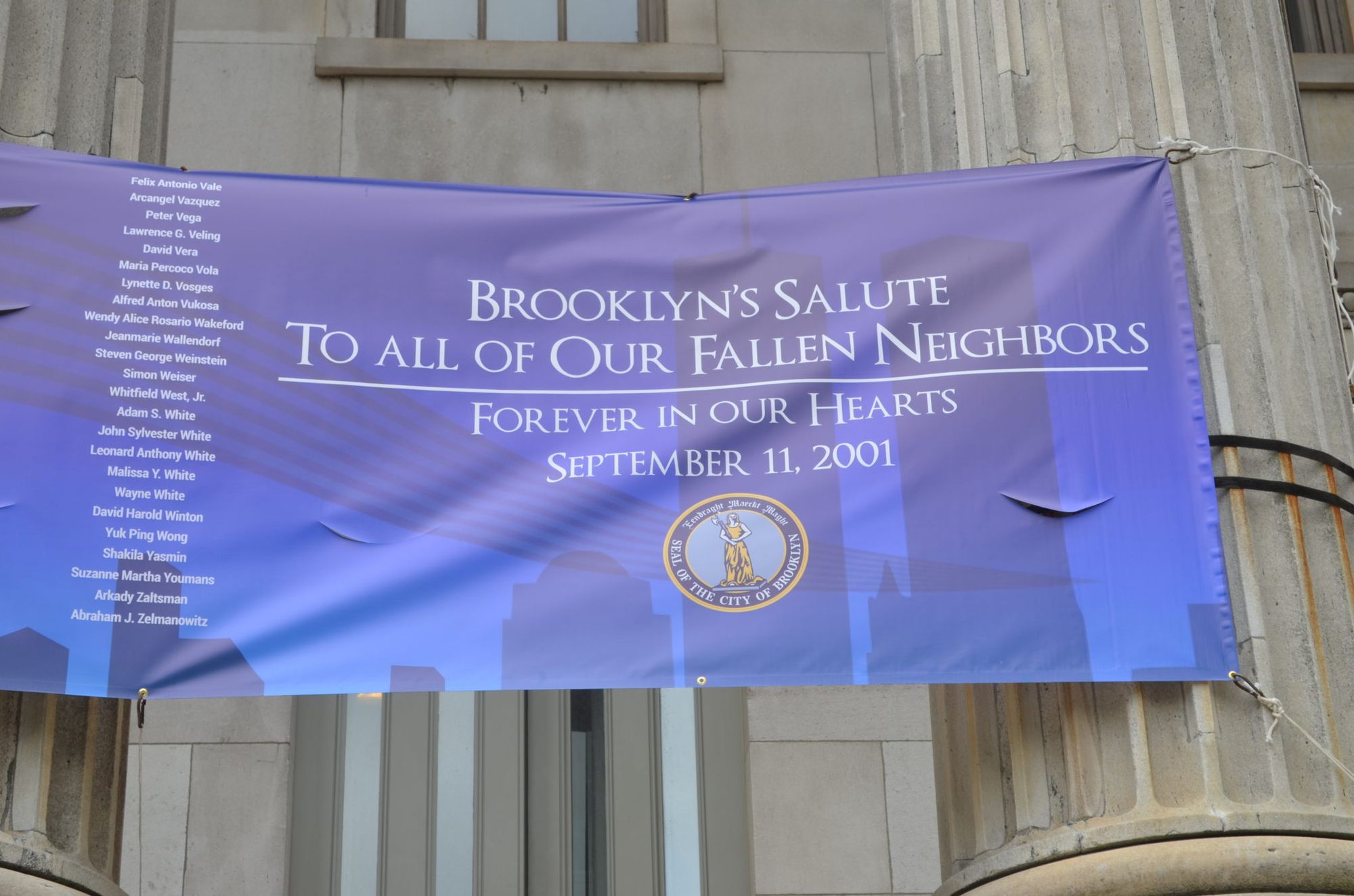 BROOKLYN HEIGHTS – This year marks the 18th anniversary of the 9/11 attacks that took the lives of 2,996 people, including 266 Brooklyn residents. Special events are planned in the borough next week to commemorate the day and remember those lost.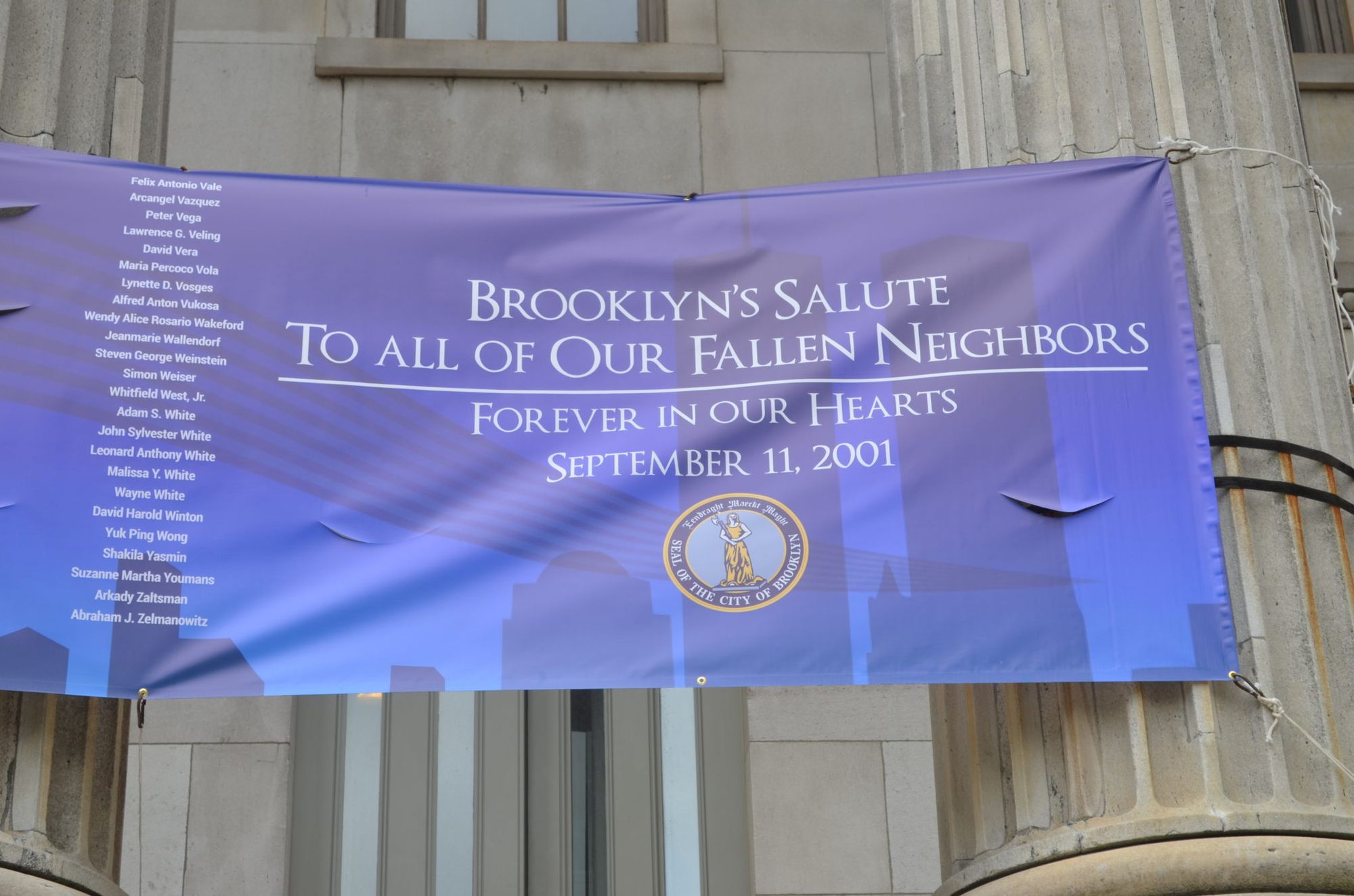 In collaboration with the 9/11 Memorial & Museum, Brooklyn Historical Society (BHS) will exhibit Wolfgang Staehle's "2001," a dual-channel video piece that captured "the approach and impact of hijacked planes Flight 11 and Flight 175." A few days prior to September 11, 2001, Staehle set up unmanned webcams in Brooklyn to record "the predictable normalcy of life," according to BHS. Instead of capturing what should have been "a routine workday," his cameras chronicled the destruction of the World Trade Center towers and "a city under siege."
BHS will screen "2001" in real-time on Wednesday, September 11 from 8:30am to 7pm.
At 7pm following the screening BHS will host Narrators of 9/11: The Power of Word, a panel discussion with writers whose works focus on "our shared experience of the attacks." Senior Director of Public and Professional Programs at the 9/11 Memorial & Museum, Jessica Chen, will moderate the conversation between Garrett M. Graff, author of The Only Plane in the Sky: An Oral History of 9/11 and Giannina Braschi, author of United States of Banana.
Brooklyn Historical Society, 128 Pierrepont Street, Brooklyn Heights
Learn more at brooklynhistory.org.
Also on Wednesday, September 11, the Brooklyn-Bedford Park 9/11 Memorial Committee will host the 18th Anniversary Memorial Candle Vigil. The ceremony will take place at 6:30pm on the handball court at Bill Brown Park on Avenue X between East 24th Street and Bedford Avenue in Sheepshead Bay.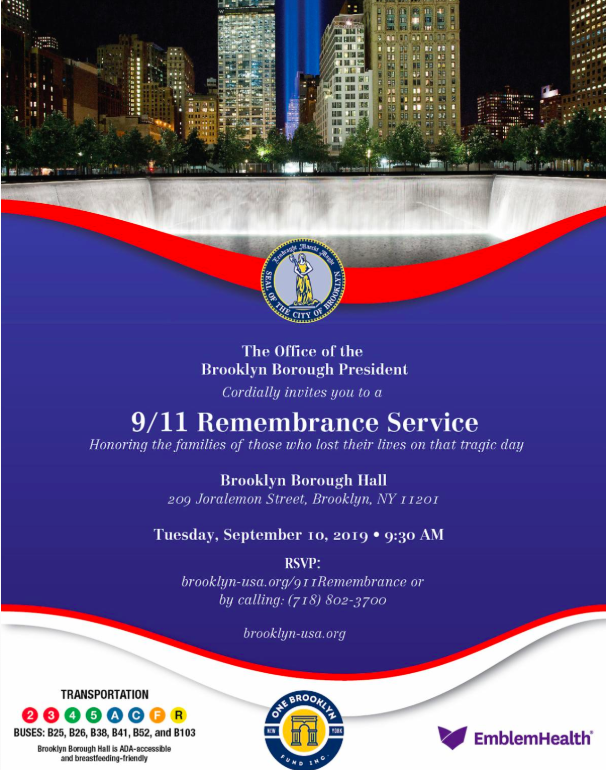 On Tuesday, September 10, Brooklyn Borough President Eric Adams will host the 5th annual Brooklyn 9/11 Remembrance Service at Borough Hall. The ceremony will honor families who lost love ones on September 11 and display a banner featuring the names of all 266 Brooklyn residents who died during the attacks.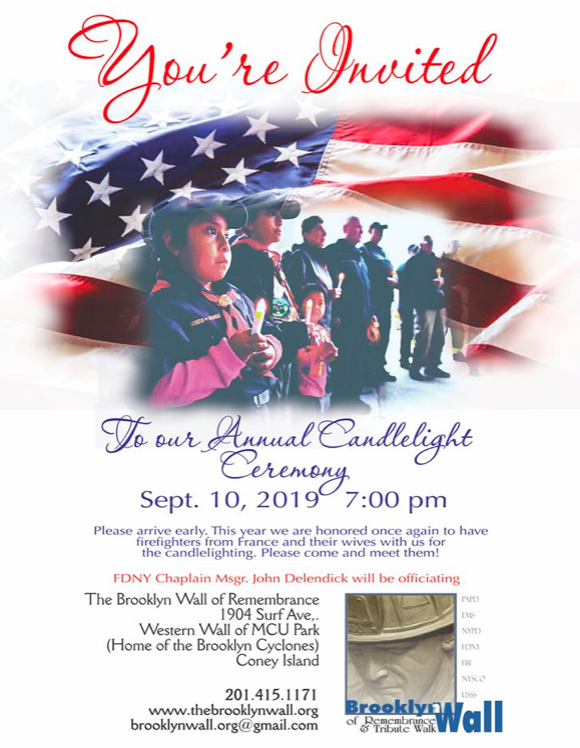 The Brooklyn Wall of Remembrance, located at MCU Park at 1904 Surf Avenue in Coney Island, will host the annual Candlelight Ceremony on Tuesday, September 10 at 7pm. FDNY Chaplain Monsignor John Delendick will officiate the ceremony.
Featuring three 30′ x 12′ granite walls, the Brooklyn Wall of Remembrance displays laser-engraved images of the 346 Firefighters, 37 Port Authority Officers, 23 NYC Police Officers, three NYS Officers, one Fire Patrol, First Responders, and one K-9 Rescue dog named Sirius, who sacrificed their lives while helping others on September 11, 2001. Learn more here.