78th Precinct Community Council Meeting Gets Heated Over Cyclist Deaths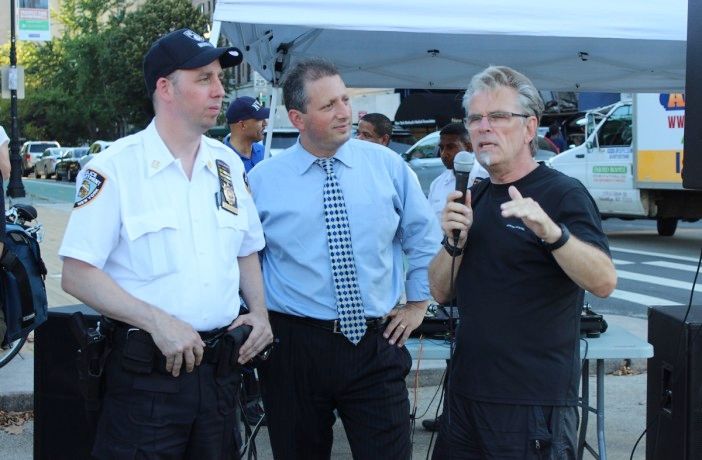 Last Tuesday at the 78th Precinct Community Council meeting, some community members expressed outrage over street safety and comments from the police concerning last week's death of cyclist James Gregg.
There were numerous complaints made to the Community Council President Wayne Bailey and Deputy Inspector Frank DiGiacomo concerning truck safety, which Bailey said he has been addressing.
"I have been complaining about surface trucks forever, being in the neighborhoods, being on Atlantic [Avenue], and it's all because of 'toll shopping'," he said. "I have been a street safety person forever, I don't cut any slack to anybody, and the 78th has always been helpful to us."
Deputy Inspector DiGiacomo let Bailey do a majority of the talking, but urged people to let him or other officers know when they see a truck driving along an illegal route so that they can send more officers to those areas.
When the topic moved to Gregg, attendees expressed disappointment over the police's allegedly false statements to the news concerning his and other cyclists' deaths.
The founder of StreetsBlog, Aaron Naparstek, spoke passionately about Gregg's death. Naparstek said that he was on the scene about thirty minutes after the accident and witnessed a 78th Precinct officer telling someone it was the cyclist fault during the investigation.
"I've covered dozens of these cases and we see again and again, anonymous police sources say it was the victim's fault and that becomes the story and you guys did it," Naparstek said. "I just thought that was reprehensible and you guys are supposed to be the best. You don't understand what this does to these families."
The StreetsBlog chastised the police saying:
"An initial NYPD statement on the crash said 'no criminality' was suspected on the part of the truck driver, and that Gregg had 'collided into [the]  rear tire of the tractor trailer.' A second police statement said the truck driver overtook Gregg and 'something like a wind force…sucked the bicycle toward the back of the truck.' The day after Gregg's death, the department said that 'for unknown reasons [Gregg] fell to the ground and was struck by the rear passenger tires of the tractor-trailer,' issuing five summonses to the driver for going off-route and various equipment violations."
"It's not unusual for police officers to jump to conclusions and erroneously blame victims for their own deaths. Gregg's death occurred less than a week after police claimed Lauren Davis was biking against traffic on Classon Avenue when she was struck and killed by a turning driver. A witness who saw Davis traveling in the direction of traffic has since upended NYPD's initial account."
DiGiacomo said he would speak to the officers about being careful about what they say to the media during active investigations.