70th Precinct Marks 7th Anniversary of Dillon Stewart's Death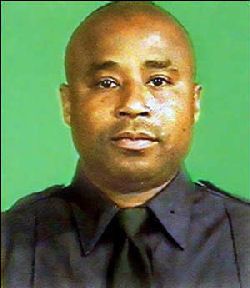 Yesterday, the 70th Precinct marked the seventh anniversary of the death of Police Officer Dillon Stewart.
Stewart was killed in 2005 after being shot pulling over a speeding vehicle our area. Upon pulling up next to the vehicle, several shots were fired and "one of the bullets hit Officer Stewart, of Elmont on Long Island, under his left armpit just above the panels of his bullet-resistant vest, the authorities said, and pierced his left ventricle," reported the New York Times.
Despite the wound, Stewart followed his attackers to a building on East 21st Street. The officer hadn't even realized he'd been shot despite wearing a bulletproof vest. He later died after nearly five hours in the operating room at Kings County Hospital Center.
The suspect, Allan Cameron, was soon apprehended and later convicted in 2007. He faces life in prison without parole.
The playground near the corner of Parade Place and Caton Avenue was named in Officer Stewart's honor, and each year the precinct holds a blood drive on the anniversary of the shooting.
Inspector Eric Rodriguez marked the anniversary of Stewart's death at last night's 70th Precinct Community Council meeting, noting that it is a difficult time for everyone in the command. Stewart's daughters visited the command, said Rodriguez, speaking to officers about their father.
Our thoughts continue to be with Officer Stewart's widow and two daughters, his family, friends and colleagues.