70 Steps Are Too Many! Locals Renew Call On MTA To Install Elevator at 7th Ave F/G Station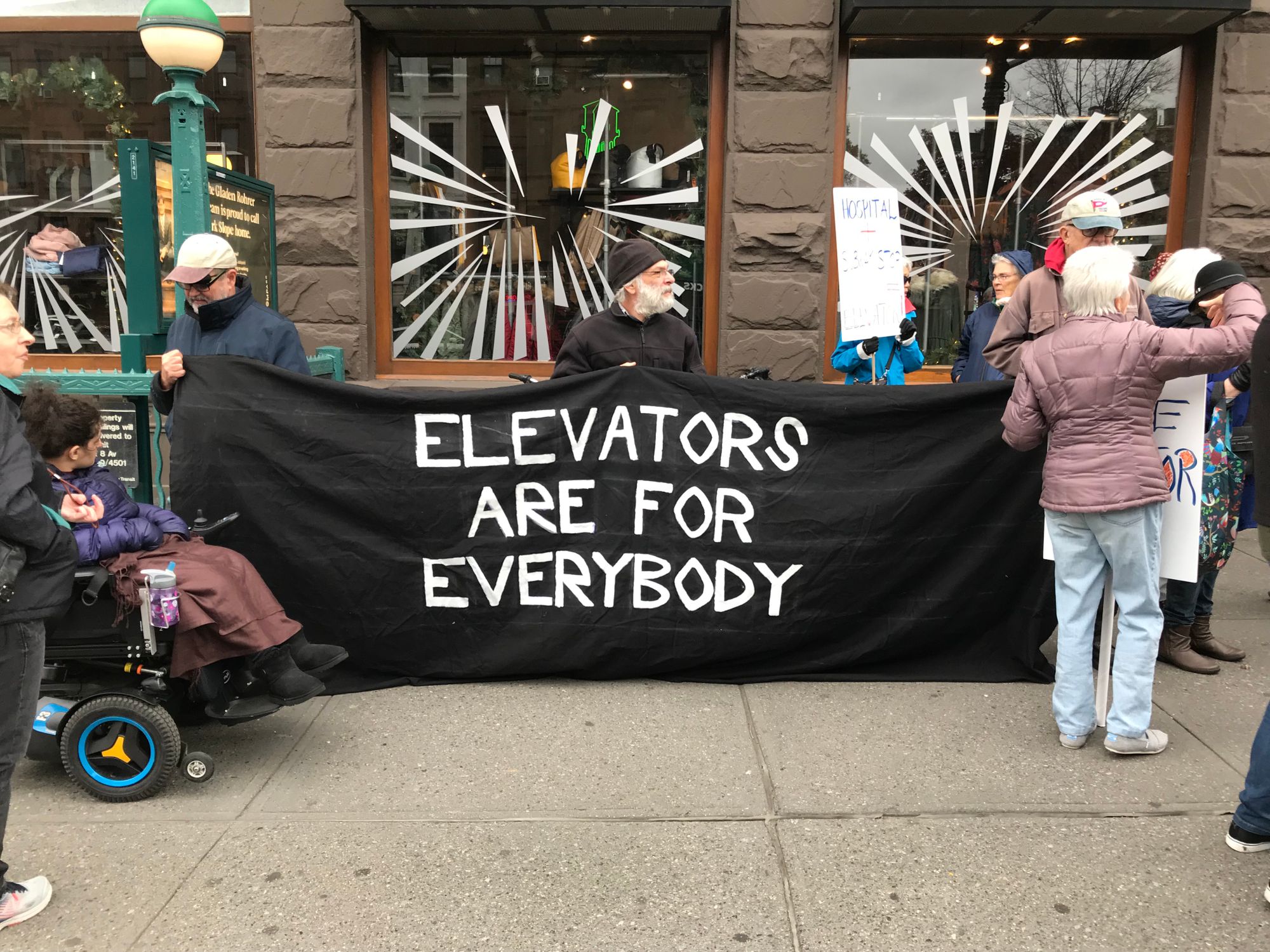 PARK SLOPE – Dozens of advocates joined Council Member Brad Lander and Assembly Member Robert Carroll outside of the 7th Avenue F/G subway stop Friday afternoon to once again call on the MTA to install an elevator at the station.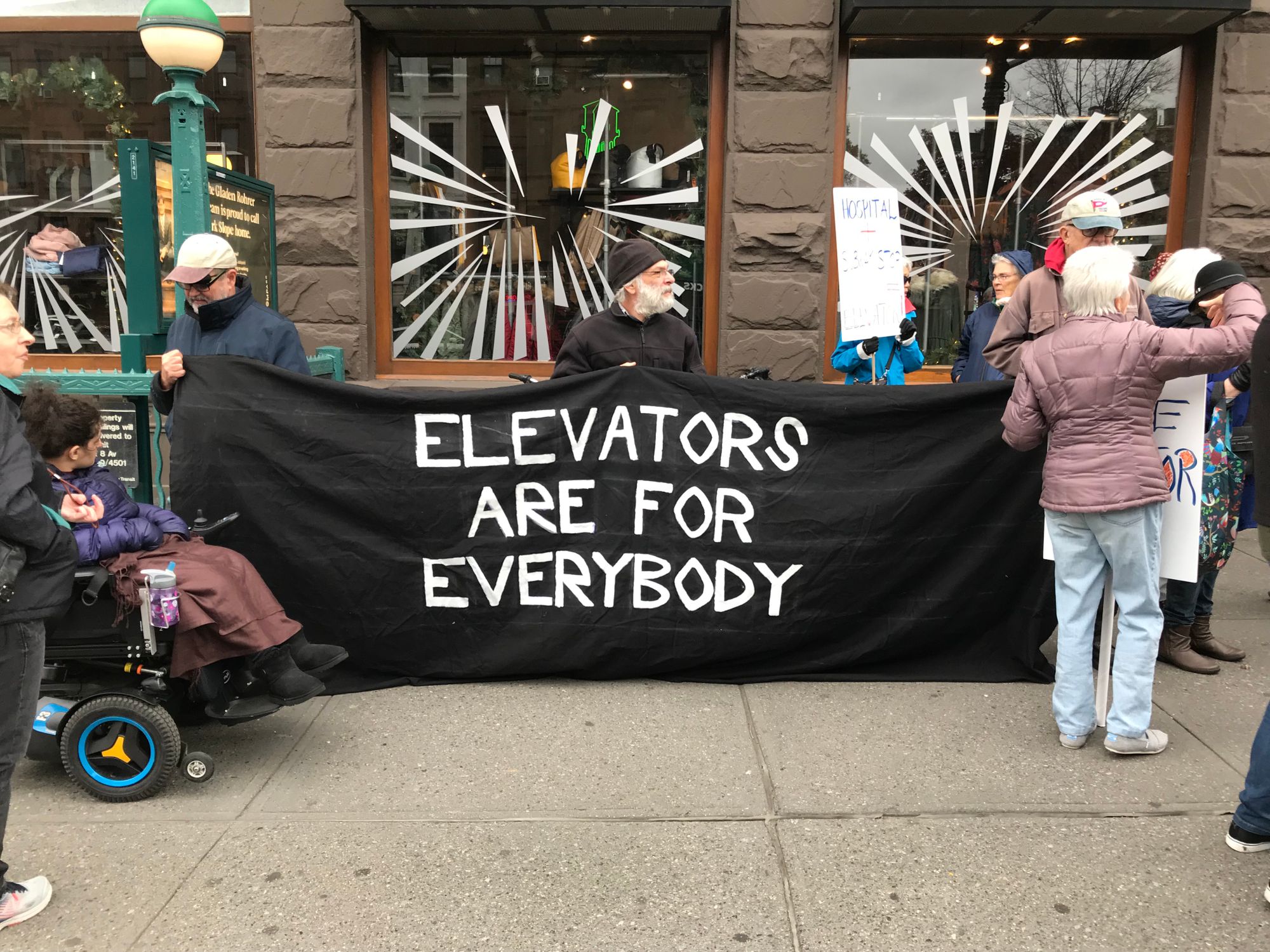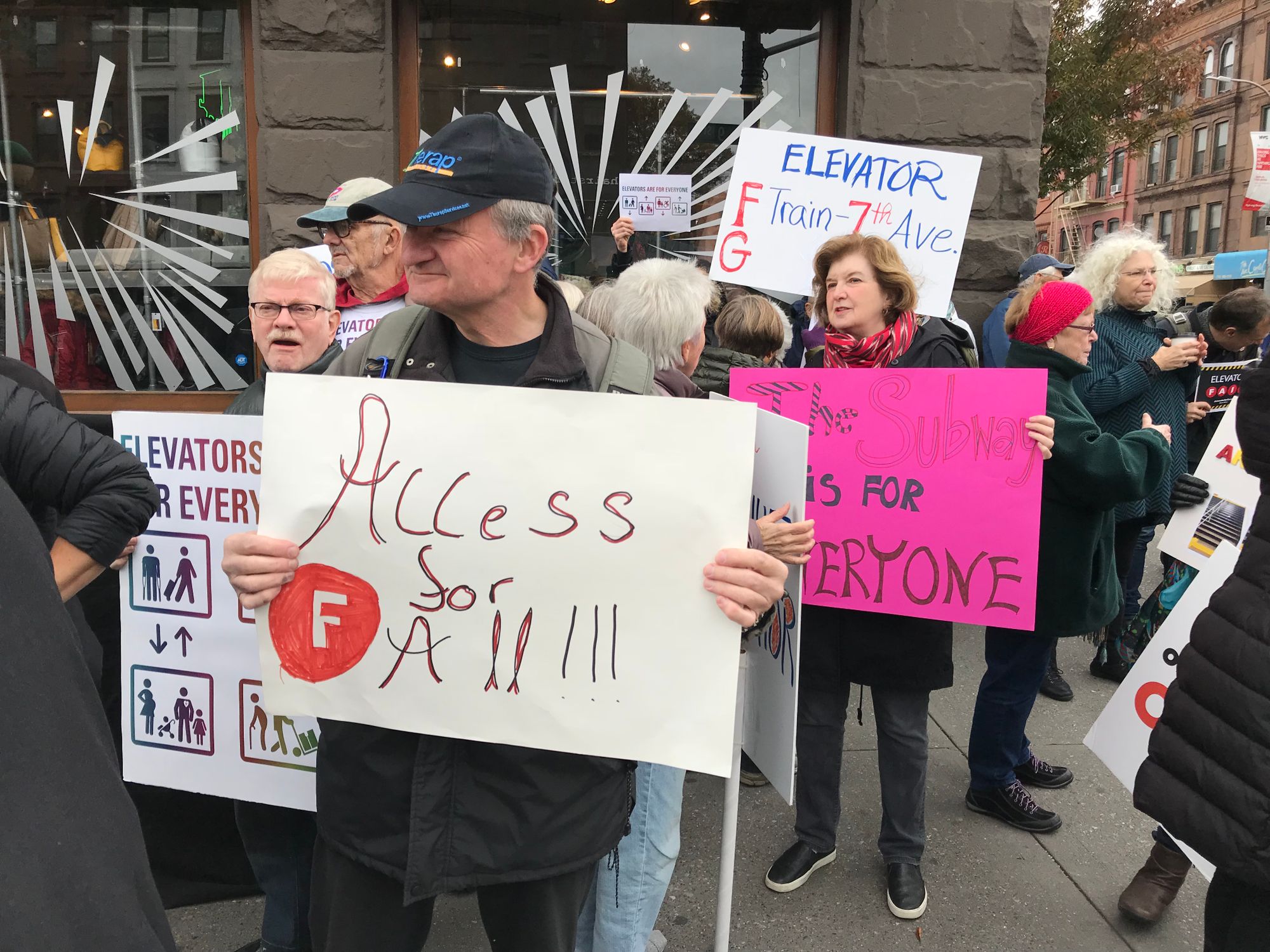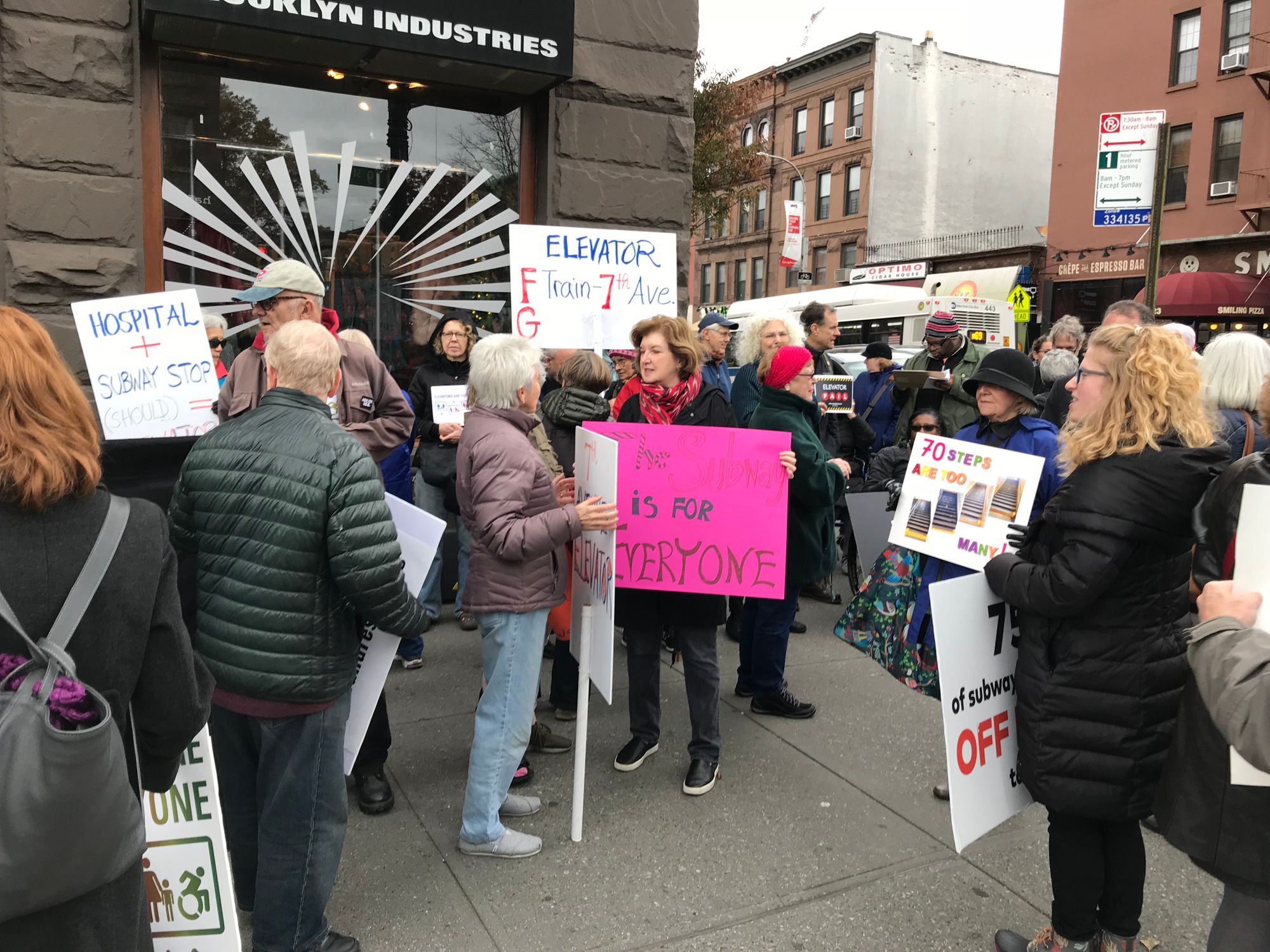 "People have been demanding an elevator at this station going back many, many years and we think now is an important time to renew our calls for a good reason—Andy Byford and New York City Transit have put out the Fast Forward Plan and it calls for significant improvements in accessibility for our subway system," Council Member Lander explained.
The community gathered to renew its efforts in demanding access at the heavily-trafficked station as the MTA is expected to soon release a list of stations that will be upgraded with elevators as a part of its Fast Forward plan to modernize the NYC transit system. The Fast Forward plan's Accelerate Accessibility portion would plan for approximately 50 new accessible stations within five years—which would make it possible for commuters to be no more than two stops away from a subway station equipped with an elevator.
Between speakers at Friday's press event, Lander led the crowd in chants, including "Elevators Are For Everyone" and "70 Steps Are Too Many," referring to the number of stairs at the 7th Avenue station.
"Over 10,000 people use this subway station every single day," noted Assembly Member Carroll. "This is a critical subway station in central Brooklyn. We have a hospital, we have schools, we have older residents of the Park Slope community who use this and we know that everyone would benefit from having an elevator."
Many at Friday's rally argued that the 7th Ave stop is an ideal location for an elevator since it is situated in close proximity to Methodist Hospital, the Park Slope Center for Successful Aging, and Prospect Park. The area is also home to many stroller-pushing families as well as residents with mobility impairments.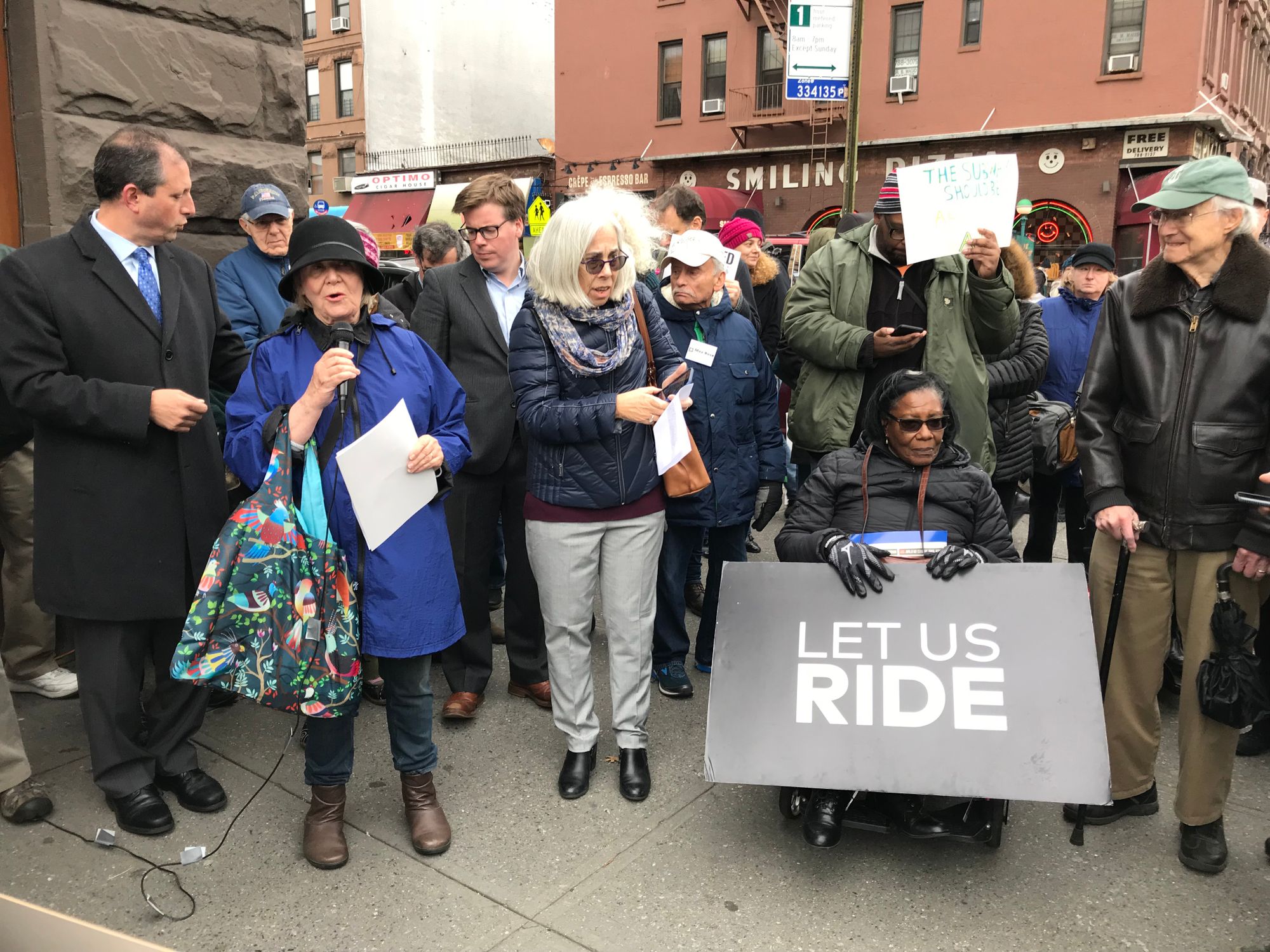 "In the past we've petitioned the MTA for an elevator and they said 'No…you can take two buses from here to Church Avenue in order to get an elevator,' which is really kind of insulting," said Jasmine Meltzer of Good Neighbors of Park Slope. There are currently no stations with elevator access between Jay Street MetroTech in Downtown Brooklyn and the Church Ave station in Kensington on the F/G line—the 7th Ave station is located midway between these stations.
After noting that MTA Chair Joe Lhota resigned Friday morning, which received a round of cheers from the crowd, Carroll added, "We are going to need to do massive, massive investment and the MTA unfortunately has not opened its books, so if we want to get an elevator here, or anywhere, or if we want to fix our signals or substations or switches, we need the MTA to provide an open and transparent budget to the legislature and the governor and they need to do it before January 9th." Carroll is calling on the MTA to provide the financial information prior to Governor Cuomo's State of the State address and before the governor presents his budget to the legislature.
Many speakers at Friday's press conference noted that they approve of the MTA's new President, Andy Byford, and said that they feel he understands the need for accessibility at the 7th Avenue subway station as well as other stations across the city. "We attended a town hall meeting that Bobby Carroll organized last May and [Byford] was sympathetic to our needs," Meltzer said. "He recognized the fact that we're in a district with Brooklyn's largest hospital that is rapidly undergoing expansion and so that it is even more critical for us to have an elevator at this location."
Meltzer added that in September of 2015 Community Board 6 recommended to the MTA that they return within one year with a "plan for making this station, Smith & 9th, 4th Avenue, and Grand Army Plaza [stations] accessible," in response to the agency's plan to close off the 7th Avenue station's mezzanine level. "The MTA never did come back with that study, so we're now asking that Andy Byford make sure that we're on the next list of stations to be made accessible," she said.
The estimated cost for an elevator at the 7th Avenue station would be $30 million, according to Assembly Member Carroll. He said according to Byford, "The MTA for whatever reason has decided to customize almost every single one of its elevator installations and almost all of its other types of capital improvements."
"It doesn't need to do that," Carroll noted. "If they no longer did that, elevator installation should be much cheaper, but still it's quite a bit of money." In 2016, the estimated cost for the 7th Avenue F/G station project was between $10-$15 million.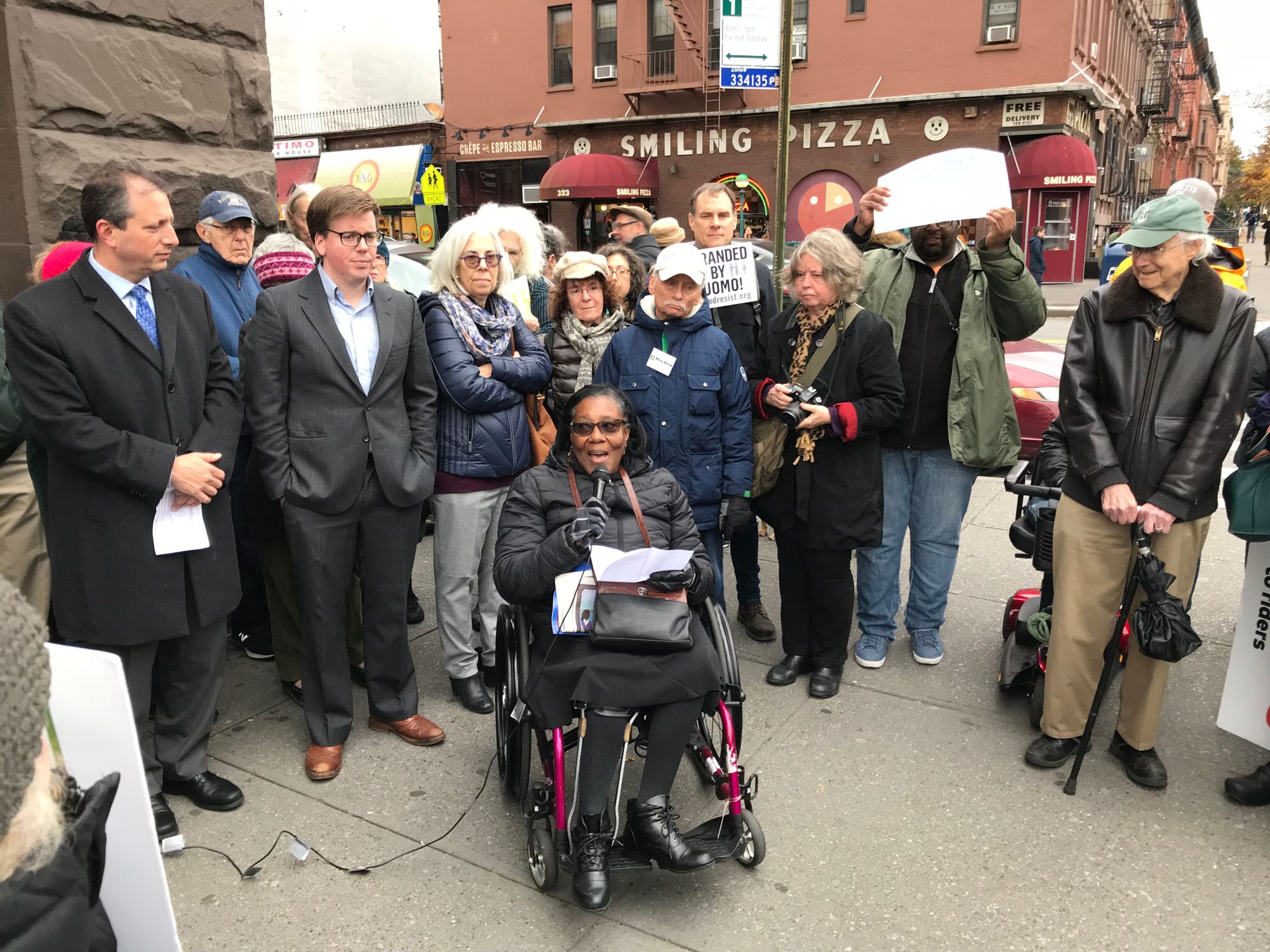 "Using the subway is a fast and easy way to travel around the city but many of us New Yorkers with disabilities, the elderly, people with strollers, [people] traveling with luggage, are denied the opportunity," said Monica Bartley, a Community Outreach Organizer for the Center for the Independence of the Disabled. "There are a few stations that are equipped with elevators, but there is no guarantee that they will be working or even sanitary. This is a violation of our rights and the Americans With Disabilities Act. We want transportation to go to school, to go to work, and to participate in social activities like other New Yorkers," she stated.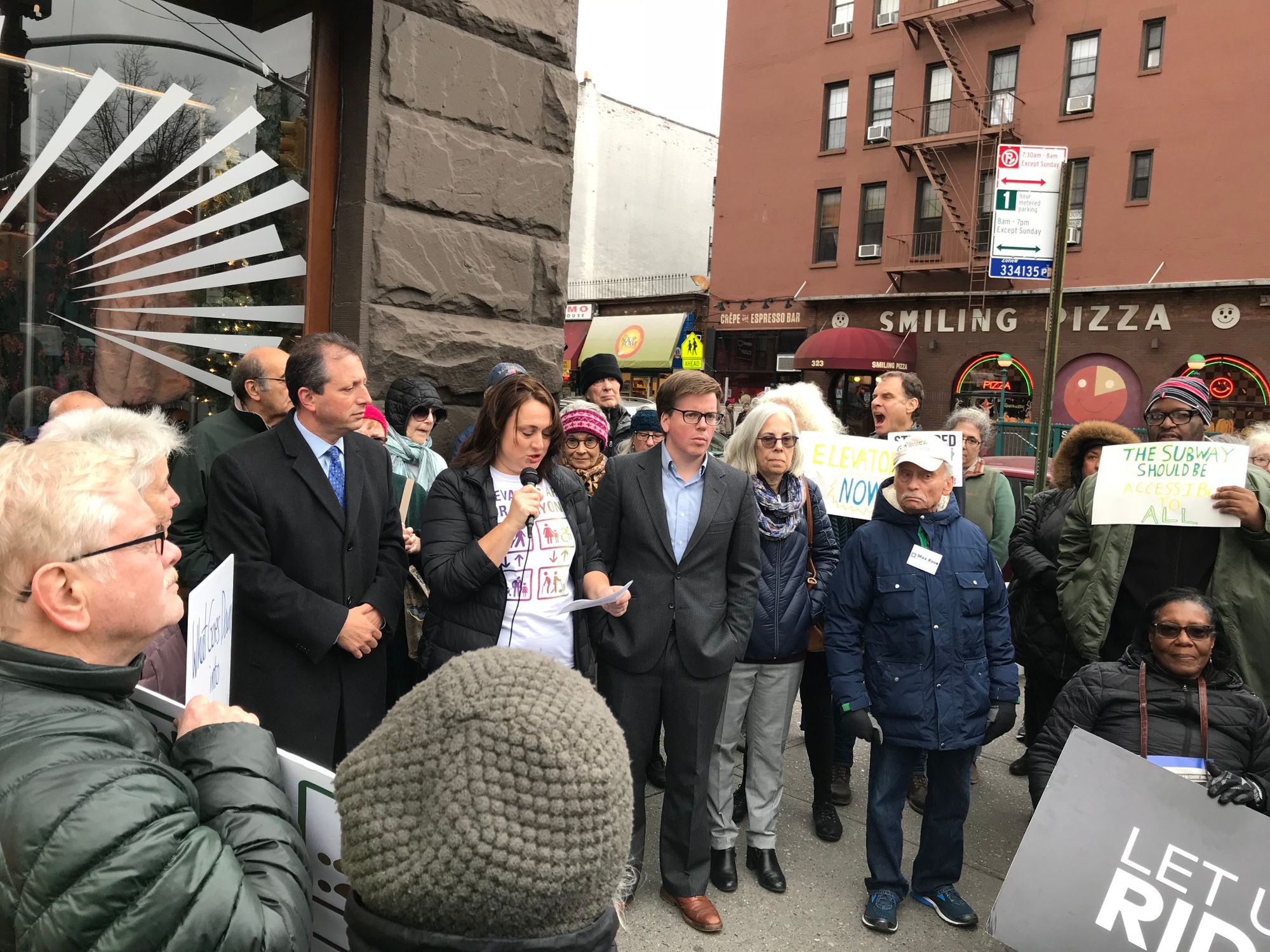 "We want to push subway accessibility to the top of the MTA agenda, said Rebecca Kostyuchenko, whose work with Rise and Resist has encouraged the New York City Council to allocate hundreds of millions of dollars into funding accessibility improvements at NYC public schools according to Lander. "Accessibility is not a dismissable issue. It is not a luxury or convenience. It is a necessity and it is importantly a civil right," Kostyuchenko added.
"New York City is dead last in our country for cities with subway systems that are accessible," she noted. "Less than a quarter of our subway stations are accessible when the elevators are actually functioning. By excluding people with disabilities from the subways, Cuomo and the MTA are ignoring our civil rights."
"When we see how far ahead other cities like Boston and Chicago are in improving access to their subways, excuses like cost and the age of our system are invalid," Kostyuchenko said.
The long, hard battle for accessibility at the 7th Avenue F/G subway station continues, with Assembly Member Carroll insisting that until the MTA provides its budget and a new Chair is appointed, "We need to keep the pressure on them. Let's keep coming out here until we get an elevator."