70-Foot Lomma Crane Topples In Gerritsen Inlet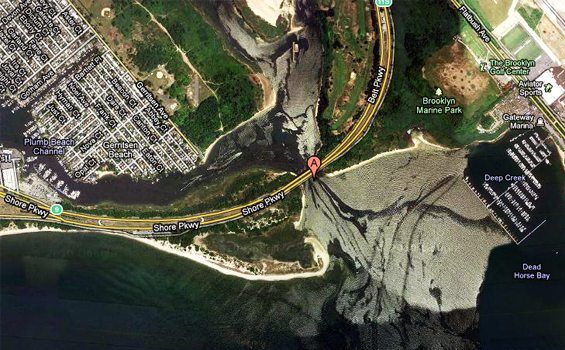 Workers from Sea Tow New York, a Southold, New York-based marine assistance organization, were dispatched to the waters of the Gerritsen Inlet yesterday afternoon to assist with a 70-foot crane that collapsed on top of a barge belonging to the Lomma Construction Corporation.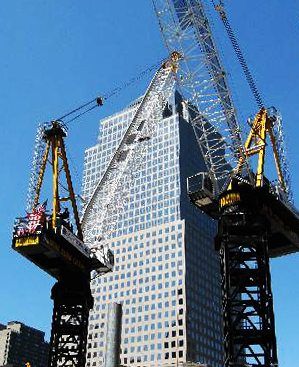 News 12 Brooklyn reported that Lomma's workers "were apparently lifting a short section of pipe when the crane suddenly fell sideways," and that "FDNY Marine Units and the Coast Guard were also called to respond."
This is not the first time Lomma has made headlines. In 1999, a Lomma-owned 383-foot red steel crane collapsed, killing 43-year-old construction worker Kenneth Preiman in the Chelsea neighborhood of Manhattan. Lomma also garnered itself unwanted publicity after a May 2008 accident, in which a 200-foot Lomma crane toppled at the site of the Azure on East 91st Street in Manhattan, resulting in the deaths of two construction workers.
According to The Real Deal, crane owner James Lomma is awaiting trial on manslaughter charges, stemming from the 2008 incident. A judge turned down his bid to have the case dismissed.
(UPDATE [1:50 p.m.]: A knowledgeable reader informs us that we've made a mistake in the ownership of Lomma Construction Corporation. Lomma is owned by Patrick Lomma, not James, and the company was not involved in the 1999 or 2008 incidents referenced above. Our apologies for any confusion.)
GerritsenBeach.net has photos of the accident, and notes that the accident caused diesel and hydro fuels to spill into the waters. Lomma is expected to handle the clean up.