66 Outdoor Dining Options In Park Slope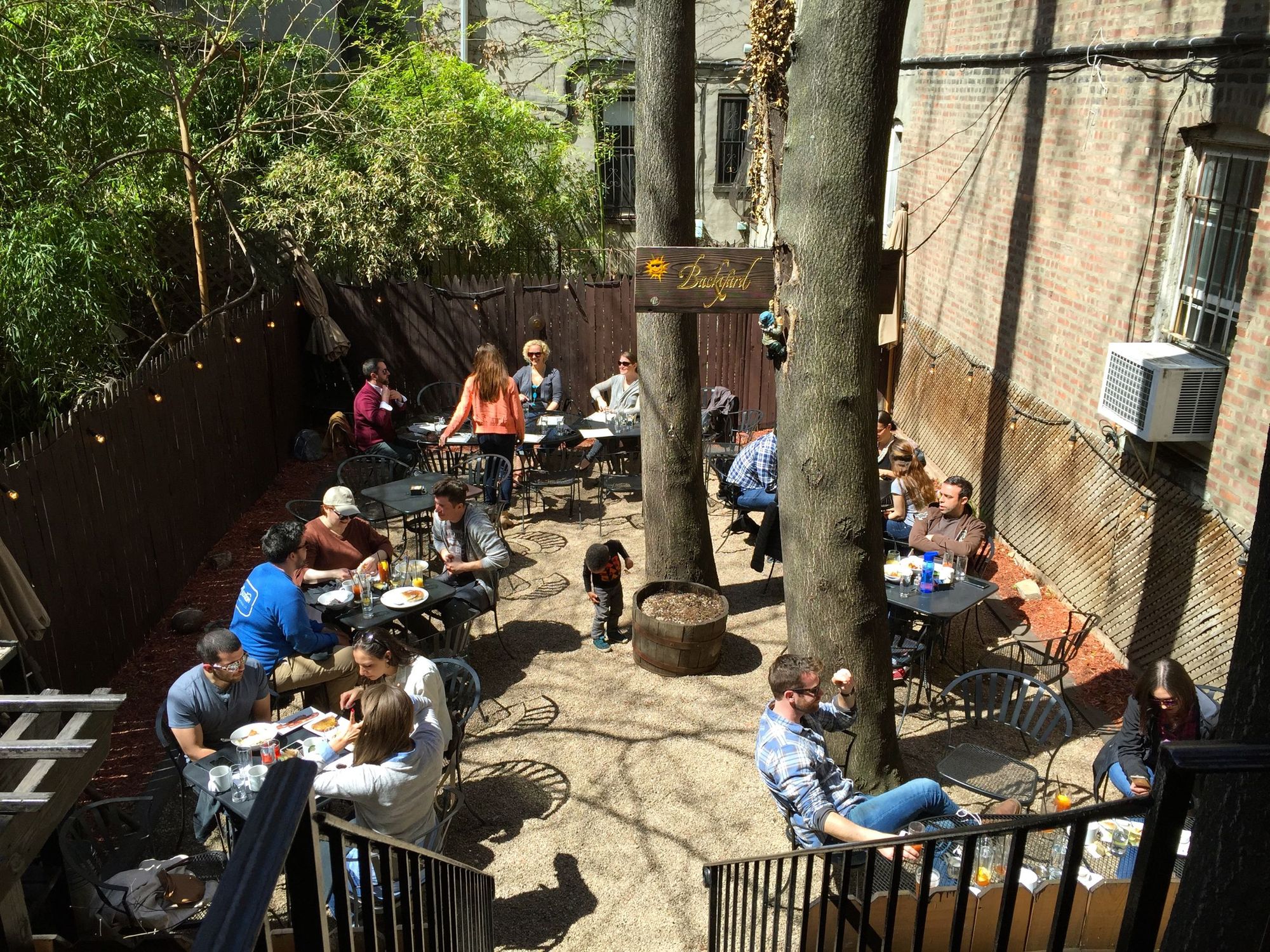 Park Slope has so many great restaurants that it can be hard to choose where to grab a bite, but in these gorgeous warmer months, you might think your decision is made a little easier: Which place has outdoor seating? Well, turns out there are more choices than you may have realized! We've rounded up 66 places in the neighborhood where you can sit outside — from back gardens to sidewalk seating — while eating some great food.
Though there are definitely more places where you can get a drink outdoors, we've kept this list to spots that, while they might have a bar, they've got a food menu that keeps people coming back for seconds. That said, if you're looking for a bar with a backyard, we've got that list, too!
We've broken it up into sections: backyards, sidewalk seating, and cafes (a.k.a. places where you won't get table service), but if we managed to miss your favorite, let us know in the comments below.
BACKYARDS / ENCLOSED FRONT YARDS
Alchemy, 56 5th Avenue, 718-636-4385
Nice option for those trying to gather close to Barclays. The backyard isn't huge, but if you can snag a table, it's worth it — particularly for brunch.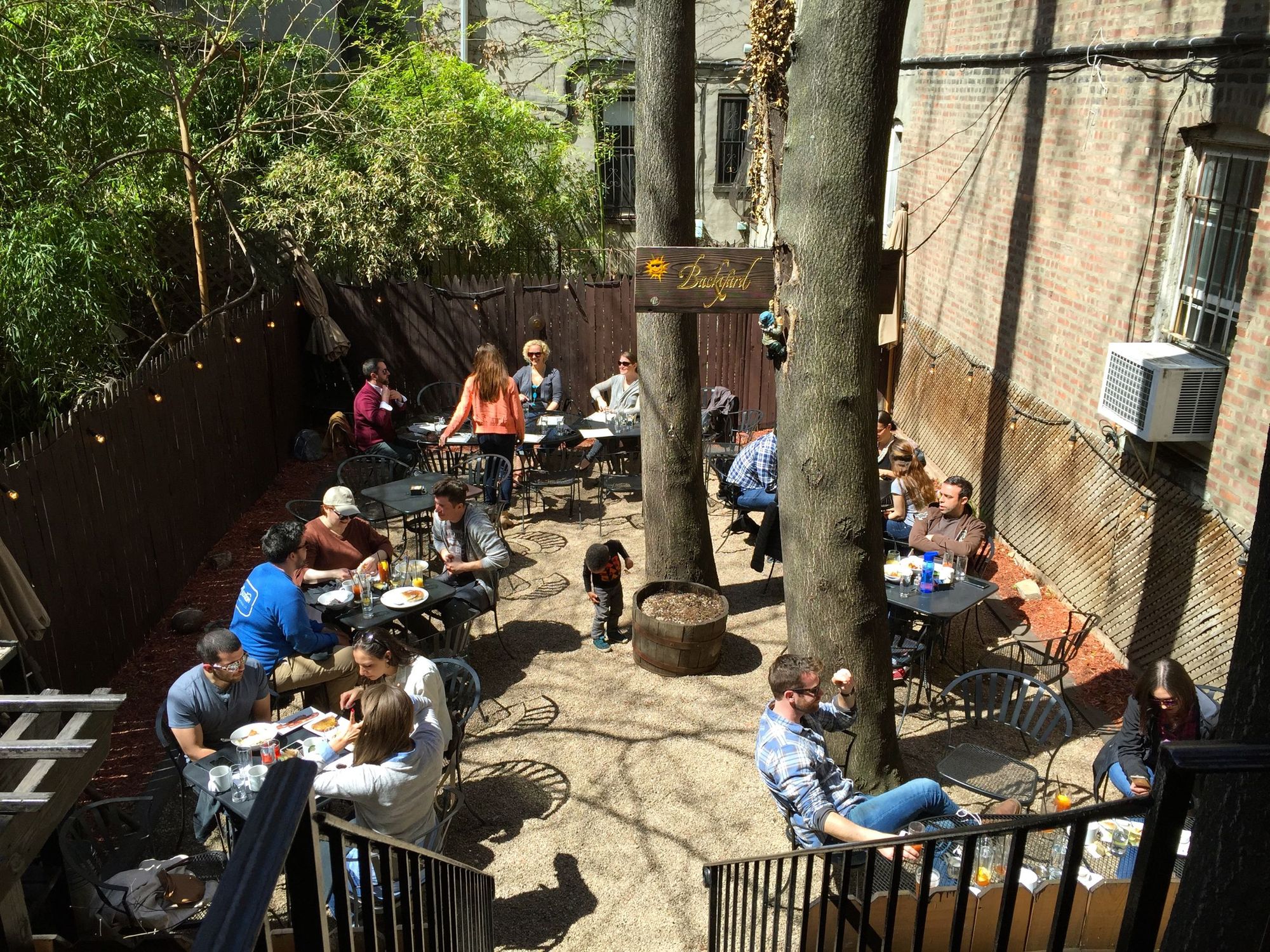 Backyard, 388 5th Avenue, 347-227-8018
I mean it would be strange if it were called Backyard and didn't have one, right? And it doesn't disappoint! Enjoy some delicious sliders (pulled pork, lobster, BLT, to name a few) while you're out there.
The Bahche, 191 7th Street, 718-422-0801
As with many spots in Gowanus, there's a ton of space here — and in the warmer months, the seating area pretty much doubles, because you can enjoy the spacious front patio. The late hours and location make it a good choice if you're seeing a show at The Bell House, which is just down the block.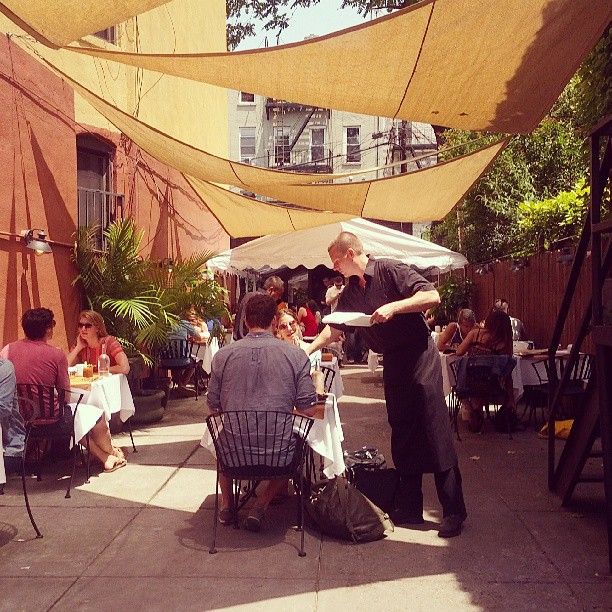 Benchmark, 339 2nd Street, 718-965-7040
Located just off the main drag of 5th Avenue, Benchmark sometimes feels like a much more hidden gem — particularly if you can score a spot at one of their outdoor tables, set back off the street and covered with shady canopies. A nice choice if you're looking to impress visiting relatives or a date.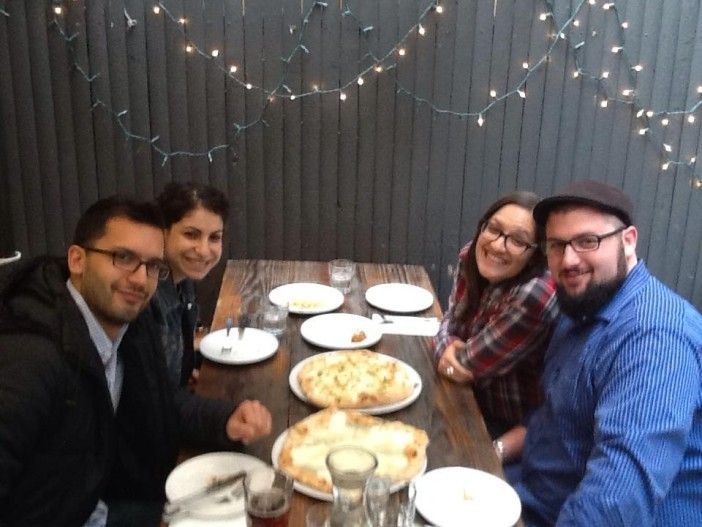 Brooklyn Central, 289 5th Avenue, 347-725-4891
The bright back patio is a pretty nice retreat for those looking for a place to enjoy their pizza (even gluten-free!) outdoors.
Bricolage, 162 5th Avenue, 718-230-1835
The new modern Vietnamese restaurant just opened up its backyard space a few weeks ago, and it's a lovely design match to the interior — either of which is a good spot to chow down on their delicious wings, "unshaken beef," and more.
Carnem Prime Steakhouse, 318 5th Avenue, 718-499-5600
This new kid on the block is serving up prime cuts of beef (and recently added a brunch service) in its spacious interior, but they've also got a backyard, too.
Colombia, 376 5th Avenue, 718-369-2020
Many neighbors may have walked past Colombia a million times and not known there's a gorgeous backyard out behind the unassuming facade. Really lovely at night, this makes a pretty nice date spot.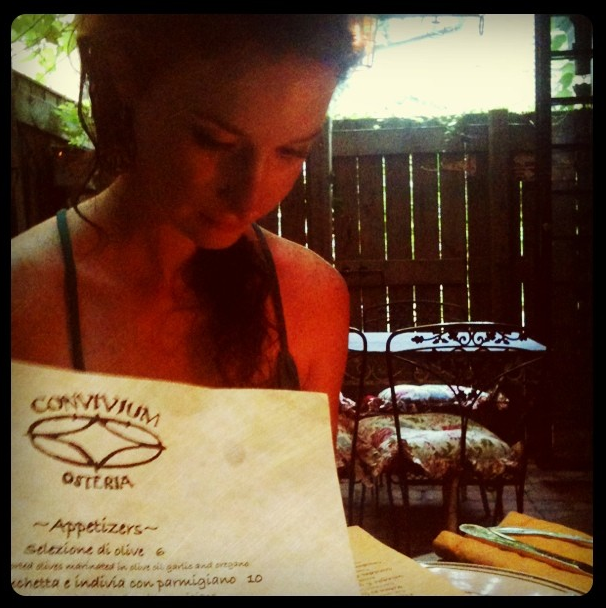 Convivium Osteria, 68 5th Avenue, 718-857-1833
Speaking of date spots, this is maybe one of the most romantic places in the neighborhood, whether you're in the cozy downstairs area in the winter, or you can get a table in the leafy backyard in the warmer weather.
Dram Shop, 339 9th Street, 718-788-1444
Nothing says warm weather like a burger, and Dram Shop has one of the best burgers in town, which somehow tastes even better in their backyard.
Flatbush Farm, 76 St Marks Avenue, 718-622-3276
The farm-to-table restaurant has a lovely leafy backyard that can get packed during peak hours, but is worth it if you manage to get a spot. Their adjacent bar also shares the space, so you can pop over there before or after (or instead of?) your meal.
Faros, 84 7th Avenue, 718-623-2767
The two-storied Greek restaurant offers outdoor seating on both floors, each area furnished with romantic lighting.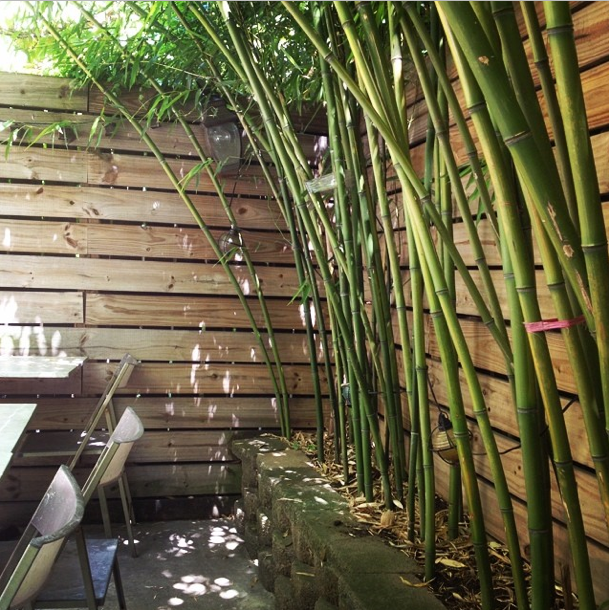 Jpan, 287 5th Avenue, 718-788-2880
In a neighborhood full of sushi joints, Jpan is one of our mainstays — and the bamboo-covered backyard definitely gives it some bonus points. A good spot to take advantage of lunch specials, which they even offer on the weekends.
Juvenito, 370 5th Avenue, 718-360-8469
The popular brunch destination is even busier in the summer months, when the green backyard opens up — expect to wait for a bit out on 5th Avenue for one of those coveted spots.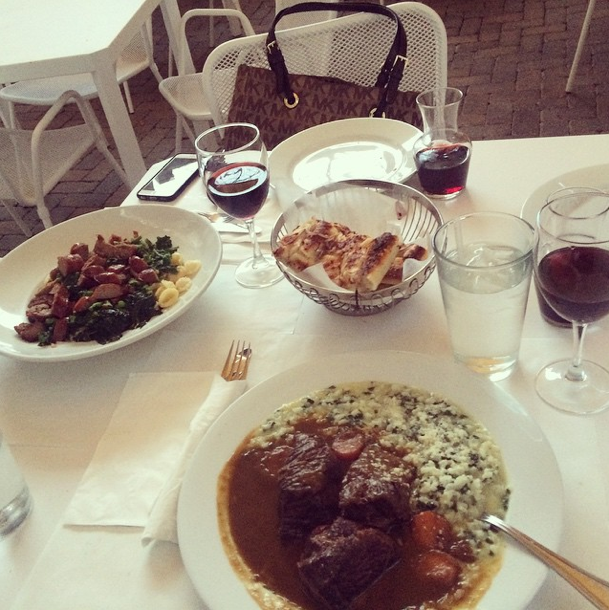 La Villa, 261 5th Avenue, 718-499-9888
Pizza, pasta, and wine al fresco? Yes please! And, 13 years in, it's all still delicious at this neighborhood institution.
L'Albero dei Gelati, 341 5th Avenue, 718-788-2288
True, the gelato might be the main (and amazing) draw here, but what you might not realize is that they've got a menu that includes soups, salads, sandwiches, frittatas, and more, and a lovely garden where you can enjoy that meal.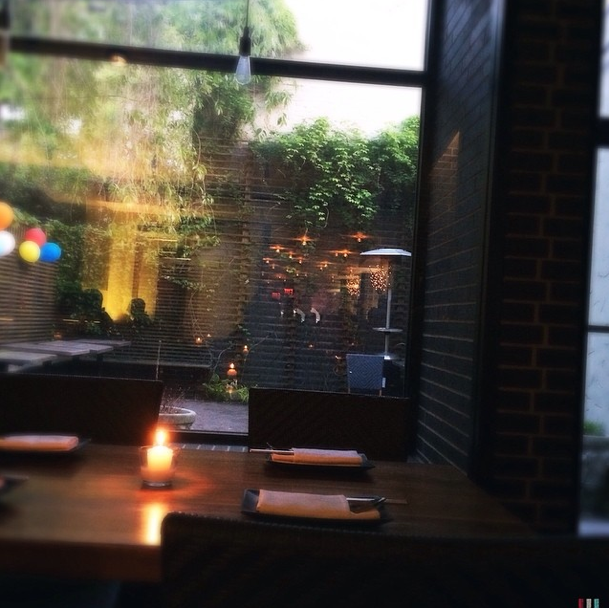 Moim, 206 Garfield Place, 718-499-8092
If you haven't tried the bibimbop at this Korean restaurant located just off 7th Avenue, make this the summer that you do — and be sure to ask to be seated in the back garden.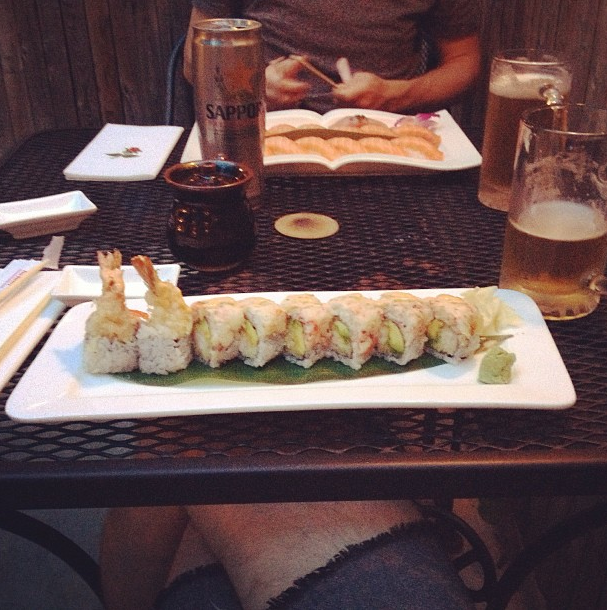 Mura, 369 5th Avenue, 718-965-1288
Another one of our 5th Avenue sushi spots, Mura is always reliable, the service is attentive, and the backyard makes it a great choice for a summer evening.
Nana, 155 5h Avenue, 718-230-3749
The pan-asian eatery (which serves, for some reason, margartias — and they're actually pretty good!) is hiding a huge patio in the back with ample seating and greenery.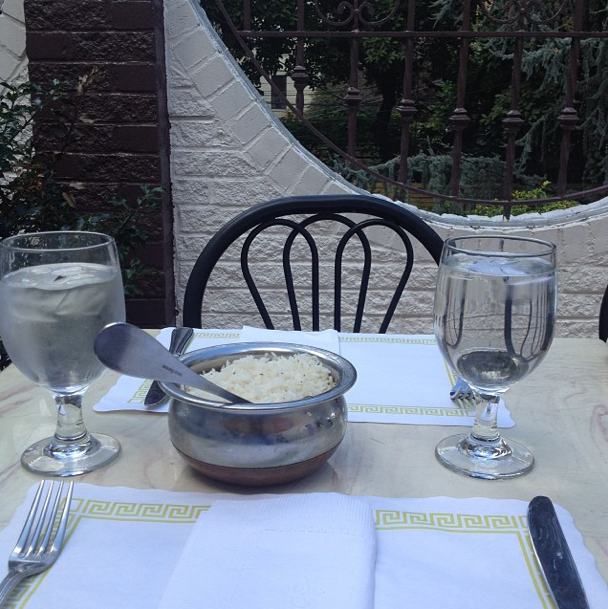 New Aarpan, 396 5th Avenue, 718-576-3040
The name and management may have changed, but the peaceful backyard of this Indian restaurant (which, admittedly, isn't getting the best reviews since that change) is still there.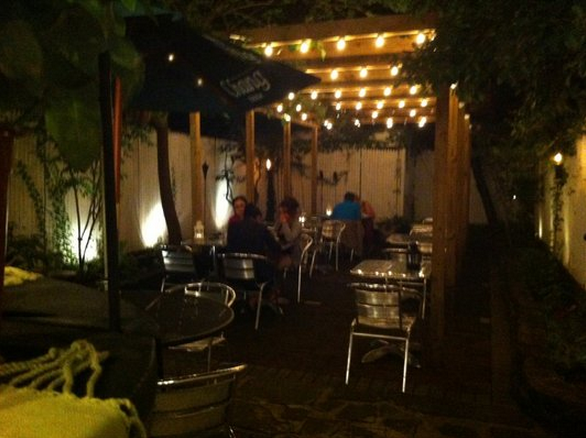 Olieng, 52 7th Avenue, 718-638-1652
One of two Thai restaurants on 7th Avenue with backyard seating, this spot has some nice lighting in its cozy, secluded garden.
Olive Vine Cafe, 54 7th Avenue, 718-622-2626
The patio behind Olive Vine is comfortable and as casual as you'd expect the no-frills but fantastic Mediterranean restaurant to be, complete with plastic patio furniture ready to seat up to about 20 people. It's a great place to relax for the afternoon.
Palo Santo, 652 Union Street, 718-636-6311
If you're lucky enough to score a table in the backyard — it only seats a few people — you'll be transported far from Brooklyn, as the restaurant sits on a quieter stretch off a main avenue that gets a great sunset view.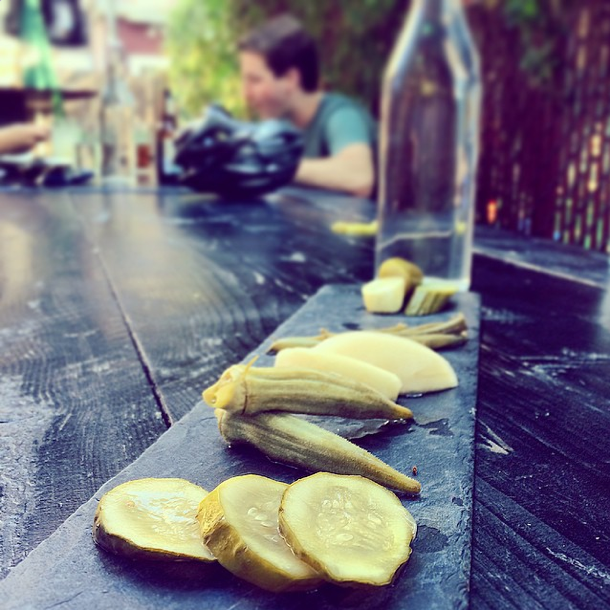 Pickle Shack, 256 4th Avenue, 347-763-2127
The Brooklyn Brine/Dogfish Head culinary collaboration is one of the best choices for beer-lovin' vegetarians and vegans, with nothing but veggie, tofu, and cheese dishes on the menu.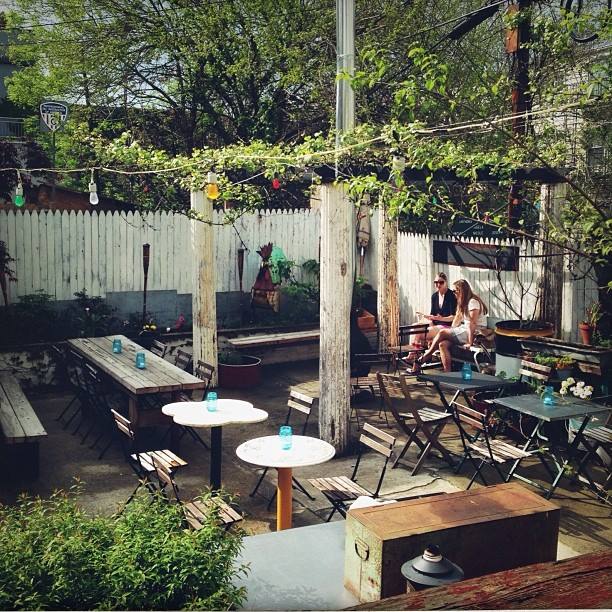 The Pines, 284 3rd Avenue, 718-596-6560
The backyard at this upscale American restaurant is a definite destination in Gowanus — but they're hoping to make it even better, and are currently applying for a grant (vote here) to increase their program for house-made ingredients.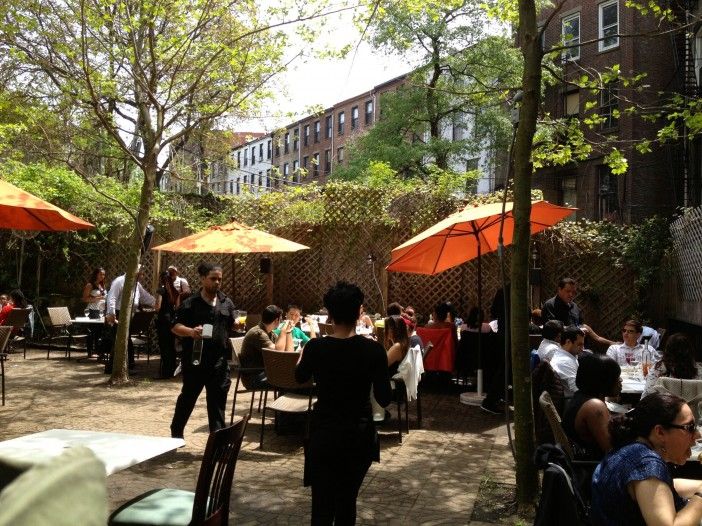 Piquant, 259 Flatbush Avenue, 718-484-4114
The Southwestern restaurant's patio is a special oasis, featuring red rock detail and waterfall. When it gets really hot out, they've even got the outdoor margarita machine going; also, don't miss the unlimited brunch drinks.
Sawa, 71 7th Avenue, 718-783-1888
Basically at this point in the list, you should be realizing that if you're eating sushi indoors in Park Slope during the warmer months, you're a sucker. Here's yet another option, with a lovely backyard, a pretty good one if you're looking for something close to Flatbush Ave on 7th.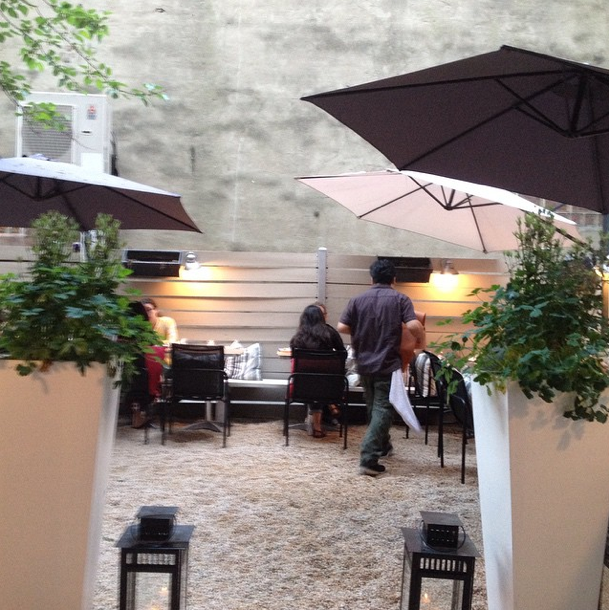 Song, 295 5th Avenue, 718-965-1108
This casual Thai restaurant has a spacious backyard, so even on a busy night, the wait might not be too long to nab a seat back there. Just mind your ankles and your kids — the groundcover is loose pebbles.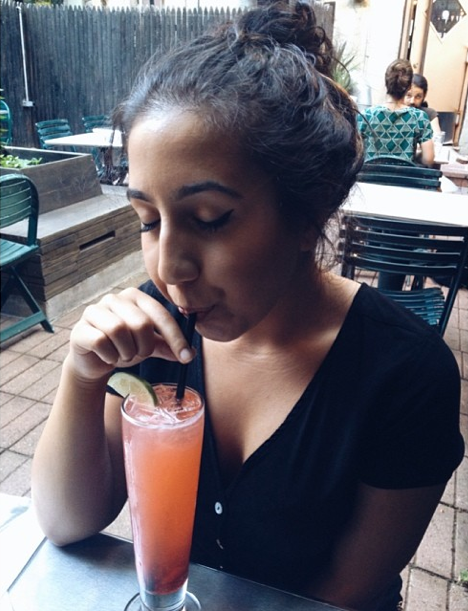 Spice, 61A 7th Avenue, 718-622-6353
The Thai restaurant mini-chain has been dishing out drunken noodles from this location for several years, and its backyard remains a good spot to sip a Thai iced tea in the summertime.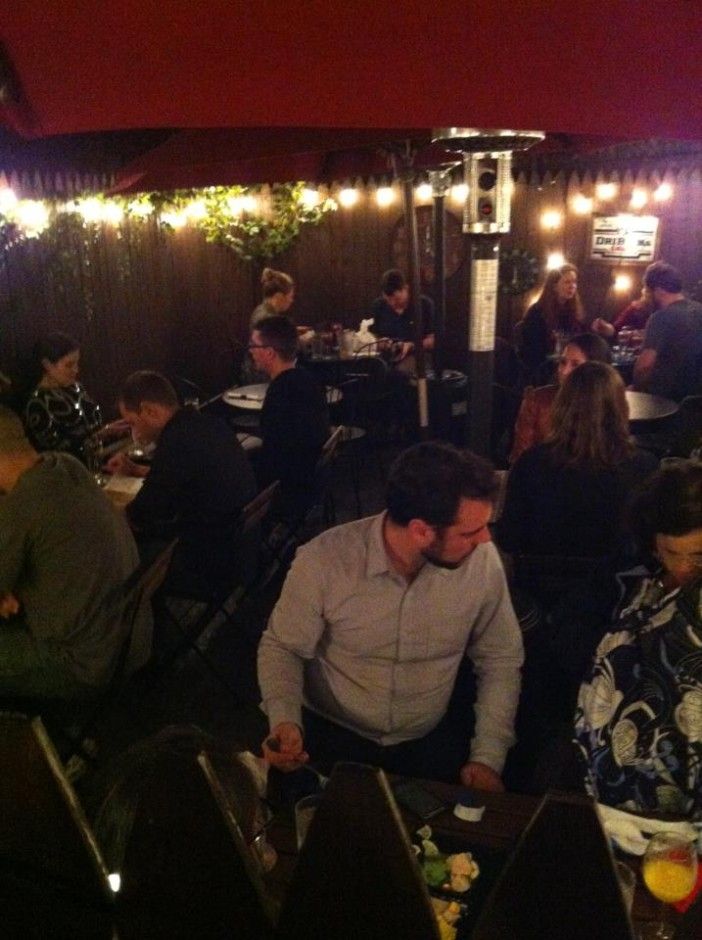 Surfish Bistro, 351 5th Avenue, 718-832-8200
Take a little trip to Peru without leaving the city in the backyard of this restaurant — and definitely don't miss the ceviche!
Sushi Katsuei, 210 7th Avenue, 718-788-5338
Probably our favorite spot for sushi in the neighborhood (have someone treat you to the omakase for a special occasion), the large, covered outdoor patio is a great place to savor each bite while watching crowds pass by on 7th Avenue and 3rd Street.
V-Spot, 156 5th Avenue, 718-928-8778
Vegetarians and vegans don't have to feel left out on this list, as this local veg-friendly restaurant also has a lovely backyard. Definitely get the empanadas!
Yamato, 168 7th Avenue, 718-840-0099
The garden in the back of this very good sushi spot is a cozy bamboo escape.
SIDEWALK SEATING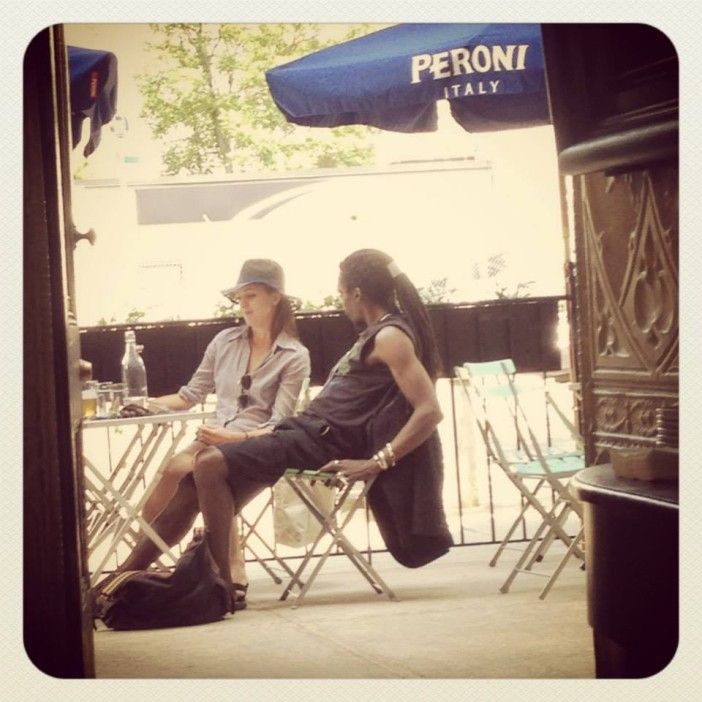 Bar Tano, 457 3rd Avenue, 718-499-3400
The laid-back bar and restaurant is a convenient spot for gathering a group of friends (the 4th/9th subway stop is up the block) to relax in their sidewalk seating area with a glass of wine or two (check out happy hour on weekdays from 3-7pm), watching people stroll by.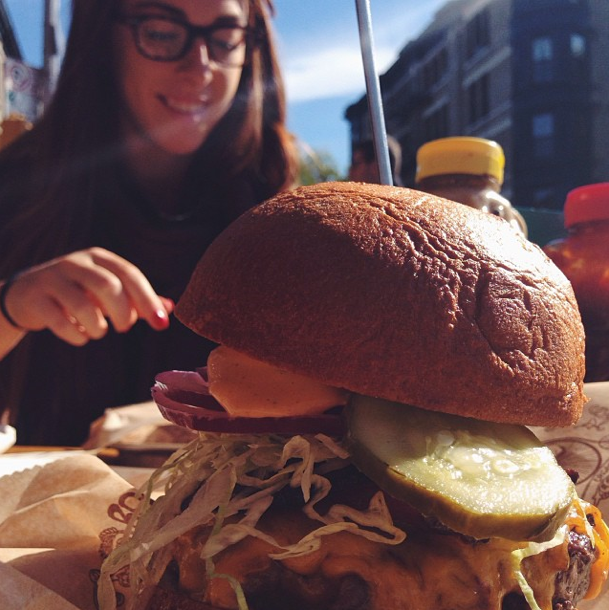 Bareburger, 170 7th Avenue, 718-768-2273
Though we've got several places for burgers (and still more to come) in the neighborhood, this one remains a popular spot for families and friends looking for a reliably delicious (and incredibly decadent) meal — which can mean a long wait for one of the coveted spots in their sidewalk seating area, but it's worth it.
Broccolino, 446 Dean Street, 718-678-4200
Casual Italian comfort food located right near Barclays and there's sidewalk seating? A pretty solid choice for a bite before an event at the arena if you're looking for a place that's got a view of all the action.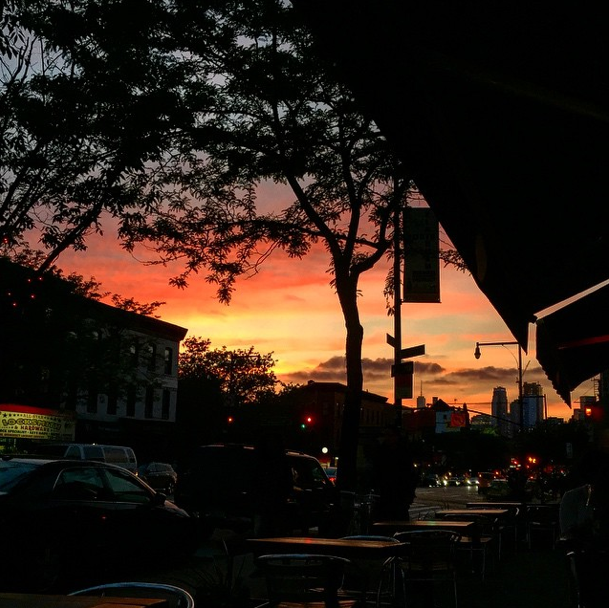 Burrito Bar, 307 Flatbush Avenue, 718-230-8646
Yes, it's sidewalk seating with a view of the very busy Flatbush Avenue, but if you're there at the right hour, you might be treated to an incredible sunset — the colors of which match the crazy range of margaritas and piña coladas.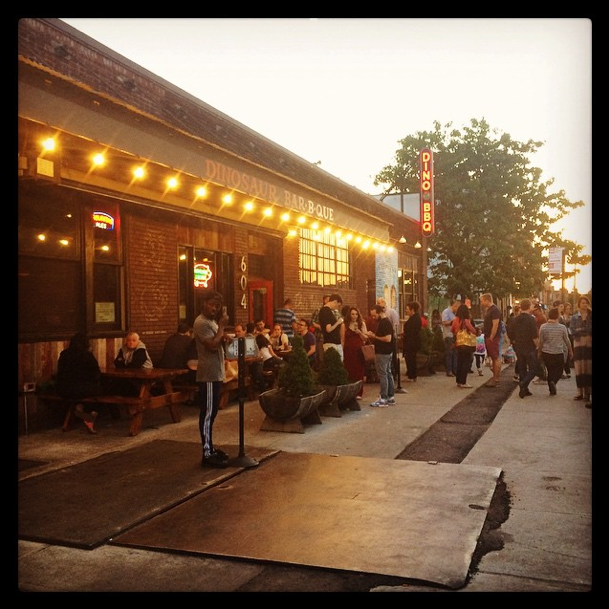 Dinosaur Bar-B-Que, 604 Union Street, 347-429-7030
Though it may not be our number one pick for barbecue in the area, this location of the mini-chain is still very popular. But the wait may not be so bad — it's enormous inside with plenty of seating — though it's a bit more difficult to grab a table in the sidewalk space, where, once seated, you may deal with the jostling of folks hanging around waiting to be seated.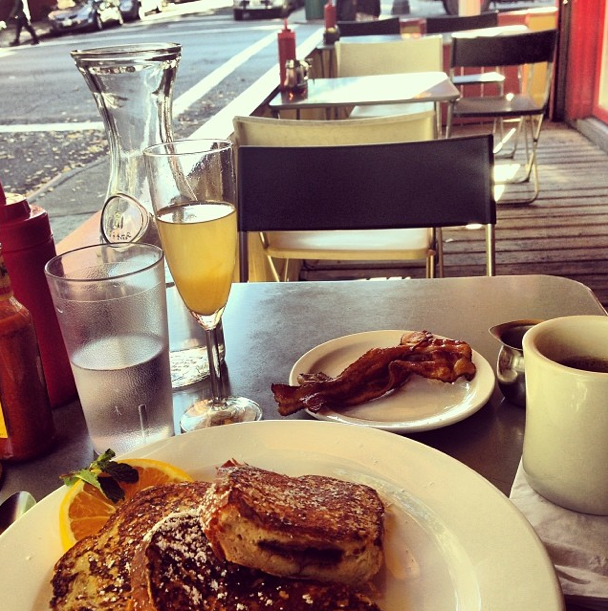 Dizzy's, 511 9th Street, 718-499-1966; and 230 5th Avenue, 718-230-5551
Either of Dizzy's locations makes for a great family stop (and who doesn't love a basket of mini-muffins at brunch?), and their sidewalk seating is good for people-watching.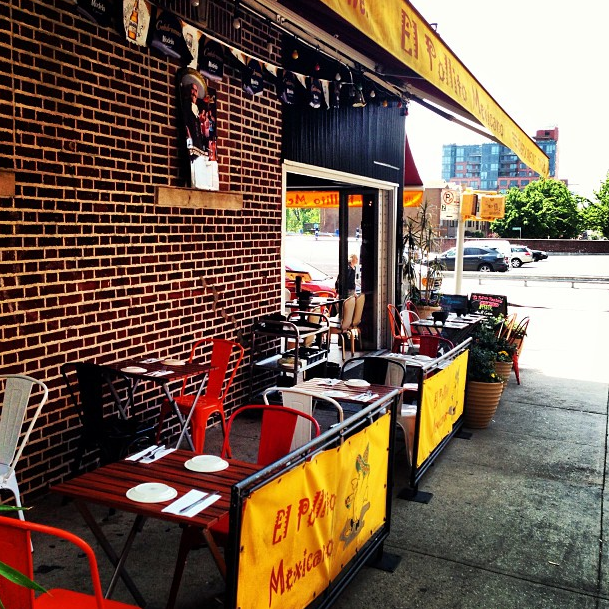 El Pollito Mexicano, 119 5th Avenue, 718-636-5269
For when you need a few good margaritas, guacamole, and a sidewalk view of 5th Avenue.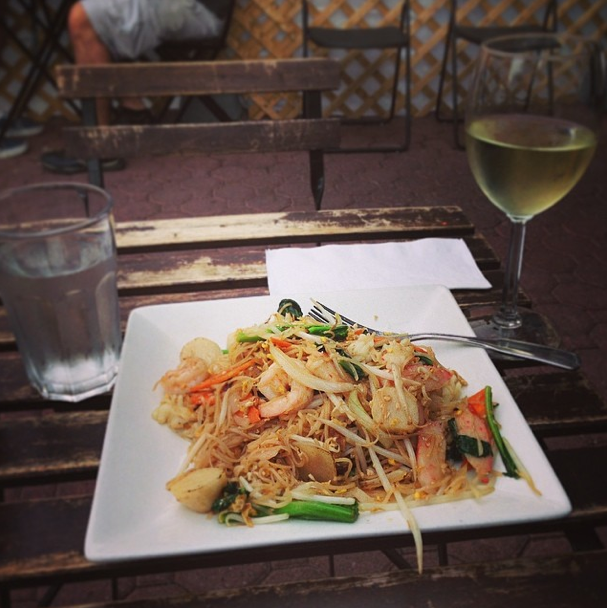 Ha Noi Kitchen, 448 9th Street, 718-788-7755
There's no shortage of places in the area where you can grab a banh mi sandwich (and a range of other Vietnamese dishes), but this is the only one where you can enjoy it outside — they've got tables set up on the patio, which looks out onto 9th Street for good people watching. Plus, it's also the only one of those spots that serves beer and wine!
Haab, 396 6th Avenue, 718-369-0849
If you only think of places to eat along 5th and 7th Avenues, then you're missing out on some great stuff along 6th, including this terrific Mexican joint that's got a nice corner of sidewalk seating — and yep, a lot of margaritas.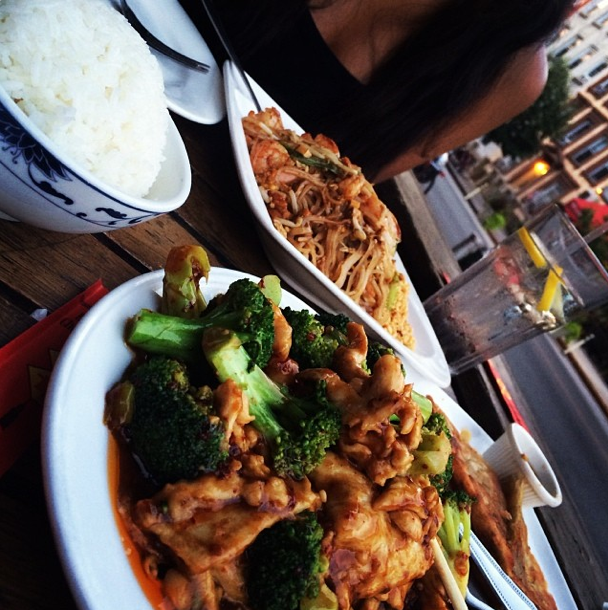 Hunan Delight, 752 Union Street, 718-789-1400
They've been serving up reliably standard Chinese take-out for some time, including some great vegetarian options. But if you'd rather not sit at home surrounded by cardboard containers, enjoy your meal out on their sidewalk with a view of Union Street.
Kiwiana, 847 Union Street, 718-230-3682
Get some good people-watching in on the sidewalk of Union Street at this upscale New Zealand restaurant.
Le Pain Quotidien, 239 5th Avenue, 347-986-1311
Giant bowls of coffee, tasty pastries, and a menu that includes brunch, beer, and wine? You got it. Sidewalk seating that allows you to mingle with Park Slope's furriest residents? Icing on the cake.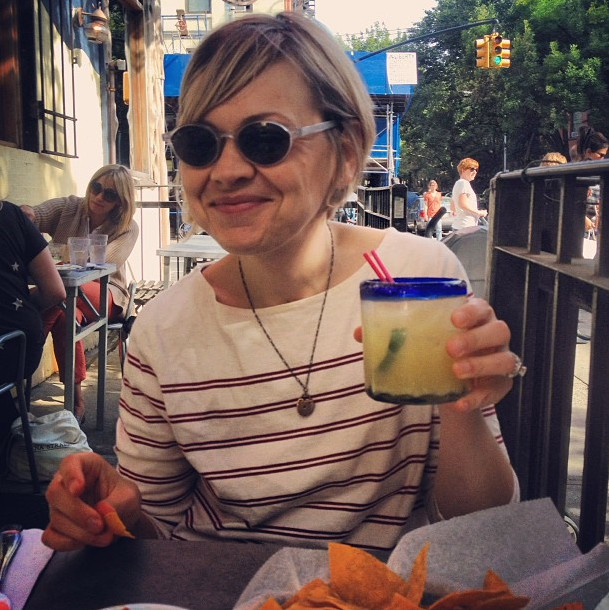 Lobo, 188 5th Avenue, 718-636-8886
A solid choice if you're looking for a place with good margaritas, an affordable brunch, and even better people-watching, as this Tex-Mex joint has sidewalk seating along Berkeley Place, just off the corner of 5th Ave.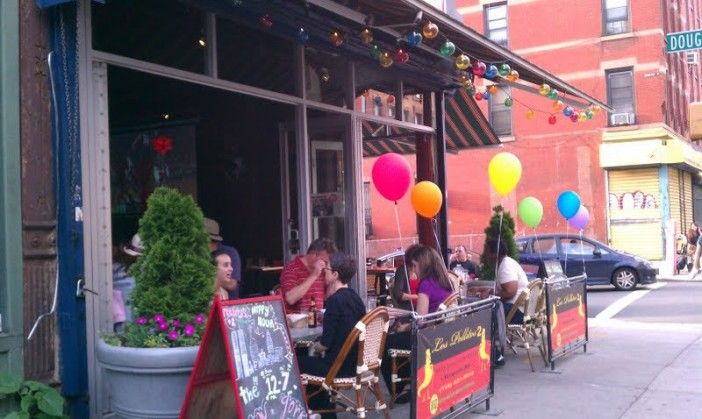 Los Pollitos 2, 148 5th Avenue, 718-623-9152
There's one thing 5th Avenue isn't short of, and that's places to enjoy a margarita in a sidewalk seating area.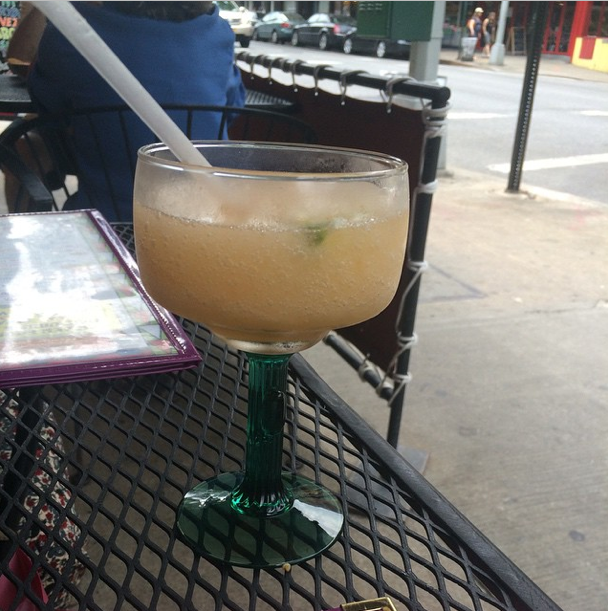 Mezcal's, 223 5th Avenue, 718-783-3276 & 396 5th Avenue, 718-965-6050
This mini-chain boasts one of the approximately eight billion places on this list where you can enjoy a margarita out on the sidewalk along 5th Avenue (at the 223 5th Ave location), while the other local location (396 5th Ave) has a backyard.
Morgan's Barbecue, 267 Flatbush Avenue, 718-622-2224
Though you are sitting right out on the very busy Flatbush Avenue, if you have enough beers from their nice selection (not to mention a heaping helping of meat), you might be able to trick yourself into thinking you're in Texas.
Park Slope Ale House, 356 6th Avenue, 718-788-1756
There's seating on the sidewalk, and a menu of pretty standard pub food — though we'd recommend heading in Monday-Friday from 4-7pm, when wings are just 75 cents a piece.
Peperoncino, 72 5th Avenue, 718-638-4760
Tasty pizza and sidewalk seating is hard to beat — and this one's a good choice pre-Barclays, as it's just a couple blocks away.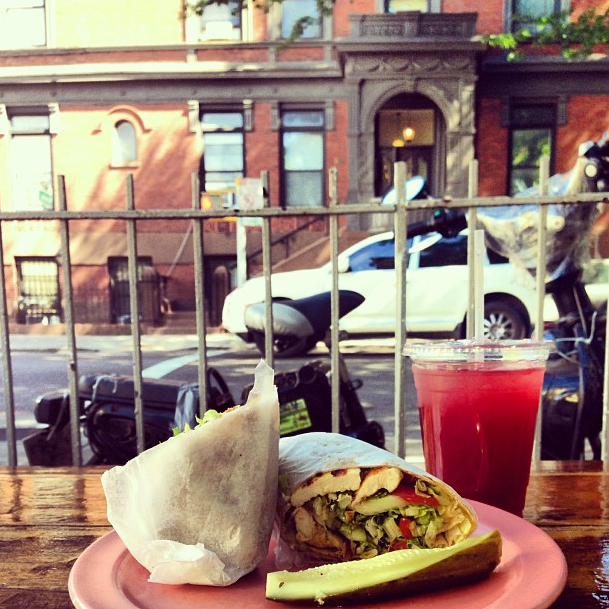 Purbird, 82 6th Avenue, 718-857-2473
Purbird offers limited outdoor seating, with a few long wooden picnic tables lining the sidewalk just far enough from the bustle of Flatbush.
Rose Water, 787 Union Street, 718-783-3800
The outdoor space at this popular brunch and date-night dinner spot is partially enclosed, which provides a nice (read: very flowery!) barrier from the busy adjacent sidewalk.
Sotto Voce, 225 7th Avenue, 718-369-9322
Lots of people watching from the sidewalk seating at this spot, which is a popular choice for brunch — and why not, when you can get bottomless mimosas, champagne, or bloody marys.
Stone Park Cafe, 324 5th Avenue, 718-369-0082
The sidewalk seating area at this spot — a top choice for a meal with someone you want to impress — offers cozy tables under the canopy, and is perfect for people watching, with the hopping park and farmers market across the street.
Taco Santo, 669 Union Street, 347-227-7777
A couple picnic tables set up outside the space on Union Street give you a good view of the busy 4th Avenue intersection (and some excellent sunsets) while you're snacking on tacos and micheladas.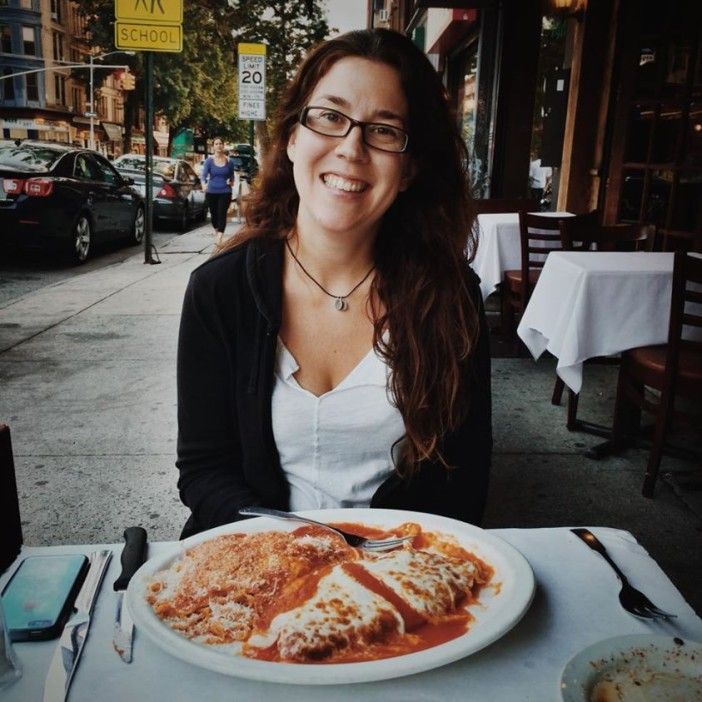 Tutta Pasta, 160 7th Avenue, 718-788-9500
The longtime Italian joint (whose space was recently put up for rent) offers sidewalk seating along an active stretch of 7th Avenue.
CAFES (No Table Service)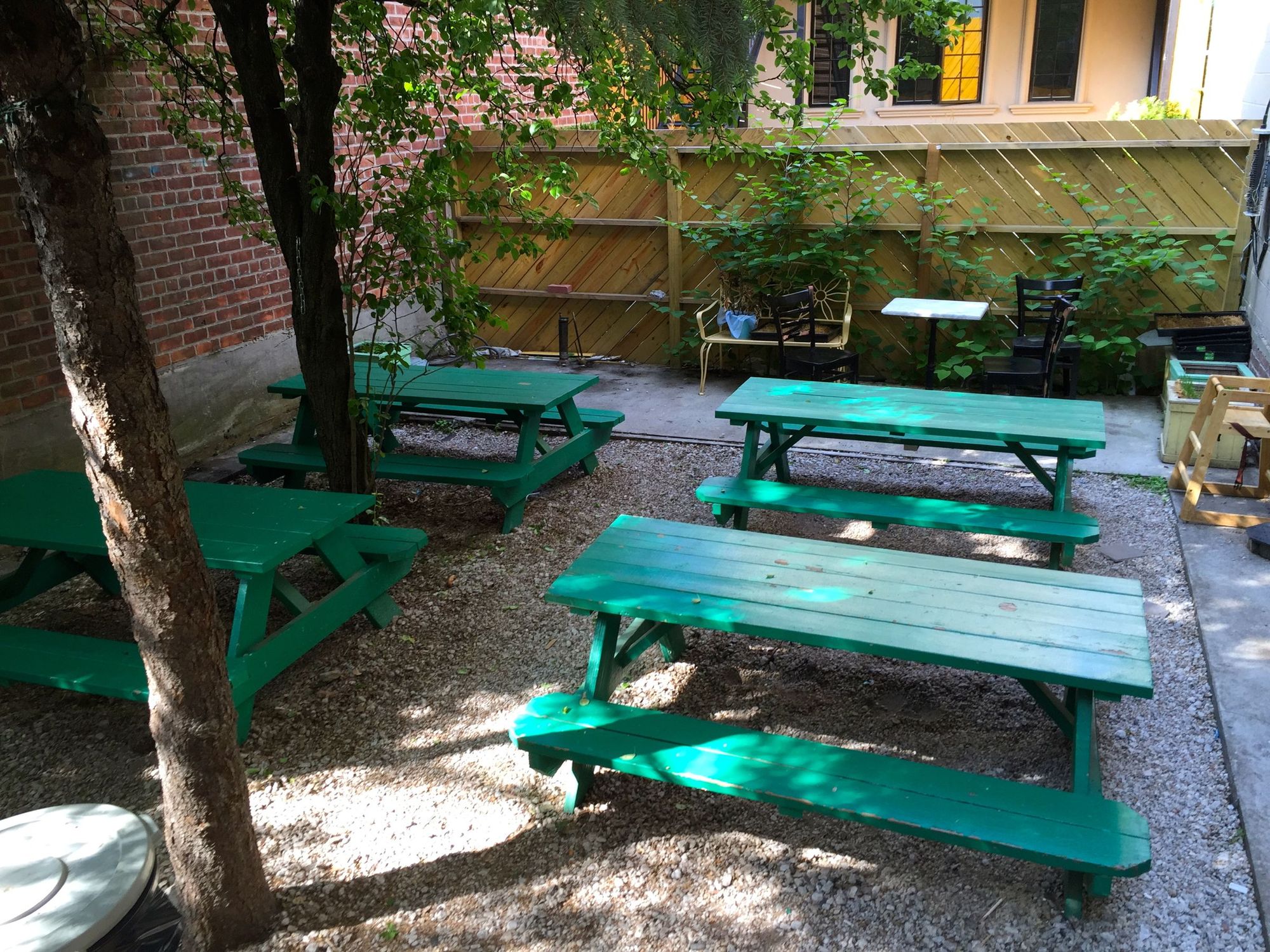 Bagel Pub, 287 9th Street, 718-499-4402
The backyard seating — which is indeed reminiscent of a friend's backyard, with its green picnic benches — is an oasis that feels a mile away from bustling 9th Street.
Bierkraft, 191 5th Avenue, 718-230-7600
If you're used to stoping in for a 6-pack to go, you might forget that this beer shop also has delicious sandwiches — and a pretty sweet backyard, which is a great spot to camp out in with a growler and some grub.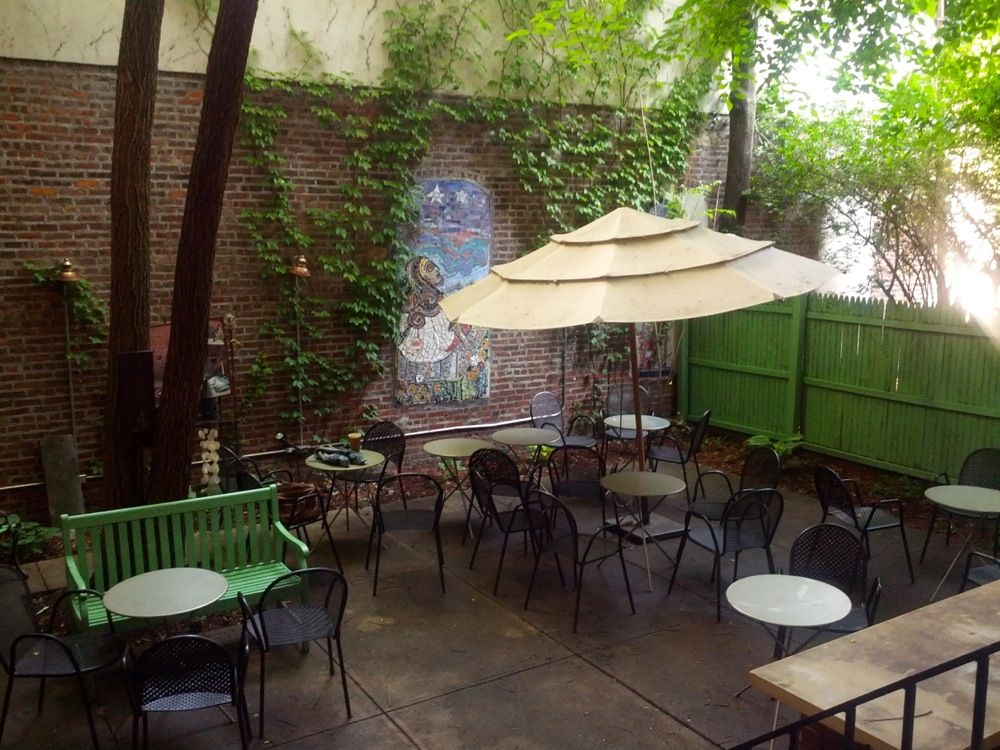 Cocoa Bar, 228 7th Avenue, 718-499-4080
The patio out back is nothing too fancy or spacious, but it does offer a handful of table for about ten with umbrellas — vital for the freelancer, though the internet can be a bit spotty.
Luke's Lobster, 237 5th Avenue, 347-457-6855
The recently opened Park Slope outpost of this mini-chain has a nice, quiet backyard, which should be on your summer checklist for sure — especially at their daily happy hour, when you can grab a beer for just $3 alongside your jam-packed lobster roll.
MeltKraft, 442 9th Street, 347-889-6290
Want a recipe for the perfect, low-key local evening? An ooey-gooey grilled cheese sandwich + a beer from one of 10 on tap + a tucked away backyard. Hard to go wrong!
Postmark Cafe, 326 6th Street, 718-768-2613
A wee fenced in area in the front, but it's a nice spot to sit and read with an iced coffee just off the main drag of 5th Avenue — and you gotta love that their tips are donated to a different organization each month.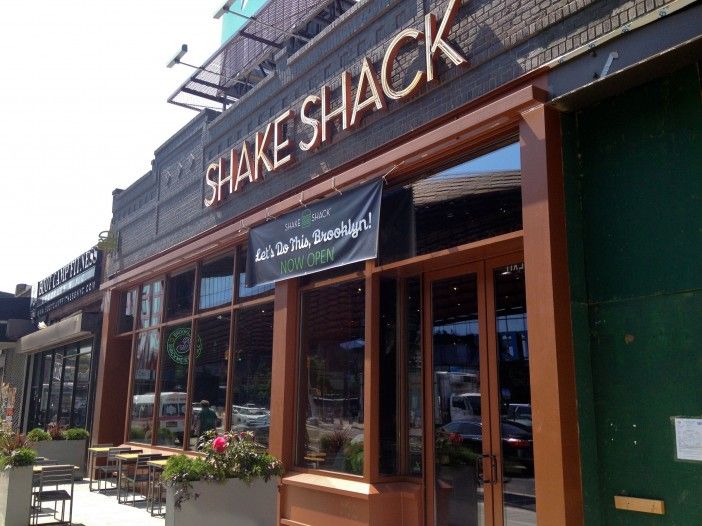 Shake Shack, 170 Flatbush Avenue, 347-442-7721
Okay so the view ain't great — the seating area is a fenced in space right on Flatbush Avenue — but a burger and a frozen custard in the sunshine may take your mind off it for a bit.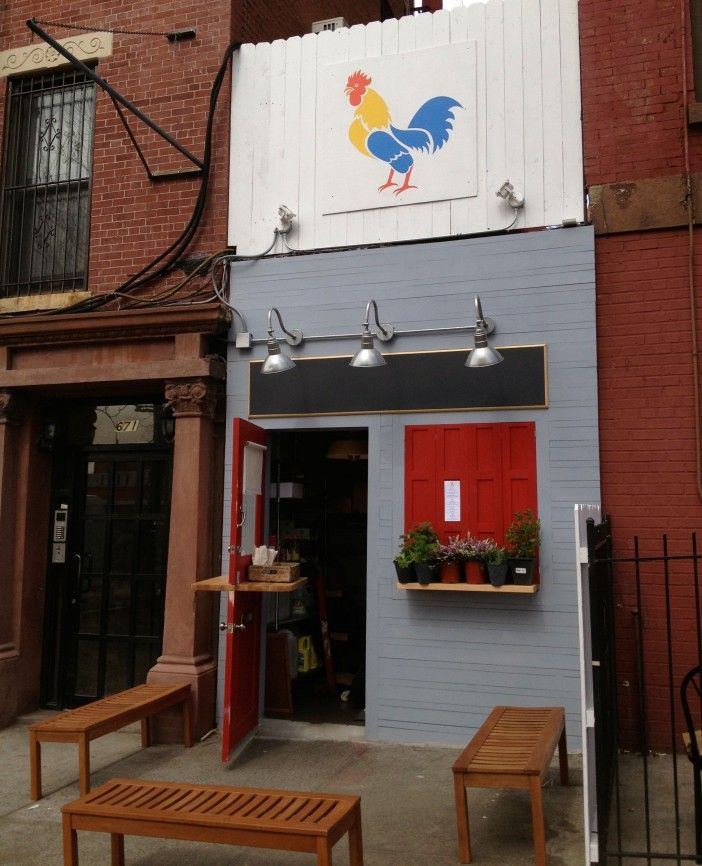 Wangs, 671 Union Street, 718-636-6390
It's true the only seating they have here is the outdoor variety, as the wee shack of a kitchen churns out only to-go and delivery orders. But on a nice day, grab a spot on the sidewalk out front and dig into some of the tastiest wings (and more) in the neighborhood.
Zito's, 195 5th Avenue, 718-857-1950
Some of the best sandwiches around (we often dream of the Autogrill), plus a nice selection of beers, and a great backyard — it's a winning combo. Speaking of winning, if you're a soccer fan, this is the place for you — they screen games out back, as well (if you're not a soccer fan, you'll probably want to avoid those boisterous game days).