61st Precinct Crime Statistics: 7/5 – 7/11/2010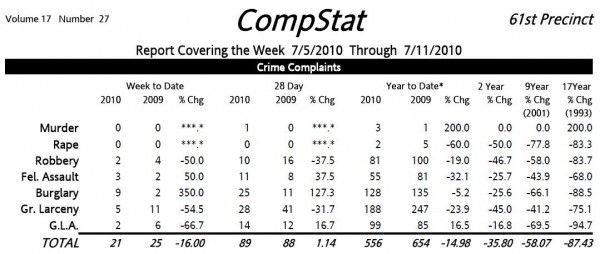 Not a very good week in the 61st Precinct. Felony Assault and Burlary are both up, though there has been a decline in Grand Larceny Auto. Maybe the crooks got tired of breaking into cars and have moved up to homes?
We heard that at least three break-ins occurred on and around East 14th Street and Avenue Z recently. Where I live, we've installed a few extra security measures. And don't forget the tips to protect your home that we gave you two weeks ago.
How about you? Done anything recently to safeguard your home against burglars?
CompStat reports are produced by the New York Police Department on a weekly basis. We summarize the week's statistics for the 61st Precinct reports every Friday. The 61st Precinct is the police command responsible for Sheepshead Bay, Gravesend, Kings Highway, Homecrest, Madison, Manhattan Beach, and Gerritsen Beach.