61st Precinct Crime Statistics: 7/12 – 7/18/2010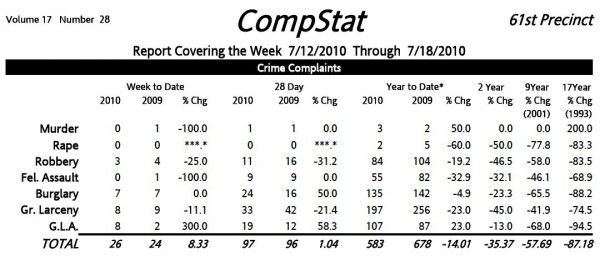 Grand Larceny Auto is up 23 percent for the year, a huge spike that doesn't appear to be slowing down. Help reduce those numbers and enroll in one of the 61st Precinct's various programs to protect your vehicle from theft such as V.I.N. etching, C.A.T. and H.E.A.T.  All of these programs are FREE of charge and may result in a reduction of your comprehensive auto insurance policy.  For more information on these programs call the 61st Precinct Crime Prevention Officer, Police Officer Cafaro at (718) 627-6832 or e-mail The61PctCrimePrevention@Yahoo.com.
CompStat reports are produced by the New York Police Department on a weekly basis. We summarize the week's statistics for the 61st Precinct reports every Friday. The 61st Precinct is the police command responsible for Sheepshead Bay, Gravesend, Kings Highway, Homecrest, Madison, Manhattan Beach, and Gerritsen Beach.