61st Precinct Crime Statistics: 7/11 – 7/17/2011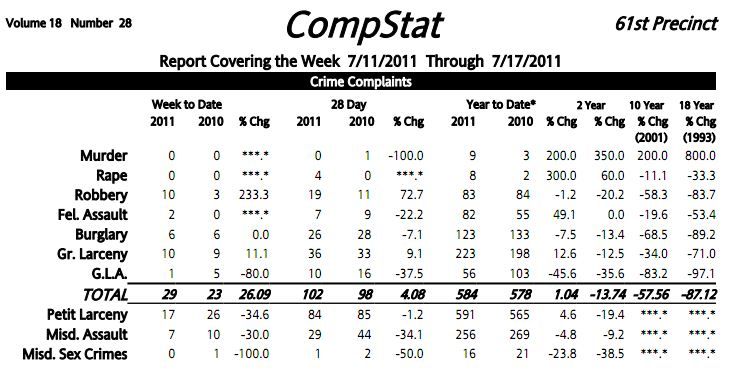 CRIME IS OFFICIALLY UP FOR THE YEAR. This week marks the first time we have seen an increase in total crime stats in the year to date, crossing from being down 0.18 percent to an increase of 1.04 percent. The biggest increases continue to be seen in the murder, rape and felony assault categories, but it appears this week's 233.3 percent jump in robbery may have put us over the top.
We first noted that violent crime was on the rise in April, with 2011 being our deadliest year in a decade. And while robbery and burglary stats are still down for the year, they inch closer to matching or exceeding last year's numbers. Incidents of grand larceny have jumped 12.6 percent over last year. Meanwhile, the only crime category that has seen a significant drop is Grand Larceny Auto, which is the exact opposite of 2010's crime pattern. Last year, Grand Larceny Auto was the only crime category (other than murder) to see an increase, and is currently being tackled through the precinct's Midnight Conditions Unit.
Why do you think crime is on the rise?
CompStat reports are produced by the New York Police Department on a weekly basis. We summarize the week's statistics for the 61st Precinct reports every Friday. The 61st Precinct is the police command responsible for Sheepshead Bay, Gravesend, Kings Highway, Homecrest, Madison, Manhattan Beach, and Gerritsen Beach.