61st Precinct Crime Statistics: 6/7 – 6/13/2010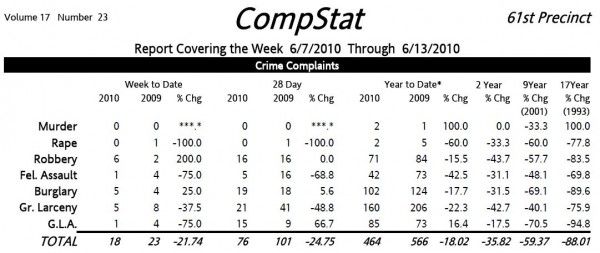 Grand Larceny Auto is finally down! Only one G.L.A. last week, but it'll take a consistent reduction over several weeks to see a rebound in the 28-day and year-to-date increases (66.7 percent and 16.4 percent, respectively).
Meanwhile, Robberies shot up to six and Burglary also had a bump.
CompStat reports are produced by the New York Police Department on a weekly basis. We summarize the week's statistics for the 61st Precinct as the reports every Friday. The 61st Precinct is the police command responsible for Sheepshead Bay, Gravesend, Kings Highway, Homecrest, Madison, Manhattan Beach, and Gerritsen Beach.