61st Precinct Crime Statistics: 5/3 – 5/9/2010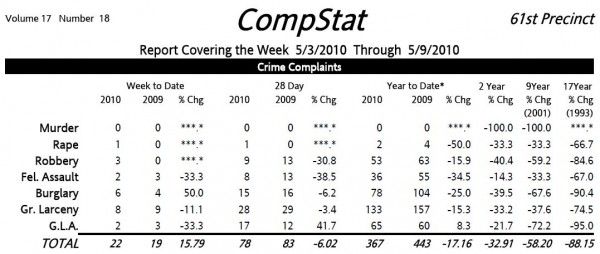 It's been a while since we've seen a drop in both Grand Larceny and Grand Larceny Auto, but that good news was tempered by a modest up-tick in burglaries. For the year, G.L.A. remains the only crime we've seen an increase in, year-to-date. I'm beginning to sound like a broken record, but I'll point out once more that the year-to-date overall reduction is still narrowing. I think by the time fall rolls around, it'll be either in single digits or quite close to it.
CompStat reports are produced by the New York Police Department on a weekly basis. As a new feature on Sheepshead Bites, we'll be summarizing the week's statistics for the 61st Precinct as the reports become available (usually on Monday, one week after the closing date). The 61st Precinct is the police command responsible for Sheepshead Bay, Gravesend, Kings Highway, Homecrest, Madison, Manhattan Beach, and Gerritsen Beach.