61st Precinct Crime Statistics: 4/26 – 5/2/2010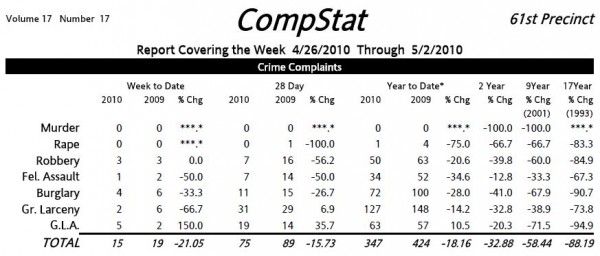 We were expecting to see an enormous jump in numbers in this report, following the April 27 find of more than two dozen cars broken into around Shore Parkway. But it turns out the CompStat reports are modeled after similar F.B.I. statistics, which only takes into account the seven major crimes. Since most of the cars burglarized last month had small items taken – G.P.S. units, sunglasses, spare change – they were categorized as petit larceny. Grand larceny requires the theft of items that have a total value at $1,000 or more.
And so we see another week of crime reduction overall. However, the Year-to-Date numbers are narrowing. In Grand Theft Auto, we're seeing a 10 percent jump over last year – a doubling of last week's five percent.
CompStat reports are produced by the New York Police Department on a weekly basis. As a new feature on Sheepshead Bites, we'll be summarizing the week's statistics for the 61st Precinct as the reports become available (usually on Monday, one week after the closing date). The 61st Precinct is the police command responsible for Sheepshead Bay, Gravesend, Kings Highway, Homecrest, Madison, Manhattan Beach, and Gerritsen Beach.