61st Precinct Crime Statistics: 3/29 – 4/4/2010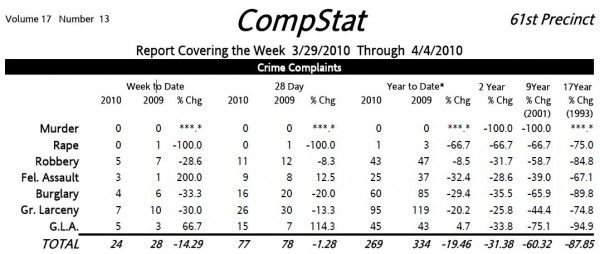 It looks like we're continuing our slow slide towards closing the gap in crime reduction and, again, grand larceny auto is pulling us in that direction. There was also a small spike in felony assaults this week, but year-to-date we're still down 32.4 percent – making it the category with the second largest overall reduction.
Manhattan Beach Community Group posted on their website yesterday about NYPD programs that can help you safeguard your car and bring insurance rates down:
The 61st Precinct Crime Prevention Officer also offers various programs to protect your vehicle from theft such as V.I.N. etching, C.A.T. and H.E.A.T.  All of these programs are FREE of charge and may result in a 5% – 10% reduction off of your comprehensive auto insurance policy.  For more information on these programs please call the 61st Precinct Crime Prevention Officer, Police Officer Cafaro at (718)627-6832 or e-mail The61PctCrimePrevention@Yahoo.com.
[NYPD] deployed Anti-Crime (plainclothes officers), uniformed patrol, and Crime Prevention in targeted areas of rim and tire theft.
Another reader wrote in to tell us they saw a white Nissan sedan pull up and double park on his block late one night while he was off to the corner store. When he came back, the car was gone and the car that it had blocked in was missing its street-facing tires.
Be vigilant!