61st Precinct Crime Statistics: 2/8 – 2/14/2010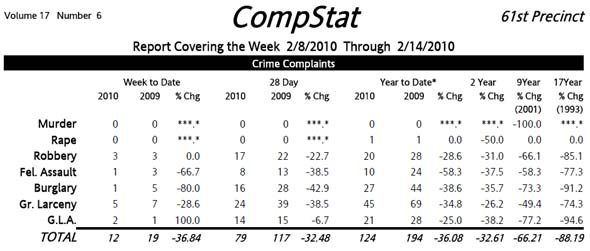 Overall, crime for the week before Valentine's Day dropped more than 36 percent compared to the same time frame in 2009. Most significantly, the number of break-ins constituting burglary dropped 80 percent, with only one this week as compared to five in 2009. The only crime to increase this week over last year's numbers was Grand Larceny Auto (G.L.A.), which doubled from one to two. Still, we're down in total car thefts for the year (21) from 2009 (28).
G.L.A. shows the slowest reduction of incidents year over year, so make sure to keep your car safe. Park on well-lighted streets and do not leave valuables in your vehicle.
CompStat reports are produced by the New York Police Department on a weekly basis. As a new feature on Sheepshead Bites, we'll be summarizing the week's statistics for the 61st Precinct as the reports become available (usually on Monday, one week after the closing date). The 61st Precinct is the police command responsible for Sheepshead Bay, Gravesend, Kings Highway, Homecrest, Madison, Manhattan Beach, and Gerritsen Beach.
Is this new feature useful? Interesting? Let us know!