61st Precinct Crime Statistics: 2/15 – 2/21/2010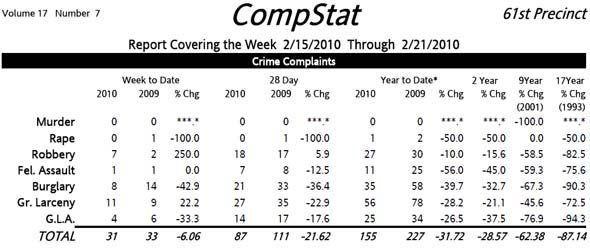 Crime reduction overall in the 61st Precinct almost ground to a halt this week. With a whopping 31 crimes, we're only down 6.06 percent from the same time period in 2009, while last week (not shown) our numbers were down 36.84 percent.
Most notably, there was a sharp increase in robberies, up 250 percent from the same week last year, and more than twice the amount from last week (3).  We also more than doubled the amount of grand larcenies from last week, up to 11 from 5, and a 22.2 percent jump from this time period in 2009.
The area only had 12 crimes included in last week's report. All told, this week's spike has slowed down the "Year to Date" reduction of crime by less than 5 percent, from a 36.08 percent reduction from 2009's numbers to 31.72 percent – meaning we're still on track for an overall reduction in crime from last year.
CompStat reports are produced by the New York Police Department on a weekly basis. As a new feature on Sheepshead Bites, we'll be summarizing the week's statistics for the 61st Precinct as the reports become available (usually on Monday, one week after the closing date). The 61st Precinct is the police command responsible for Sheepshead Bay, Gravesend, Kings Highway, Homecrest, Madison, Manhattan Beach, and Gerritsen Beach.
Is this new feature useful? Interesting? Let us know!