Needy Seniors Receive Kosher Care Packages From Be Proud Foundation Ahead Of Holiday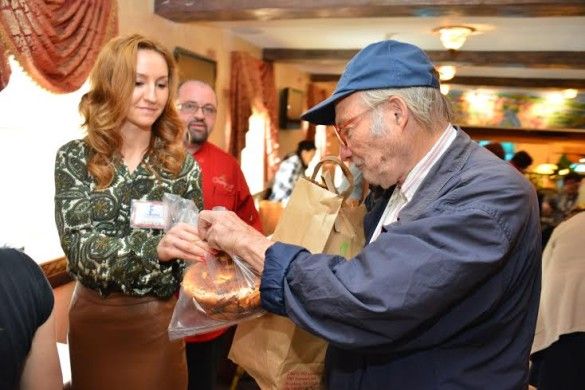 Seniors, Holocaust survivors and needy locals were treated to baskets overflowing with kosher foodstuffs ahead of Rosh Hashanah as the Be Proud Foundation completed its annual Rosh Hashanah food distribution initiative on Monday.
The group handed out the baskets at Cherry Hill Gourmet Market (1901 Emmons Avenue) as part of Yad B'Yad, Hebrew for "Hand in Hand," a charitable event that caters to Jewish people in need. Aside from the scores who attended, the group also hand-delivered the items to homes of area seniors.
This year's efforts were larger than previous years, and the baskets were more substantial as well, said Be Proud's executive director, Raisa Chernina.
"We were never able to provide gefilte fish, and the challah bread was baked at 5am that morning. It was delightlfully fresh," said Chernina. "We give what we have."
Photos courtesy of Be Proud Foundation.
Correction (September 25): The original version of this article reported the incorrect day of the event, saying it was Sunday. In fact, it was Monday. Additionally, the number of packages distributed was removed because it, too, was erroneous. We regret any confusion this may have caused.