At 550 Vanderbilt, There's An Emphasis On Inclusion In The Construction Process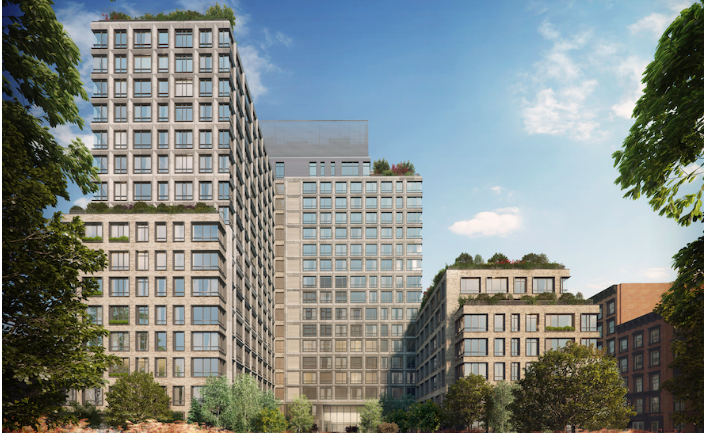 As Pacific Park rises amidst questions about the changing character of the neighborhood, it's the role of minority and women-owned business enterprises (MWBE) in the construction process that may surprise some.
550 Vanderbilt, a luxury residential building at 550 Vanderbilt Avenue between Dean Street and Pacific Street being developed by Greenland Forest City Partners (Greenland) as a part of Pacific Park, is being built with significant MWBE participation, including major jobs like metal and drywall construction. 550 Vanderbilt is scheduled to open in late 2016.
In order to qualify as a MWBE in New York City, a company must be at least 51% owned, operated, and controlled by a minority or woman, in business for at least a year, and either be located in the city or have a significant tie to the business community.
Greenland set a goal of 35% MWBE participation for the development of Pacific Park and at 550 Vanderbilt, they're currently over 40%.
"Building buildings comes with thinking about the people who will live in those buildings, thinking about the people who will live across the street," said Elizabeth Canela, who grew up in the Ingersoll Houses. Today, she's the Senior Project Manager in External Affairs at Forest City Ratner Companies (Forest City). Canela acknowledged that development is a complicated issue, but thinks that they're going about it the right way.
Canela said Forest City is focusing on local hiring from neighborhood community boards like Community Board 2, Community Board 3, Community Board 6, and Community Board 8. They also have hired through partnerships with organizations like Workforce 1, Building 92 at the Navy Yard, and others, according to Canela.
"We hire from within from the local neighborhood and we have grown the business that way," said Ray Rivera, owner of Park Avenue Building and Roofing Supplies. Park Avenue supplies the hardware and door as well the drywall and metal construction for 550 Vanderbilt, which have been worth over $3 million.
Rivera moved from Puerto Rico to Bedford-Stuyvesant as a boy. He started Park Avenue Building and Roofing Supplies over a quarter century ago and today, he's got a 200,000 square foot facility.
"In the old days, it was harder. There's a bigger emphasis on big organizations working with the minority community than ever before, but at the same time it's also harder for the minority business to get into that world because the jobs are so big that are going on now," said Rivera.
Rivera explained that while there are still barriers facing MWBE's, those will fade once there's an opportunity.
"Once you get people who know who you are and know what you can do, those barriers go away," said Rivera, who added that "this is what partnership is all about and it works."
Canela said that the culture at Forest City is progressive, owing in part to the leadership of President and CEO MaryAnn Gilmartin, but also to Chairman Bruce Ratner himself.
"Women in general are still a minority within real estate and construction and that means there's a lot of room for growth and inclusion," said Canela.