5 Years Since Sandy: How The Storm Affected DUMBO's Beloved Jane's Carousel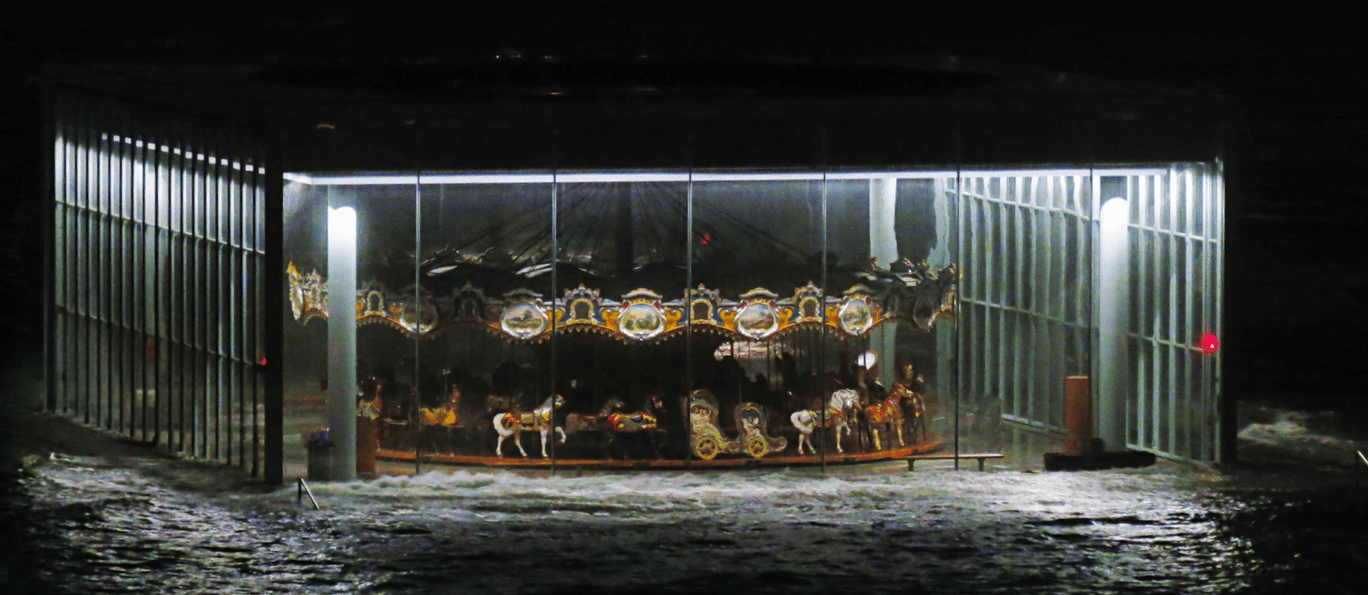 October 29 marks the five year anniversary of Hurricane Sandy. BKLYNER interviewed local business owners who were affected by the historic storm about their experiences and lessons learned.
DUMBO – After more than 25 years of meticulous restoration, the magnificent Jane's Carousel debuted alongside the East River in Brooklyn Bridge Park on September 16, 2011—just barely over a year before Hurricane Sandy struck.
Created in 1922 by the Philadelphia Tobaggan Company, the Carousel features three rows of 48 horses and two chariots. Jane and David Walentas purchased the historic Carousel in 1984 to be a part of Empire Fulton Ferry State Park. The State Park was integrated into Brooklyn Bridge Park in 2010.
After the purchase, Jane immediately began the decades-long process of restoring the carousel back to its original glory from her studio in DUMBO. The mechanical system was completely upgraded and rewired, and a minimalist, acrylic pavilion designed by award-winning architect, Jean Nouvel, was constructed to house the rejuvenated attraction.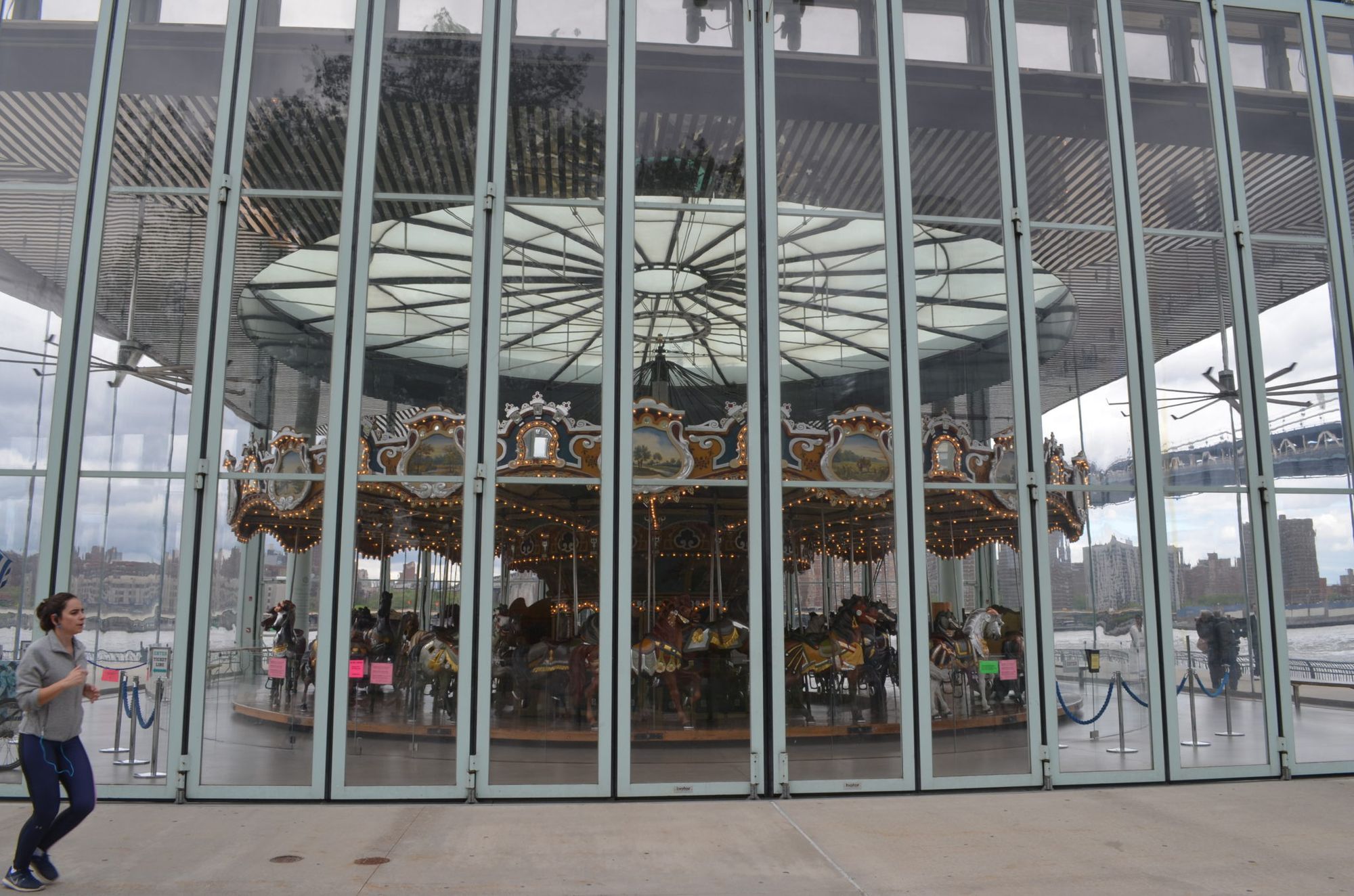 Jane recalls October 28, 2012. "We closed early the day before to allow for staff to get home before the subways were shut down," she says. "We barricaded the perimeter of the Carousel Pavilion with layers of sandbags to prevent water from pouring in under the doors. We also covered and wrapped all our electronic and mechanical systems with plastic as best as we could."
The Carousel Pavilion platform was built ten feet above the flood plain, she notes. "We felt very safe with that statistic. The storm surge was, I believe, 12 to 14 feet, which set a new record."
Due to the "sleek and sophisticated design" of the Carousel Pavilion, a five-foot crawl space underground houses most of its electronic and mechanical systems instead of the rooftop which would be the typical placement, she explains.
"The crawl space was filled with 5 feet of water up to the basement door," she says. "The heating system which was built in the crawl space was totally destroyed and had to be rebuilt on site. The electronic systems for the operation of our massive folding doors had to be remade and shipped from Switzerland. Mechanics had to come from Switzerland to reinstall the equipment to make the doors operational again," she adds.
"Our 100-year-old Band Organ was flooded and ruined and had to be sent back to Ohio for total restoration. Our A/V systems, internet, electricity and phones were all knocked out. Most metal, such as electrical panels and outlets were corroded and needed replacement," she continues.
Though almost everything was affected by the storm and suffered hundreds of thousands of dollars worth of damage, luckily, the 90-year-old Carousel itself and the horses escaped unscathed!
"Amazingly, the Carousel platform, made up of 100-year-old ponderosa pine, though flooded under several feet of water, was unharmed. It dried out with barely a warp. The same was true of the horses. Their feet had also been under water," she says.
"Once we pumped out the 5 feet of water in the basement crawl space, and had all the electric restored, the Carousel started right up at the push of a button," she recalls. "It was almost as exciting as the day we opened!"
Fortunately, the mechanical equipment that runs the Carousel is situated above-ground and is made to operate in exterior spaces, since most carousels are not usually enclosed, Jane explains. "We were back in operation within two weeks of the storm."
"It was, however, a cold and difficult winter. We got by with space heaters, just two small operational doors for access, and a 'boom box' for music," she remembers. While telephones and internet service were gradually restored, the electricity in Brooklyn Bridge Park was knocked out, causing the Park to become "dark early and desolate" for a while, she says. It was not until approximately March or April of 2013 that Jane's Carousel was "back to normal operations with all the repairs and restoration complete," she adds.
Following Hurricane Sandy, Jane purchased flood gates for the Carousel which "can be installed within several hours notice," and "bolt[ed] down around the perimeter of the Carousel [to] supposedly protect from flooding waters," she explains. The gates are currently in storage where Jane hopes they "will remain forever" and not ever be needed.
In the event of a similar storm hitting ground again in the area, Jane first responds, "I really don't want to think about another Superstorm!" then adds, "The best we can do is to prepare early, shut all electronic and mechanical systems down, protect them as best we can and hope that the flood gates offer real protection against flooding water."
Based on her experience with Hurricane Sandy, Jane's advice for others is—"heed storm warnings and protect your environment as best as you can."
Jane's Carousel is located at Brooklyn Bridge Park between the Brooklyn and Manhattan Bridges. Winter hours are Thursday – Sunday from 11am to 6pm.