Five Taken Into Custody In Relation to Chelsea Bombing After Belt Parkway Traffic Stop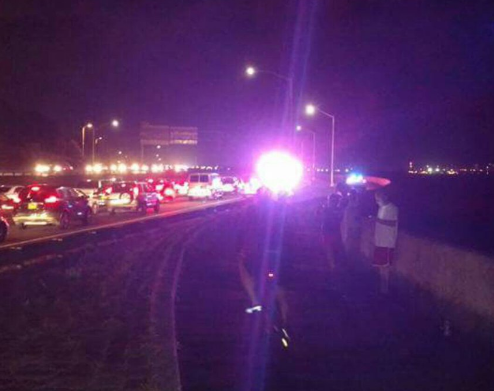 The FBI has taken five men thought to be involved in Saturday's Chelsea bombing into custody following a traffic stop near the Verrazano Bridge on the Belt Parkway Sunday night. Sources confirmed a stash of weapons was discovered in the back of the men's SUV, and that the suspects were taken to the F.B.I.'s Federal Plaza headquarters in Manhattan, the Daily News reported. According to the New York Times, the men are thought to all be related.
The five men, on their way across the Verrazano into Staten Island, may have been escaping town or en route to an airport.
The bombing, for which the investigation is ongoing, occurred on West 23rd Street in Chelsea on Saturday night, injuring 29 people and causing property damage and extensive street closures. A second device was found nearby. Pipe bombs were also discovered at a train station in Elizabeth, New Jersey, and an explosive went off during a charity race in Seaside Park, N.J Saturday morning. No one was injured.
Pictures and reports on social media from Sunday confirm police activity on the Belt and the resultant traffic delays.
An extreme alert issued at 8 a.m. this morning identified 28-year-old male Ahmed Khan, New Jersey resident and Afghan American, as a suspect in the Chelsea explosion.