Troubling Allegations Follow Bay Ridge's New Top Cop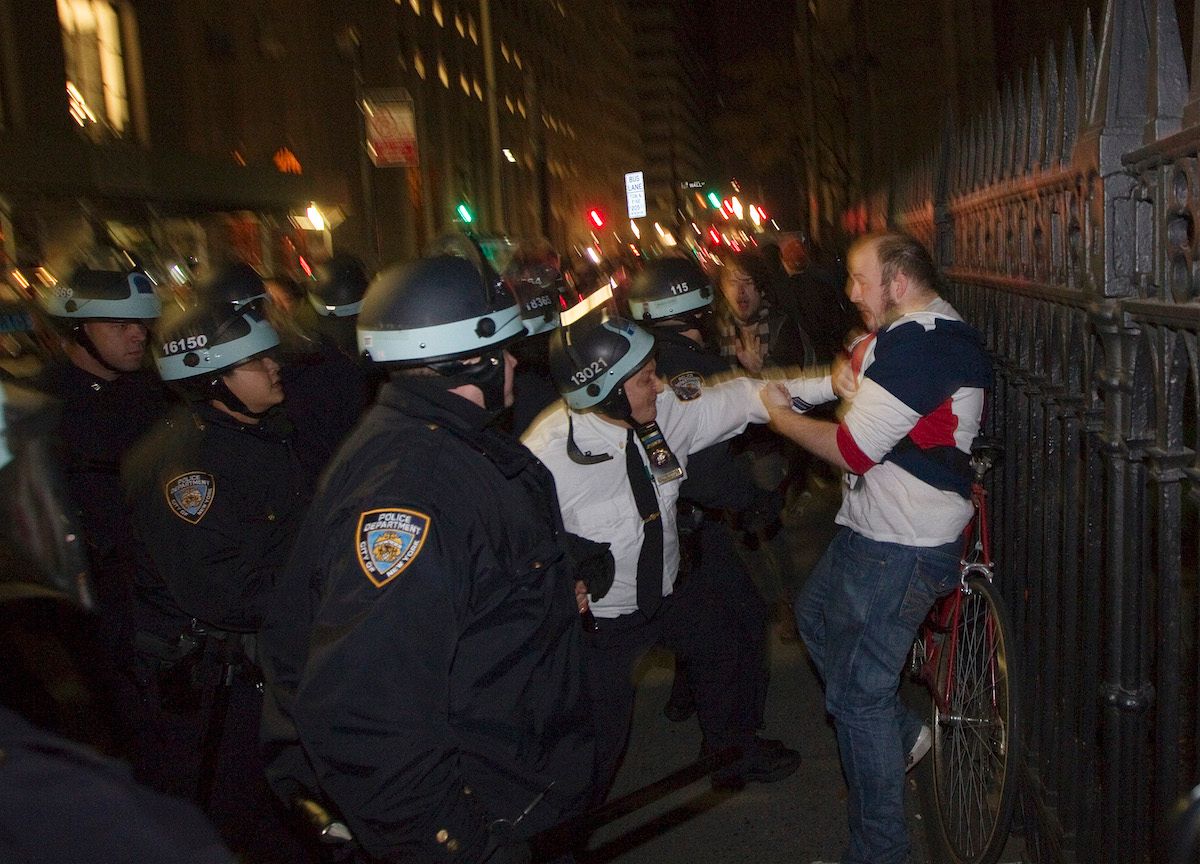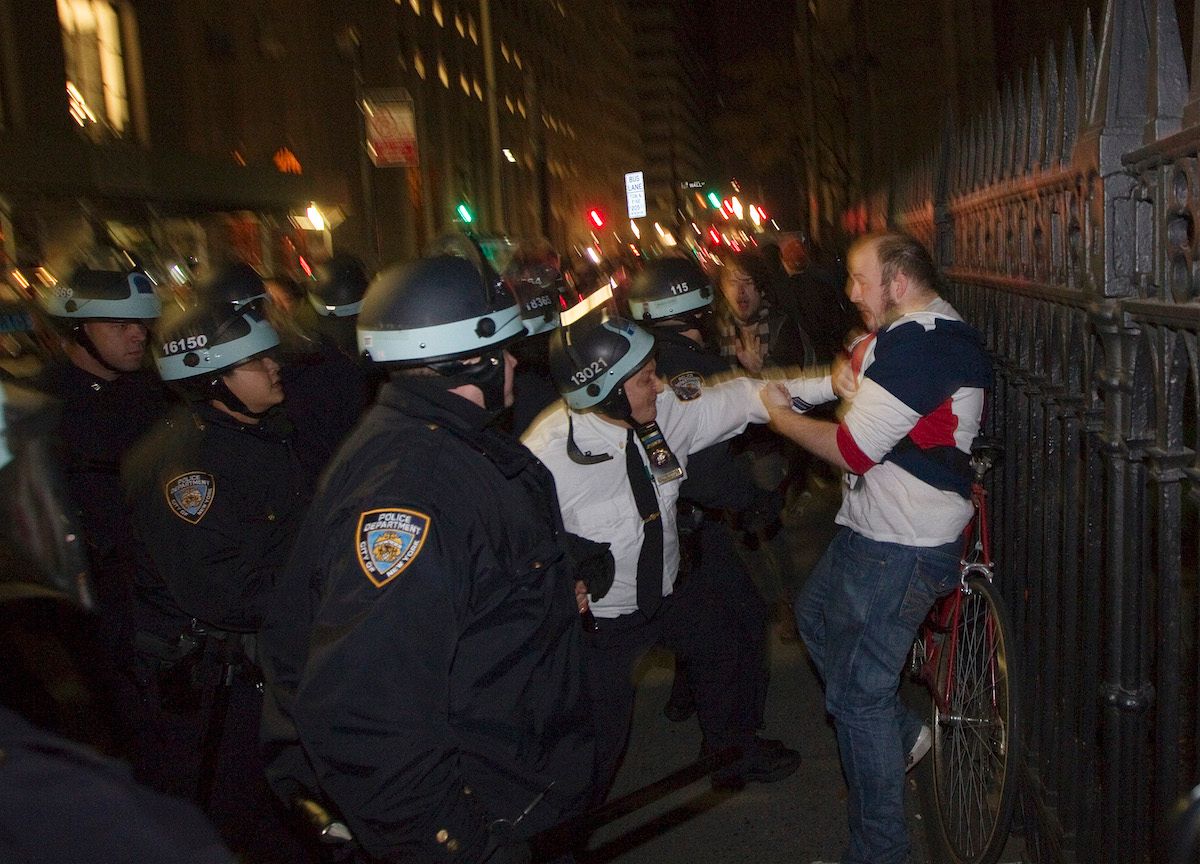 The new commanding officer at the 68th Precinct brings with him a troubling record of allegations of civil rights violations against civilians.
Captain Joseph Hayward – who took the helm of the precinct serving Dyker Heights and Bay Ridge on March 1 — is named as a defendant in at least seven misconduct suits, involving 10 different plaintiffs, dating back to 2004, according to court documents.
The cases paint the picture of a hyper-aggressive officer who pushed the boundaries of police conduct, particularly when working in East New York in 2011 and 2012. In one case, he allegedly physically forced his way into a home after a child answered the door. In another, one of his subordinates allegedly spat in a suspect's face, and threatened to shoot him.
And Hayward became the face of violent police response to the Occupy Wall Street movement when he allegedly hit a protester in the head with a baton in 2011 — a case the city settled — and was captured by a Reuters photographer.
"It's terrifying that's he's being moved up in this way. His actions against me at Occupy changed my life," the protester, Brent Schmidt, told the Bensonhurst Bean. "The image of his face will never go away."
New York City has shelled out hundreds of thousands of dollars to settle the charges against Hayward, according to the court documents — as much as $100,000 in damages in one 2004 case.
Three of the suits allege that Hayward instructed rookie officers to barge into homes and search civilians unlawfully during his time at East New York's 75th Precinct — which had the highest number of illegal entry complaints between 2010 and 2015, according to recent Civilian Complaint Review Board (CCRB) data.
Despite this history, Hayward, 39, was promoted several times within the NYPD before replacing Captain Raymond Festino at the 68th Precinct. In the first two lawsuits — both from 2004 — Hayward is listed as a police officer; in the following five, as a lieutenant. Then, in 2012, shortly after an unlawful entry claim was substantiated by the CCRB, rather than discipline Hayward, the city promoted him from lieutenant to captain, according to court papers.
In 2013, Hayward served seven months as executive officer at the 68th Precinct, followed most recently by an appointment as executive officer in Coney Island, according to the Home Reporter.
Hayward's ascent through the ranks is not unusual. A "use of force" report released in October by the NYPD's Office of the Inspector General criticized the department for failing to discipline officers accused of misconduct, or even to clearly define what kind of force is acceptable. Similarly, when it comes to substantiated unlawful entry complaints, officers are rarely disciplined with more than a slap on the wrist, a recent CCRB report found.
Jonathan Moore, a civil rights attorney who challenged the 1989 ruling on the Central Park Five and represented the family of Eric Garner, noted that until recently, the NYPD has not looked at lawsuits as an indicator of whether there is a problem with an officer.
"It's not something that's been collected by the NYPD as a matter of course," said Moore. "Officers have understood for a while that you can act with impunity and it's not going to really affect you and your career."
Mayor Bill de Blasio and his commissioner, Bill Bratton, have promised more accountability in this area. The city is working closely with Comptroller Scott Stringer on a new ClaimStat system — a variation of the NYPD's crime tracking CompStat — which identifies precincts with the highest rates of lawsuits, and recommends areas of improvement.
The effects of some of Bratton's reforms can already be felt; since the NYPD's dramatic scale back of its Stop and Frisk program, for example, there have been much fewer civil rights complaints, reports City and State.
The 68th Precinct has had its share of cops getting into trouble, dating back to 1986, when 68th Precinct Officer Frank Caputo, 29, was charged for his involvement in a cocaine trafficking ring. He allegedly told investigators that nine of his colleagues at the precinct had also used the drug, according to a New York Times report.
More recently, in 2011, 68th Precinct Officer William Masso was at the center of an elaborate weapon, cigarette and slot machine smuggling scheme uncovered by the FBI, involving three active and three retired officers of the precinct. It was considered a major black eye for the NYPD at the time, and Commissioner Ray Kelly called the scandal "a betrayal of the highest order of an officer's oath."
But historically, the 68th Precinct has enjoyed enormous support from residents of Bay Ridge and Dyker Heights — two of the borough's safest neighborhoods. In the aftermath of the 2011 scandal, community leaders expressed dismay to learn that these officers had betrayed the community's trust.
"I was absolutely shocked and saddened by the whole thing, but if these individuals did what they allege they did, it shouldn't reflect poorly on the police department or precinct itself," said Fran Vella-Marrone, president of the Dyker Heights Civic Association, according to reports.
Hayward did not respond to requests for comment on the allegations, but police advocates note that a settlement is not necessarily an indicator of guilt, and that officers working in high-crime areas are more likely to accrue lawsuits.
Below are the stories of Hayward's alleged victims.
1. Anne Budram
On June 22, 2004, Hayward and other unidentified cops unlawfully seized Budhram from her Flushing, Queens home, refusing to allow her to dress properly or wear a jacket, though she was wearing a see-through top, according the complaint.
The officers then threw the woman to the ground and handcuffed her too tightly causing her pain, the papers charge. (The suit alleges that the cops "routinely as a matter of policy and custom handcuff suspects too tightly and refuse to loosen the handcuffs.")
Hayward and his colleagues illegally searched Budhram's residence, damaging her property, and threatening her with arrest if she didn't make a statement to police, the suit alleges. To add insult to injury, the officers arrested and imprisoned Budhram overnight for "menacing."
Budhram claimed she was "maliciously prosecuted" and forced to attended court dates until the charges against her were dismissed on December 4, 2004. Her lawsuit was settled for $4,000, without admission of guilt.
2. The Faltine Family
Two separate cases were filed for the Faltine family — one for the two grown sons Kiama and Kijafa and another for their mother Patricia, with whom they lived along with Kijafa's two sons, ages 4 and 6.
On August 14, 2012, at 3am, Hayward was supervising several rookie officers on a vertical patrol at an East New York housing project, when he stopped a woman in the building, accused her of trespassing, and ordered her to take him and them up to the Faltine's apartment.
The woman, called Ms. Williams, was told to knock on the family's door and ask to be let it. "It was the intention of the defendants… to lure the occupants of the subject premises to open the front door in order to forcibly gain entry … and conduct a warrantless search," alleges the papers.
Kijafa, who was asleep on the living room couch, responded to the door and Ms. Williams told him she wanted to visit his brother Kiama. Kijafa woke his brother up, who responded that he wasn't expecting anyone at that late hour, and asked who was at the door. When the officers began to bang loudly and demand they open the door, the men woke up their mother. Patricia told the officers that she could not let them in without a warrant, and Hayward told her he had ways to enter the premises without a warrant, according to the complaint.
As cops continued to bang on the door for 20 minutes, Kijafa's young sons woke up and "began to cry and scream in fright, and asking their grandmother to call the police, not understanding that police officers could behave in such an outrageous manner," according to the court papers.
Hayward informed the now-upset Patricia that he would call for medical assistance, despite her insistence that she did not need help; she simply wanted them to stop banging on the door. The officers called in the NYPD's Emergency Services Unit, falsely claiming Patricia was suffering a heart attack, and that her sons refused to open the door, alleges the suit.
What happened next "can only be described as a quasi-military operation," according to the complaint. Despite Patricia's pleas for them to leave the family alone, the cops rammed at the door until it was ripped off its hinges. At the moment the officers entered the premises, Patricia was on the phone with CCRB.
Patricia and her sons were allegedly beaten and battered and as police dragged them into the hallway and arrested them. The plaintiffs noticed that police had taped up the surveillance camera and a neighbor's peephole in an effort to conceal their misconduct, according to the complaint.
The suit cites several substantiated CCRB complaints against Hayward from earlier that year where the officer — with the help of his subordinates  — accosted and coerced innocent bystanders to help him gain illegal entry into an apartment. In one case, Hayward forced his way into a home after a child answered the door, according to court documents. Furthermore, after the CCRB substantiated Patricia's complaint against Hayward, he was promoted from lieutenant to captain and assigned an executive officer position.
Patricia's case settled for $25,000. The sons' cases settled for $40,000 (Kiama) and $45,000 (Kijafa).
3. John Harding, Crystal Barcomb, and Leon Grant
On April 21, 2011, Hayward and two other officers approached a parked car with their guns drawn, forcing the defendants to exit of the vehicle so that they could illegally search it, according to the complaint.
When Grant called his mother to tell her that he was being arrested for no reason in the parking lot, the officers "snapped" and violently kicked him to the ground, charges the suit. Barcomb, Grant's fiancée, objected to the way they were treating him, and cops threw her to the ground as well and dragged her "causing bruising and lacerations," according to court documents.
When Barcomb informed the officers that she was pregnant, the complaint charges that the officers held a gun to the back of Grant's head and threatened to "blow his brains all over his pregnant fiancée if he even thought about moving."
The three defendants were arrested and charged with resisting arrest. They were placed in a holding cell for more than 24 hours without food, water, or access to the bathroom, according to the complaint. When Grant told officers that he would sue them, they responded by punching him in the mouth.
The charges against Harding were dropped soon afterward, but Barcomb and Grant were forced to return to court at least ten times until an acquittal after trial on May 8, 2012. The case was settled for an undisclosed amount.
4. Brent Schmidt
Hayward's face become a symbol of police brutality when news outlets photographed him assaulting a protester at Occupy Wall Street protests in Manhattan's Zuccotti Park in 2011.
Brent Schmidt — a comedian and activist from Brooklyn — charged that the lieutenant bludgeoned him in the head and other parts of his body with a baton on November 15, 2011.
Schmidt told Shawn Donovan on the podcast "Democracy How," that since his father was on the force, he was especially shocked by the brutality he witnessed at the Zuccotti Park. "Up until that point at Occupy, I was sort of pro-police, like they're not all bad. Going into it I was still alright with police… Then at Occupy, I would see cops beat the shit out of people," Schmidt said.
Schmidt received a Rule 68 judgement — without an admission of guilt — collecting $15,000, plus $15,000 in lawyers fees.
Schmidt and his attorney both expressed dismay about Hayward's recent appointment.
"It's terrifying that's he's being moved up in this way. His actions against me at Occupy changed my life. If you see the pictures, he looks like he's filled with hate while he's doing it. The image of his face will never go away," Schmidt told us.
"It is disturbing that the NYPD keeps promoting member of its service who have committed egregious civil rights violations," said Schmidt's lawyer Jeffrey Rothman.
5. Carl Eliacin
Eliacin's ordeal began on March 10, 2012, at around 10pm, when several officers accosted him in his apartment building without probable cause and searched him, ordering him to remove his socks and shoes, according to the complaint. Nothing illegal was turned up in the search.
A bit later, at approximately 1am on March 12, the court papers allege that the same officers tackled Eliacin from behind in the parking lot of a friend's home, that he was trying to visit. Eliacin claims the officers punched him several times and stomped on his right foot before cuffing him, according to the court documents. The plaintiff was then dragged up off the ground painfully by his handcuffed arms causing pain.
Officer Stephen Carr, a subordinate of Hayward, allegedly spat in Eliacin's face and threatened to shoot him. Carr then dragged Eliacin inside a nearby building, and said "let me help you" before slamming the man into a doorpost, charge the papers.
Cops arrested Eliacin and took him to the 75th Precinct. He was released four hours later with a disorderly conduct summons, which would eventually be dismissed.
Hayward is named in court papers as the highest ranking officer on the scene. The case was lost at trial.
6. Daniel J. Abelson
The 2004 case not available online — perhaps because it is sealed — but records show that the plaintiff received $100,000.