Thousands Protest Conviction Of Ex-Officer Peter Liang: 'No Selective Justice!' [Video]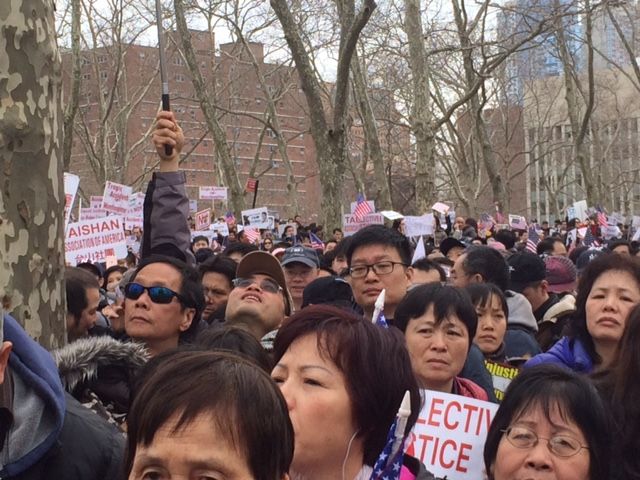 https://youtu.be/M4tVlLtakic
Chants of "Justice, justice!" and "No scapegoat!" rang out in Downtown Brooklyn Saturday as local pols and representatives from Chinese American organizations gave impassioned speeches at a rally protesting the conviction of ex-NYPD officer Peter Liang.
More than 10,000 people poured into Cadman Plaza to express their frustration with the legal system and what they say were preventable circumstances that led the rookie cop from Bensonhurst to accidentally kill an innocent Akai Gurley in the stairwell of a Brooklyn housing project in November 2014.
"All of the things that occurred before the shooting were very scary for Peter Liang," said Daniel Chen, of the Coalition of Asian Americans for Civil Rights . "You don't know what's going to kill you. It is ridiculous that an officer who was only on the force for two years was sent to dangerous projects."
Community leaders and pols charged that Liang's manslaughter conviction by the New York State Supreme Court on February 11 is a case of "selective justice," and that Liang is merely a scapegoat for the tensions between the NYPD and New York's African-American population.
While many expressed sympathy for the Gurley family, they said what happened was a tragic accident, and noted that Liang's conviction stands in sharp contrast to the outcomes of trials of white officers involved in the deaths of Eric Garner and Michael Brown.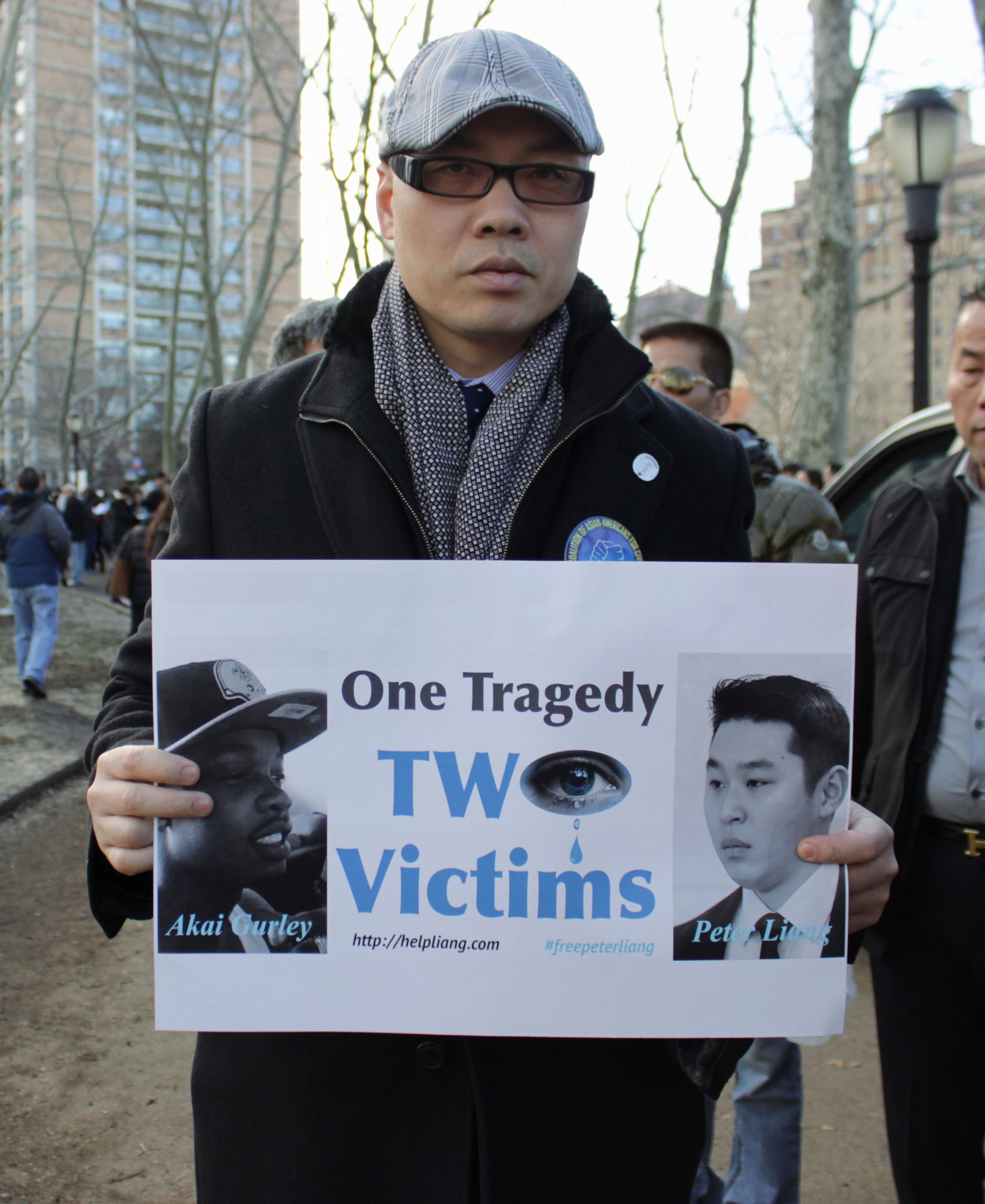 Among the speakers at Saturday's event were Councilman Mark Treyger and Assemblyman William Colton — two outspoken supporters of Liang — who called for the city to be held accountable and expressed sympathy for the families of both the perpetrator and the victim.
"Peter Liang went into that building to protect the families of that building. Not to hurt anyone," said Colton. " A terrible accident occurred. A terrible, accidental discharge of a gun occurred… I have sympathy for the family of Peter Liang and the family of Akai Gurly."
Treyger added, "I believe that we are here to stand for justice, not revenge. The truth is that Akai Gurley should be alive today, but the truth also is that Peter Liang should have not have been in that building in the first place. The elevators should have been working in the first place and the lights in NYCHA should be working in the first place. The government failed Akai Gurley, and the government failed Peter Liang."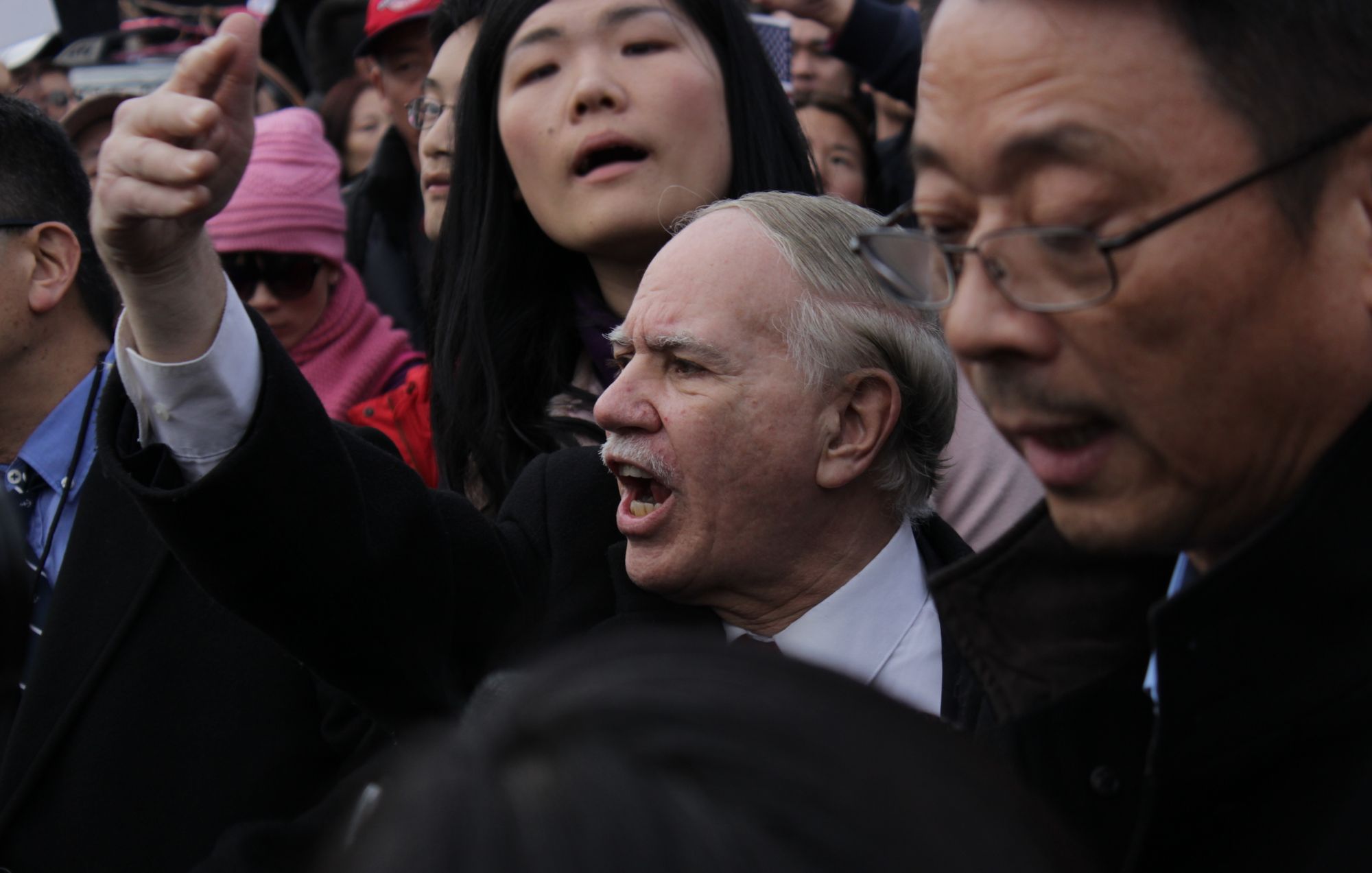 Speaker after speaker repeated in Mandarin, Cantonese, and English that what happened in the Pink Houses in East New York was a tragedy brought on by poor policing tactics — and that it was not the fault of the rookie officer.
Liang was on a vertical patrol in a dark stairway of the Pink Houses in when he was startled and fired his drawn weapon in the direction of a noise. After his bullet ricocheted off a wall and fatally struck Gurley, the panicked cop first called his union representative instead of assisting the victim, who lay bleeding in the stairwell, according to court testimony. This inaction, the DA says, is what makes Liang liable for Gurley's death.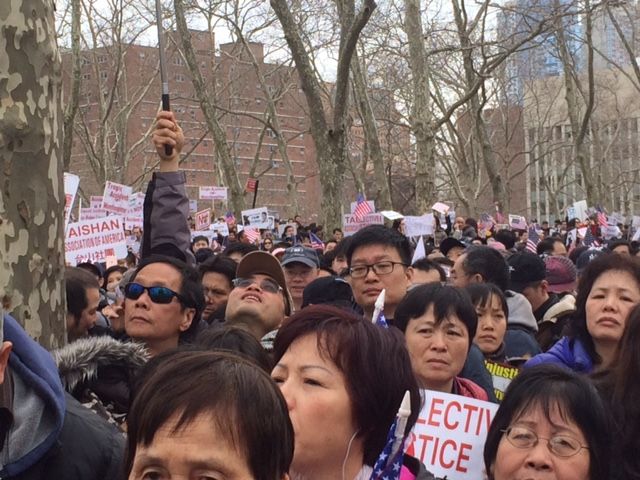 Along with calls for justice came a new sense of political urgency in the Asian American community. A voter registration booth was set up next to the rally and speakers pointed to voting as the best way to prevent further scapegoating the community. Former Comptroller John Liu invoked America's long history of anti-Asian discrimination.
"We have to look at our history," Liu told the crowd. "There was once a slogan 'Not a Chinaman's chance.' We were then forced to build the railroads, excluded from the country by Congress and put in concentration camps. We understand that our African American brothers feel a sense of injustice, but we Asian Americans also feel a sense of injustice. We have to get rid of the double standards used against Asian Americans!"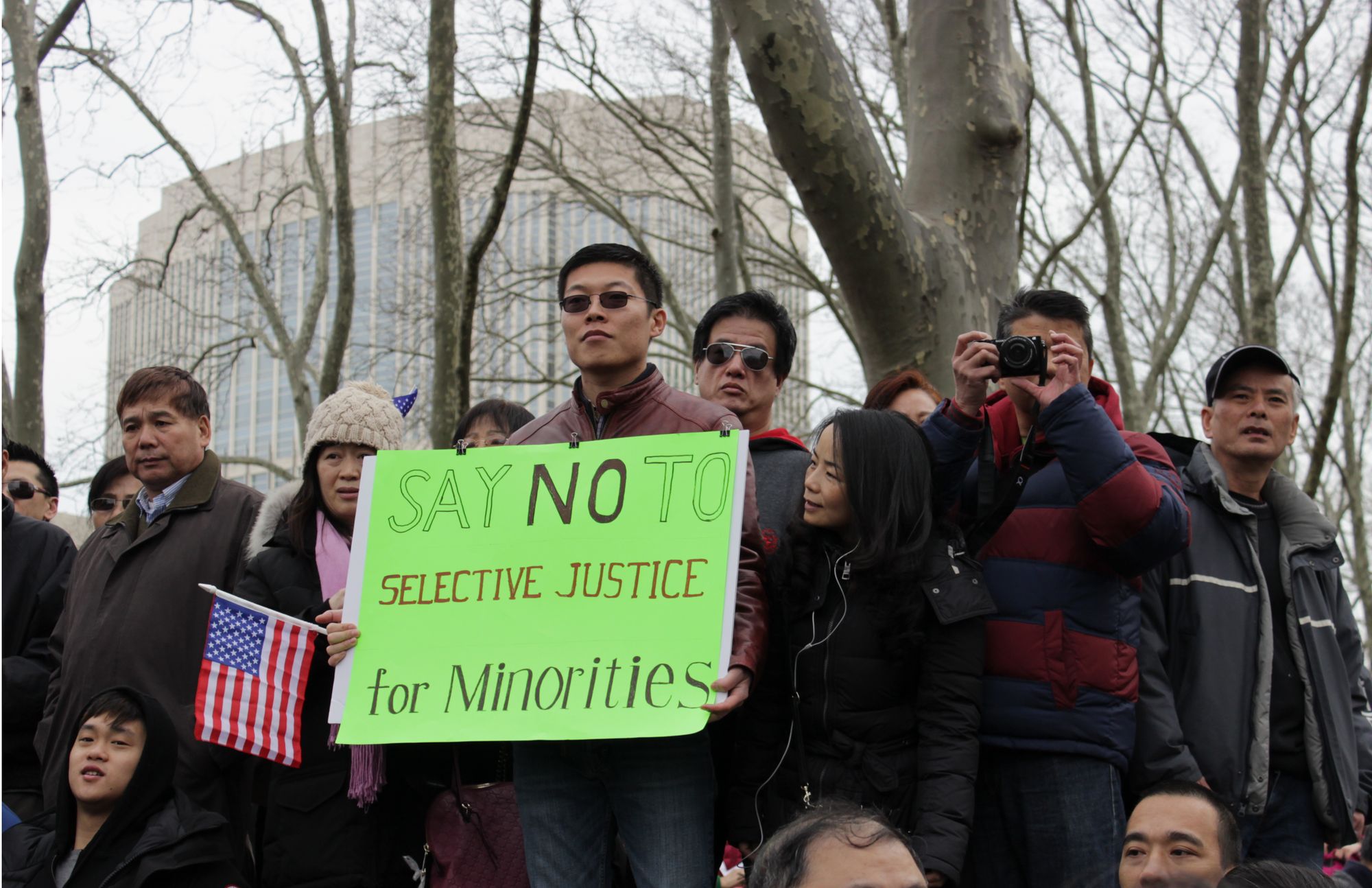 The Asian American population in New York City has boomed in recent years, and Asians have become an increasingly visible presence in the NYPD. Liang's indictment is a second blow for Asian American community in southern Brooklyn, which just over year ago buried Detective Wenjian Liu, a Gravesend resident who was executed along his partner Detective Rafael Ramos while in a patrol car outside a Bedford-Stuyvesant housing project.
Some protesters told us they believe Liang was treated differently, because Asians Americans have not often engaged in political activism.
"The Chinese have to wake up," said Yan Sun of Flushing. "We have to do something. Before this the Chinese mostly ignored politics and focused on making money and chasing the American dream. We are trying to get the people to come up and fight for the community and encourage everyone to register to vote. We don't get placated because we are not as noisy as other minorities. That doesn't mean we should be punished for being good citizens."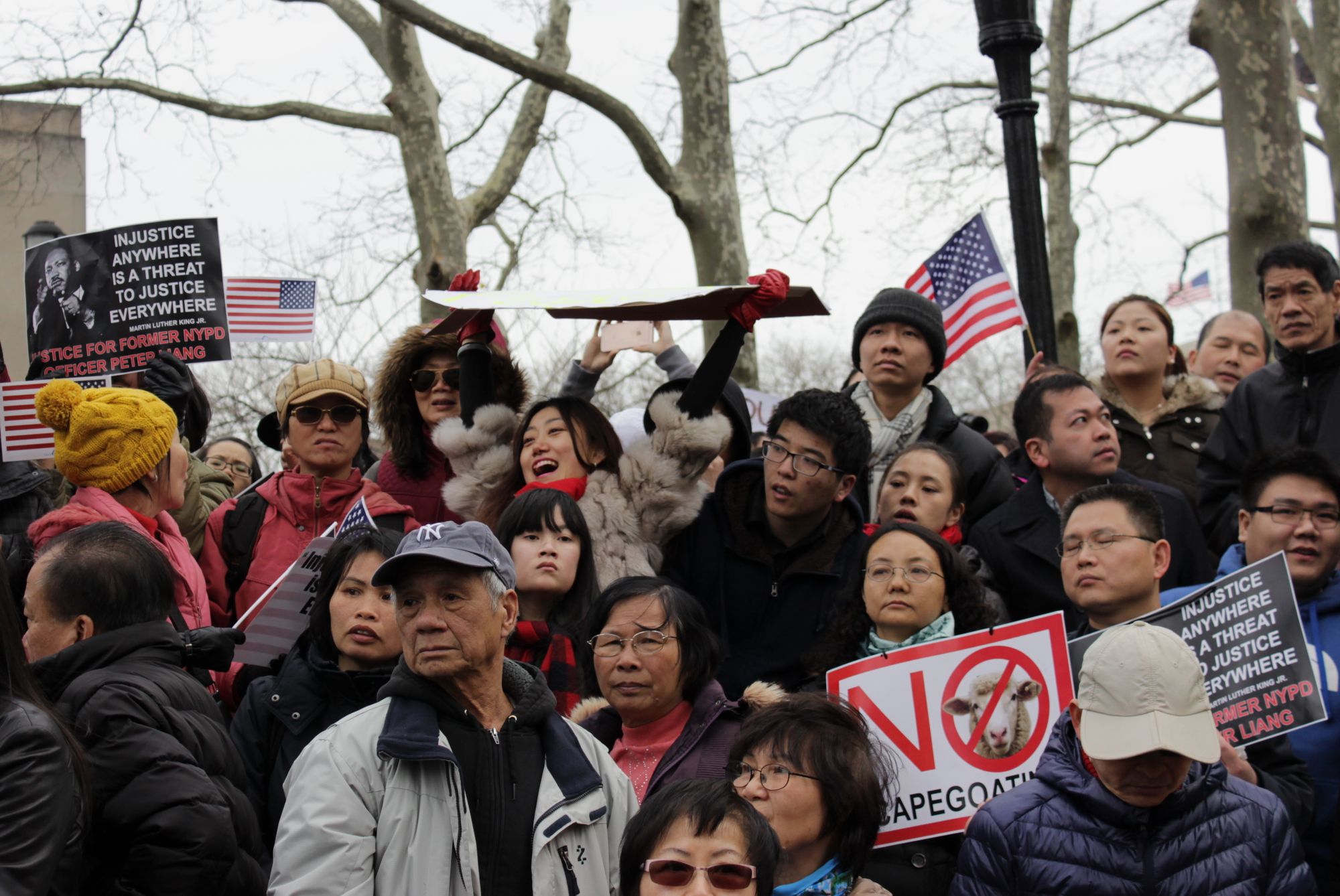 Liang's supporters have gained some new allies in response to Saturday's rally. Senator Marty Golden, a former NYPD officer, released a statement Saturday expressing solidarity with the cop and pro-Liang protesters .
"Today, I join with my fellow New Yorkers in recognizing that the accidental death of Akai Gurley was a horrible tragedy which has devastated all involved," said Golden. "The rallies taking place throughout our City and Nation are bringing the voices of many Asian Americans to the front lines of the debate around justice in America. The conviction of former Police Officer Peter Liang has created widespread frustration among many, including myself, who question the outcome based on the evidence."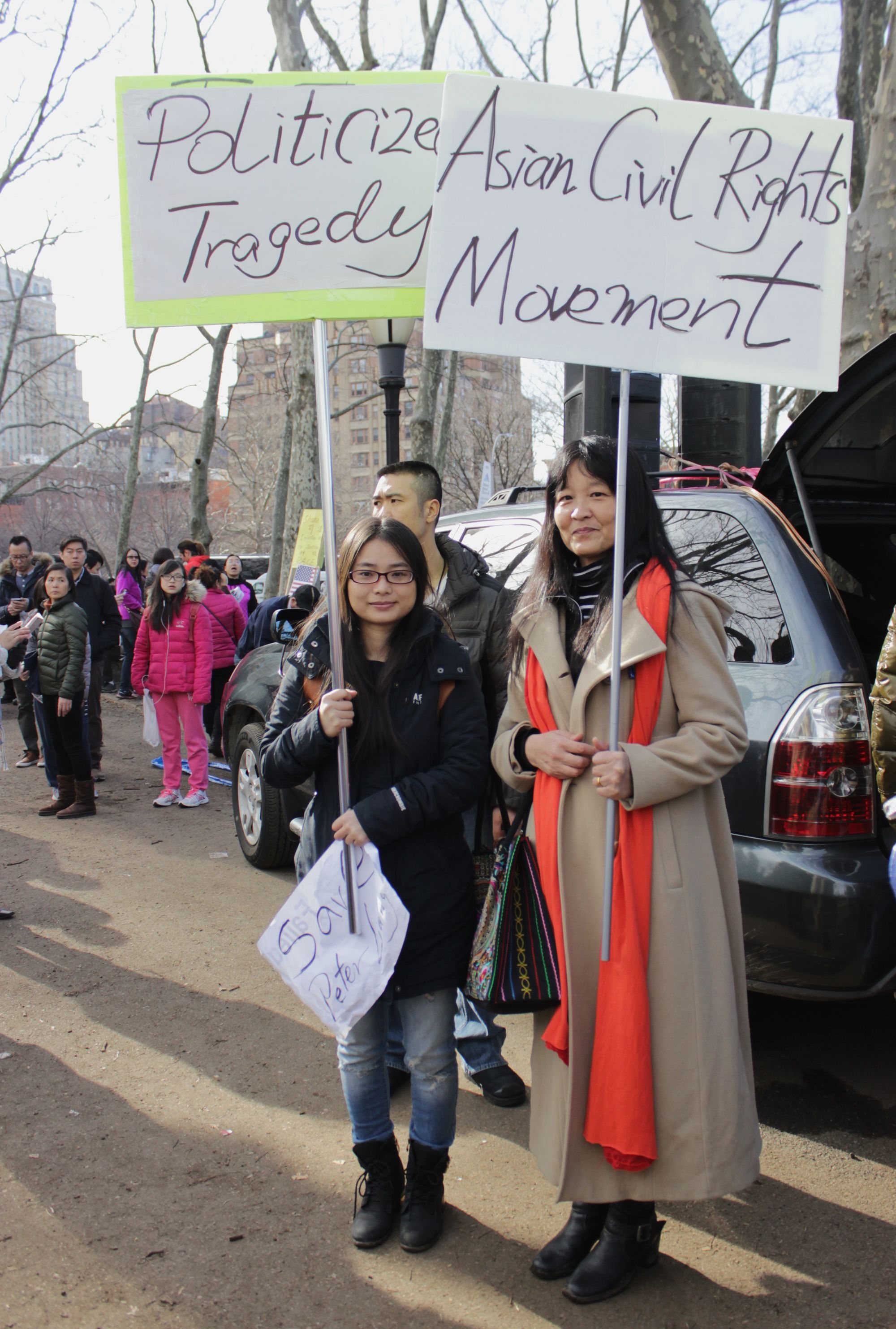 Across from the crowd, in the middle of Cadman Plaza West, a counter protest was being held with about 20 people holding signs celebrating Liang's conviction and encouraging the government to hold police officers accountable for a pattern of violence perpetuated against black men.
Liang, who will be sentenced on April 14, faces up to 15 years in prison. More rallies are planned throughout the country before the sentencing.
Photos and video by Logan Frazier.