Coney Island Brewing Company Supports Polar Bear Club With Seasonal Brew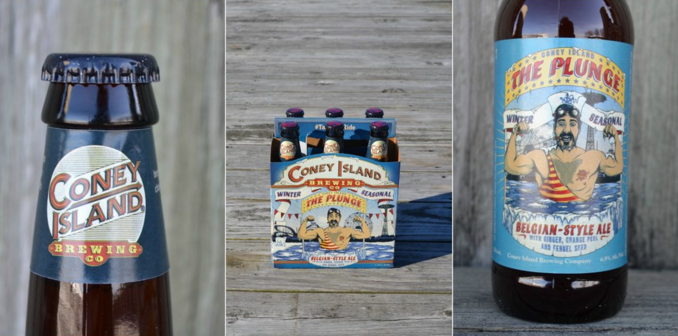 Coney Island Brewing Company is "plunging" into winter with the return of its delicious seasonal brew.
An homage "to the fearless souls who bravely charge into icy, watery depths each winter to experience a thrill and exhilaration like no other," AKA the Coney Island Polar Bears, The Plunge is a lively, golden, Belgian-style ale with a big, citrus aroma.
After receiving a lovely care package from the brewery, we sampled the spicy, malty beer last week, and were not disappointed. The full-bodied brew was delicious, winter-y and surprising, with notes of ginger, fennel, orange peel and some other elusive spice.
With this beer, Coney Island Brewing Company is also supporting a great cause, bringing attention to the annual New Year's Day Polar Bear plunge, when brave (and possibly insane) New Yorkers jump into the Atlantic Ocean to benefit Camp Sunshine, which provides joy and support to children and families dealing with life-threatening illnesses.
"Coney Island's spirit stays alive even after the rides stop and the temperatures drop," said Chris Adams, the brewery's manager and master of ceremonies. "In fact, I encourage everyone to come out to Coney Island on New Year's Day to see that spirit and take part in the Polar Bear Dip to raise money for Camp Sunshine."
Every plunger who raises $100 for the cause will receive a limited edition The Plunge pint glass, well as an invitation to an exclusive after-party with the Coney Island Polar Bear Club at both the Coney Island Brewery and Peggy O' Neil's Bar & Grill next door.
The brewery, a subsidiary of Boston Beer Company (which makes Sam Adams), opened it's 1904 Surf Avenue location in September after a whimsical, freak show-themed ribbon cutting ceremony. It is the first full-sized brewery to open in Brooklyn iconic entertainment district in several generations. Though the Coney Island Museum operated "the world's smallest brewery" in the neighborhood for two years, the micro brewery was wiped out by Superstorm Sandy.
For beer aficionados out there, The Plunge is brewed with 2-Row Brewer's Malt, Malted Wheat, Flaked Oats, Acidulated Malt, with multiple hops, including Warrior, Tettnang, Citra, and Centennial hops. The alcohol level is at 6.9 percent. The beer will be available on draught and in 12 ounce bottles through February 2016.