25 Halloween Events For Kids In Brooklyn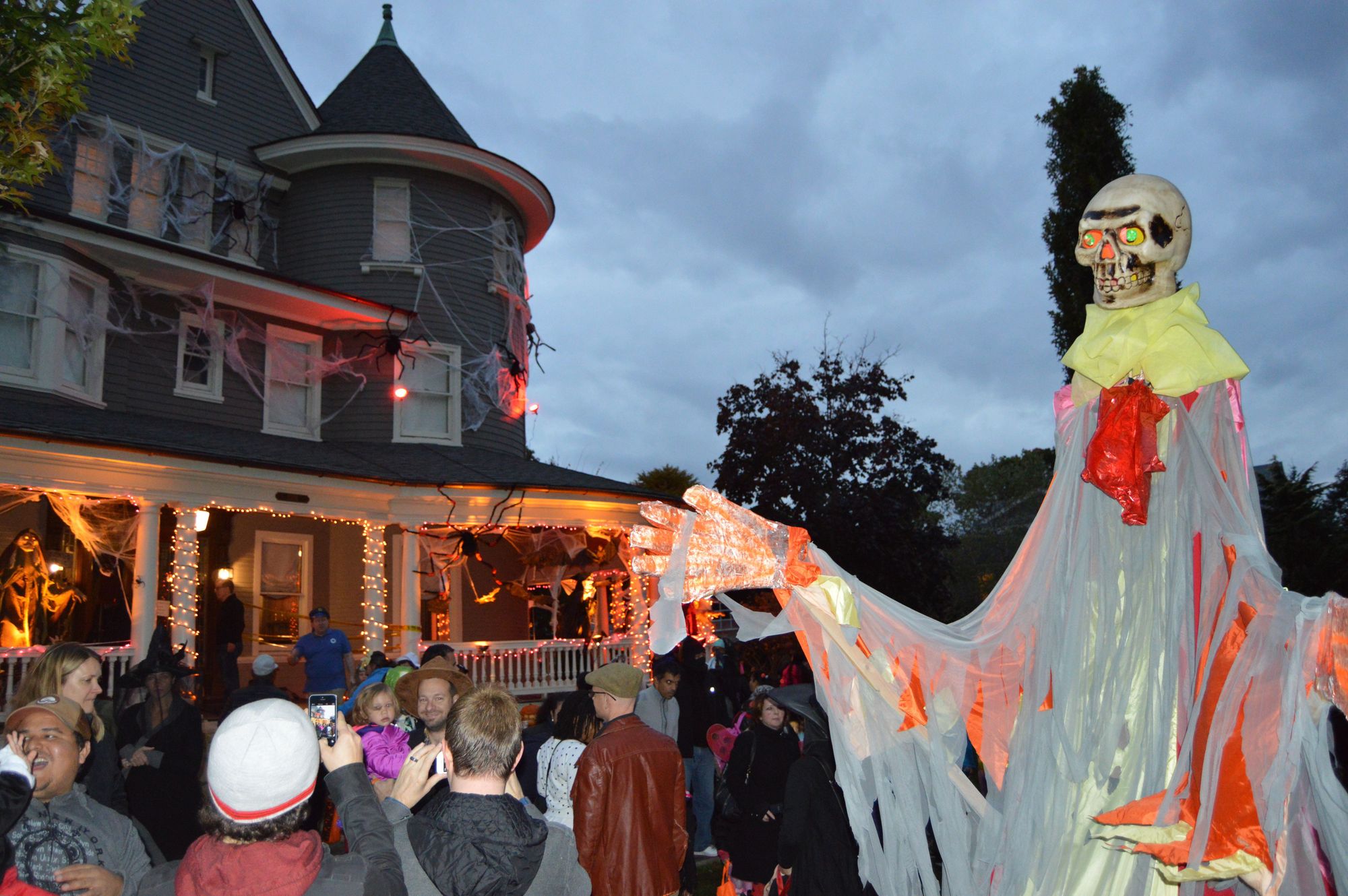 When it comes to Halloween, we do things pretty big in Brooklyn! From costume parades to contests, from pumpkin carving to brussels sprout bowling, there are a ton of ways to celebrate the creepiest holiday of the year (and yes, there will be plenty of candy, too).
We've rounded up some of the scariest, silliest, spookiest events going on around the borough — if you know of more, feel free to add them to our events calendar!
Gravesend Inn Haunted Hotel
When: October 22, 23, 24, 29, 30, 31, various times
Where: Voorhees Theatre, 186 Jay Street, Downtown Brooklyn
What: Get a scare at this high-tech haunted hotel, which is designed by Theatreworks, City Tech College's resident theatrical troupe. (Not recommended for pre-school age children.)
How Much: $8 general admission, $5 for students with ID and group sales.
6th Annual Coney Island Children's Halloween Parade
When: Saturday, October 24, 10am
Where: Surf Avenue at Stillwell Avenue, Coney Island
What: All kids 15 and under are welcome to march in the parade (the first 1,500 registered participants receive a two-hour Luna Park unlimited ride wristband and a goodie bag!) and compete in the costume contest — hand-made Coney Island themed costumes are encouraged — with prizes for the winners. Print out and bring along this registration form!
How Much: Free!
Harvest Festival
When: Saturday, October 24, 10:30am-1pm
Where: Pier 6 Lawns at Brooklyn Bridge Park
What: So many fun activities — pumpkin carving, a haunted walk, arts and crafts, storytelling, games, musical performances — plus, it's the grand opening of Pier 6, which means more parkland to explore.
How Much: Free!
Click, Clack, Boo! Storytime
When: Saturday, October 24, 11am
Where: Barnes & Noble, 267 7th Avenue, Park Slope
What: Celebrate Halloween with a storytime and activities featuring this book about some barnyard animals who prefer tricks over treats.
How Much: Free!
Ghouls & Gourds
When: Saturday, October 24, 12-5:30pm
Where: Brooklyn Botanic Garden, 150 Eastern Parkway, Prospect Heights
What: Get ready for spooky, nature-inspired fun, including stilt dancing, caterpillar feedings, brussels sprout bowling, Brooklyn's wackiest costume parade, and more.
How Much: Adults $15, seniors (65 and over) and students 12+ with valid ID  $10, children under 12 free.
Halloween Harvest
When: Saturdays & Sundays through November 1, opens at 12pm
Where: Luna Park, 1000 Surf Avenue, Coney Island
What: Celebrate the seasons with storytelling, pumpkin picking, balloon art, crafts, s'mores, a doggie costume parade, karaoke, and more.
How Much: Free!
36th Annual Halloween Haunted Walk & Fair
When: Saturday, October 24, 12-3pm
Where: Lookout Hill and Nethermead in Prospect Park
What: Meet zombies, werewolves, witches, and other Halloween characters on a haunted walk through Lookout Hill, ideal for families with children ages 7-12. All ages can enjoy a festive Halloween Fair on the Nethermead, featuring family-friendly activities, as well as sweet and savory treats from some of the city's top food trucks. Plus check out more activities at the Prospect Park Zoo, the Audubon Center, and the Lefferts Historic House.
How Much: Free!
Prospect Park Y Boo Fest
When: Saturday, October 24, 3-5pm
Where: Prospect Park YMCA, 357 9th Street, Park Slope
What: Expect lots of Halloween-themed fun for the whole family, including arts and crafts, face painting, and lots of different games — plus, they'll have healthy Halloween snacks on hand.
How Much: Free!
Greenpoint Children's Halloween Parade & Party
When: Saturday, October 24, 3:30-5:30pm
Where: Polish & Slavic Center, Lorimer Lawn, 176 Java Street, Greenpoint
What: The good times will include arts and crafts, games, contests, a bouncy house for little ones, and Nerf battles for older kids, plus facepainting and temporary tattoos (for an additional fee).
How Much: Every child, including infants, must have a ticket; every family can bring two adults for free. Tickets are $10 through Friday and $15 at the door.
Little Shop Of Horrors
When: Saturday, October 24, 6-7:45pm
Where: Myrtle Avenue Lawn in Fort Greene Park
What: Enjoy this classic film that features a singing plant, a daring hero, a sweet girl, and a demented dentist. Plus, it's a musical! Fun one for your silly kids. (Rated PG-13 for comic horror violence, substance abuse, language, and sex references.)
How Much: Free!
Pumpkin Fest
When: Sunday, October 25, 12-4pm
Where: American Veterans Memorial Pier, Bay Ridge Ave at Shore Road, Bay Ridge
What: Show off your Halloween costume in a parade (starting at 2pm), and maybe you'll win a prize for the best and most outrageous get-up. Additional activities include pumpkin decorating, ghost ship storytelling, hands-on maritime skills (knot-tying!) offered by Urban Park Rangers, and live music.
How Much: Free!
Howl-O-Ween Bark Block Party
When: Sunday, October 25, 12-5pm
Where: Sean Casey Animal Rescue, 153 East 3rd Street, Kensington
What: With costume contests for both kids and pets, this might be the most adorable event of the holiday season. Expect a bunch of fun activities as well, and feel good about spending some cash here — this is the biggest fundraiser of the year for the shelter.
How Much: Free admission.
Halloween Jeopardy!
When: Tuesday, October 27, 4pm
Where: Cortelyou Library, 1305 Cortelyou Road, Ditmas Park
What: Trivia-loving teens and older kids will love this themed Jeopardy tournament, which awards prizes for the winning team members.
How Much: Free!
78th Precinct Community Haunted House
When: Wednesday, October 28 – Friday, October 30, 2-9pm
Where: 78th Precinct Station House, 65 6th Avenue, Prospect Heights
What: Stop by the police precinct to grab some treats and get a little scare in the haunted house.
How Much: Free!
Movies @ The Library: "Monsters Inc."
When: Friday, October 30, 3:30pm
Where: Park Slope Library, 431 6th Avenue
What: Monsters Incorporated is the largest scare factory in the monster world, and James P. Sullivan (John Goodman) is one of its top scarers. Sullivan is a huge, intimidating monster with blue fur, large purple spots and horns. His scare assistant, best friend and roommate is Mike Wazowski (Billy Crystal), a green, opinionated, feisty little one-eyed monster. Visiting from the human world is Boo (Mary Gibbs), a tiny girl who goes where no human has ever gone before.
How Much: Free!
It's Halloween With Lucy Kalantari!
When: Saturday, October 31, 10:30am
Where: ShapeShifter Lab, 18 Whitwell Place, Gowanus
What: Children's musician Lucy Kalantari will get the kids dancing — in costume — to songs like "It's Halloween!" Enjoy Halloween-themed beverages, dive into cauldrons of Goodie Girl Cookies, and design magical masks.
How Much: $10 in advance, $15 at the door, free for children under 2.
Haunted Halloween Carnival
When: Saturday, October 31, 11am-3pm
Where: 1st Street Recreation Center of PS 372, 1st Street & 4th Avenue, Park Slope
What: Look out for crafts, games, and activities, plus performances, visits from kids' favorite characters, and a costume contest. The first 200 children will receive a Puppetry Arts Gift Bags filled with goodies.
How Much: Free admission.
Story Time: Boo-La-La Witch Spa
When: Saturday, October 31, 11am
Where: Greenlight Bookstore, 686 Fulton Street, Fort Greene
What: Illustrator Isabel Roxas and author Samantha Berger will be on hand to read their hilariously silly book, which tackles Halloween and witches without falling into the same old clichés. Then stick around for some fab-BOO Halloween activities!
How Much: Free!
Trick Or Treat Party
When: Saturday, October 31, 12pm
Where: Greenwood Park, 555 7th Avenue, South Slope
What: Come to the beer garden (parents need treats sometimes, too) during the day for free activities for all, including a spooky family dance party!
How Much: Free admission.
Great PUPkin Dog Costume Contest & Fort Greene Park Halloween Festival
When: Saturday, October 31, 12-3pm
Where: Fort Greene Park, DeKalb Avenue & Fort Greene Place
What: Dogs in costume, a horse-drawn hay ride, a pumpkin patch, sack races, stilt-walkers, costume parade, food, face-painting, and more!
How Much: Free!
Spooky Stories
When: Saturday, October 31, 12:15pm
Where: New Utrecht Library, 1743 86th Street, Bensonhurst
What: Kids are invited to come in costume to listen to spooky tales and create a creepy craft.
How Much: Free!
BAMboo!
When: Saturday, October 31, 2pm
Where: BAM Peter Jay Sharp Building, 30 Lafayette Avenue, Fort Greene
What: This fun annual block party features family-friendly music, candy giveaways, a bounce house, carnival games, arts and crafts, a costume contest, and more.
How Much: Free!
Halloween 313
When: Saturday, October 31, 5-9pm
Where: 313 Clinton Avenue, Clinton Hill
What: This annual theatrical extravaganza takes place on the front lawn of a spooky house, and every 30 minutes visitors will be treated (or tricked?) to a show. This year's production is  called Malice in Wonderland!
How Much: Free!
Ditmas Park Parades
When: Saturday, October 31, 5pm & 6pm
Where: Albemarle Road at Argyle Road, Prospect Park South; Glenwood Road at Rugby Road, West Midwood
What: The two Victorian Flatbush annual Halloween parades are a blast — tons of kids and parents, dressed in their best costumes, enjoy snacks, music, trick-or-treating, and a march around the grassy malls in the middle of the roads. The Prospect Park South one attracts a larger crowd, and gets an earlier start, though the West Midwood one is just as fun.
How Much: Free!
Park Slope Civic Council Halloween Parade
When: Saturday, October 31, 6:30pm
Where: Starts at 14th Street and 7th Avenue, Park Slope
What: Walk along with your creepy, crawly, and fantastically costumed neighbors to a party at the conclusion point at the Old Stone House.
How Much: Free!