2016 Year In Review: Eateries Opened & Closed; What's To Come In 2017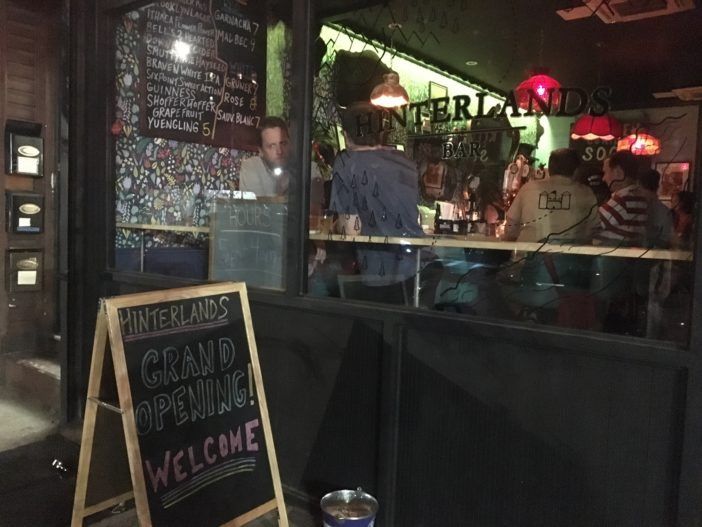 As we think about our year in Ditmas Park, we think about food. Our favorite coffee shops, lunch spots, dinners out with friends, and late night drinks. It has been quite the year for restaurants opening and closing in the neighborhood, from Propellerhead's long-awaited opening followed by its sudden closure; to the explosive development on Church Avenue from Ocean Parkway to Coney Island Ave; and the bittersweet welcome for Suzy's Roti replacing the longstanding Shayna's.
As we move into the new year, we wanted to take a look back at every eatery that has flung open its doors to our community, as well as bid us adieu. Though we focused on food, we included a few bonus businesses openings/closings that were just too momentous to overlook.
What openings have you been most excited about? Or what do you wish had never left? And, as we welcome 2017, what's on your wish list for businesses opening in our area?
What opened: January–April
Mi Pueblita Bakery (781 Coney Island Avenue between Cortelyou & Dorchester Roads). Read our full dessert review here.
La Loba Cantina (709 Church Avenue between East 7th & East 8th Streets). Oaxaca-style Mexican fare with a full mezcal menu. Read our food review here.
Tacos El Chicken truck (parked on Beverley Road at East 2nd Street). Read our full taco review here.
Butterfunk Kitchen (1295 Prospect Avenue & Greenwood Avenue). See our lip-smackin' food review here.
Jahbrew Jamaican Coffee and Tea (1491 Flatbush Avenue & Glenwood Road). (Also see What's Closed below)
Samir (696 Coney Island Avenue between Avenue C & Cortelyou Road) 'a taste of the silk road' Uzbek food.  Read our full review here.
Island Express Caribbean Grill & Bakery (998 Flatbush Avenue between Tilden Avenue & Albemarle Road). Read our pouri and pone review here.
Dunkin' Donuts in Kensington (110 Beverley Road near McDonald Avenue) This franchise replaced an 85-year-old business, the Hair Pleasure Unisex Salon.
What Opened: May–August
Buffalo's Famous (1111 Church Avenue between Stratford & Westminster Roads) Western-NY style wings, garbage plates, and more. Read our review here.
Hinterlands Bar (739 Church Avenue between East 7th & 8th Streets) Neighborhood bar open until 4am. Read more about one of the owner's hilarious podcast here.
The Gilded Grape (727 Church Avenue between East 7th Street & East 8th Street) Wine, spirits, and tastings.
Propellerhead (752 Coney Island Avenue at Cortelyou Road). (Also see What's Closed) Long-awaited upscale American fare plus coffee shop & bar — it was here and gone so quickly. See our full review here.
Kohinoor (413 Cortelyou Road between East 4th & East 5th Streets). (Also see What's Closed) Indian fare from the owners of Madina. After a brief stint, Malancho, another South-Asian buffet-style restaurant, is now open in its place. Though we haven't had a chance to review its successor, one neighbor tells us that the dishes are more complex in flavor and the new owner is very friendly.
Manchego (1502 Cortelyou Road between Marlborough Road & East 16th Street) Spanish wine and tapas bar in the previous home of Solo Kitchen & Bar (and Brick Oven Pizza). Read our full review here.
KoKo Ramen (375 Marlborough Road between Cortelyou & Dorchester Roads) KoKo Ramen shares an owner and building with Manchego, but the menu is unique — Tokyo-style ramen and apps galore. Read our full review here.
Don Patron (1217 Church Avenue between Westminster & Argyle Roads) Mexican fare including tacos, enchiladas, fajitas, and more, replacing another Mexican restaurant, Dos Locos.
Guacamaya Cafe (1017 Cortelyou Road between Coney Island Avenue & Stratford Road). Read our empanada and arepa review here.
Maria & Ricardo Taqueria (915 Cortelyou Road between Coney Island Avenue & East 9th Street) Opened in the former home of sandwich shop Brooklyn Belly. Read our glowing taco and rotisserie review here.
Parade Cafe (622 Caton Avenue between Ocean Parkway & East 7th Street). Full coffee bar, pastries, and sandwiches from the owner of Le Paddock in Windsor Terrace. Read our full review here.
Suzy's Roti Parlor (907 Church Avenue at East 10th Street) This Trinidadian roti shop is the newest incarnation of an old staple, Shayna's. Read our full review here.
Blue Sky Bakery (404 Rogers Avenue at Sterling Street). A new branch of the famous Park Slope bakery. Read our muffin review here.
Smorgasburg at Prospect Park (Prospect Park, Breeze Hill, Located near Lakeside and the Lincoln Road entrance).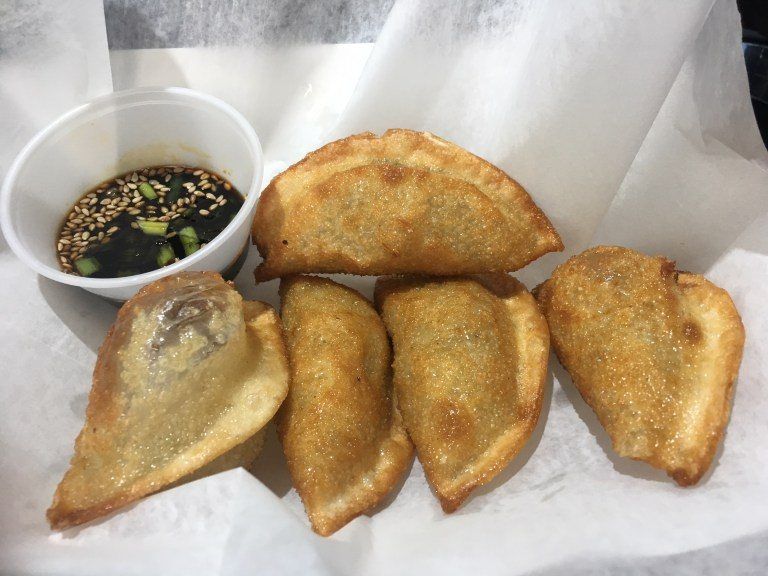 What Opened: September–December
Grill 7 Seoul (1046 Flatbush Avenue between Regent & Duryea Place) Korean-inspired BBQ near the Kings Theater. Read our full review here.
Upside Craft Burgers (4102 18th Avenue at East 4th Street) Already-popular Kosher burger spot in Kensington. Read our full review here.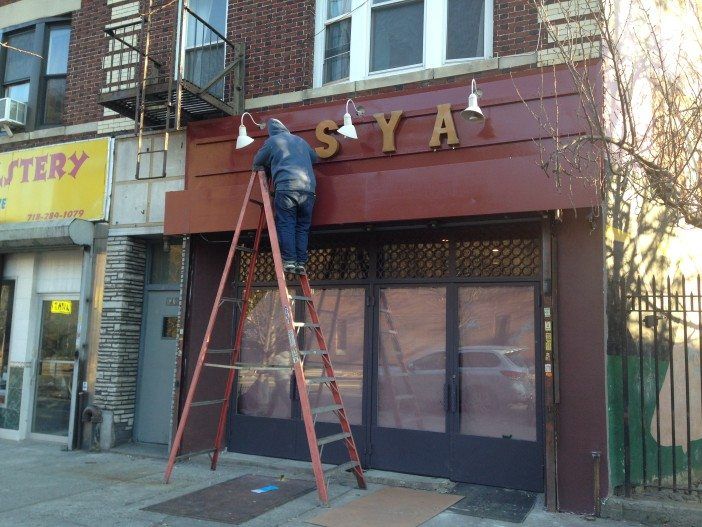 What Closed: January–December
Propellerhead (752 Coney Island Avenue at Cortelyou Road) After almost a year anticipating its opening, this restaurant closed in September. Read the full article here.
Asya Indian Restaurant (1310 Cortelyou Road between Argyle & Rugby Roads) Previously home to Picket Fence, this neighborhood staple closed in July.
Moondos Grill (424 Church Avenue at East 5th Street) Former home of Connie's, this rotating diner is now  Angelica's Coffee Shop, serving classic diner food with Mexican favorites.
Little Miss Saigon (921 Cortelyou Road between Coney Island Avenue & East 9th Street). This beloved Vietnamese sandwich and bubble tea shop is now Blush hair Salon.
MET Food Market (4030 18th Avenue at East 4th Street) This supermarket held down this Kensington corner for 20 years but closed in November.
Opened & Closed: Highlights of non-food businesses that made headlines
OPENED: Caribbeing House (794 Flatbush Avenue near Caton Avenue) Caribbean cultural center, opened in February with weekly events, and a holiday pop-up market.
OPENED: Avenue C Plaza (intersection of Avenue C & McDonald Avenue) Outdoor cultural center in Kensington. This summer, the plaza hosted of Bangladeshi cultural activities, plus movie nights.
OPENED: Greenlight Bookstore PLG (632 Flatbush Avenue between Hawthorne & Fenimore Streets) The second branch of a favorite Fort Greene independent bookstore opens its doors on Flatbush Avenue in November. Not quite a bookstore in Ditmas Park — but pretty darn close.
OPENED: BKLYN Commons (495 Flatbush Avenue between Sterling & Lefferts Avenues) Co-working space opens in the iconic Bond Bakery building.
OPENED: Brooklyn Brainery Windsor Terrace (1233 Prospect Avenue between Vanderbilt Street & Reeve Place) The second location of Prospect Heights crowdsourced education center. So glad to have the the Brainery close by!
CLOSED: Tina's Dry Cleaners (1315 Foster Avenue between Argyle & Rugby Roads) This beloved, Korean-owned dry cleaner & tailors closed in June.
CLOSED: The Pavilion movie theater (188 Prospect Park West) The theater we love to hate closed in November, to be replaced with Williamsburg's dine-in theater Nitehawk. Check out the secrets from the last party held at the theater.
CLOSED: Collyer's Mansion (368 Stratford Road near Cortelyou Road).This award-winning home goods store closed in January.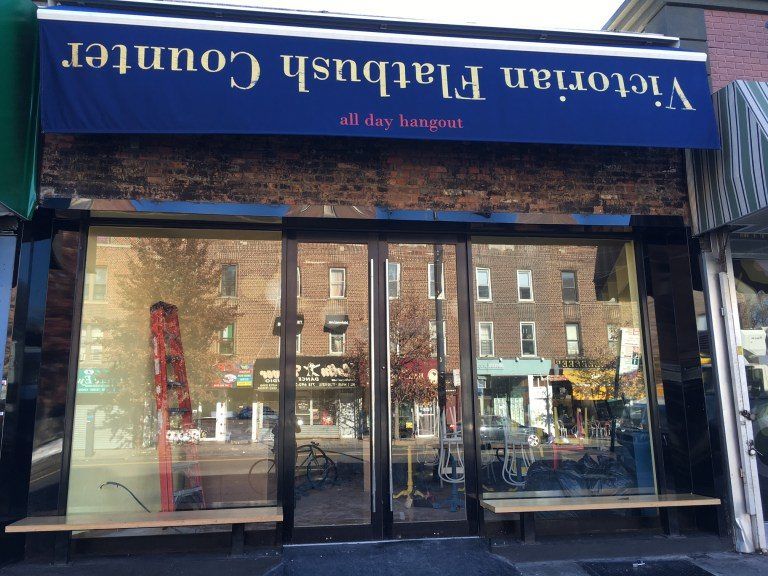 What's to come in 2017: Opening "Soon" — or leaving us in suspense.
Victorian Flatbush Counter (1616 Cortelyou Road between East 16th & East 17th Streets) from the owner of Cafe Madeline across the street, will you ever open or will your glass windows with full bar, table, and chairs set-up tease us forever?
Mexico Diner (902 Cortelyou Road at East 9th Street) was "opening soon" as of July. This morning the gate was up and we saw tables and chairs set-up.
Der Pioneer (737 Church Avenue between East 7th & East 8th Streets) Anticipated European pastry shop set to open any day now.
Three new restaurants coming to Foster Avenue — None of the owners were willing to reveal their cuisines to us as of early December.