12 Brooklyn Restaurants Serving Thanksgiving Dinner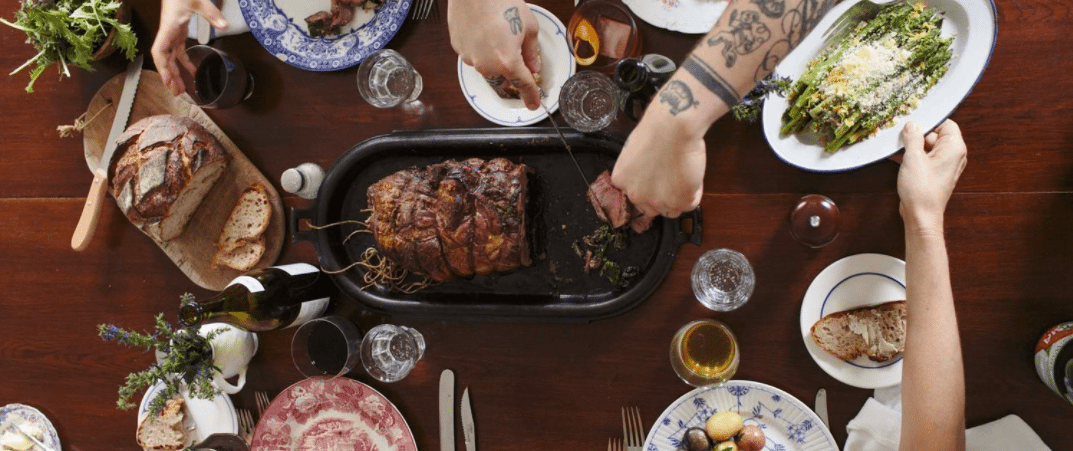 BROOKLYN – Thanksgiving is two days away! Too busy to plan a homemade Thanksgiving dinner? Don't like to cook? Kitchen too small to prepare a turkey feast? No worries. There are lots of restaurants around Brooklyn open on Thursday offering full Thanksgiving menus.
Check out our list below. Call ahead first to confirm space is available. Prices do not include drinks or gratuity. Reservations are required.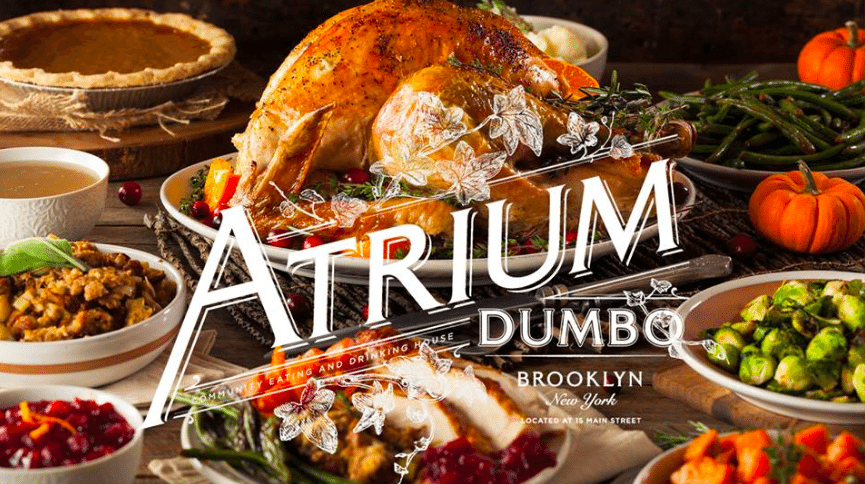 Atrium
15 Main Street, 718-858-1095, DUMBO
Atrium is serving Thanksgiving dinner from 1pm to 10pm. The menu features butternut squash soup, Maine peekytoe crab, foie gras terrine, and your choice of baked halibut, venison, or turkey for mains and pumpkin pie or apple tart streusel for dessert. Check out the full menu here.
How Much: $80 per person, $40 optional wine pairing
Bacchus
409-411 Atlantic Avenue, 718-852-1572, Boerum Hill
This cozy bistro is offering a Thanksgiving meal with a French twist—pumpkin soup as an amuse-bouche; goat cheese tart or flambee foie gras terrine for appetizers; pork tenderloin, leg of lamb, braised fennel, or stuffed turkey breast for main courses; and chocolate fondant or creme brulee for dessert. Click here for the full menu.
How Much: $45 per person
Celestine
One John Street, 718-522-5356, DUMBO
This DUMBO newcomer is open on Thanksgiving from 11am to 7:30pm and serving up three courses for guests. Starters include brown butter sweet potato soup and crispy pork belly; mains include roasted halibut, grilled swordfish, acorn squash, lamb, short rib, or roasted turkey; sides include brussel sprouts, chestnut stuffing, potato puree and yam casserole. Save room for dessert—options include saffron apple crisp, chocolate challah bread pudding, or pumpkin pie from Four and Twenty Blackbirds. Here's the menu.
How Much: $75 per person; $45 per child under 12
French Louie
320 Atlantic Avenue (between Smith & Hoyt Streets), 718-935-1200, Boerum Hill
French Louie's Thanksgiving meal offers mussels and paté de campagne for starters; roast organic turkey, skate, or boeuf bourguignon for mains; and pumpkin meringue pie, pistachio cake, or apple tarte tatin for dessert. See the menu here. The restaurant is donating 15% of menu sales to Neighbors Together, a Brooklyn organization fighting hunger and poverty.
How Much: $80 per person; $50 per child under 10
Il Fornetto
2902 Emmons Avenue, 718-332-8494, Sheephead Bay
This waterfront Italian restaurant is serving up a three-course prix fixe menu for Thanksgiving featuring your choice of antipasti (eggplant rollatini, caprese); turkey, risotto, salmon, short rib, or filet mignon; and apple strudel or pumpkin pie for dessert. See the full menu here.
How Much: $39.95 per person; $16.95 kids menu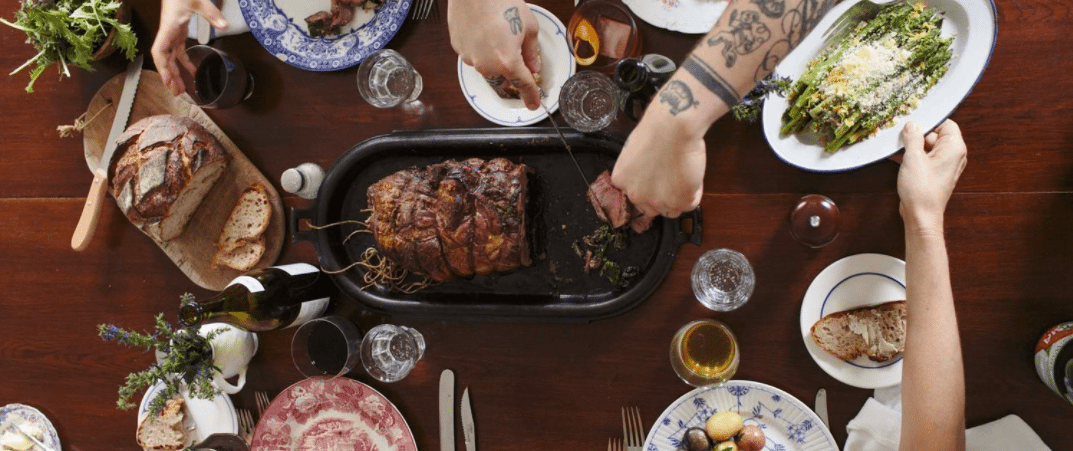 James
605 Carlton Avenue, 718-942-4255, Prospect Heights
This cozy corner restaurant will host Thanksgiving dinner seatings at 2pm, 4pm, and 6pm, offering a three-course prix fixe menu. Dinner options include: roasted beets, celery root soup, pork belly, or scallops for starters and turkey, butternut squash risotto, grilled Arctic char, or braised short rib for entrees. Choice of sides for the table include pain de mie stuffing with pork sausage, roasted brussel sprouts, or crushed purple potatoes, while desserts options include an apple & pear crumble, dark chocolate tart, or pumpkin cheesecake. Click here for the full menu.
How Much: $85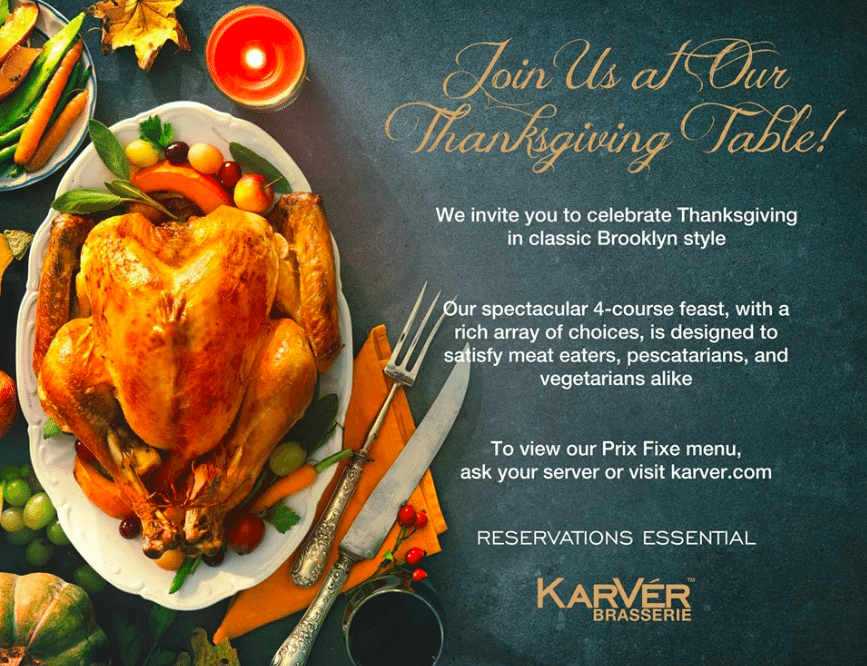 KarVér
1809 Emmons Avenue (corner of Sheepshead Bay Road),718-521-2777, Sheepshead Bay
This European-style brasserie & cafe is serving up a four-course prix fixe menu for Thanksgiving including breads and spreads for starters; lobster bisque and pan-roasted scallops for appetizers; and turkey, bouillabaisse, short rib stroganoff, or a harvest veggie platter for entrees. The selection of desserts include pumpkin creme brûlée, pecan pie, or apple tarte tatin. Click here for the full menu.
How Much: $70 per person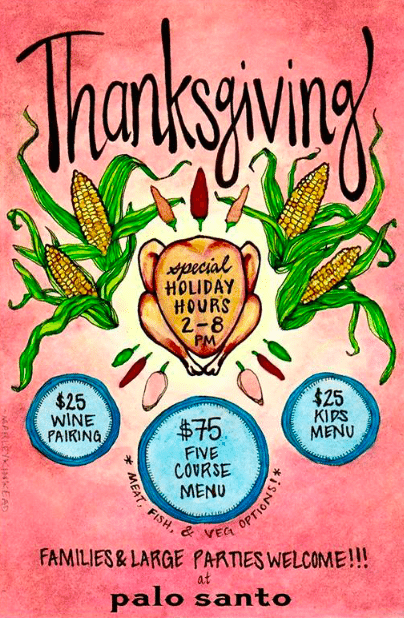 Palo Santo
652 Union Street, 718-636-6311, Park Slope
This charming eatery will serve a five-course Thanksgiving dinner from 2pm to 8pm. The Latin American-influenced menu includes sopa de rajas con crema; scallop tiradito or sweet potato ceviche; hongos en mole poblano, grilled swordfish, pavo en mole poblano, or traditional heritage turkey. Dessert options include sorbets, tres leches, pumpkin pie, or chocolate walnut bread pudding. Check out the menu here.
How Much: $75 tasting menu; $25 kid's menu; $25 wine flight
Prime Meats
465 Court Street, 718-254-0327, Carroll Gardens
Prime Meats and Frankies 457 Spuntino (457 Court Street, 718-403-0033) are serving a special prix fixe three-course Thanksgiving dinner from 11am to 10pm. The straightforward menu features butternut squash soup or a salad, all natural slow roasted turkey, and pumpkin or apple pie for dessert. See the menu here.
How Much: $70 per person; $34 children
Reynard
Wythe Hotel, 80 Wythe Avenue (at N 11th Street), 718-460-8004, Williamsburg
The restaurant in Williamsburg's Wythe Hotel is serving up a three-course prix fixe dinner menu for Thanksgiving from 12pm to 8pm. First course options include apple and sunchoke salad or roasted cauliflower while second course includes turkey, rib of beef, or honeynut squash. Side dishes include sourdough stuffing, maple sweet potatoes, or roasted brussel sprouts and dessert choices include chocolate budino or apple pie. Click here for the menu.
How Much: $95 per person
Rye
247 South 1st Street, Williamsburg
Rye's three-course prix fixe menu includes a fall salad, butterut squash soup, duck confit, or sea scallops for the first course; turkey, salmon, rib eye & braised short ribs, or black truffle lasagna for the second course; and maple creme brûlée, butternut squash cheesecake, or pecan pie for dessert. Check out their Thanksgiving menu here.
How Much: $85 per person