10 Brooklyn shops to buy Holiday gifts: TOYS and GAMES
The holiday season is upon us and BKLYNER is here to help you shop locally and support Brooklyn businesses.  Every week we will publish holiday gift guides focused on a type of gift and by location.  Happy gifting!
Norman & Jules
Park Slope
158 7th Ave
(347) 987-3323
https://normanandjules.com
Norman & Jules in Park Slope selects products from independent and small companies around the world that share the belief that toys should support imaginative, organic play and encourage growth in young children. In the backyard of Norman & Jules, there is a magical space that invites children to spend time playing, experience the joys of music through sing-a-longs, and celebrate their birthdays with friends and family.
Pipsqueak Children's Shoppe
Clinton Hill/Bed-Stuy
1124 Bedford Ave
(718) 398-1200
and
469 Myrtle Avenue between Washington Avenue & Hall Street
(718) 636-604
http://www.pipsqueakshoppe.com
A great addition to the Clinton Hill/Bed-Stuy Neighborhood, Pipsqueak is a full service baby gear heaven with everything from cribs to strollers and toys and clothes. This store is for anyone ages 0-5 and is a fun retail addition to Bedford Ave. Bonus: free gift wrapping for gifts!!
Kaleidoscope Toy Store
Bay Ridge
8722 3rd Ave
b/t 88th St & 87th St
https://kaleidoscopekidstoys.com
The store feels like the type of carefully curated boutique. The toys are a great mix of fun and educational, with almost no junky plastic "filler" toys that you'd find at a big box store. Their thoughtful toy selection principle is based on the premise of open-ended play concept. This approach promotes various stages of development, learning and creativity while focusing on STEAM.
Acorn Toy Shop
Boerum Hill, Downtown Brooklyn
323 Atlantic Ave
(718) 522-3760
http://acorntoyshop.com
Acorn, established in 2004 by Diane Crespo and Karin Schaefer, carries handcrafted toys that allow children to explore and expand their imaginations. With a focus on beautifully designed and crafted products from around the world, Acorn stocks wooden toys, Waldorf dolls, select furniture and mobiles, as well as unique clothing and artwork by New York designers and artists.
Acorn is committed to offering heirloom quality products that are crafted using environmentally sustainable practices and materials made by artisans who receive a living wage for their work. In an effort to support a healthy childhood for all children they donate a percentage of sales to both national and international schools and organizations that provide services for children.
ToyMax At The Wave Inc.
Sheepshead Bay/Manhattan Beach
104 West End Ave
(718) 891-1800
https://www.facebook.com/ToyMaxAtTheWAVE
ToyMax At The Wave Inc. store is located in the heart of Manhattan Beach. ToyMax carries hard to find, unique, organic, Eco-friendly products for all Mommy & Baby needs. The store offers an impressive selection of radio-controlled and ride-on cars. ToyMax provides many services to satisfy their clients' needs: store gift cards, shipping within the United States and internationally, local delivery, orders by phone, personalized gift baskets, baby registry, assembly of strollers and baby furniture, and much more.
Play Kids
Prospect Lefferts Gardens
668A Flatbush Ave
b/t Westbury Ct & Hawthorne St.
(347) 715-9347
http://www.playkidsstore.com/
A great majority of merchandise at Play Kids is from local designers & companies, products that are designed and/or produced in the United States. As a small business, the owners make it their priority to buy from other small businesses. In addition to carrying products from a wide array of companies, they also host classes and workshops for the entire family. In an effort to keep their classes affordable they offer as many "drop-in" classes as possible, meaning there is no upfront fee and customers can come each time the class is offered, or as often as they are able. Awards include Best Toy Store 2012 – New York Magazine; Totally Awesome Toy and Book Store 2012 – Red Tricycle; Best Party Favors 2014 – Time Out Kids.
Greenpoint Toy Center
Greenpoint
738 Manhattan Ave
Phone number (718) 383-3437
http://greenpointtoys.com
At Greenpoint Toy Center you will find a great selection of toys and small sporting goods for children. From junior makeup kits, jewelry kits, sticker books, greeting cards, action figures, Legos, fun learning games, dolls, barbies, board games, etc.. You name it and this place carries it. Family owned and operated.
Half Pint Citizens
DUMBO
41 Washington St
b/t Water St & Front St
(718) 875-4007
halfpintcitizens.com
A well-edited assortment of stylish fashions, gear, accessories, toys, and gifts, including adorable JellyCat stuffed animals and a line of "Brooklyn" themed products. *Cool fact: if you stand outside the Half Pint Citizens store there is that famous view of the Empire State Building through the Manhattan Bridge.
Brooklyn Superhero Supply Co.
Park Slope
372 Fifth Avenue (btw. 5th and 6th Street)
(718) 499-9884, while open most days 11-5pm the store is staffed by volunteers, call ahead to ensure the store is open
https://www.superherosupplies.com/
The Brooklyn Superhero Supply Co. is a real and actual retail store, serving as a front for 826NYC, a nonprofit dedicated to supporting students, ages 6-18, with their writing skills.
Brooklyn is home to many cultural institutions such as the NY Transit Museum and the Brooklyn Children's Museum.  Museum shops offer a treasure trove of toys and games for our budding museum-goers.
NY Transit Museum & Store
Downtown Brooklyn
Two locations:
NY Transit Museum & Store
Cn. Boerum Pl. & Schermerhorn St.
Brooklyn, New York
OR
NY Transit Museum Gallery Annex & Store
Grand Central Terminal, Shuttle Passage
Next to Station Master's Office
(718) 694-5663
http://www.nytransitmuseumstore.com/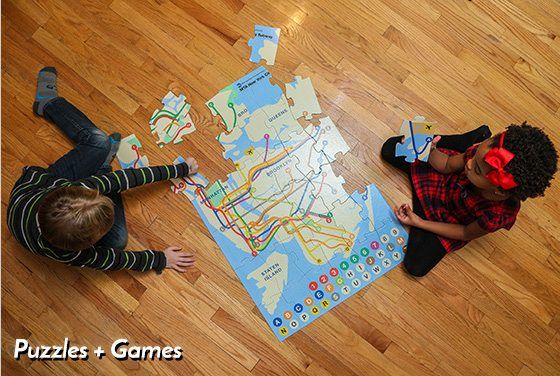 What's your line?  NY Transit Museum offers an array of toys, games, and collectibles with a transit theme.  Bonus:  If you are a member you receive a 10% discount.
Brooklyn Museum
PROSPECT HEIGHTS
200 Eastern Parkway
718.638.5000
https://shop.brooklynmuseum.org/collections/play
Paints sets, puzzles, blocks and coloring books will spark creativity and bring out your child's artistic side.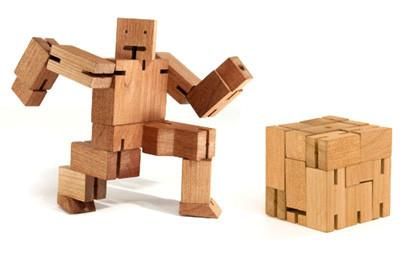 The Holiday Gift Guide is part of BKLYNER's series to promote Shop Local, Shop in Brooklyn.  For more information email HERE.