10 Brooklyn shops to buy Holiday gifts: LIFESTYLE & BEAUTY
We promise you will master the art of giving this holiday season with this list of choices.  No one returns chocolate, everyone loves a spa treatment, exercise and physical activity keep up our energy and who can resist the Russian bath experience.
Li-Lac Chocolates
Sunset Park
Industry City, 68 35th St
Fl 1, Unit 18
b/t 3rd Ave & 2nd Ave
(212) 924-2280
https://www.li-lacchocolates.com/
Shop Gourmet Chocolate Gifts at Li-Lac Chocolates!
Discover, fresh, gourmet, artisan chocolate from Manhattan's Oldest Chocolate House – since 1923. All their chocolate is handmade in small batches for exceptional quality and superior taste. Choose from over 140 gifts. Visit Li-Lac Chocolates' factory showroom at Industry City (Sunset Park), Brooklyn.
Smart Hair Studio
Windsor Terrace, South Slope
282 Prospect Park W
b/t 18th St & 17th St
(347) 689-9081
http://www.smarthairstudiony.com/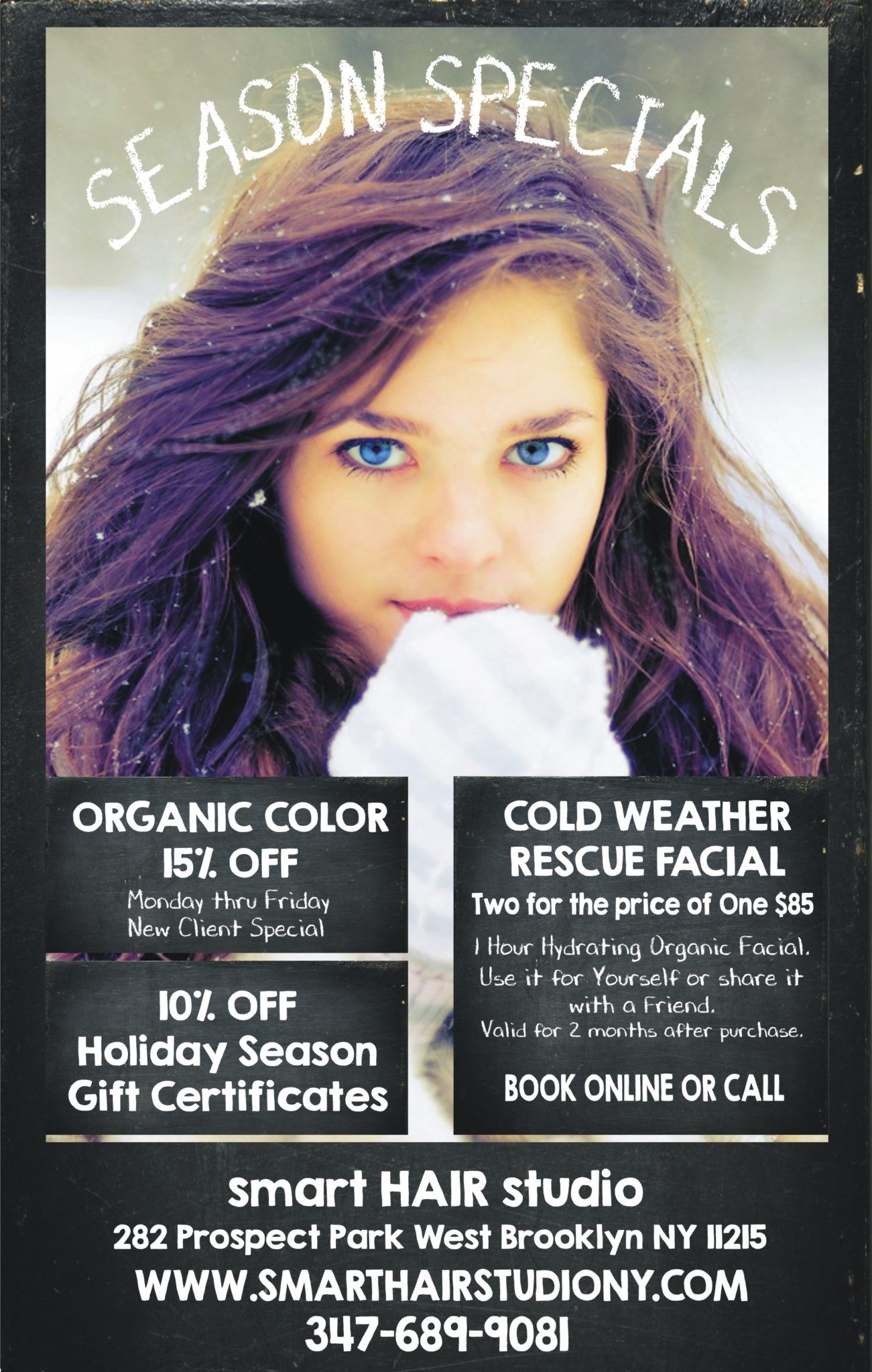 Smart Hair Studio specializes in organic hair coloring, organic facials, eco-friendly nails, and much more.
HOLIDAYS are about GIVING! Give a gift of BEAUTY to your LOVED ONES. 10% OFF your gift certificate purchase.
*Please check the website for other specials*"
Triple Crown Salon
Clinton Hill
940 Fulton St
b/t Waverly Ave & Cambridge Pl
(718) 789-6000
http://www.triplecrownsalon.com/
Triple Crown Salon offers a wide range of services: kids' and adults' haircuts, bridal and updo hairstyles, blowout and coloring services. Triple Crown Salon is only using products that are cruelty-free and good for the Earth.
Holiday Special: Receive a complimentary product, with the purchase of a Gift Certificate for any service. *while supplies last*
The salon will be open on December 24th.
Slope Wellness
Park Slope
816 8th Ave
at 9th St
(718) 415-0738
slopewellnessny.com
Slope Wellness specializes in acupuncture, Chinese herbology, massage, reflexology, facials, rolfing, craniosacral, yoga, and meditation. GIFT CERTIFICATES are available for a variety of services and you can also earn $20 in credit for every friend you refer to Slope Wellness.
Cynergy Spa
Fort Greene
87 Fort Greene Pl
b/t Dekalb Ave & Fulton St
(718) 403-9242
http://www.cynergyspa.com/
Located in the heart of brownstone Fort Greene just two blocks away from the Barclays Center, Cynergy Spa brings you a selection of specialized treatments. Gift certificates are available for massages, facials, body scrubs, wraps and spa packages.
The second Tuesday of every month is Cynergy Spa Buddy Day! If you have been a customer of the Cynergy Spa and would like to introduce a friend to the spa, simply book a spa package for your friend and get the same package for yourself at half the price!
Russian Baths on Neck Road
Sheepshead Bay
1200 Gravesend Neck Rd
(718) 332-1676
http://russianbathofny.com/
The Russian Baths – the Banya – is said to have many health benefits. Excessive heat stimulates sweating, thus removing toxins from the blood and improving the work of the kidneys. The process helps rid the muscles of excess lactic acid which reliefs muscle fatigue and soreness. Banya also has a restaurant that serves professionally cooked phenomenal Russian cuisine. GIFT CARDS are available for a variety of services: Russian and Turkish Steam Rooms, Platza, Sauna, Dead Sea Salt Scrub, Black Mud Treatment, Massages, Restaurant/Sports Bar.
Crunch Flatbush
Ditmas Park, Flatbush
1038 Flatbush Ave
b/t Regent Pl & Duryea Pl
(718) 218-4618
https://www.crunch.com/locations/flatbush
Crunch Flatbush is a recent addition to the health and fitness landscape in the heart of Flatbush with 'no judgment' as their manifesto. The 18,600-square foot health club strives to be a place for anyone, promising a positive, inclusive, and fun environment for its members. This Holiday Season, sign up a friend or a family member to join Crunch Flatbush! Membership packages start at $9.95 per month. FREE 1-day trial pass is also available.
Brooklyn Brainery
Prospect Heights and Windsor Terrace
190 Underhill Ave
b/t Sterling Pl & St Johns Pl
and 1233 Prospect Ave
(347) 292-7246
https://brooklynbrainery.com/
Brooklyn Brainery is accessible, community-driven, crowdsourced education. A wide range of classes from "Introduction to Watercolor Painting " to "Screenwriting in the Age of Trump", from "Make Your Own Evergreen Wreath" and "Woven Holiday Ornaments" to "Buying Your First Home" and "ABCs of IRAs". Teachers here are a group of awesome people from around Brooklyn and the whole city.
Pick up a gift certificate that can be used toward any class at any time. You can also send Brooklyn Brainery an email, and they can hook you up with a discount on gift certificate packages of $250 and up.
Bikram Yoga Brooklyn
Bay Ridge
8302 5th Ave
b/t 83rd St & 84th St
(718)833-9200
http://bikramyogabrooklyn.com
Bikram Yoga Bay Ridge is the hottest studio in NYC. Their classes are open to all fitness levels – whether you're a first-time yoga student or have been practicing for years. Gift cards make a great gift and are available in any amount.
Brooklyn Boulders
Gowanus
575 Degraw St
b/t 4th Ave & 3rd Ave
(347) 834-9066
https://brooklynboulders.com/brooklyn/
If you've got a loved one who's always climbing the walls, get them a membership to Brooklyn Boulders. For $115/mo, they'll get unlimited access to the climbing facility, one guest pass per month, exclusive access to special events, workshops and programming and more!
The Holiday Gift Guide is part of BKLYNER's series to promote Shop Local, Shop in Brooklyn.  For more information email HERE.