[UPDATE] Woodland's Liquor License Suspended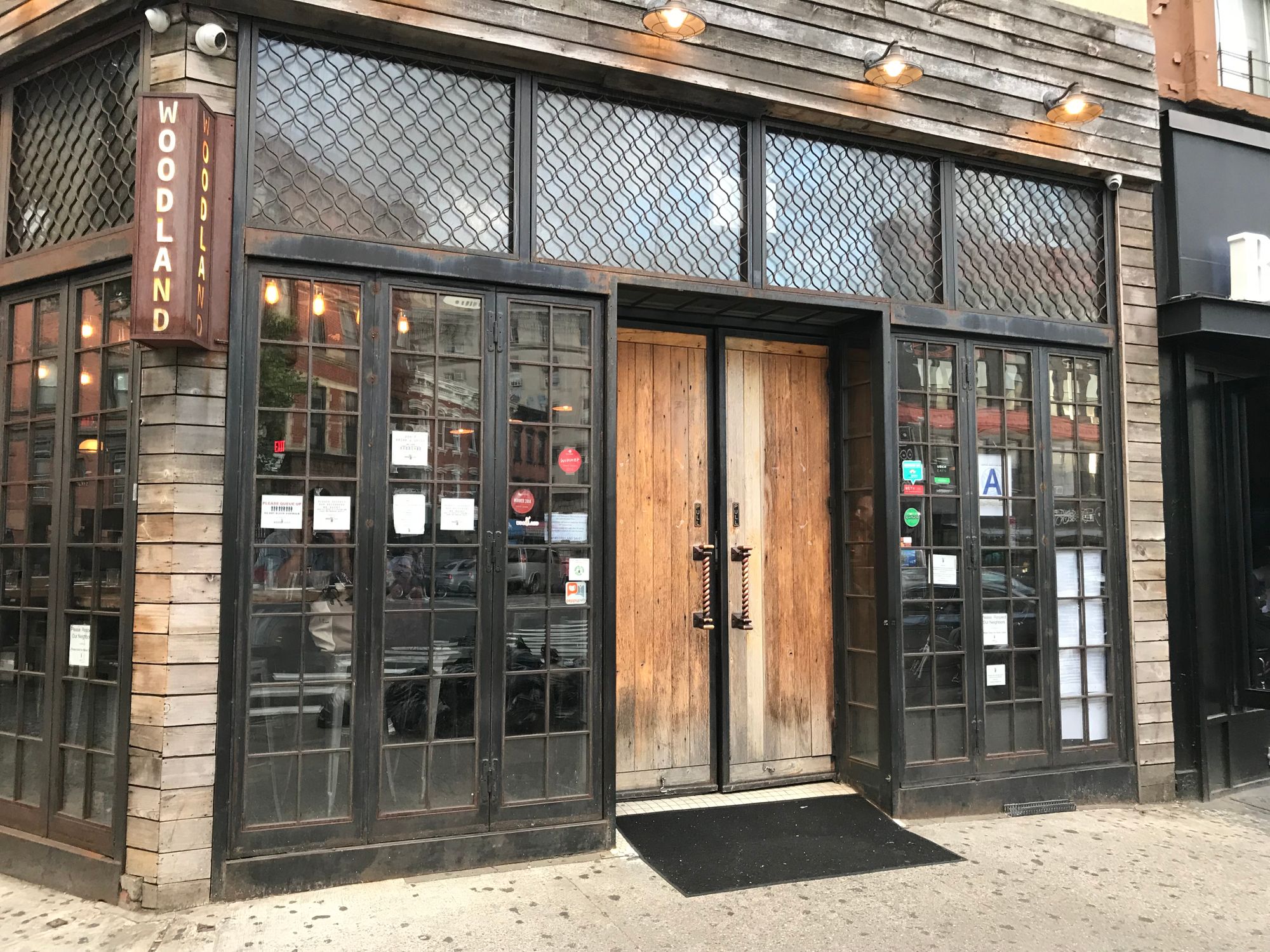 [UPDATED: Friday, June 7, 2019 at 7:15pm] Woodland's General Manager, Pedro Yamasaki, contacted Bklyner Friday evening to tell us that a judge lifted the Emergency Order of Suspension and that the venue is back to normal operations. A representative for SLA confirmed that the business was granted a stay. We will update when more details become available.
PARK SLOPE – Woodland's liquor license has been suspended following an emergency NYS Liquor Authority (SLA) meeting on Thursday, June 6.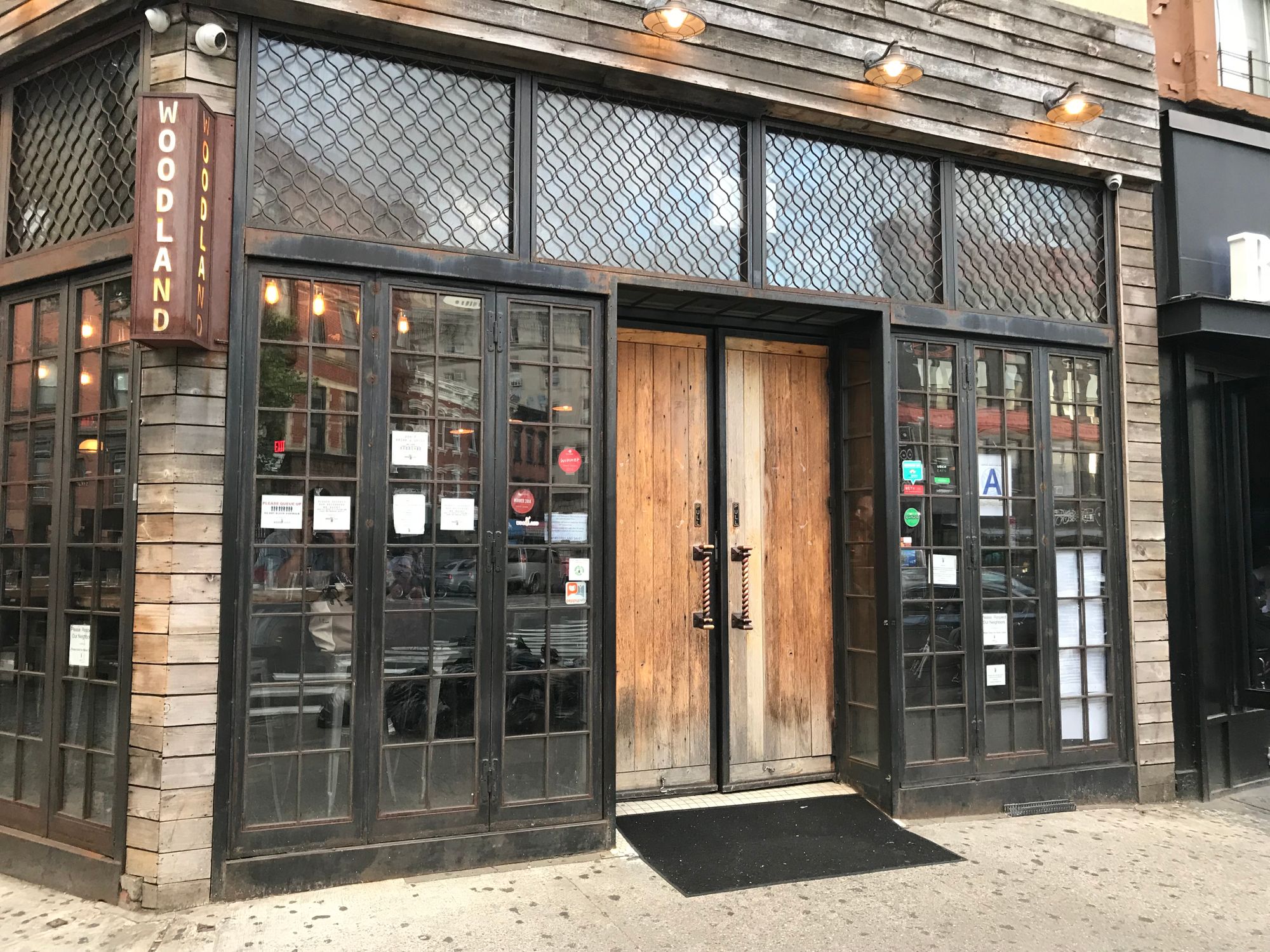 While the venue remains open for business, it is not allowed to serve alcohol. An Emergency Order of Suspension consisting of eight pages and dated June 6, 2019, is posted on Woodland's front window listing 40 violations filed against the business.
An SLA disciplinary hearing was held on May 29 on eleven violations issued against Woodland on March 29, 2019, according to an SLA representative. Those charges include "operating a disorderly premise, becoming a focal point for police attention, excessive noise, and failure to abide by stipulations the licensee entered into with Community Board 6."
Several area business owners testified at the hearing about Woodland's "drunken, belligerent patrons" disrupting their businesses. Residents also testified about  "intoxicated patrons wreaking havoc on the neighborhood, especially during weekend brunch hours." The 78th precinct has received more than two hundred calls about Woodland in the last year and has had to post a patrol car outside the premises on weekends, according to the SLA.
Also on May 29, the SLA and the NYPD conducted an inspection at Woodland which resulted in an additional thirty-three violations, according to the SLA, including various fire hazards, code violations, and dangerous conditions including the storage of fireworks and compressed gas, and blocked emergency exits, among others.
The SLA notice currently posted on the Woodland storefront states that an Emergency Summary Order Of Suspension of alcoholic beverage license was issued to Prime Six Inc, DBA Woodland. It also states that the restaurant/bar's alcohol beverage license was originally issued on March 29, 2012 and expired on February 28, 2019. Woodland has been allowed to continue operations under SAPA (State Administrative Procedures Act) from March 1, 2019 through February 29, 2020. A SAPA letter allows a business with outstanding violations to continue to operate until the disciplinary matters are resolved, the SLA representative explained.
Last year, in April 2018, SLA scheduled a hearing regarding the renewal of Woodland's liquor license amid five charges filed against the business from October 1 through November 10, 2017. On May 2, 2018, the SLA agreed to dismiss the charges if owner Akiva Ofshtein paid a $12,000 fine, though it was noted that the agency had "further charges coming" against the business. The charges remained on the venue's SLA file.
Located at 242 Flatbush Avenue at the corner of 6th Avenue, Woodland serves a $20 bottomless mimosa brunch on weekends which has resulted in many complaints from neighbors, such as public drunkenness, patrons relieving themselves on the streets, loud music, and violence. Several nearby residents have voiced concerns at the 78th Precinct's Community Council meetings about intoxicated patrons getting into cars and driving away.
Following a CB6 vote rejecting Woodland's liquor license renewal application in March 2018, Ofshtein told Bklyner that he and his staff had taken measures to appease the community, including the use of crowd control barriers to keep large crowds from blocking the sidewalks and stationing a security guard at the corner of 6th & St. Marks Avenues on weekends.
After the liquor license renewal hearing in April 2018, Ofshtein said despite his efforts to reach a compromise with the community, neighbors remained unhappy. "It's beginning to feel like there's a racial component to it," he said, adding, "I firmly believe it's because we mainly have an African-American and Caribbean-American clientele."
See the June 6, 2019 SLA Emergency Order of Suspension for Woodland here.
According to the notice posted at Woodland this week, the State Liquor Authority "commenced a disciplinary proceeding to revoke the license of Prime Six Inc" based on charges that include the licensee "made its license available to a person not specified in the license…Robert and Zhan Petrosyants…from on and before 6/3/19" as well as multiple building code violations dated 10/22/16 through 5/29/19.
A violation dated 5/29/19 reads, "there has existed a sustained and continuing pattern of noise, disturbance, misconduct or disorder on or about the licensed premises, related to the operation of the premises or the conduct of its patrons, which adversely affects the health, welfare, or safety of the inhabitants of the area in which the licensed premises are located."
Another violation dated 5/29/19 states, "the occurrence of noise disturbance, misconduct or disorder in the licensed premises, in front of or adjacent to the licensed premises, or in the parking lot of the licensed premises has resulted in the licensed premises becoming a focal point for police attention…."
Prime Six Inc. has until June 26, 2019 to enter a plea to the charges. Should the business plead "not guilty," a "prompt and speedy administrative hearing" will be conducted, according to the SLA notice.
"The repeated and increasing number of disruptive incidents at this establishment, combined with the failure to correct serious public safety issues, demonstrates that this licensee lacks concern for the safety or well-being of their patrons or their community," SLA Chairman Vincent Bradley said in a statement. "History shows adhering to fire and building codes is essential to keeping patrons safe in the event of an emergency. This suspension should serve as a message that we will not hesitate to take a license when a bar poses a threat to public safety."
Bklyner reached out to Woodland for comment but did not hear back prior to posting.