Those Seeking Sampson's Help Were Charged Retainer Fees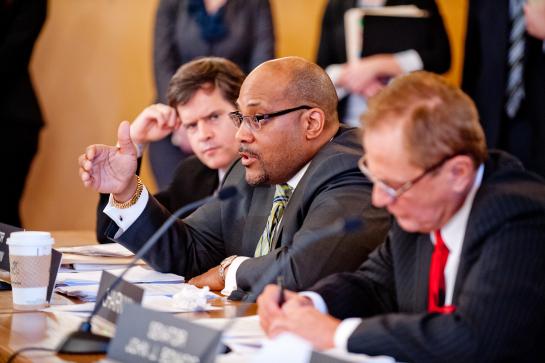 The dirt keeps piling up on the doorstep of embattled State Senator John Sampson. The latest accusation, revealed in a New York Daily News report, details how Sampson charged a $10,000 retainer fee to businessmen who were trying to secure land deals.
Sampson, who represents parts of Sheepshead Bay, is currently embroiled in a bribery scandal involving the theft of money from foreclosed home sales, and in which he allegedly threatened witnesses lined up against him, and another scandal involving missing charity money.
The latest scandal has Sampson under the microscope of the FBI, who had taped Sampson's dealings with various businessmen. Sampson, who is also a lawyer, allegedly demanded retainer fees for activities that are supposed to be part of his job as a legislator. The Daily News described a scenario with a man looking to open a Cadillac dealership on city land known as Four Sparrows, on Flatbush Avenue near Toys 'R' Us – a deal that has gone through, and on which construction is ongoing:
One of those questioned by the FBI, sources say, is Brooklyn auto dealer Lilaahar (Sammy) Bical, owner of Kristal Auto Mall, one of the biggest Cadillac dealers on the East Coast.
Last year the FBI confronted Bical about Sampson's role in helping him eliminate hurdles blocking Bical's plan to buy a city-owned plot on Flatbush Ave. near the Belt Parkway.
Bical wanted the land to expand his dealership. But he faced opposition from some local politicians, including then-Sen. Carl Kruger (D-Brooklyn), who was trying to help developer Bruce Ratner build a shopping mall on the same property (Kruger was later indicted in an unrelated case and is now in prison).
Seeking help, Bical turned to Sampson. The senator requested a $10,000 "retainer fee" up front, and Bical wrote the check, sources say. Soon after, Sampson arranged a sit-down with Bloomberg administration officials at City Hall.
The report goes on to detail other instances where Sampson blurred the line between acting as a State Senator and an attorney. In the case of Sampson's dealings with Bical and the city, a city official described the State Senator's presence in the meetings as "an awkward situation because he's not just a lawyer – he's also a senator."
Bical ended up paying $200,000 less for the property than the city said it was worth.