Sanitation Truck Strikes Cyclist in Bushwick, Keeps Going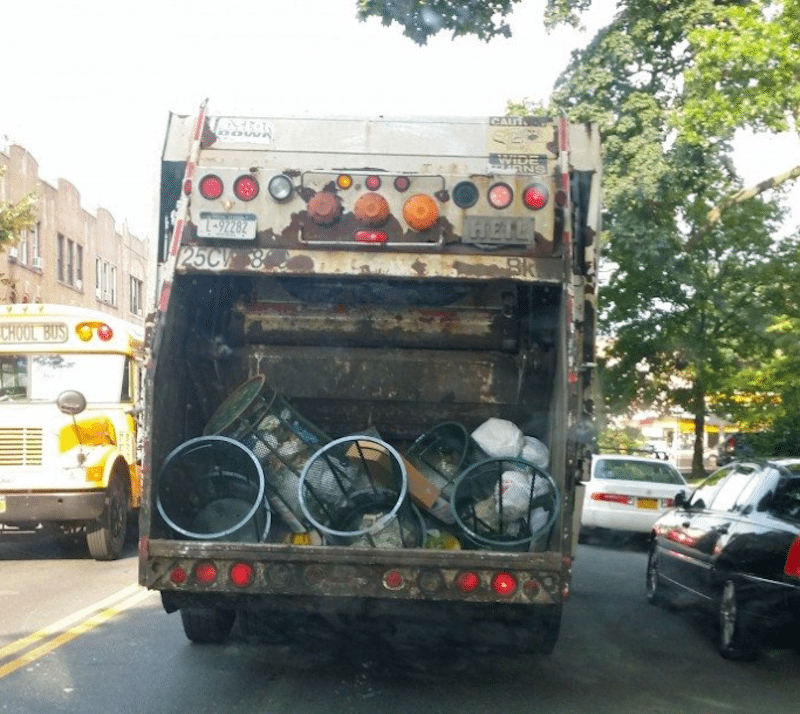 BUSHWICK – Last night, a city sanitation truck hit and critically injured a bicyclist on a Bushwick street.
The crash took place around 8:45 pm on Wednesday, August 1, said police, and involved a woman in her 20s.
The cyclist was northbound on Evergreen Street, near Menahan, when the truck, also headed north, struck her and continued on its way, said police.
Responding EMS rushed the critically injured woman to Brookdale Hospital, where she was stabilized.
After striking the cyclist, the driver of the truck continued his route, possibly unaware that he'd hit a cyclist. The truck was returned to the sanitation garage in East Williamsburg.
Police took the driver and another sanitation worker who was riding in the truck into custody, but there is no word yet if they'll be charged with a crime. An investigation into the incident is underway.
Earlier that day, a city employee was killed on the Gowanus Expressway after a tire came loose from a private sanitation truck and struck his car's windshield.
While hit-and-run incidents are shocking, they aren't entirely uncommon with vehicles as large as garbage trucks. Last summer, cyclist Neftaly Ramirez was hit and killed by a private sanitation truck in Greenpoint, and the driver continued his route, unaware of the crash.
The City Council recently passed a waste equity bill that will reduce truck traffic in North Brooklyn (along with other inordinately impacted neighborhoods), but until it goes into effect, the streets remain dangerous.