Roll-N-Roaster Serves Up Panini, Italian Ice & Hot Dogs At New Outdoor Window
Roll-N-Roaster has a new grab-and-go experience.
Enthusiasts of the beloved Sheepshead Bay restaurant can pick up new summer offerings, like panini, Italian ice and hot dogs, at an open-air counter that debuted last month.
I ordered the panini ($5.95), a take on Roll-N-Roaster's hallmark roast beef sandwich, and made sure to have it piled high with onions and loaded with "cheez." I also asked for a lemon Italian ice ($2.95). The food is prepared right in front of you — I watched the bread get pressed into a panini maker and the cheez pumped onto the sandwich.  It was served to go, as was the lemon ice, but I wanted to sit, so I found a window seat in the restaurant to chow down.
The smell of the onions and gravy immediately got my mouth watering. The panini is a joy to eat — and has all the trademarks of the original sandwich with some new thrills. The bread crunches with each bite, while still highlighting the roast beef that made Roll-N-Roaster a neighborhood favorite. It's a little messy, but that's part of the fun! Cram it in your mouth before all the cheez goops out.
I really see the new Italian ices, which also have an orange flavor, becoming a hit this summer. You can swing by the new window, grab a sweet, tangy, icy treat and continue strolling along the waterfront in the sunshine.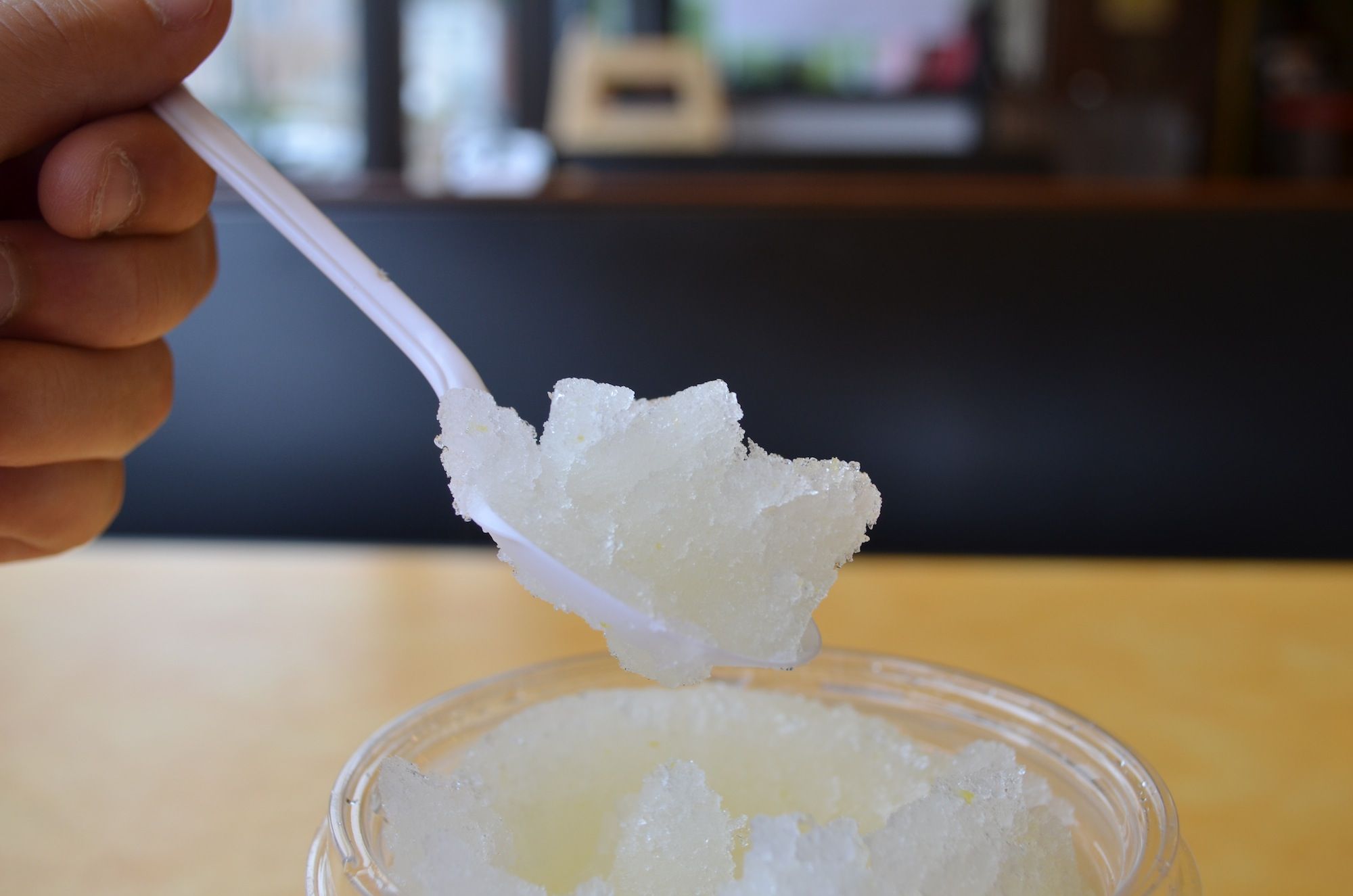 Joan Lamonica, wife of Roll-N-Roaster's founder, told Gothamist in an email last week the new window and food items were inspired by the couple's trips to the Mediterranean.
"After numerous trips to the Amalfi Coast where they make the most natural and delicious lemon ice in the world, my husband, Mr. RnR, Buddy Lamonica, decided to offer his own delicious version to his RnR customers (homemade and totally natural with just lemons, sugar and water)," she wrote. "This led to a new vision for a small, un-used space in front of Roll-N-Roaster. Why not a lemon ice stand!"