Real Estate, Politics, and Poop Patrol
Lots of stuff this week, including another Special Election, two parades, food with a side of politics and so much more.
Lots of stuff this week, including another Special Election, two parades, food with a side of politics and so much more.  
---
Politics:
We are looking at two primaries this year. Steuben County Judge Patrick McAllister ruled this week that Assembly lines remain and the primaries will be held in June as planned. The date for State Senate and Congressional primaries needs to be set. Read more here.
Special Election in AD58: Former Assemblyman Nick Perry has been sworn in as U.S. Ambassador to Jamaica, and his seat will be filled in a special election on May 24, despite primaries being held a month later.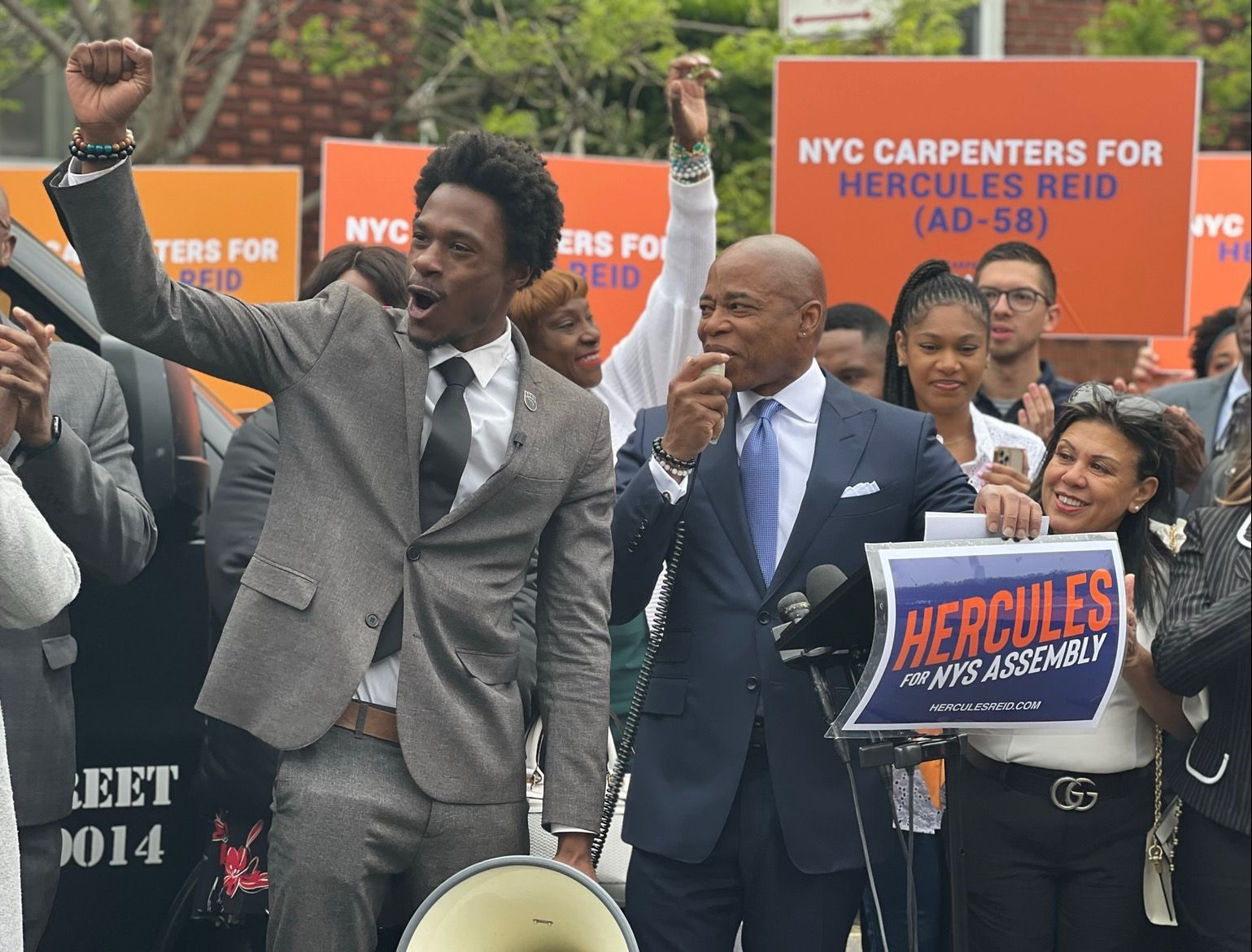 Mayor Adams has endorsed former staffer Hercules Reid for the seat. Reid has also been endorsed by DC37, New York City District Council of Carpenters, Senator Kevin Parker, Democratic District Leader candidate Debbie Louis, and several community leaders.  
The Democratic Party nominee for the seat is Monique Chandler-Waterman, a staffer to Public Advocate Jumaane Williams when he was in the city council. She ran unsuccessfully for City Council in 2019, and in April obtained the Democratic Party ballot line in another sparsely attended event.  She has the support of former Assemblyman Perry, City Councilmember Mercedes Narcisse, Assemblymember Jaime Williams, Public Advocate Jumaane Williams, and the Working Families Party.
Brooklyn Dems: The fight to reform the organization continues, and key to that are the unpaid district leader positions that are elected offices and correspond to Assembly districts. There are 22 districts and each has two seats for a total of 44 seats in Brooklyn. Out of those 20 will likely be on the ballots, and 13 of them need to flip for the current establishment to lose power.
Clean Slate Act (S1553C/A6399B): "People who have paid their debt to society deserve an opportunity to earn a living wage, to pursue an education, to live in secure housing, and to be productive members of society," said Assembly Member Latrice Walker. "But right now, the formerly incarcerated have a better chance of being trapped in a cycle of poverty than being able to support their families, because of their conviction histories. The Clean Slate Act would seal conviction records and give people a fighting chance." The bill would impact over 2 million New Yorkers, Senator Zellnor Myrie said.
Progressive Politics: 34 out of the 51 New York City Council members, including Speaker Adrienne Adams, signed up for the Progressive Caucus. That caucus, which is already acting as a counterweight to a more moderate mayor, is led by co-chairs Shahana Hanif and Lincoln Restler, two Brooklyn Democrats. Gotham Gazette talked to them about priorities, which are topped by addressing housing and homelessness.
---
Streets:
There will be a reward for folks who offer information leading to the arrest of a driver involved in a hit & run (Intro 329) if Brooklyn Council Members Inna Vernikov, Rita Joseph, Mercedes Narcisse, and Farah Louis get their way.
Sanitation Commissioner Says She Won't Tolerate Humans Who Let Their Dogs Poop on New York, and asks residents to report problem areas to 311. In the last two years, there have been zero tickets issued for the nuisance, which maybe indicates a problem with the rules?
Councilwomen Shahana Hanif and Crystal Hudson are asking DOT to improve Grand Army Plaza by adding more protected bike lanes, installing speed bumps on the east side of the traffic circle, fixing the way traffic signals line up, and generally sprucing up the area by finishing capital work that stalled during the coronavirus pandemic.
---
Education:
Graduations: Unvaccinated NYC public school students will be able to attend prom after Adams' administration dropped the vaccination requirement.
A dyslexia screening pilot will launch this fall across 160 schools in the city so that the estimated one in five kids who have dyslexia or another phonemic awareness issue can be properly supported at schools. The current education system teaches reading with a balanced literacy approach, phonics is proven to be effective at teaching reading to those who struggle with traditional methods. The DOE will require teachers in grades K-2 to have a phonics-based, proven foundational literacy curriculum by end of next year.
---
Crime:
Mayor Adams is, in his own words, 'pissed off.' He had "calculated that by the end of January, we will have this crime under control." However, removing 2,600 guns has not made the hoped-for difference this year, he acknowledged, calling on AFT to revoke the license of the nation's largest supplier of guns.
"I've never seen anything like this in my life, in all my years of policing, in all my years of advocacy, and if you were to speak with senior law enforcement officers across this country, they would tell you we've never experienced the level of total disregard and fearlessness of carrying a gun and using a gun."
Aaron Nathaniel Jr., who was only 14 when he killed a 16-year-old on a Brooklyn playground in 2018, was sentenced after delays that frustrated families on both sides.
Southern Brooklyn Precincts 61 and 63 were found to have overlooked 42% and 32% of 311 complaints respectively between January and April this year, an internal NYPD audit found. Citywide, the rate was 5%, NYDN reports.
The accused Sunset Park subway shooter has been indicted on federal charges and faces a maximum sentence of life in prison. He is held without bail at the detention center in Sunset Park.
---
Real Estate:
---
Food:
The Bagel Store, the Brooklyn-based shop that created the infamous rainbow bagel, has closed, Brooklyn Magazine reported.
This Grubstreet profile of Michael's, the "unassuming Italian restaurant on the corner of Nostrand and Avenue R which has long been a gathering place for Adams inner circle and Brooklyn's Democratic party bigwigs" is equal parts food and politics. Frank Seddio claims they have the best red sauce in the city.
Eater's list of new Brooklyn restaurants is full of good places to try and includes Wenwen, a lovely Taiwanese restaurant at 1025 Manhattan Ave in Greenpoint, Bonnie's - a fabulous Cantonese place at 398 Manhattan Ave, or try the small plates at Eyval, an Iranian spot at 25 Bogart Street. Or there is the Dept of Culture at 327 Nostrand Ave in Bed Stuy if you fancy a tasting menu of Nigerian cooking.
Eastern European pop-up Dacha 46 is staying put for the next two months at 487 7th Ave (btw Prospect Ave and Windsor Pl) in Park Slope. The weekly takeout menu will have all kinds of piroshki and pelmeni dumplings as well as desserts.
A fruit vendor's arrest (see tweet) this past weekend has prompted more calls for street vendor rights. The woman told AMNewYork she had not been selling the fruit in her cart. A subway station manager complained that the woman, who had been ticketed in early April, was operating without a license. She was arrested and held for two hours at the station house.  Licenses, however, are hard to come by.
For a Touch of Retro Whimsy, Restaurants Are Turning to the Illustrated Menu, Eater reports. Case in point - The Commodore in Williamsburg.
---
Neighbors:
Long Yarn/Bensonhurst: "Long before he wrote the book You Can Negotiate Anything, worked for the Carter and Reagan Administrations, served on the START talks, or even married my mother, Herb Cohen, known to friends as Herbie, was a member of a gang of young Bensonhurst roustabouts called the Warriors.
Every member of the Warriors, most of whom were born in the early 1930s, had a nickname. There was Inky, Sheppo, Ben the Worrier and Gutter Rat, who was supposedly called Gutter Rat even by his own mother ..." Read on in the Forward.
Mob Series/Gravesend: "Two years since his show's release, Brooklyn's own Will DeMeo is putting the finishing touches on season two of "Gravesend" — the '80s mob series, he says, pays homage to his hometown," and Brooklyn Paper has it all. The series premiered in April 2020 on Amazon Prime.
Secret Storage: There's a lot of unused space in the basements, garages, and such in the city's commercial and apartment buildings. South Slope neighbor Katharine Lau has built a business turning them into conveniently located self-storage facilities. Crain's profiled Stuf, the business she started in 2020 that now has locations nationwide.

6 Brooklyn Fashion Designers - Giani NY, UNBORN.US, Hubane, A.Potts, Melke, and Who Knows? – are the ones to watch, BK Mag says.
---
Jobs:
Her job is a walk in the park - NYT focuses on Park Slope dog walker Linda Sadiker, who for 20 years has been walking 17-19 dogs at a time. She picks up the poop.
Mayor Adams signed legislation amending Local Law 32 of 2022, which requires certain employers in New York City to post a salary range with all job postings. The legislation is in effect starting November 1, 2022.
The sanitation department is hiring 60 paid interns for the summer. College students and recent graduates can apply ASAP.
Nail salon workers and advocates are urging for Nail Salon Minimum Standards Council Act– a bill that would give workers a seat at the table alongside government and small business owners to collaborate on new baseline health, safety, and wage standards across the nail salon industry.  Read this and you'll see why: "My job and my seven miscarriages: Nail salon workers need more protections now."
With inflation numbers reaching 8.3% in April, Raise Up NY is advocating for the passage of S3062C/A7503B that would index New York's minimum wage each year to keep up with rising prices and gains in workforce productivity. In NYC the minimum wage has been flat since 2018 and is now lower than the minimum wage in Denver.
Under the bill, the minimum wage would increase to $20.45 in New York City, $17.95 in Long Island and Westchester, and $15.75 upstate -- all by 2025. The bill ensures that workers will get much-needed annual raises automatically rather than be at the mercy of political winds and legislative fights every few years.
---
Events:
Two big parades this week, one in Flatbush and one in the city.
Saturday, May 14,  Haitian Culture Day Parade & Street Festival Fair. On May 10th the State Assembly formally designated May as Haitian Heritage Month. This is your chance to celebrate the rich histories and diverse cultures of Little Haiti & Little Caribbean communities.
The daylong festivities will begin with a parade kick-off at 10:00 am at Nostrand and Church, which will continue down Nostrand to Foster ending at approximately 12:45 pm directly into the Street Festival Fair on Brooklyn Ave, which will last until 6 pm. The parade will have marching bands, floats, cheerleaders, and more. The festival will feature a cultural showcase with performances, dancing, open mic, art, music, live entertainment, and local vendors.
Sunday, May 15, will be the first annual Asian American and Pacific Islander (AAPI) Cultural and Heritage Parade in NYC. NYC is home to the second-largest AAIP population in the United States. The parade will take place on 6th Avenue, proceeding north from West 44th Street to West 55th Street, and will start at 10:45 AM. "This is the right time to unite the Asian to fight Asian Hate Crimes and remind them to register to vote and be counted," said Robin Mui, parade co-chair.
NYC x Design Festival is taking place until May 20 with lots of events, including some in Brooklyn.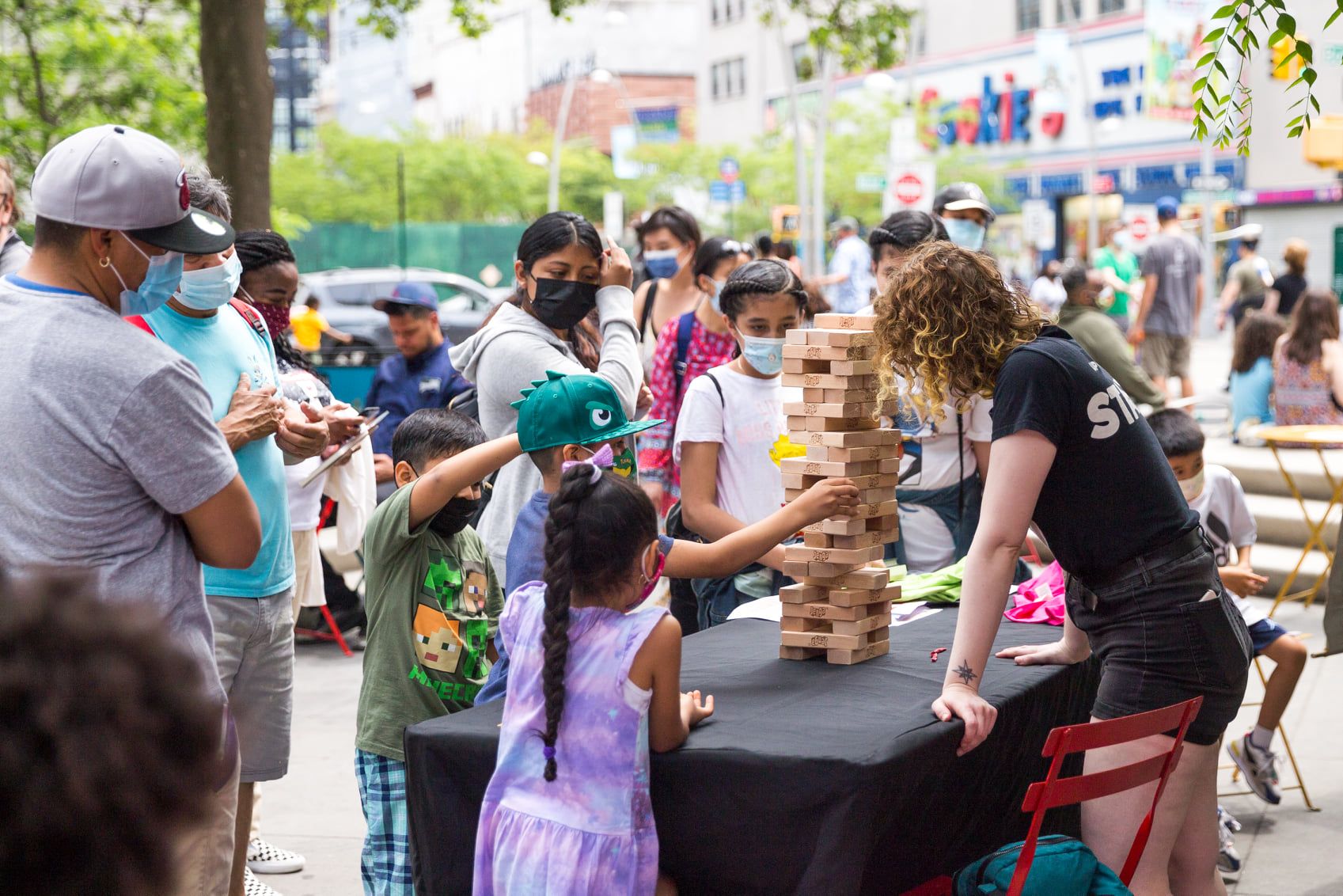 Bklyn Studios at City Point in Downtown Brooklyn is home to a pop-up for The Makers Show this weekend, 11 am-7 pm and if you are heading that way on Saturday, BKLYN Kids Block Party is returning to City Point this Saturday, May 14th from 11 am - 3 pm.  Aimed at families with kids 1-10 years old, the popular annual indoor and outdoor celebration takes place inside the shopping center at 445 Albee Square West and on Albee Square (at Fulton + Bond). Lots of fun activities planned.
May 12 - "Floating World of the Cloud Quilt" is a monumental digital projection installation on view at BAM's Rudin Family Gallery by multidisciplinary artist Saya Woolfalk: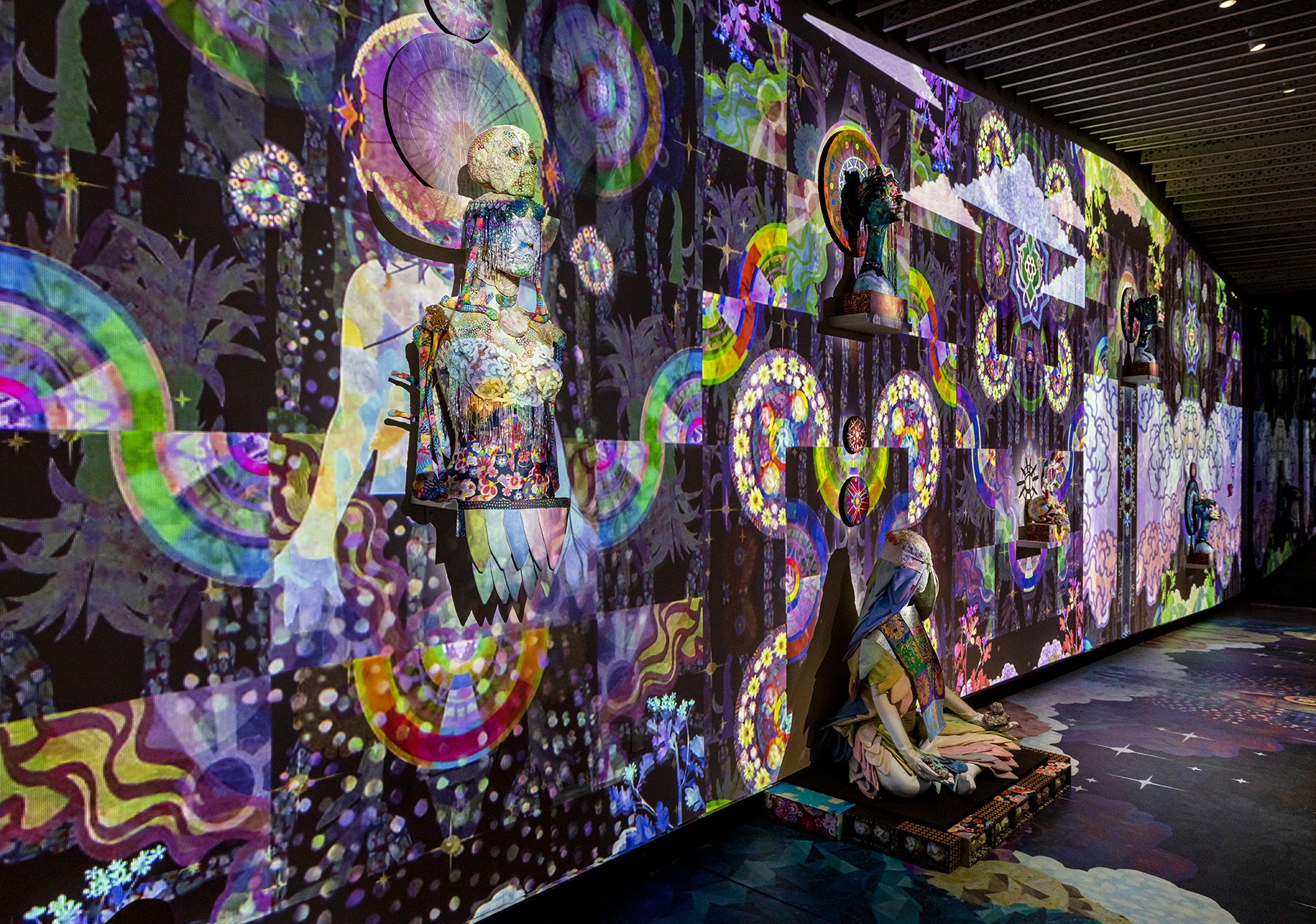 May 17: "Black Atlantic" will be on view throughout Brooklyn Bridge Park bringing together new sculptures by artists Leilah Babirye, Hugh Hayden, Dozie Kanu, Tau Lewis, and Kiyan Williams. It is inspired by the diaspora across the Atlantic Ocean that connects Africa with the Americas and Europe and focuses on the complex hybrid identities that have developed through the exchange of culture and ideas over centuries along transatlantic networks.
---
Volunteer Opportunity: Prospect Park Alliance has brought back the popular Re:New Volunteer Corps—a weekly volunteer program that tackles park improvement projects made necessary by the high volume of visitors. The crew works alongside Alliance staff to maintain playgrounds, paint over unsightly graffiti, weed areas overgrown with invasive plants, and repaint park benches and railings.