Outdoor Events To Welcome The Fall
Autumn weather has arrived and there are some great ways to enjoy it while spending time outdoors this weekend. Take a look at Bklyner's list below.
IT'S MY PARK DAY
Saturday, October 5, 10am to 1pm
Lookout Hill, Prospect Park (16th Street & Prospect Park southwest)
Join Prospect Park Alliance and REI for It's My Park Day, where volunteers help care for green spaces across the city with brooms, shovels, rakes and trash grabbers. Click here to learn more or to sign up.
PUTNAM TRIANGLE PLAZA COMMUNITY CELEBRATION
Saturday, October 5, 11am to 4pm
Putnam Triangle Plaza (Fulton & Grand), Clinton Hill
FAB Fulton is hosting a celebration for the long awaited reopening of the Putnam Triangle Plaza. In 2011, temporary materials were used to close off vehicular traffic on Putnam Avenue between Fulton Street and Grand to gauge the community's response to having a public plaza at the site. Community Board 2 approved the project in April 2015. In March 2018, Putnam Triangle was closed off so that construction could begin to permanently convert the 15,000-square-foot space.
The revamped public space features new trees, benches, movable tables and chairs, trash bins, and pedestrian wayfinding signs. Join FAB Fulton for a day of free music, spoken word, line dancing, games, arts and crafts, and more. See the full lineup of events at fabfulton.org.
CELEBRATE ST. MARY'S PLAYGROUND
Saturday, October 5, 11am to 2pm
St. Mary's Playground, Smith Street (between Luquer & Nelson Streets), Carroll Gardens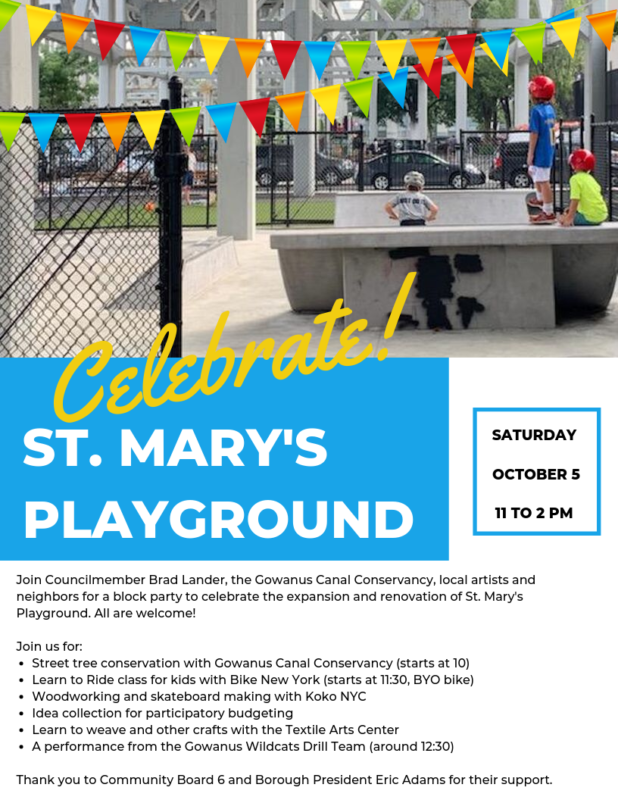 The Gowanus Canal Conservancy and Council Member Brad Lander are hosting a block party to celebrate the expansion of this playground located under the F/G subway tracks. Last year renovations were completed adding new ADA accessible play equipment; new safety surfaces and spray showers; new tables and chairs; new fences; permeable pavers to manage storm water; and new planting beds. Additional funding provided by Lander and Brooklyn Borough President Eric Adams made it possible to include a skating area, a multi-use synthetic turf field, adult fitness equipment, basketball courts, and a walking track.
The event will include a performance by the Gowanus Wildcats Drill Team as well as activities with the Gowanus Canal Conservancy, Bike New York, KoKo NYC, Textile Arts Center. Learn more here.
CAMPFIRE CONVERSATION FOR KIDS
Saturday, October 5, 6pm to 7pm
Lefferts Historic House, 452 Flatbush Avenue, Prospect Park
The Lefferts Historic House is hosting a campfire to kick off the fall season. Kids will learn fire safety tips and help collect wood for the campfire. Once the fire is roaring, there will be s'mores and stories from Tammy Hall who will tell campfire tales about bravery. (Suggested donation: $3)
P.S. 130 FALL FEST
Sunday, October 6, 10am to 4pm
P.S. 130 Upper School, 713 Caton Avenue (at East 7th Street), Kensington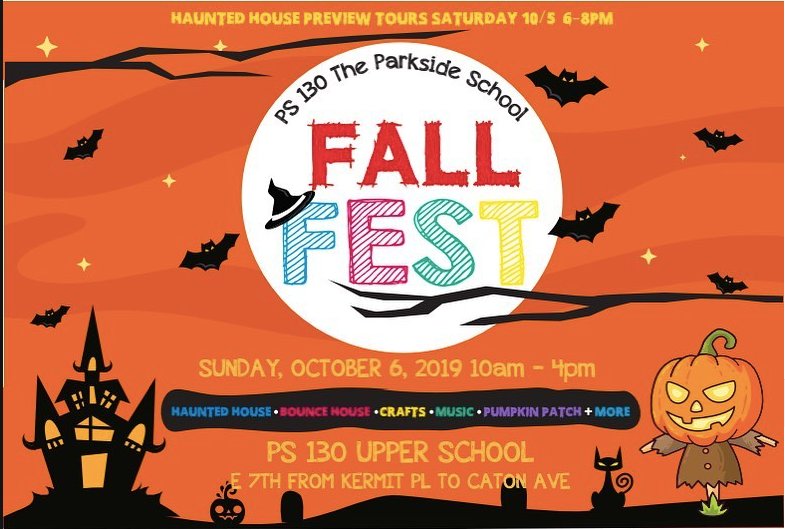 The P.S. 130 PTA is hosting its annual Fall Fest featuring pumpkin decorating, mask making, bounce houses, pony rides, LEGO activities, henna tattoos, face painting, live music, and a performance by Ballet Folklorico Mexicanos Unidos. There will also be preview tours of the school's popular haunted house.
Baked goods, beverages, and other goodies will be available for purchase, with funds going to support the PTA. Learn more at P.S. 130 PTA's Facebook page.