Openings & Closings: Push for Pizza and Pastries
This week's Openings and Closings brings us lots of activity in Fort Greene and Park Slope, as well as several new pizza spots, a few new cafes, and a new location for Brooklyn's favorite bar-b-que.
Prospect Heights
Ciao, Gloria
550 Vanderbilt Avenue, between Pacific and Dean streets.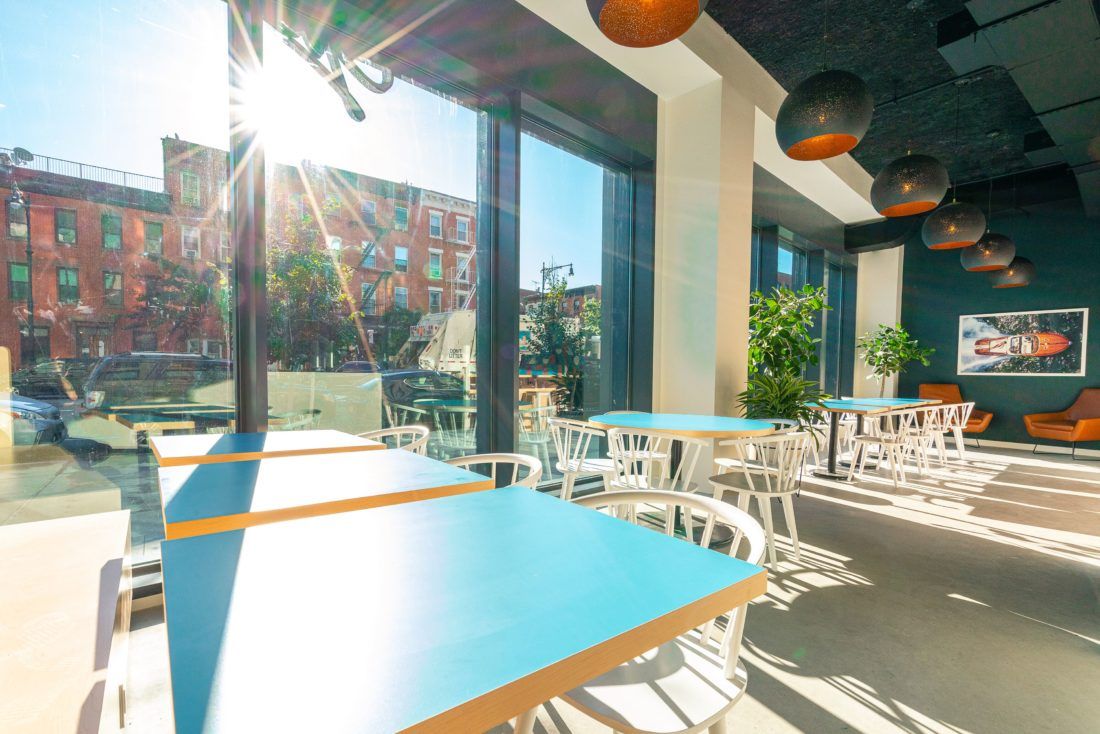 Baked co-founder Renato Poliafito opened Ciao, Gloria in Prospect Heights on the 31st of September. Poliafito told us that having a neighborhood cafe has always been a goal of his. The shop will feature breakfast dishes like egg sandwiches, pistachio croissants, and coffee service, as well as lunch dishes. The interior is bright and sunny, with plenty of seating to enjoy your food.
Williamsburg
Randolph Beer
104 South 4th Street, between Berry Street and Bedford Avenue.
This Williamsburg brewery will reopen to the public on October 11th, after closing for renovations. The spot, which originally opened in 2013, now features a nanobrewery, "old school video games", shuffleboard, and a larger, 4,000 square foot space. You can soak up that crisp fall air on their sidewalk cafe now, and munch on avocado tartar or wild mushroom ragu. This location is one of three the brewery has- the other two are in Dumbo and Nolita.
Masa Empanadas
804 Grand Street, between Humboldt Street and Bushwick Avenue.
Masa Empanadas is opening in Williamsburg on October 14th. The team behind Piccoli Trattoria, Andres Rodas and Andres Whang, are behind this new shop- sharing Argentinian cooking with "Brooklyn flair". The menu will include beef empanadas, slow roasted in Malbec, chorizo shrimp empanadas, and cinnamon sugar empanadas.
Park Slope
Fjord Fish Market
5th Avenue between Carroll and Garfield streets.
This seafood market will be opening its latest location in Park Slope. Signage went up recently, and the brand announced the opening on their Instagram, with "more information coming soon". Fjord has locations in Connecticut and other parts of New York, and specializes in responsibly sourced seafood. There is no menu available for Park Slope yet, but other locations also serve dishes like lobster rolls and sushi in addition to their raw offerings. No word on an official opening date, yet.
Gueros
494 4th Avenue, between 11th and 12th streets.
This eatery has opened another location in South Slope, according to the Park Slope 5th Avenue Facebook page, which also said that it was opened by the owners of other neighborhood small businesses Dram Shop and Habit. Their menu features simple classics like margaritas, tacos, nachos, and quesadillas. Their original location, in Crown Heights, has long been a community favorite, and fans are excited to see them expand.
Young Ethel's
506 5th Avenue, between 12th and 13th streets.
This new "neighborly neighborhood bar for neighbors" opened on August 22nd.Their menu features seasonal cocktails, rotating draft beers, and wines. They are "half dive, half fancy bar", according to their website, and have a "broke brunch special" on Saturday and Sunday with a bloody mary of mimosa and Kings Kolache bacon, egg, and cheese for $10.
Flatlands
Bash Pizza
3003 Avenue J, between E. 31st street and Nostrand Avenue.
This Flatlands spot opened on September 24th. Their menu features pizzas, as well as salads, pastas, and sandwiches. According to Instragm, they are combining "artisan Italian foods with the speed of NYC and the good vibes of Miami". The restaurant is counter-service style, with plenty of seating in their large and airy dining room.
Fort Greene
Joe & Sal's Pizzeria
353 Myrtle Avenue, between Carlton and Adelphi streets.
According to the Myrtle Avenue Brooklyn Partnership, the owners of the since-closed Little Louie's are reopening with a new pizzeria- Joe & Sal's Pizza in November. The shop already has a location on Franklin Avenue, and serves all the regular suspects- pizza, heroes, pastas, and soups, as well as vegan pizza options.
Rhodora
197 Adelphi Street, between Willoughby and Myrtle avenues.
The team behind Fort Greene's since-closed Metta has opened a new natural wine bar in the old space, Eater reports. The space has a zero-waste goal, and is implementing composting, a cardboard shredder, and no trash cans. The space features large windows and also serves snacks like bread and butter and boards with tinned fish, cheese, and other items. In addition to their wine list, they have a short cocktail menu.
Bushwick
The Awkward Scone
1022 Broadway, between Hart Street and Willoughby Avenue.
This Bushwick cafe announced their opening to their Instagram followers on August 24th. The shop features a full coffee menu, as well as pastries, with breakfast and lunch sandwiches "coming soon". The inside of the space features art from local artists, a hardwood bar, and lots of greenery.
Sunset Park
Hometown Bar-B-Que
87 35th Street, between 2nd and 3rd avenues.
Hometown Bar-B-Que, widely considered to be among the top barbecue joints in NYC, has opened a second location in Industry City, The Infatuation reports. It's been a big year for owner Billy Durney, who also opened Red Hook Tavern (to great critical acclaim), and a Hometown in Miami. The new spot will serve dishes like brisket, pulled pork, Oaxacan chicken, and lots of sides.
Closings:
Woops! Bakeshop
620 5th Avenue, between 17th and 18th streets.
Woops! on 5th Avenue has been closed since mid-August, a tipster reports, with signs saying that the location was meant to reopen after Labor day. The shop has not officially closed as of yet, but word on a reopening is uncertain.