"It's Not Just Picking Up Trash" Expanded Youth Employment Program Reaches Higher
Today, city officials and youth leaders gathered near the Prospect Park Parade Grounds to kick off the high-demand Summer Youth Employment Program (SYEP), a program that places thousands of kids in a range of summer jobs.
SYEP provides youth between 14 and 24 with paid summer employment for up to six weeks in July and August. Participants work in entry-level jobs from cleaning up city parks and beaches to skills-based computer training programs.
"Kids develop a different attitude toward the city and their place in it," said Mordechai Kruger, director of Youth Employment at the non-profit COJO of Flatbush. COJO manages around 9,500 students in jobs ranging from administrative positions at legal and medical offices, to retail and wait staff to daycare centers, nursing homes, summer camps, soup kitchens, and more.
City Council Member Mathieu Eugene, who has been a longtime supporter of the program, has been working to increase the city's budget for SYEP year over year. For Fiscal Year 2018, Eugene said, the city raised the number of jobs to 70,000 (up from 60,000 the previous year).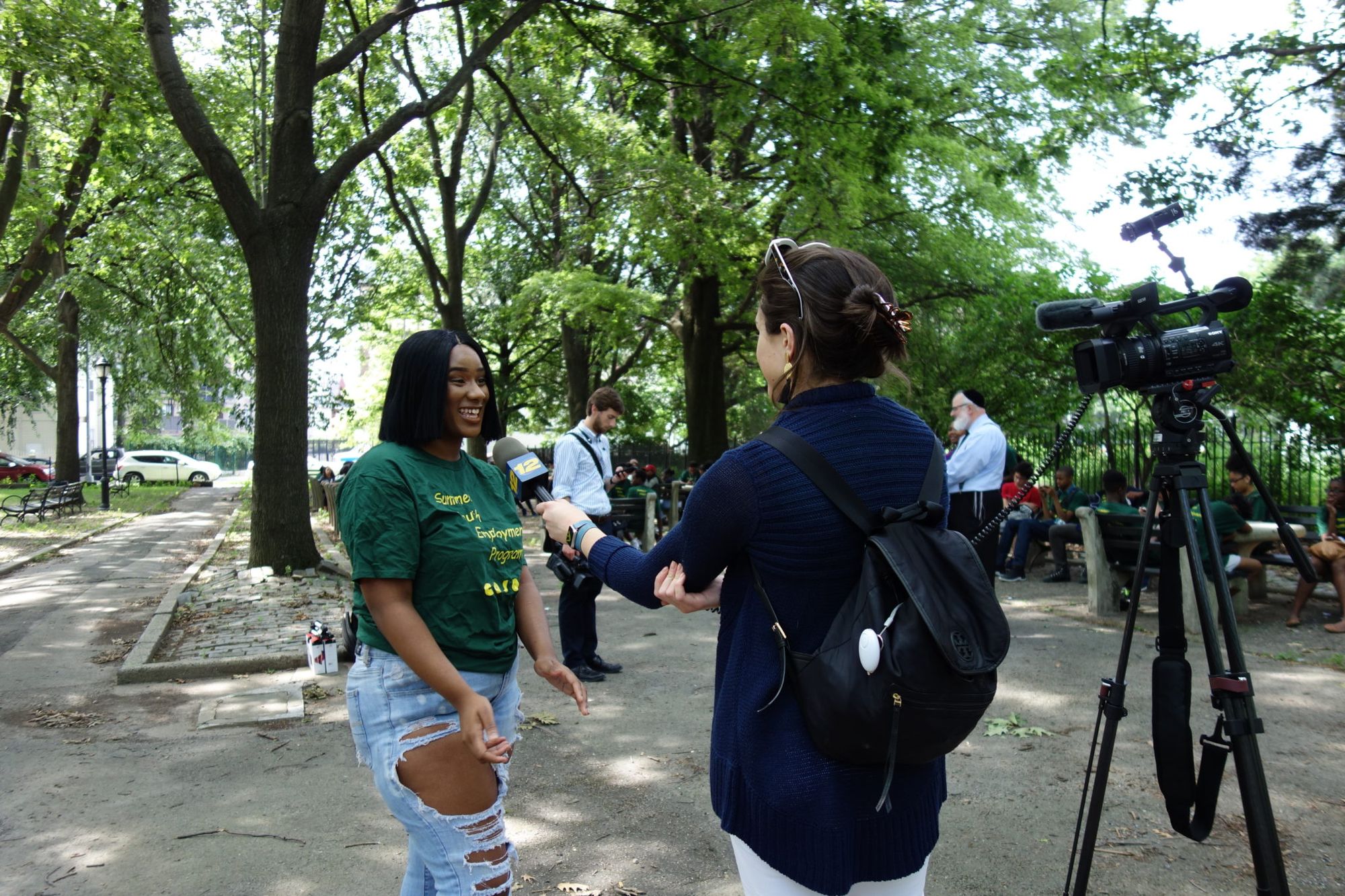 This year, SYEP received approximately 130,000 applications, and awarded jobs based on a lottery system, according to Eugene's office.
"I see kids here from different ethnic and national backgrounds," said Eugene, facing the crowd. "This is a cross-section of New York City."
Youth employment is a hallmark issue for Eugene, who is Chairman of the Youth Services Committee. In April, he co-sponsored a bill to create a youth task force to better engage unemployed young adults.
For many participants, the program provides not just a career jumpstart, but the chance to elevate their role in their home communities. "It's not just picking up trash in the park," said Willie Wells, a first-year in the program. "You want people to look at our city like it's unified, like we can work together."
Davia Franklin started cleaning beaches with SYEP when she was 19 and now works as a program supervisor during her summers off from college. "Starting at 9am, we would get gloves and garbage bags and clean up the Coney Island beaches," she said. Last year, her program had 40 kids from Brooklyn and Queens, this year they're up to 90, she said, allowing them to cover more ground.
Peer-to-peer mentorship is also encouraged, as COJO sends college-aged students to monitor and advise the younger students. "We tell them to spend time with the kid, to help them develop and understand their place in the work," said Kruger.
The employment program had an impact on student Pritney Lemorin, who worked with kids in Brighton Beach last winter through Cojo's Work, Learn, Grow. "I loved working with kids," she said. "Cleaning the park will be different."
"[SYEP] has proven to be a great resource for our young people and has also helped alleviate the burden on parents to find summer activities for their children," said Eugene. "It is truly making a difference in our community."
Placing kids in jobs that utilize their skills and interests is a priority of the program, said Kruger. "Kids start making career plans here," he said, telling BKLYNER that employers regularly tell SYEP kids to apply for a job after graduation. "That kind of thing happens."