Mets Legend John Franco Pitches In At Shorefront Y's Post-Sandy Playground Reopening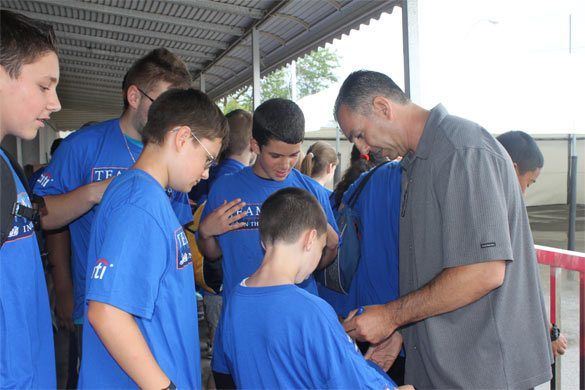 The Shorefront YM-YWHA (3300 Coney Island Avenue) unveiled its remodeled playground area on Monday, after spending months rebuilding it in the wake of Superstorm Sandy.
With funds provided by Citi, the New York Mets, and the Mets Alumni Association, the renovations included elevating the area's sinking asphalt structure, installing fencing, repairing cracks near the tennis courts and replacing a storage area. The Y also introduced a new adjustable basketball hoop and a refinishing of the tennis courts that will make it more accessible to community members.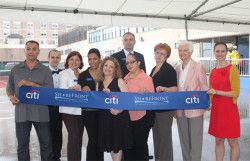 Approximately 250 children buzzed about during the ceremony donning Mets themed shirts that read "Teammates in the Community," awaiting the star-studded ribbon cutting that included Mets legend John Franco.
Franco served as the Mets' relief pitcher for 14 seasons, and later served as the team's captain. He grew up near the Shorefront Y, and brought the same passion to rebuilding the community as he did to his beloved sport.
"Get out there, have fun, and play the games you love," he said. "Exercise is the most important thing for kids right now." That includes exercising the mind through education, he noted.
The New York Mets' beloved mascot, Mr. Met, was also expected to be in attendance, but unfortunately, to the dismay of the children, was stuck in traffic and could not make it.
A long blue Citi and New York Mets ribbon was brought out, with one end held by Jill Kelly, the vice president of Citi Community Development, and the other by Franco, and was cut by Susan Fox, the executive director of the Y, which symbolized the official opening of the play area.
Alla Vaynshteyn, the director of marketing and communications at the Shorefront Y, described how the new play area offers something to do for everyone who attends the community center.
"It basically allows children and adults of all ages to use more areas of the backyard," Vaynshteyn said. "For example, the basketball hoop is now adjustable, which we didn't have before, so the littler kids can enjoy it too."
The renovations to the play area took roughly three months, with the removal of displaced sand from the storm briefly delaying work.
Fox thanked Citi, the Mets, and the Mets Alumni Association for making the remodeling possible, and reminded the children of the Shorefront Y that they too have a lot to be thankful for.
"This neighborhood was really hurt by Hurricane Sandy, but the Shorefront Y was lucky," Fox noted, as she referred to the fact that there was no flooding within the building of the community center, only the play area.
"The Shorefront Y is a part of United Neighborhood Houses, and we are a settlement house with the mission and purpose to make sure our neighborhood is taken of care," Fox said. "That backyard is a special place for you."