Mark-Viverito Promises To Continue The Worst Landlords List As She Campaigns For Public Advocate At Newkirk Station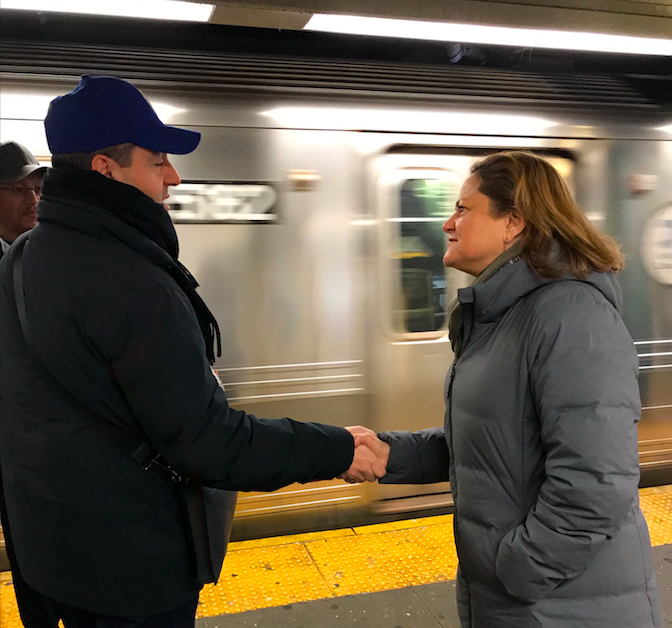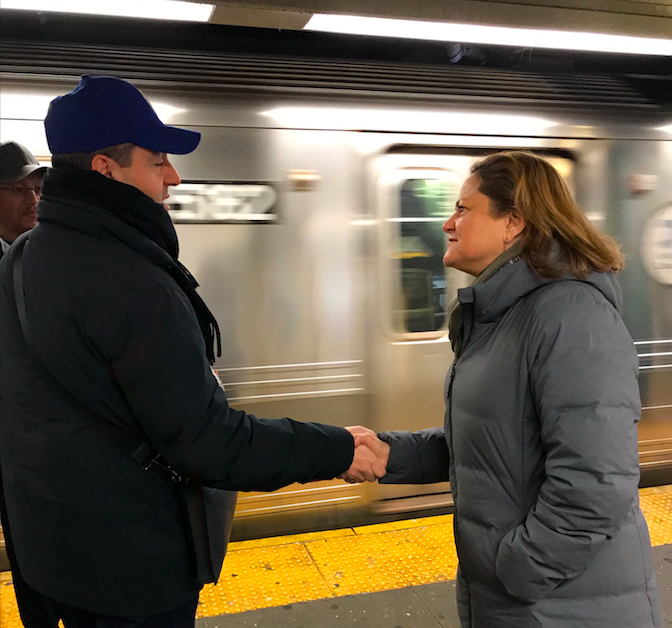 FLATBUSH – The former Council Speaker Melissa Mark-Viverito campaigned at the Newkirk Avenue train station on Friday morning for the New York City Public Advocate's seat.
We asked her about an issue that's a big deal in Flatbush – bad landlords.
The Worst Landlords list was started by the current Mayor Bill de Blasio when he held the position of Public Advocate back in 2010. Every year since 2010, the Public Advocate has published the city's 100 worst landlord's list by Thanksgiving, save 2011 when it was December 27, and this year – the date has not been announced yet.
Current Public Advocate Tish James office said there is no set timetable to publish the list, and that James had had a busy fall – the list was not published earlier this fall during her successful campaign for Attorney General, but her office says that they are working on it and that it will be published soon. There are only two weeks left in the year.
We asked if Mark-Viverito would continue the tradition.
"Definitely want to keep the watchlist," said Mark-Viverito who also noted she'd consider including NYCHA. "I think anything that puts additional pressure on the housing authority to do what it needs to do is important," she added.
Along with ensuring tenants have the "proper resources" to sue landlords, Viverito said she favors penalties for bad landlords, though she stopped short of mentioning jail time.
"Every situation is different," she said. "There are different types of fines depending on the violations. In some very egregious circumstances when the landlords are not paying their property taxes – for instance – there are opportunities for those buildings to be reclaimed."
Mark-Viverito questioned if the fines are steep enough at one point during the noisy interview on the Q train platform. But whether they are or not, the near-billion dollar bill continues to mount. Most landlords know there is an eight-year statute of limitation on outstanding Department of Buildings fines.
To that, the candidate said she wants to create an investigation and research unit out of the public advocate's office.
"I can also introduce legislation as public advocate," she said, to fix some of the possible deficiencies impacting the landlord penalty process.
This summer, The Post reported current Public Advocate James took more than $100,000 of real estate money to fund her run for Attorney General.
When asked if she would take money from landlords, Mark-Viveritto responded:
"We vet everybody that gives me money," she said. "So we look at where they're employed and where the money is coming from. There have been times when we've made decisions to return the funds."
The candidate faces 23 other people vying for the seat (15 have filed with the NYC Campaign Finance Board). Brooklyn candidates include City Councilmen Jumaane Williams, Rafael Espinal, Assemblywoman Latrice Walker and Ifeoma Iky.
Mark-Viverito served three terms as a councilwoman in East Harlem, and during that time she was elected speaker of the city council from 2014 through 2017.
Last week the candidate proposed a 4-point plan to invest marijuana revenue into the MTA. While some of her opponents suggest the money should go toward NYCHA, the former speaker is sticking to her MTA/weed platform.
"Nobody's putting out any recommendations of where to get additional sources of revenue for the MTA, right?" she asked.
UPDATED at 5:30pm – to reflect that the list will be published soon and has not been discontinued, and to add further detail about when the list had been traditionally published before.