Korean Soul Food Joint and Bar to Open in old Mamma Lucia's Space on October 25
DITMAS PARK – Mamma Lucia's will become Rusty Nail and serve Korean and Southern fusion comfort food. The team behind the farm-to-table restaurant The Farm on Adderley and the Sycamore Bar + Flower Shop have chosen Memphis Seoul to be the restaurant inside their new bar Rusty Nail coming to 1701 Foster Ave., the space occupied by Mamma Lucia's restaurant for more than 40 years until earlier this Summer.
The Memphis Seoul food program at Rusty Nail is scheduled to begin service for dinner on Oct. 25, 2019, with Rusty Nail's bar set to open before the end of the year. The food will also be available to the general public by way of take-out and delivery.
"The Rusty Nail's co-owner emailed me out of the blue, saying 'we really like your concept,'" said Memphis Seoul founder Bart Hubbuch in an interview with Bklyner. "I always loved soul food and southern cooking and I've never seen it fused with Korean food."
Hubbuch is a Texas native and self-taught chef. After a career in journalism, he decided to take on a stint in the food industry. He developed and worked out the whole menu and signature touches in his family's kitchen in Prospect Heights. Memphis Seoul began as a street-festival vendor in 2018 and landed a storefront in Crown Heights earlier this year.
While the Rusty Nail is still waiting for the Liquor License they applied for back in May, they are hoping to receive it by November and open with Memphis Seoul that they rent part of their space to.
"[Rusty Nail] wanted to focus on the bar aspect of it, and have some bar grub to go along with it," said Hubbuch. "The kitchen is ours exclusively, I'll be responsible for all operations and they're just renting the space out to us."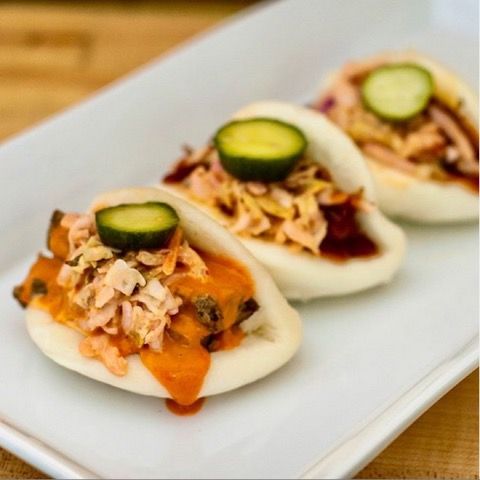 Similar to Sycamore Bar + Flower Shop, the team behind the bar isn't new to sharing spaces with different businesses and having two Point of Sales systems.
Look out for Korean BBQ Meatloaf, vegetarian "pulled pork" made with jackfruit and their popular Ramen 'N' Cheese, plus other southern sides with a Korean twist, like kimchi coleslaw, cornbread, and a variety of pickles. You'll also find Korean staples like bao buns and bibimbap.
The bar will be open seven days a week and Memphis Seoul will serve food from 5 p.m. to midnight Monday through Thursday, and 5 p.m. to 1 a.m. on Friday, 12 p.m. to 1 a.m. on Saturday and 12 p.m. to 12 a.m. on Sunday.